Offices are redundant and employees in Singapore love to work from home and that is the truth.
Eight in 10 employees in Singapore surveyed have indicated that they wish to continue working from home at least half the time or more after the circuit breaker is over, a new survey has found. 
This is what employees feel: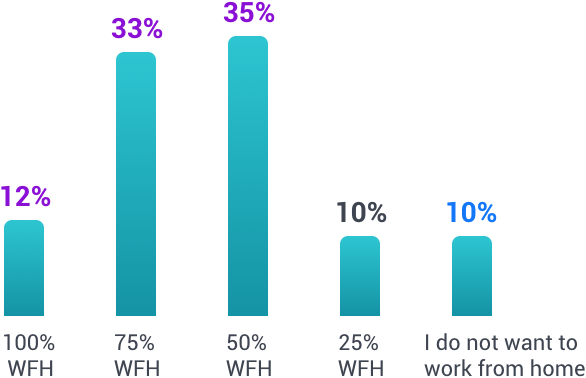 Downsides though
The downside of working from home?
Some 46 per cent of workers said they were less productive at home.
The survey findings were released on April 29.
It also revealed that just 10 per cent of employees do not want to continue working from home.
At present, during the circuit breaker period that commenced in Singapore on April 7, which should last till June 1, is seeing some 15 per cent of Singapore's 3.5 million-strong workforce -- excluding foreign domestic workers -- continue to commute to work daily.
Younger people more okay with WFH
The survey uncovered generational differences in productivity among workers.
• Younger employees aged 21 to 30 were less likely to have their productivity affected by working from home.
• Some 40 per cent of younger workers said they were less productive than they were before.
• Some 49 per cent of older workers aged between 40 and 53 said they were less productive than they were before.
Challenges with WFH
The main challenges confronting workers who reported low productivity included: 
• 22 per cent said they were putting in longer hours than usual
• 22 per cent cited practical constraints, such as having their family around, inadequate space, and being distracted
• 21 percent found an inability to gain access to resources and tools that they would otherwise have in the office
Stress from WFH
Some 26 per cent of employees experienced higher levels of stress during this period.
Their fears were out of concern for the Covid-19 situation:
• 67 per cent concerned about the health and economic impact of the coronavirus on Singapore
• 64 per cent concerned about the effects of working from home on their productivity and performance
• 57 per cent concerned about the prospect of a family member contracting Covid-19
Survey origins
The survey was done by human resources technology start-up EngageRocket, the Institute for Human Resources Professionals and the Singapore Human Resources Institute.
More than 2,700 responses on workplace sentiments in Singapore were collated since April 13. 
Top photo via Unsplash
If you like what you read, follow us on Facebook, Instagram, Twitter and Telegram to get the latest updates.