Taiwan President Tsai Ing-wen has strongly refuted accusations that Taiwan is "instigating racist attacks in the international community" in a statement posted on Thursday, April 9.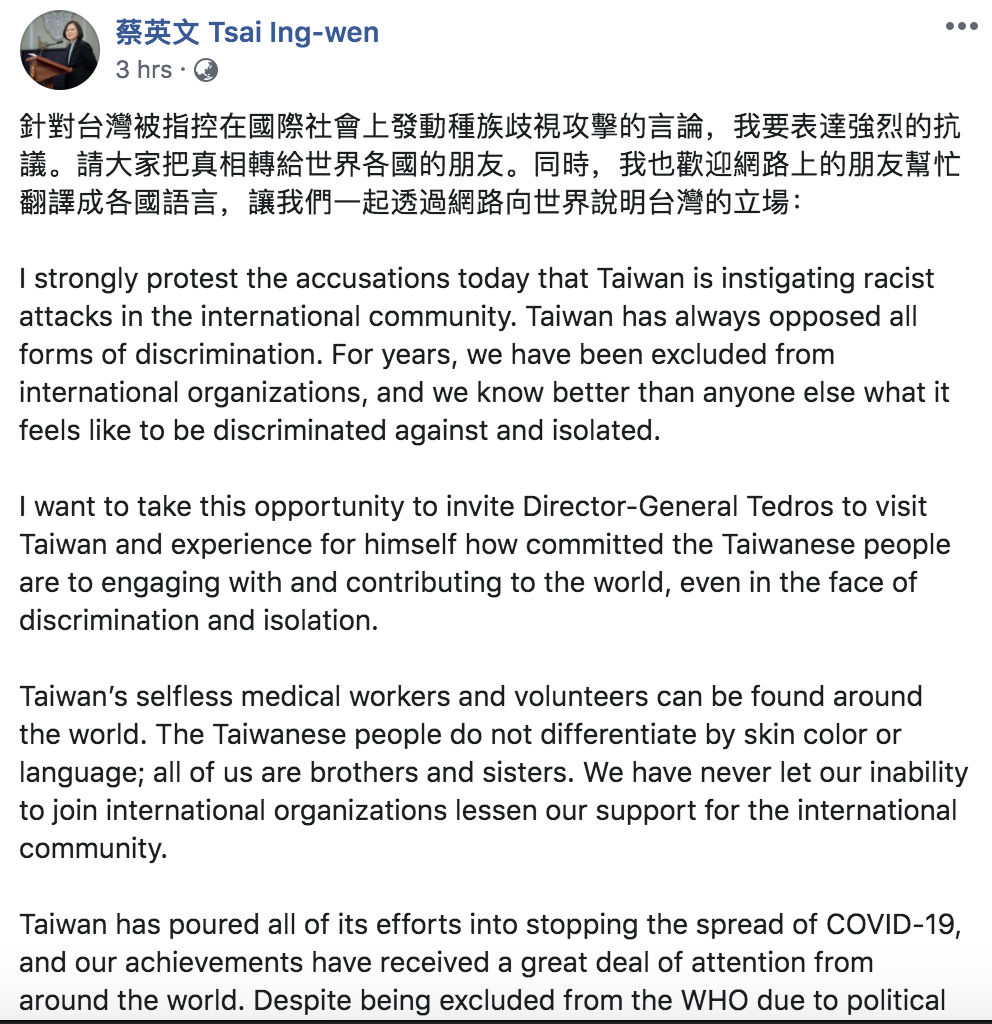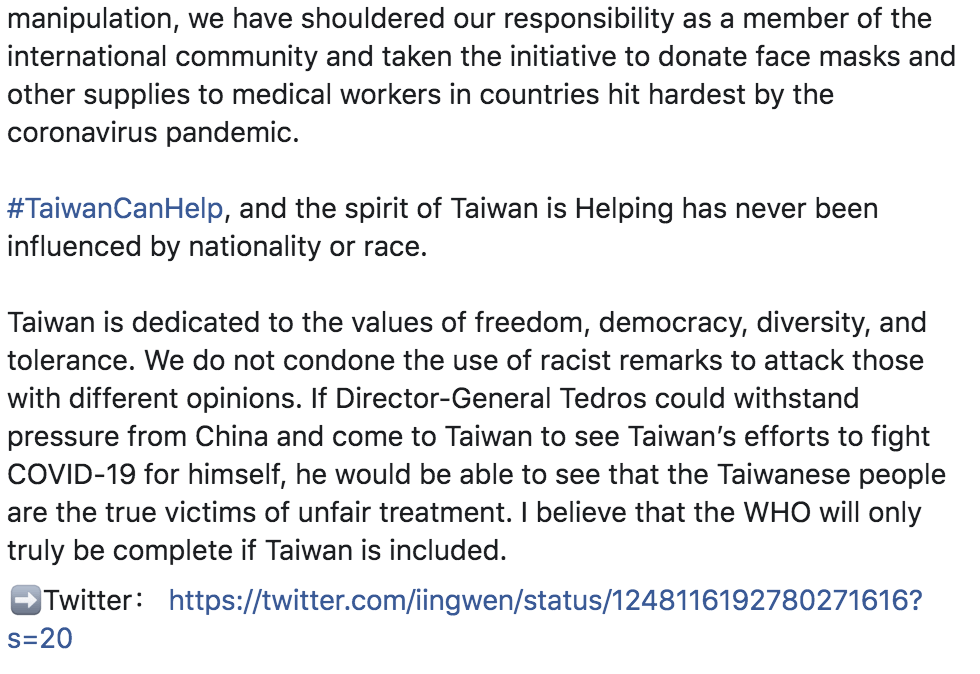 Tsai: Taiwan knows what it's like to be discriminated against
In her lengthy Facebook post, Tsai said Taiwan has "always opposed all forms of discrimination".
She added as the self-ruled island has been excluded from international organisations for years, it knows "better than anyone else what it feels like to be discriminated against and isolated".
WHO chief said racist attacks are from Taiwan
Tsai was referring to accusations by World Health Organisation (WHO) Director-General Tedros Adhanom Ghebreyesus that "racist slurs" were made against him from Taiwan.
In response to a question from a reporter on Wednesday, April 8, if criticisms towards him by world leaders such as United States President Donald Trump affect his work at the WHO, Tedros avoided mentioning Trump.
Instead, Tedros said the "abuses" and "racist comments" he received were from Taiwan.
He said: "We need to be honest. I will be straight today. From Taiwan."
Accused Taiwan's Foreign Ministry of abetting in racist attacks against him
He further claimed such attacks were abetted by Taiwan's Foreign Ministry, which he claimed were aware of the racist campaign, but did not "dissociate themselves".
Tedros said: "They even started criticising me in the middle of all that insult and slur, but I didn't care."
Nevertheless, he urged world leaders to put aside their differences and work together in tackling the pandemic.
He said: "Please quarantine Covid politics...We care about the life passing every single minute unnecessarily because we couldn't unite to fight this virus."
Trump accused WHO of being "China centric"
In a Tuesday (April 7) tweet, Trump said the WHO "really blew it" due to its "China centric" stance and ill advice to keep American borders open to China early on.
The W.H.O. really blew it. For some reason, funded largely by the United States, yet very China centric. We will be giving that a good look. Fortunately I rejected their advice on keeping our borders open to China early on. Why did they give us such a faulty recommendation?

— Donald J. Trump (@realDonaldTrump) April 7, 2020
However, Trump's targeting of the WHO is seen by some critics as a way to deflect blame from his Administration's handling of the crisis.
Trump's approach to the pandemic has also been criticised as being too slow and dismissive.
Taiwan says Tedros' accusations are without evidence
Besides Tsai, a spokesperson from Taiwan's Foreign Ministry, Joanne Ou, also rejected Tedros' accusations, saying such claims are "groundless" and "imaginary".
According to The New York Times, she said: "Taiwan is a mature and highly-accomplished advanced democratic country, and have absolutely not encouraged our people to personally attack the WHO's Director General."
In addition, she demanded "immediate clarification and an apology" from Tedros over his "extremely irresponsible act of slander".
The Taiwanese Foreign Ministry also pushed back against such claims, saying they are "baseless, without merit and further marginalises the good work in which the WHO is engaged worldwide".
.@DrTedros said there's "No need to use #COVID19 to score political points. We agree! Yet without evidence, #Taiwan is accused of orchestrating personal attacks. This claim is baseless, without merit & further marginalizes the good work in which the @WHO is engaged worldwide. 1/3

— 外交部 Ministry of Foreign Affairs, ROC (Taiwan) 🇹🇼 (@MOFA_Taiwan) April 9, 2020
In her statement, Tsai had also challenged Tedros to "withstand pressure from China", and invited him to visit Taiwan and see for himself the island's handling of the viral outbreak.
Taiwan's success at containing the virus
Despite being located just 130km from mainland China, Taiwan has managed to keep its infected cases relatively low.
Its containment strategy has been praised by international media, but due to its awkward international status which excludes it from membership in international bodies, WHO officials are reluctant to discuss the issue of full membership for Taiwan.
A senior advisor to the director-general of the WHO had notably hung up during a video interview with a public broadcaster in Hong Kong, Radio Television Hong Kong (RTHK).
Bruce Alyward first fell silent when the interviewer asked about Taiwan's membership in the WHO, and refused to answer the question.
The call was later disconnected when the interviewer continued to push on and asked about Taiwan.
Bloomberg further reported that in the wake of the call, the WHO, in a rare statement about Taiwan last month, said it was closely following the development of the coronavirus there.
The statement also added that the WHO was learning lessons from Taiwan on how to fight the virus, and detailed how the organisation had been working with Taiwanese health experts.
Top image adapted via CNBC Television & Tsai Ing-wen/Twitter
If you like what you read, follow us on Facebook, Instagram, Twitter and Telegram to get the latest updates.