The Muslim community in Singapore is embracing a slightly different fasting month this year due to the ongoing Covid-19 pandemic.
Less fortunate depend on mosques during Ramadan
With the extension of the circuit breaker period, all mosques in Singapore are closed until further notice, or "until the situation improves".
This means that Ramadan can only be observed at home instead of going out and about.
However, not everyone has the privilege to do so.
Each year, mosques in Singapore will provide free sahur (pre-dawn) and iftar (break fast) meals for the less fortunate in the community.
But with the current suspension of mosques, this vulnerable groups can no longer receive the same assistance.
Singaporean started his own initiative to help the needy
Fortunately though, one man decided to lend a helping hand on his own accord.
Full-time Singaporean student Ruzaini Syazwan has kick-started his own initiative to ease the plight of the less fortunate, according to a Berita Mediacorp video.
He explained: "We (privileged Muslims) can already feel how different Ramadan is without the mosques. So I started to wonder about those who depend on the mosques for their sahur and iftar meals. How will they cope?"
Distributed 250 meals so far
Called the #UmbrellaInitiativeSG, Ruzaini collects donations from the community before personally buying and delivering the meals to the needy.
Some 20 homeless Singaporeans were among those who received a free meal, according to Berita Mediacorp.
Additionally, Ruzaini delivered the meals to 30 non-Muslims who are also struggling during this circuit breaker period.
In an Apr. 29 post on his Facebook page, Ruzaini stated that he has distributed a total of 250 meals thus far.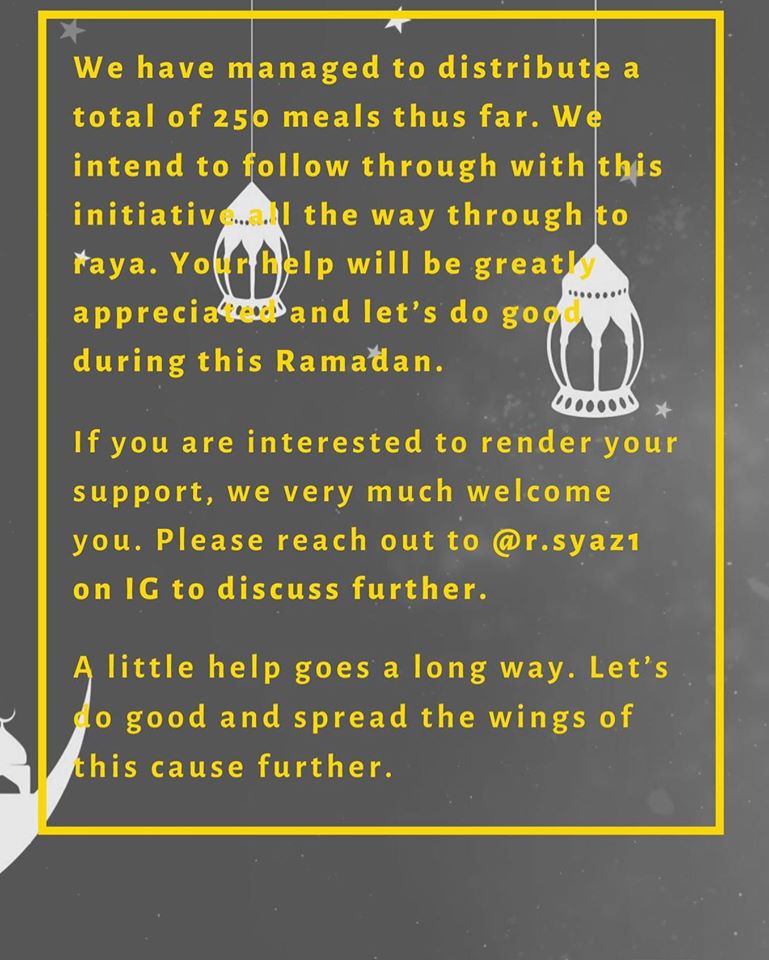 Physically demanding
Although it's rewarding, Ruzaini admitted that his initiative can be physically demanding at times.
Ruzaini is currently a full-time student and has to attend online classes every Monday to Friday from 9am to 5pm.
As soon as his class ends, he rushes to deliver the iftar meals.
He then returns home to get some rest.
At around 2:30am, Ruzaini will wake up and start delivering the sahur meals.
He told Berita Mediacorp: "How big of a difference you make doesn't matter. Taking the first step is more important. Everything else will fall into place once you take that first step."
You can watch the full video here:
Top images from Berita Mediacorp/FB.
If you like what you read, follow us on Facebook, Instagram, Twitter and Telegram to get the latest updates.