By now, we've all heard about Singaporeans' Stay-Home Notice experiences in luxury hotels — from the spacious rooms to making towel origami.
It was announced on Mar. 26 that all Singaporeans and Singapore Residents returning from the United Kingdom and United States would serve their Stay-Home Notices (SHN) in government-arranged hotels.
But two Singaporeans, one of whom is my good friend and former university classmate, decided to end their 14-day SHN with a bang — by running a marathon.

That's right, a full 42.195 km marathon, within their respective hotel rooms in M Hotel.
At-home workouts are one thing, but running a marathon??
I mean, those hotel rooms are big, but they're not that big.
So when my friend, Daniel Ng, posted a 10-minute time lapse video on Facebook showing how he had run a marathon on the last day of his SHN, I knew I had to find out more.
Ng, who is currently a Master's student at Tsinghua University, explained to me that he and a close friend, Roger Poh, both coincidentally happened to be in the U.S. for work-related trips at the same time.
The two go back far — they were secondary school classmates and have remained very close friends since then.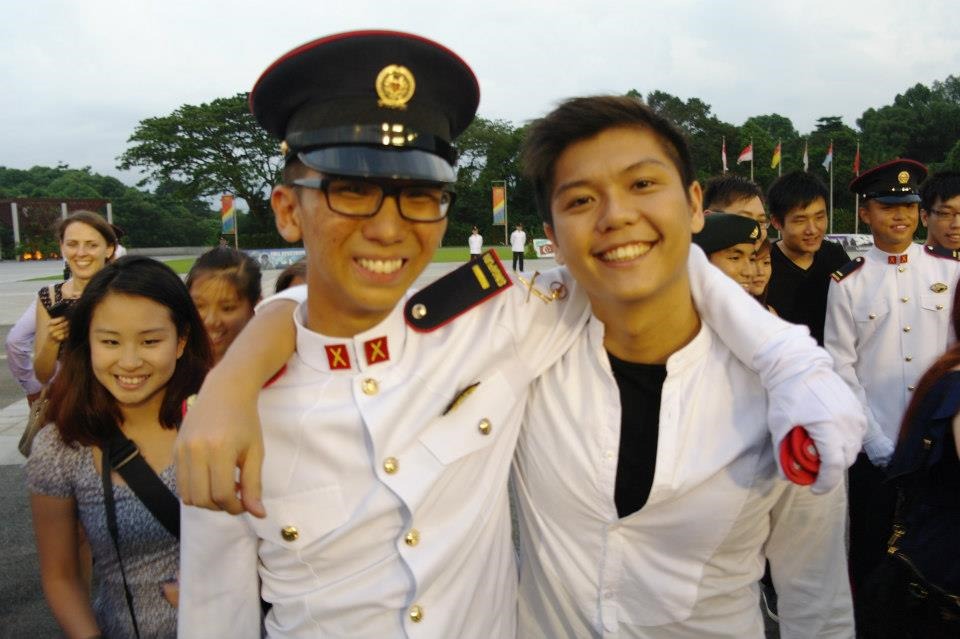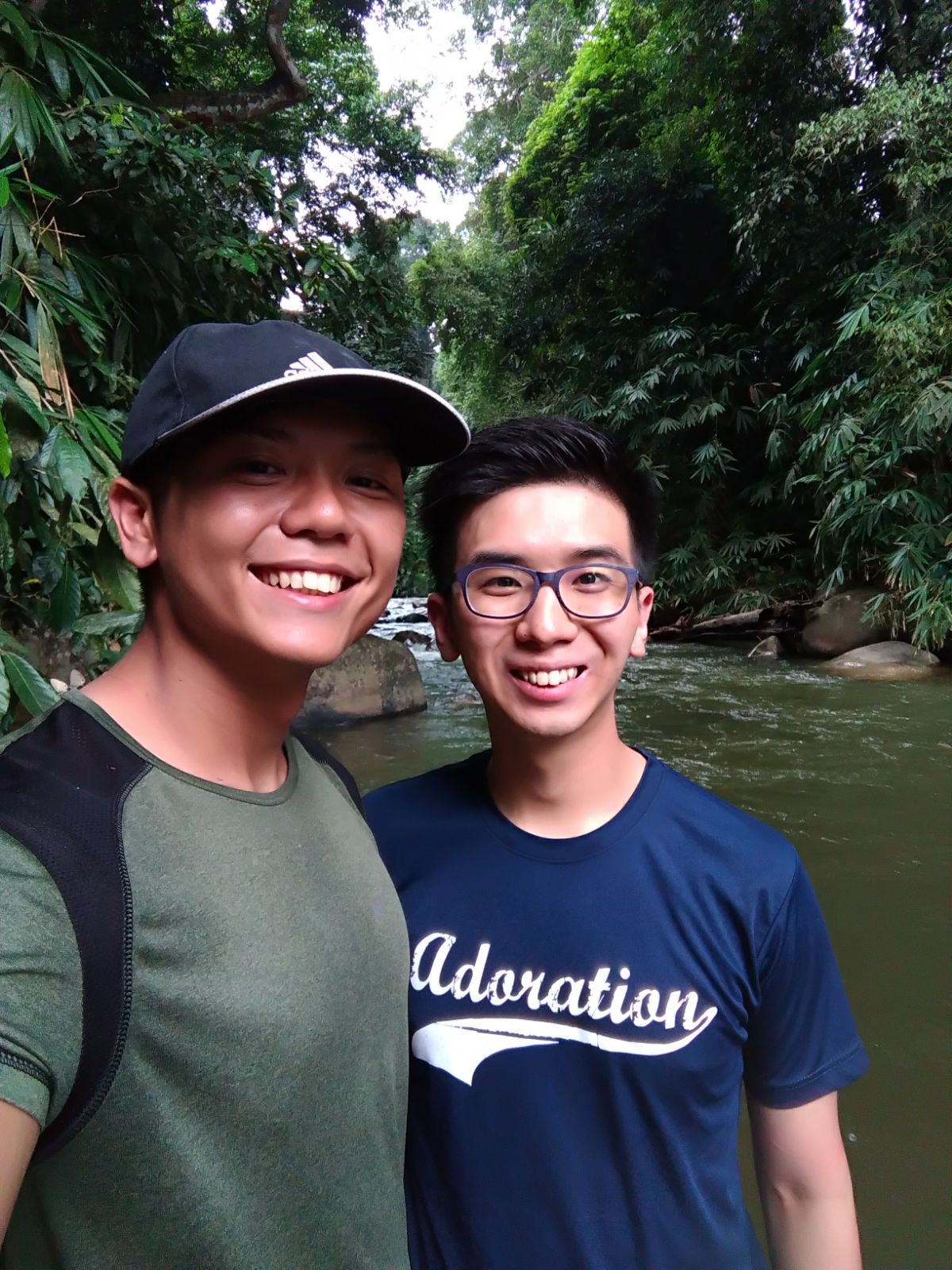 As Ng and Poh, both 27, happened to be in California at the same time, they met up to hang out prior to flying back to Singapore together.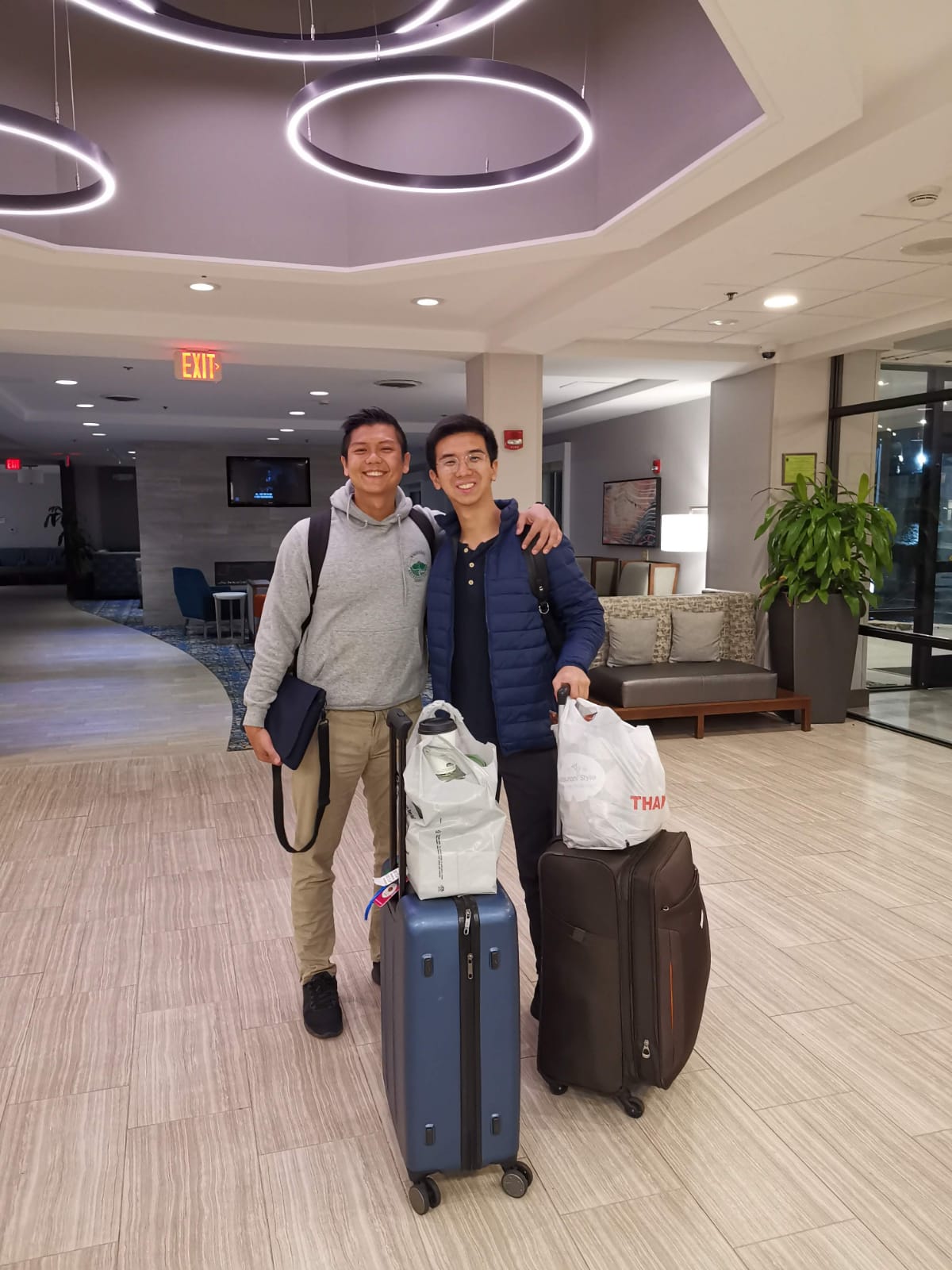 Back in Singapore, they served their SHNs in their respective rooms, which is where the grand plan for running the marathon was hatched and executed, with the assistance of Zoom, as well as Ng's smart glasses and Poh's smart watch for counting their steps.
So I asked Ng, a dedicated runner who has previously run three (normal) marathons, to tell me more about the experience:
What was your motivation for doing this?
We were inspired and baffled by stories of Chinese runners who ran marathons in their homes during their lockdown. So... we decided to challenge ourselves and do it too.
Did you plan to run a marathon before you started, or did you get carried away? When did this plan surface?
After hearing news about the mandatory stay-at-home notice for those returning from the U.S., we discussed what we were going to do during SHN. We joked about and marvelled at the Chinese home-marathoners, saying it was such a feat but way too boring!
On the first day of SHN, we noticed that the room was big enough to run in. Roger ran 3km and said it wasn't that bad...
We then decided — for laughs and for the challenge — that we were going to do a marathon.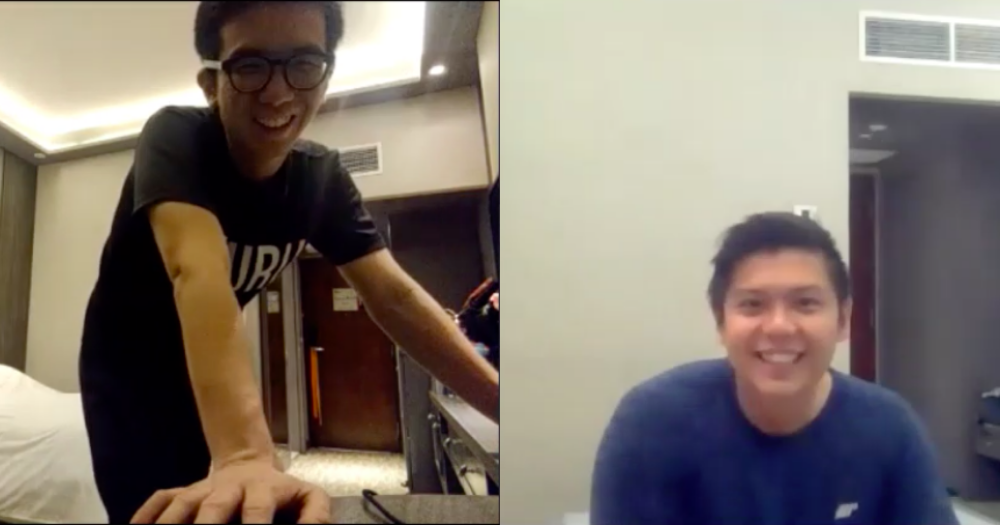 How long did it take?
Too long. Roger took 5 hours 40 minutes, and I took about 15 minutes longer than that.
How many times around the room did you have to go? Was it inconvenient?
Roger ran around his bed, maybe 5,000 times or so. He got blisters halfway through the marathon because of the need to make turns around the bed frequently.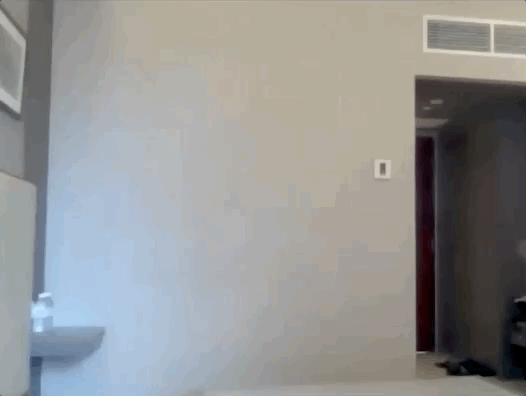 I ran from the door to the window and back about 3,000 times. It was very hard to build momentum running back and forth, and doing turnarounds were difficult in the tight space.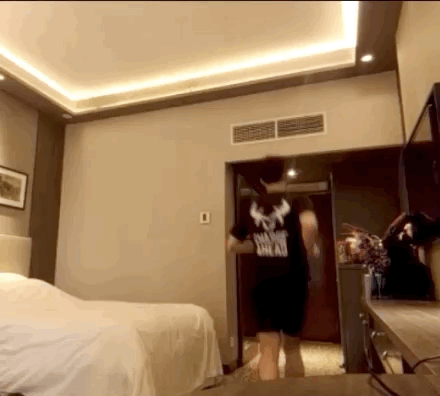 It was absolutely ridiculous.
How many breaks did you take? What did y'all chat about during your breaks?
Maybe four or so. We just stopped whenever we wanted to and called out to the other person via Zoom.
We talked about the movies we were watching, laughing at whose crazy idea it was to run a marathon in the room, but the thing we talked about most was when the marathon was going to end.

Did you ever just want to plop onto the bed and stop? What kept you going?
Strangely, not at all. Maybe because we did the marathon together and, also, it'd feel incredibly incomplete if we just gave up on the goal we set.
How sweaty did you get? Did you have to leave the aircon on?
We did get sweaty but set the aircon to a pretty cold temperature, so it was fine. Muscle aches and blisters were a much bigger problem!
Did the room smell by the end of your marathon??
Yes, with the sweet smell of success.
LOL but no, it didn't. I think the aircon and ventilation was great.
Did you wear shoes?
No, but we wore socks. Shoes would be quite uncomfortable to run with in the room and going barefoot would mean bad blisters.
Socks were a comfortable in-between that did the job.
Did you get dizzy from going back and forth and around so many times?
I chose to run back and forth as I did a trial run and got dizzy running around the bed!
Roger was fine running around the bed. So based on our routes, we didn't feel dizzy at all.
Would you 10/10 recommend?
42.195/10
Would you do this again?
Definitely not. No way. Not at all.
How did this experience compare to previous marathons and races you've run?
This was Roger's first marathon, and first time running over 21 km!
As with most marathons, it was mentally challenging and physically painful, but because of the comfortable temperature and inability to go that quickly, it didn't feel as difficult as other marathons for me.
Unfortunately, that also meant one cannot go as quickly, which prolonged the pain...
Other than willingly putting yourself through 42km of pain, how else did you spend the rest of your time during your Stay-Home Notice?
The fourteen days flew by! We spent time getting work done, arranging calls to catch up with loved ones, sleeping and exercising.
Unanimously, our favourite feature in the room was the amazing work table.
We also played Dota 2, which I hadn't played in 11 years, and was a nice call back to the early days of our friendship in secondary school. (Lost quite a few games, if anyone's curious.)
Any final thoughts?
We were both impressed and grateful for the SHN to stay safe and ensure we did not accidentally bring the virus back to Singapore. So we wanted to make the best of it.
As the saying goes -- when life gives you lemons, make lemonade.
When you're required to stay at home because of a global pandemic, run a marathon.

Read about other SHN experiences here:
Top photos courtesy of Daniel Ng.
If you like what you read, follow us on Facebook, Instagram, Twitter and Telegram to get the latest updates.