Six otters were spotted out and about at a Shell petrol station in Bukit Timah on Apr. 17, 2020.
A video of their surprise appearance was uploaded to Facebook and went viral.
As of the time of writing, the video attracted nearly a million views and over 23,000 shares.
Here are the otters in action:
Thought they were seals
The otters weren't the only star of the video though.
Facebook user, Abang Ard, who was the man behind the camera, provided an amusing, albeit wholesome, commentary during the otters' adventure.
He said in Malay:
"Okay guys, that time you saw a horse right? Now what animal is this? Who can answer? What is this? Kinda looks like a seal. Not sure if they're dangerous or not. But what is this animal? What is it? Can't be a monkey right? Is it a seal? Let's try to zoom in. They look like seals sia."
When someone in the comments section told him that the animals are called otters, he responded with a sad emoji.
He explained: "I'm sad because it's the first time I saw this animal. Didn't know what they're called. And that made me sad."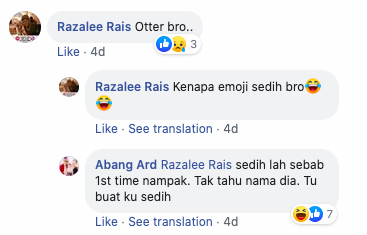 White horse previously spotted at Bukit Timah Shell station
Bukit Timah Shell petrol stations seem to be a popular destination for animals.
Earlier this month on Apr. 6, a white horse was seen in Bukit Timah galloping along Eng Neo Avenue across a road junction, before entering a Shell station along Dunearn Road.
The 11-year-old horse, named Cocorita, had bolted out of the paddock nearby after getting startled by a loud screech from some vehicles.
Cocorita was fortunately found within 20 minutes of its escape.
Top images from Abang Ard/FB.
If you like what you read, follow us on Facebook, Instagram, Twitter and Telegram to get the latest updates.