The OCBC Bank and its staff will be donating a total of S$1,225,000 to help needy families as well as migrant workers in Singapore to tide through this trying period.
This will be the fourth round of donations from the bank.
Previously, the bank has extended support to the frontline workers, vulnerable seniors and families as well as affected communities in China.
Since the start of the Covid-19 outbreak, the bank has contributed a total of S$2.2 million to help those in need in Southeast Asia and China.
Donation to tide those in need through six to seven months
According to the press release, the bank has committed a total of S$1 million in corporate donations while the staff from OCBC Bank and Bank of Singapore has contributed to S$225,000.
The bank actively reached out to over 20 organisations in the past two weeks to identify the gaps to fill so as to avoid duplicating existing efforts.
The organisations that OCBC Bank has spoken to range from charities and non-profit groups to dormitory operators.
OCBC Bank's Group Chief Executive Officer, Samuel Tsien, said that the disruption caused by the pandemic has been "unprecedented" and the "vulnerable ones among us have been the hardest hit".
The bank has been trying to do its part to help "in a modest way" and hopes the donation can help tide the vulnerable members of society through the next six to seven months, Tsien added.
"With the impact of the outbreak expected to last throughout this year, we are making a fourth tranche of our support to help supplement the government payouts to needy families.

This will hopefully help tide them over the next 6 to 7 months as I do hope and expect some stability returning – though not yet a strong recovery by any means – before 2020 winds down."
1,000 needy families to receive supermarket vouchers
The donations will translate into S$800 supermarket vouchers for 1,000 needy Singaporean families.
This will support the daily needs of families whose breadwinners have lost their jobs as well as bigger families with young children and seniors that are affected by the enhanced Circuit Breaker measures.
Additional vouchers will be given to families who need more help.
Recipients can use these vouchers to purchase essentials such as fresh foods, stationery and medicine.
These families are under the care of Beyond Social Services, Care Corner Singapore, Food from the Heart, and the Muscular Dystrophy Association (Singapore).
Migrant workers have different needs and they remain part of our community
Besides needy families, OCBC Bank will also render support to migrant workers in Singapore.
"Make no mistake. Hardy folks like these workers have helped build Singapore and make it what it is today. They remain part of the fabric of our community and we are glad that we can provide some comfort to them during this difficult time," Tsien said.
OCBC discovered from its outreach that the needs of migrant workers are "very different" from those of needy families, and some have already been covered by the government and other donors, such as food and surgical masks.
However, the workers have other simple requests to help tide them through the isolation period.
These include coffee and tea, oil and rice from their hometowns to do some cooking when permitted, and additional cleaning agents to clean their bathrooms.
One Bangladeshi worker, 28-year-old Rana Md Habibullah, who resides in Westlite Toh Guan shared:
"Each time I cook using these ingredients, it reminds me of my family at Gazipur. I am grateful for the packed food that we have been receiving. But my friends and I prefer to cook our own dishes using our own types of oil and spices. Now we cannot get these items because we cannot leave our dormitories."
Another worker, 38-year old Murugan, also shared that he was glad to receive the disinfectants that OCBC Bank has donated as it helps them save more money. He said,
"While the dormitory operator cleans the common areas of the Lodge, we have to buy our own cleaning detergents and equipment to clean the inside areas. We know we must keep our living place clean because of the virus. Now that I have the detergent from OCBC, I can save a little more money – and send more money to my family."
55,800 migrant workers to receive essential items
Over 55,8000 migrant workers will also benefit from the donations as the bank will support in three areas — foods, personal protective and cleaning equipment, and personal necessities.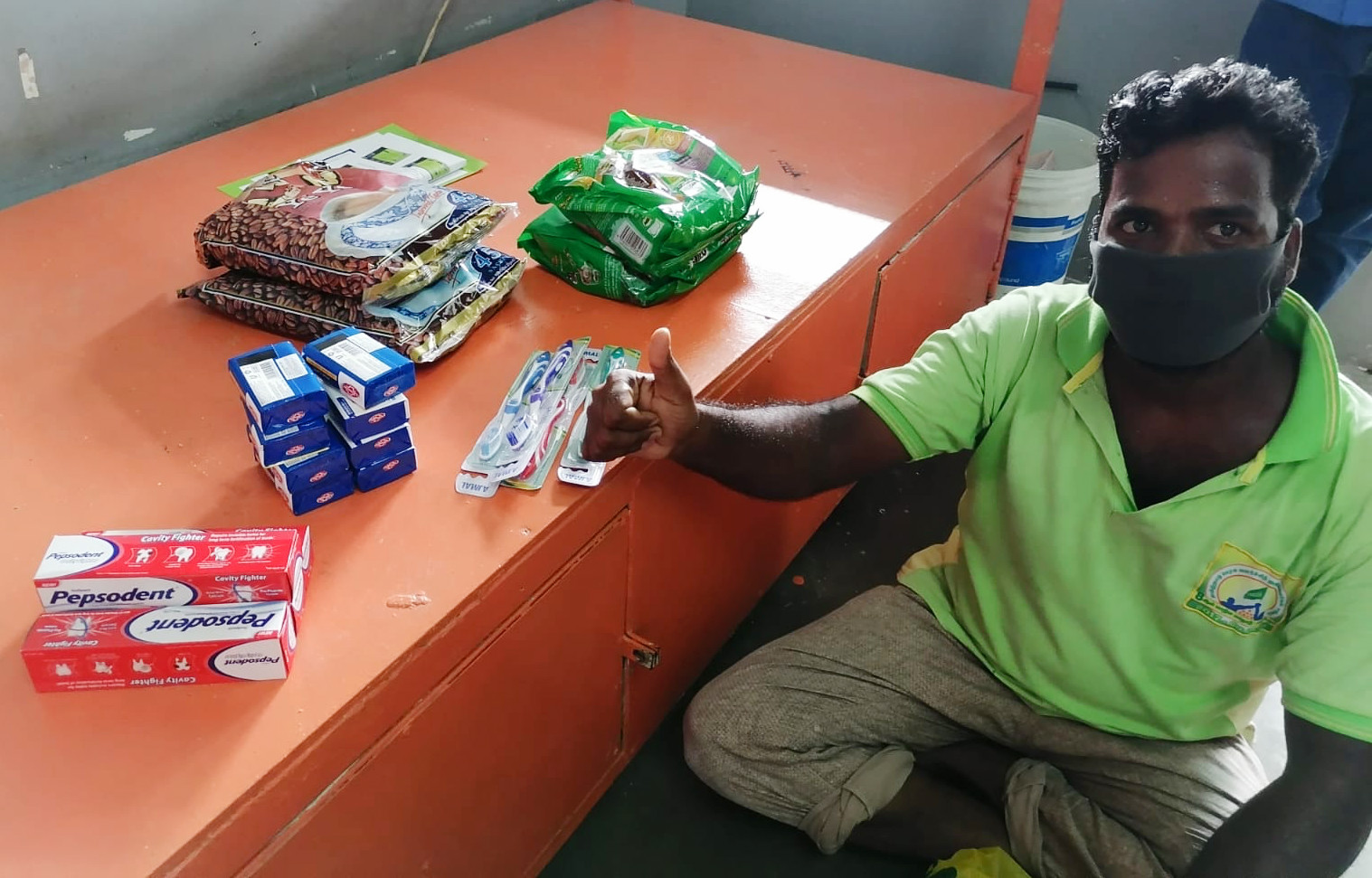 They are workers who are currently living in nine dormitories as well as those who are now isolated at the OCBC Arena, Singapore Sports Hub.
The nine dormitories are Tuas South Dormitory, TAC Alliance Pte Ltd, Prestige Resources Pte Ltd, Sungei Tengah Lodge, Westlite Toh Guan, Westlite Papan, Westlite Woodlands, Westlite Mandai and Westlite Juniper.
The bank will be working with three dormitory operators to ensure the requested items are promptly sent to the workers.
Top image from Food from the Heart/Facebook and OCBC Bank
If you like what you read, follow us on Facebook, Instagram, Twitter and Telegram to get the latest updates.