12 vegetarian stalls in Singapore are collaborating with a community initiative called Belanja Eat, where patrons can sponsor meals for others.
On the other hand, those in need can get these free meals from participating food vendors with no questions asked, according to the website:
"Belanja Eat relies on an honour system. Just like all things, there will always be people who abuse it.

Yet, in these hard times, there are truly people who need the free meal and are too paiseh to ask for help. They may also not qualify for government support or relief yet."
That's why Belanja Eat is a no-questions-asked, no-judgement, pay-it-forward system. Have more faith in people lah.
A number of food outlets have joined the initiative, providing halal, non-halal and vegetarian food options islandwide.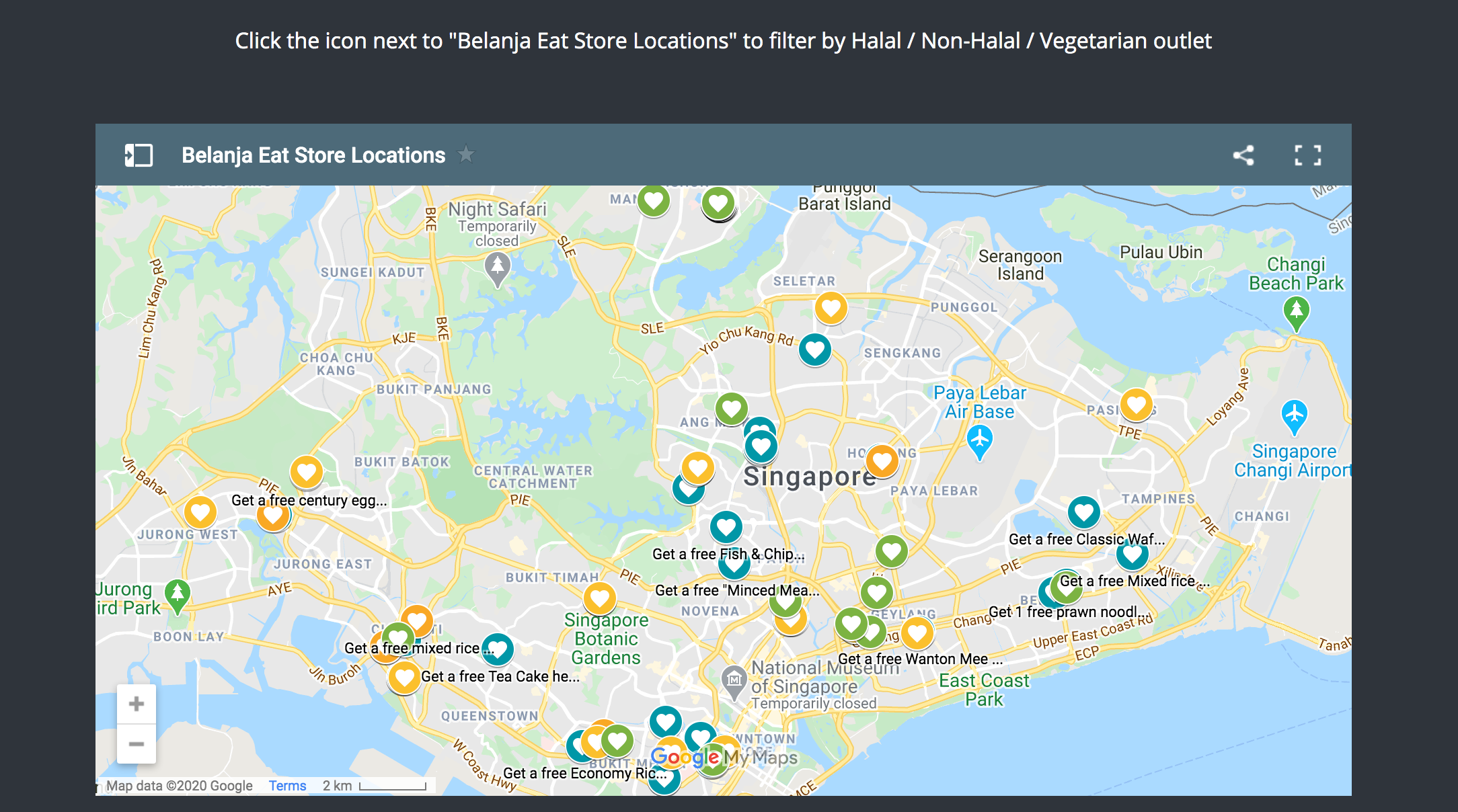 How it works
At these participating stalls, you can find a Belanja Eat poster with free meals donated by patrons represented by circles.
Once the free meals/food items have been claimed, a tick will be drawn over the circle.
Here's what the poster looks like at vegetarian burger shop nomVnom: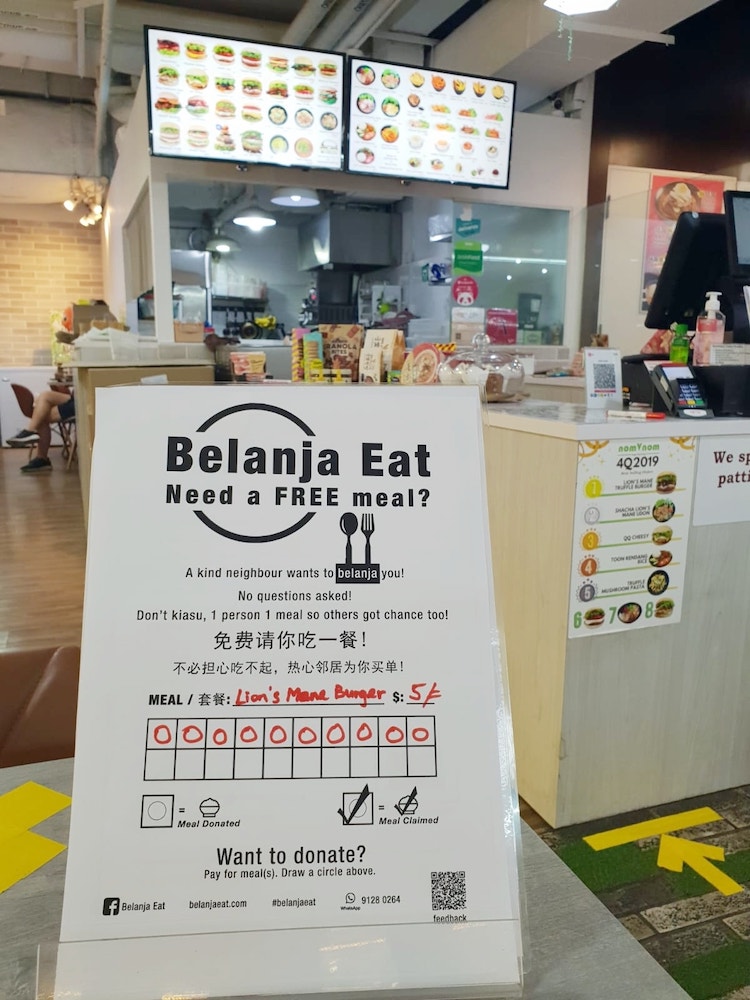 Speaking to Mothership, the spokesperson of vegetarian burger shop nomVnom, Muhammad Ryza Rahman said that anyone who wishes to claim a burger for themselves or someone else can just approach the staff.
Ryza told Mothership that the staff at the store will not ask those who are claiming the burger for the reason why they need a free meal or judge them for it.
Since April 17, nomVnom has received a total of 131 sponsored meals and 31 free burgers were claimed so far.
List of participating vegetarian stalls
According to a Facebook post by Lee Han Eric Woon, here's a list of participating vegetarian stalls across the island:
1) Su Yuan Xuan Vegetarian 素缘轩
Blk 20 Marsiling Lane, #01-14, Singapore 730020
2) Kang Su Vegetarian 康素
Sims Dr, #01-180 Block 45, Singapore 380045
3) San Ho Gourmet
Chinatown Complex Hawker Centre
335 Smith St, Singapore 050335
4) Ruyi Yuan Vegetarian Food
Only available at 80 Redhill Lane, #01-350, Singapore 150080
5) nomVnom
Only available at Tai Seng 18, #B1 -02, #B1-02, Singapore 539775
6) Daily Green @ Bedok
217 Bedok North St 1, #01-77, Singapore 460217
7) Daily Green @ Yishun
717 Yishun Street 71 #01-335 Singapore 760717
8) Daily Green @ Geylang
No.56/58 Lor 25A Geylang Singapore 388248
9) Daily Green @ St George's Road
3 St George's Road #01-67 Singapore 320003
10) Daily Green @ Clementi
431 Clementi Avenue 3 #01-296, Singapore 120431
11) Daily Green @ Ang Mo Kio
721 Ang Mo Kio Avenue 8, #01-2823, Singapore 560721
12) Yu Xin Vegetarian
Yishun Park Hawker Centre
51 Yishun Ave 11, Singapore 768867
You can find out more about the Belanja Eat initiative and other participating stalls here.
Top photo via Lee Han Eric Woon/Facebook
If you like what you read, follow us on Facebook, Instagram, Twitter and Telegram to get the latest updates.