The Ministry of Health (MOH) confirmed 142 new cases of Covid-19 on Wednesday, April 8, 2020.
This brings the total number of Covid-19 infections in Singapore to 1,623.
Another 29 patients were discharged today. This brings the total number of discharged patients to 406.
ICU cases
29 patients are in critical condition in the intensive care unit.
This is unchanged from April 7.
669 confirmed cases are still in hospital, mostly stable and improving.
542 cases who have tested positive for Covid-19 but are clinically well are currently isolated and cared for in various locations.
Breakdown
Here is the breakdown of the cases: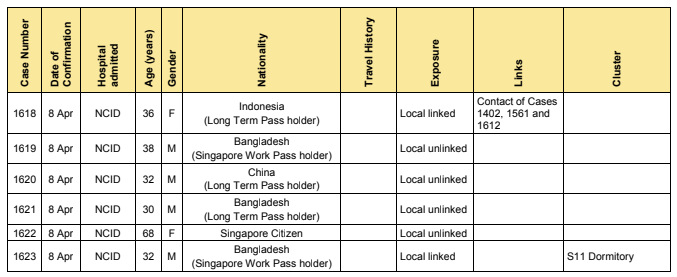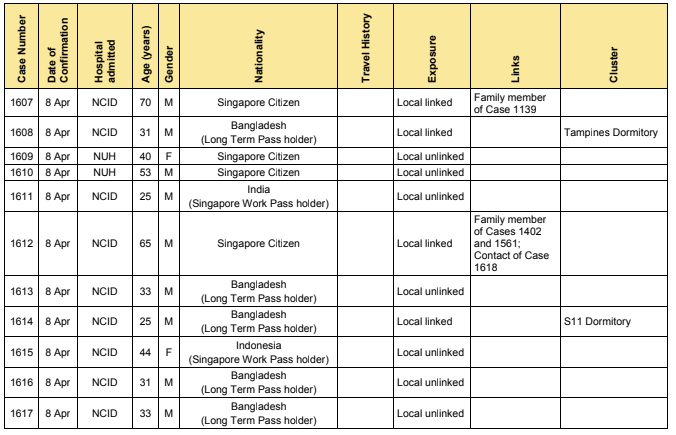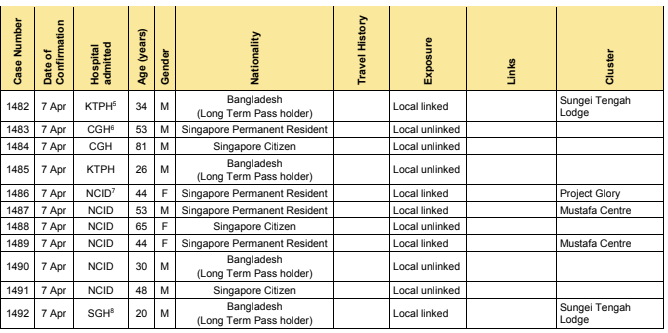 All photos from MOH
Unlinked cases as of April 7
According to the Ministry of Health's Situation Report, the proportion of unlinked cases in Singapore has become significantly higher since March 21.
As of Tuesday, April 7, there are 304 unlinked cases out of 924 local cases, forming 32.9 per cent of total local cases.
This means that one out of every three patients that have contracted Covid-19 is not linked to any known cases yet.
Circuit breaking measures in place since April 7
Circuit-breaking measures have been put in place nationwide since Tuesday, April 7, to curb the staggering growth of local Covid-19 infections across Singapore.
The measures will be in effect till May 4, 2020.
Enforcement officers from the Ministry of the Environment and Water Resources (MEWR) have been deployed in HDB estates to enforce safe distancing during this period by issuing advisories and carrying out enforcement actions.
For example, they will discourage loitering and gatherings in public spaces, ensure people are not eating and drinking in eateries, as well as ensure safe distancing in queues.
Here are the safe distancing measures that you should take note of when making essential trips to public spaces starting from April 7:
Stay at home. Do not go out unless you need to, e.g., see a doctor, or buy food and essential items and go home as soon as you are done.

Limit social contact to household members. You can stay in touch with other family members and friends through video or phone calls.

Do not gather in groups, either at home or outside, including in the neighbourhood.

Keep a safe distance of at least 1 metre from others even in open spaces, e.g. in queues, and when exercising.

No eating or drinking in eating places. Bring a clean container to pack your food for takeout, or opt for delivery.
Members of the public have to comply with these elevated safe distancing measures in the common property of public and private housing estates, parks and other shared spaces.
NEA officers will hand out written warnings and take down the particulars of those who continue to defy regulations.
Under the Infectious Diseases Act, first-time offenders may be fined up to S$10,000, jailed for up to six months, or both, if convicted.
Top image by Fasiha Nazren
If you like what you read, follow us on Facebook, Instagram, Twitter and Telegram to get the latest updates.