Online marketplace Carousell is moderating its listings and will be removing those related to bubble tea and other confectionery items after tightened circuit breaker measures were announced on Tuesday, April 21.
The tightened restrictions include the suspension of selected F&B services, such as predominantly beverage outlets, confectionery and dessert stores, and predominantly packaged snack outlets.
These restrictions will be in place until May 5, 2020, at least.
Listings of bubble tea & McDonald's items put up in jest by users
Shortly after the tightened regulations for the extended circuit breaker period was announced on April 21, listings of bubble tea and other confectionery items flooded the online marketplace.
Most were posted in jest by users, but were quickly taken down.
Similarly, On April 19, after McDonald's announced the suspension its restaurant operations island-wide, several users also posted listings of McDonald's items at insane prices as a joke.
Carousell removes listings of bubble tea, McDonald's, confectionery items
In response to the restrictions, Carousell announced on Apr. 22 that it will be moderating the listings.
Previously on April 19, McDonald's Singapore announced the suspension of its restaurant operations island-wide till May 4, 2020.
Carousell posted an Instagram story on the same day, stating that the company will be moderating and removing listings for one of Singapore's "favourite fast food joints".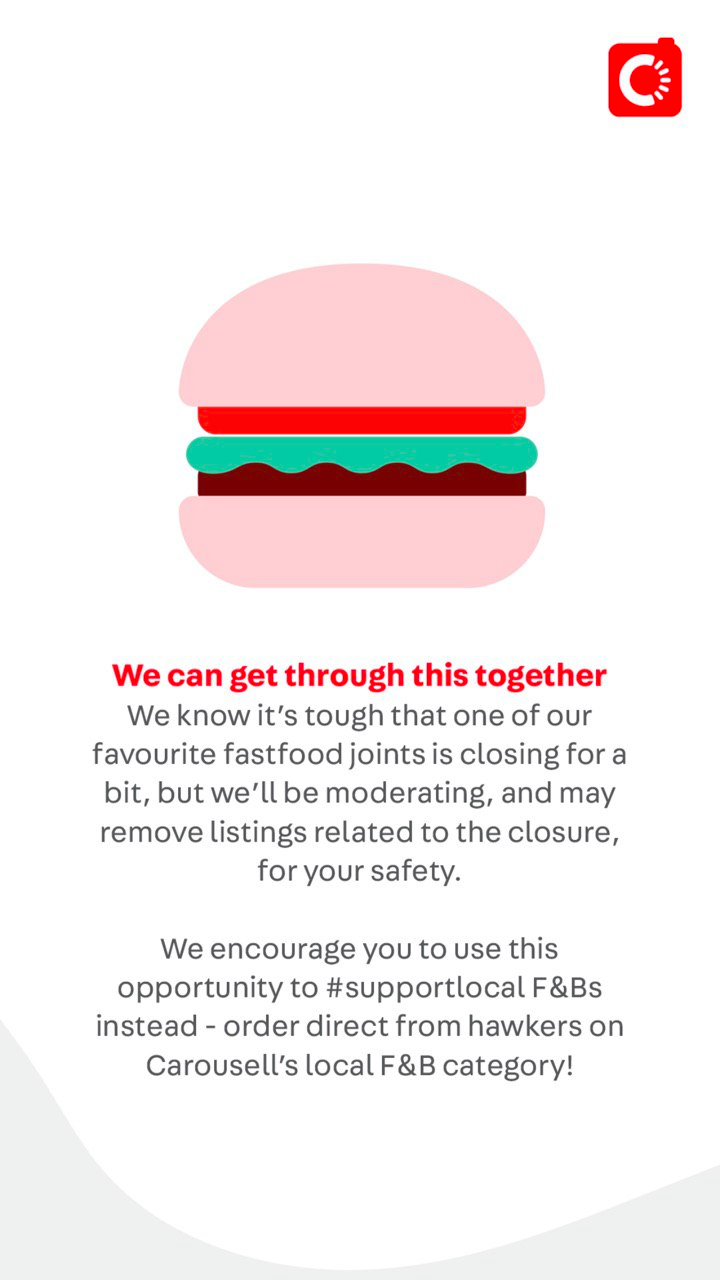 No penalty given to non-compliant listings for now
While listings that do not comply with the latest government regulations will be taken down, no action will be taken against the users that put up the listings at the moment.
A spokesperson from Carousell told Mothership:
"User accounts will not be suspended at this point in time, but we will continue to take progressive measures in tandem with new developments on the extended circuit breaker."
They also urged users who encounter non-compliant listings to report the matter to the company.
The spokesperson also advised their users to check and comply with the government's circuit breaker regulations and take precautionary measures should they require essential services.
Top image via Carousell
If you like what you read, follow us on Facebook, Instagram, Twitter and Telegram to get the latest updates.