Since the implementation of the Covid-19 circuit breaker on April 7, some Singaporeans have been working from home.
S'porean received cake from neighbour during CB
However, they might sometimes find their working environment at home a tad unconducive, possibly due to noise from their family members or neighbours.
One conscientious neighbour who was aware of that decided to send a gift to her neighbours as an apology in advance.
Ng, a Mothership reader living in Ang Mo Kio, shared that she received a cake which she didn't order, on Friday morning (April 24).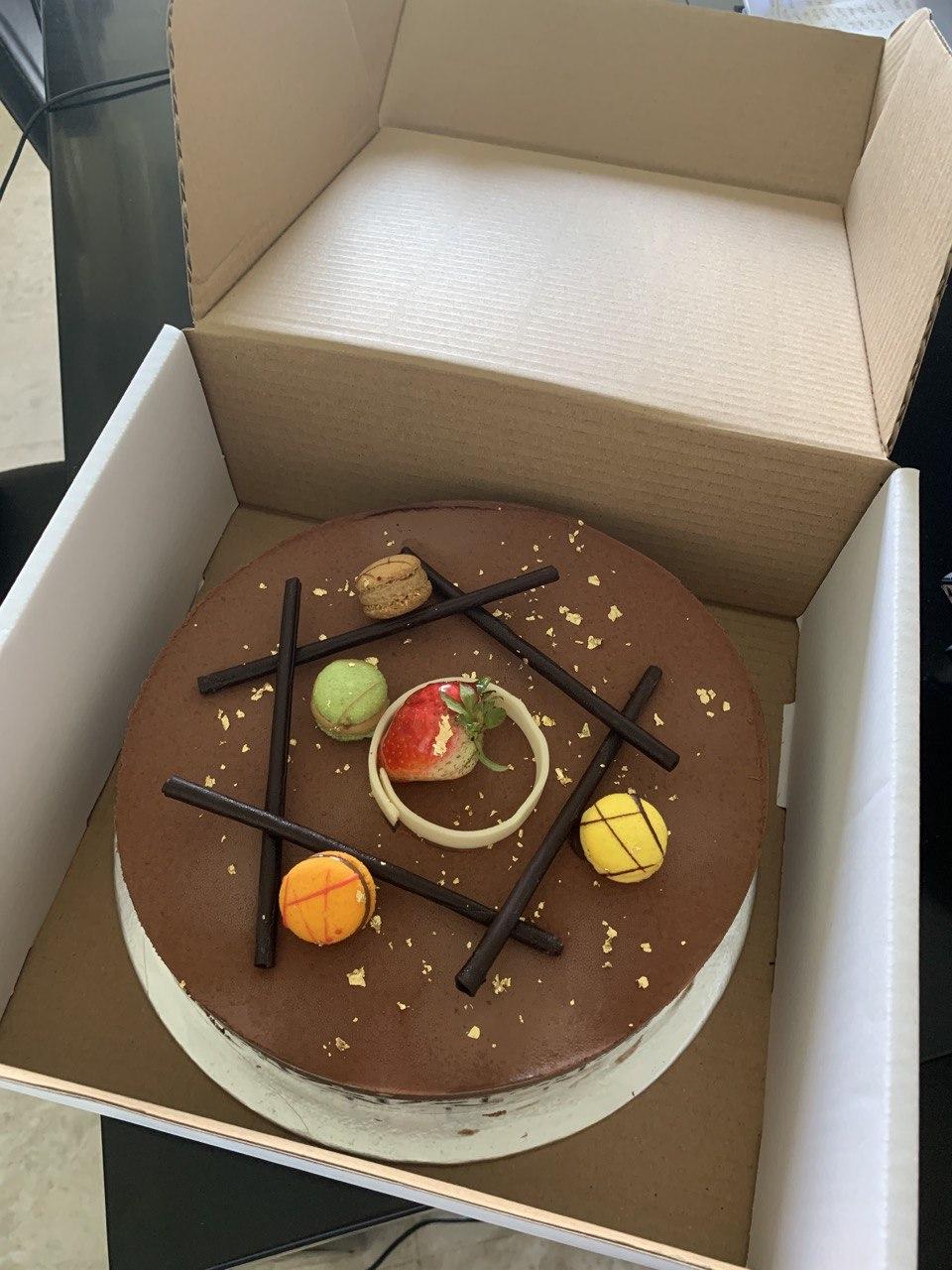 Puzzled, Ng thought that the deliveryman had sent it to the wrong unit, and asked him to check again.
The deliveryman returned to Ng's unit soon afterwards, and shared that the cake was ordered by their neighbour from upstairs, but insisted that they accept the cake.
"Still confused, we took the cake. I read the receipt to find the contact details of the person who was supposed to get the cake, but to my surprise, I found a little cute message on the piece of paper," Ng said.
"Dear Neighbour, thanks for bearing with my kids during this circuit breaker. Hope you will enjoy this cake. A small appreciation. ❤ upstairs"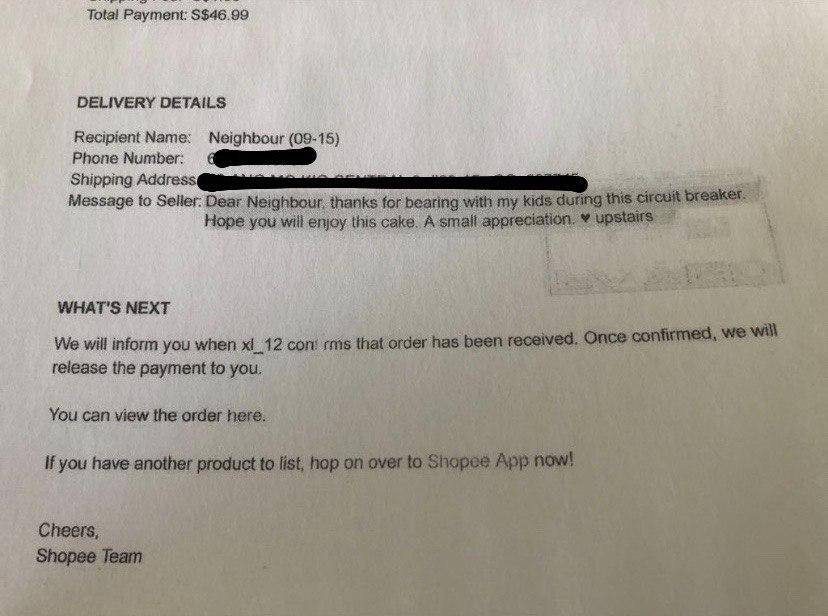 The confectionery company also threw in some oatmeal cookies for free.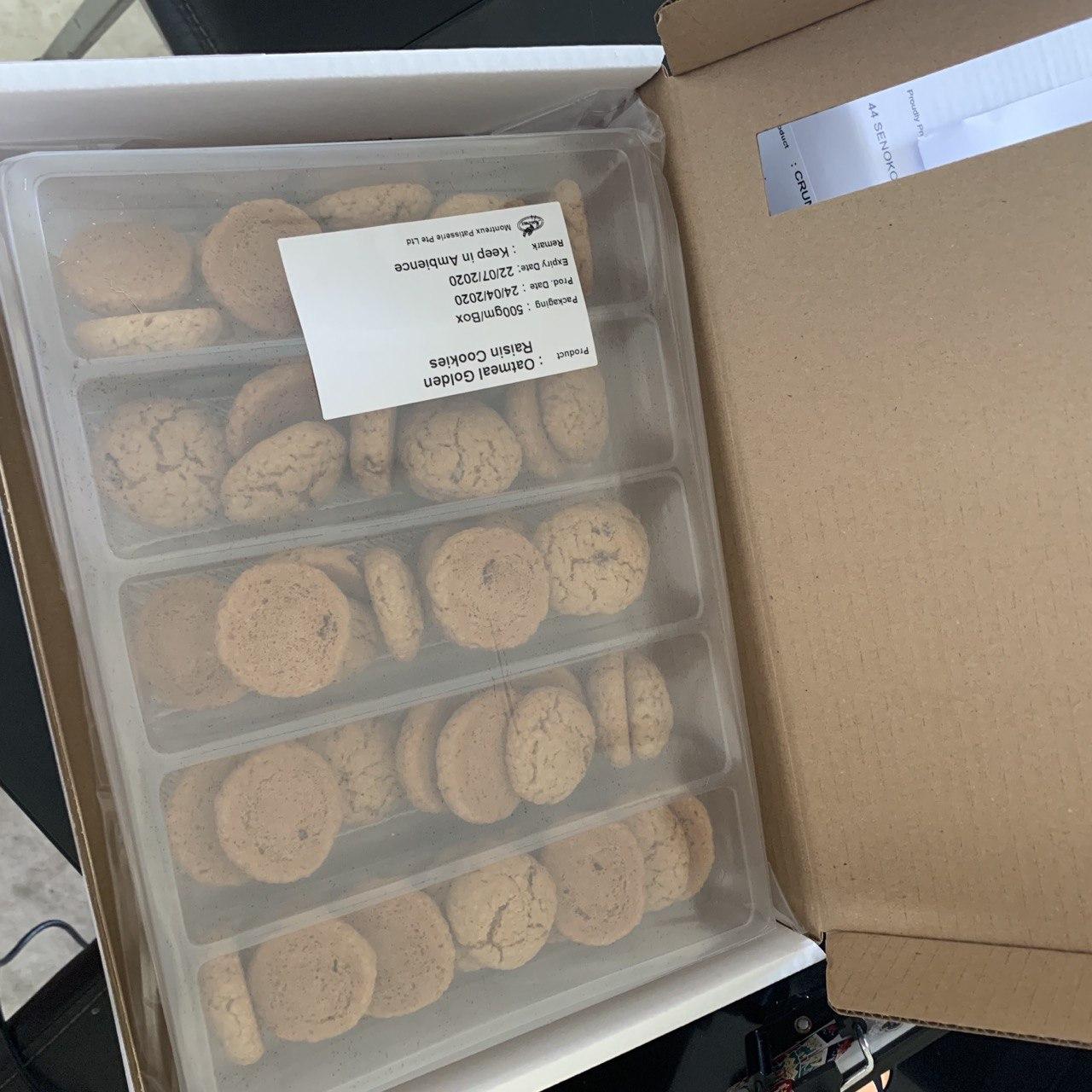 "During these few weeks that I've been at home doing Home-based Learning (HBL), I've heard our neighbour's children making some noise but it wasn't incessant or disturbing us in any way.
I just thought that it was part and parcel of life. I mean I was probably that noisy, if not noisier than them when I was young," Ng shared.
Wanted to share homemade bubble tea with neighbour
Ng also shared that her family had never interacted with their neighbour from upstairs before.
Ng and her mother wanted to thank their neighbour with some homemade bubble tea, but faltered as they thought it wouldn't be good to share food during the circuit breaker period.
Instead, they managed to thank them after starting a conversation with their neighbour for the first time, while standing on their balcony.
"It was pretty unconventional, but it was the only way we could talk with them without visiting their house with the possibility of violating the social distancing measures," Ng said.
According to Ng, the two families sang "Home" together during the "Sing Together Singapore" initiative on Saturday night (April 25).
Nice.
Related stories:
Top image via Mothership reader
If you like what you read, follow us on Facebook, Instagram, Twitter and Telegram to get the latest updates.