The Thai government, already under pressure from the public over its perceived failure to adequately respond to the Covid-19 crisis, is now facing a fresh round of intense criticism from the public.
Man linked to government official boasted of having 200 million masks
The controversy started when a man claimed on Facebook that he is in possession of a whopping 200 million masks.
On Monday morning, March 9, a man who goes by the name Sornsuvee Phuraveeratwatcharee, said on Facebook that he has 200 million masks.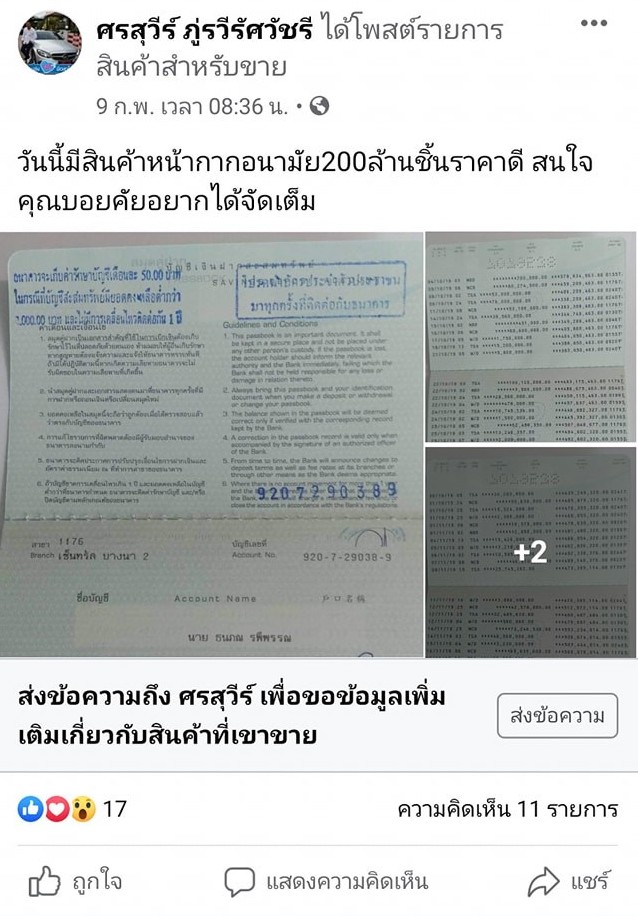 The captions read: "Today I have 200 million pieces of masks. Good bargain. If you're interested, take them."
On a March 7 post featuring a Mercedes-Benz, Sornsuvee had also said in the caption: "Every business is dead except for the sale of masks."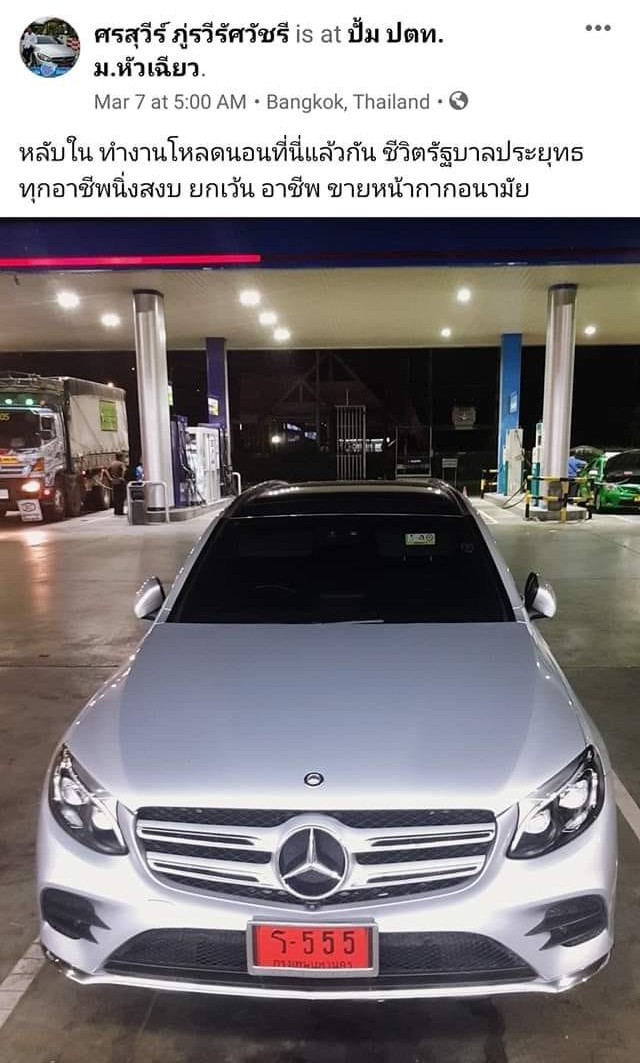 Sornsuvee had since taken down his Facebook page.
In addition, Sornsuvee posted several video clips of himself, in which he could be heard saying in one particular clip that he has many masks to sell.
" มีเยอะนะครับ ไม่ต้องห่วงว่าไม่ได้กันนะครับ 'ขอให้มีเงินกันนะครับ' ... " #saveแหม่มโพธิ์ดํา pic.twitter.com/f892801XRl

— น้อนไอติม🍦 (@VEGAS_MU) March 8, 2020
He could also be heard saying: "As long as you have money, don't worry."
Linked to a government official
In a Facebook post on March 2, Sornsuvee posted pictures of himself with Pittinunt Rakeiad, who works for Thai Deputy Agriculture Minister, Thamanat Prompow.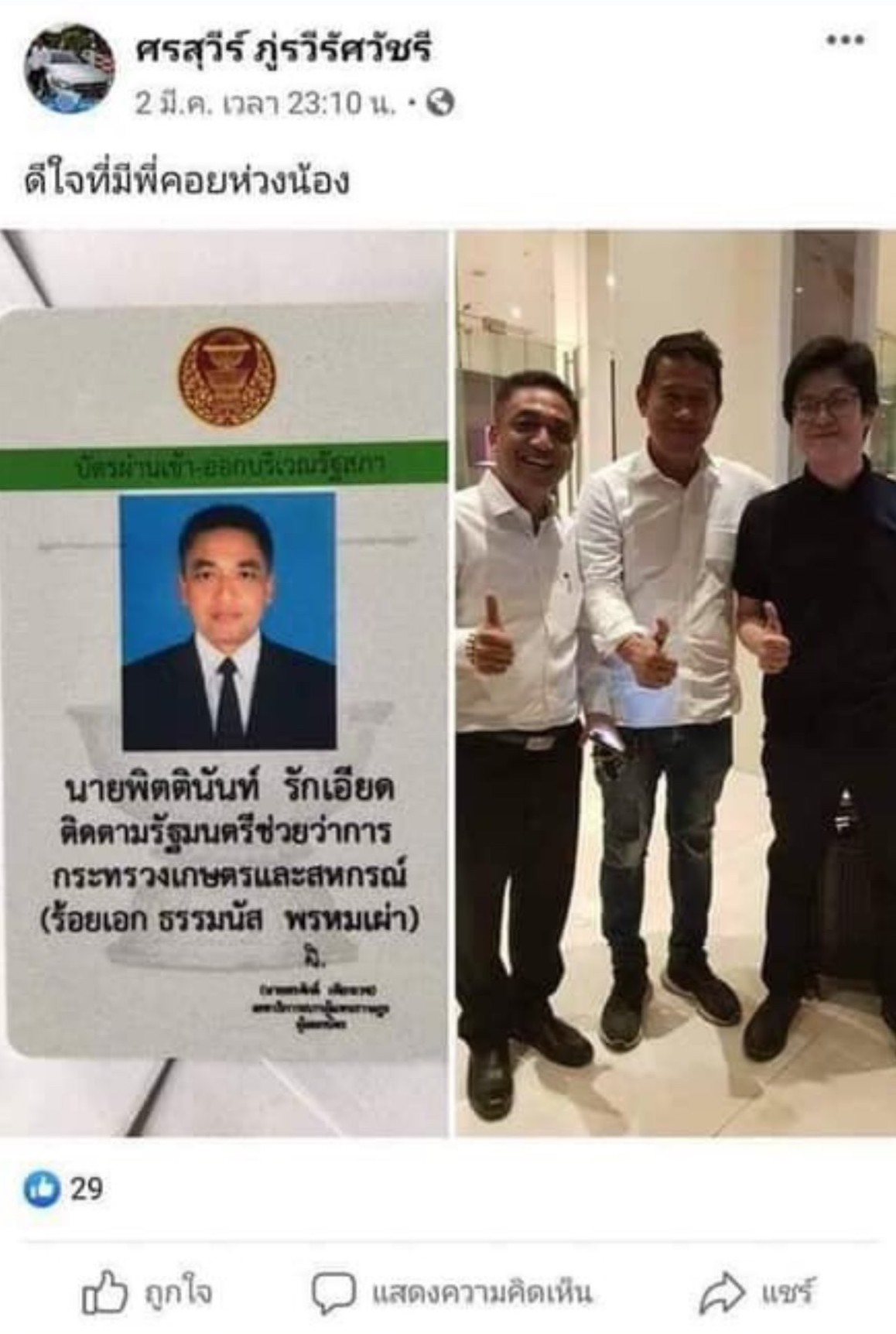 The picture was allegedly taken at the Marriott Hotel in the Pratunam area.
Referring to Pittinunt, he wrote in the caption: "I'm glad I have a big brother to take care of me."
Along with a picture taken together with Pittinunt (the white-shirted man on the left) and a third unidentified man, Sornsuvee also posted a picture of what appears to be Pittinunt's parliament pass.
Other than saying that the holder of the pass is able to enter and exit the parliament, the pass also stated that Pittinunt is "with the deputy minister of agriculture (Thamanat Prompow)".
Deputy minister of agriculture
After news of their meeting broke, Thamanat denied any involvement with Sornsuvee in an official statement released on Monday morning, March 9.
The statement claimed:
Sornsuvee did something wrong, but he has no link to Thamanat.

Pittinunt, Thamanat's close aide, confirmed that he met with Sornsuvee through a friend's recommendation to talk about buying masks at the Marriott hotel, but they did not go through with any transaction.

It was the first time that Thamanat had met with Sornsuvee.
In addition, he said that while he told Pittinunt to press charges against Sornsuvee, he would hand Pittinunt over to the authorities if he found out that Pittinunt was involved in the incident.
Bangkok Post reported that prime minister Prayuth Chan-ocha had refused to respond to queries regarding the incident.
Thamanat was reportedly convicted of heroin trafficking in Australia back in 1995, but has insisted that he never pleaded guilty or served jail time over the drug charges.
Under Thai law, a person convicted for drug offences cannot serve as a minister in the government.
Anti-government hashtags trending on Thai twitter
The controversy has sparked yet another round of outcry among Thai social media users, who have become increasingly vocal of late when it comes to expressing their discontent towards the government.
The episode was the most discussed issue on Thai social media as of Monday afternoon (March 9), with the top three trending hashtags being related to the incident:
#Save the Facebook page owner (Queen of Spades) who exposed them

#Where did the masks go

#Mask shortage but you say there are enough to go around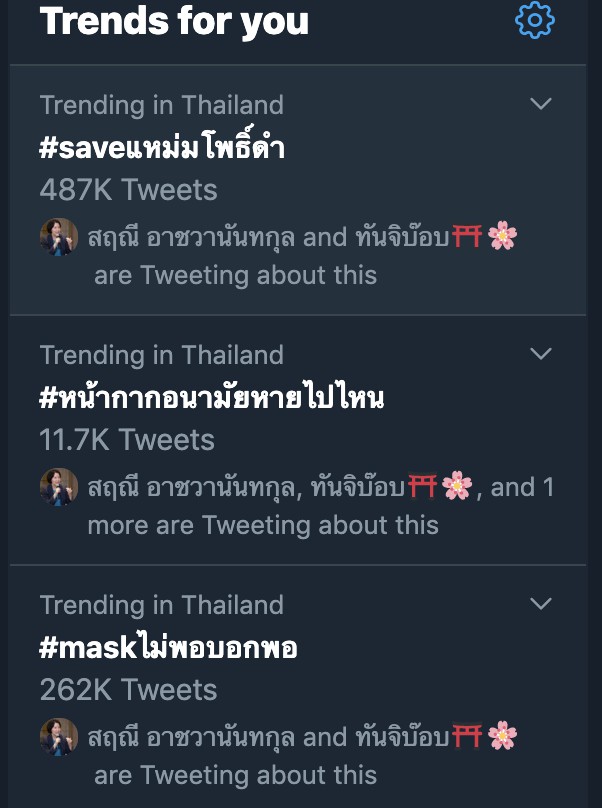 Thai social media users speak out
The controversy has sparked widespread anger on Twitter, a platform where Thai citizens -- mostly the younger population -- choose to speak out against the government amid tightening laws that attempt to contain dissent.
https://twitter.com/Kunlayapon_t/status/1236724300545019904
"Truly a d*ck move. Both hospitals and the people are facing a shortage of masks. Doctors and nurses have to risk their lives everyday because they don't have enough masks to use.

But this guy, how did he even get 200 million masks? Who gave you this many? And you are hoarding just to resell them. 1 million masks per lot, 14 baht (S$0.62) a piece. This is too much!"
March 9, 2020
(Lyrics to a Thai song) "Don't let me find you a**h*le, don't let me get to you MOFO."
https://twitter.com/6r1gzp9shMox4KB/status/1236716501014478848
"I'm really angry about this. The one who has been stockpiling turned out to be part of a minister's gang. I have to risk my life everyday at work because all the masks ended up there. I hope you rot in hell with your 'blood money'.

I hope you get the virus and die with no doctor to care for you, with all that you have done to us. In my years as a doctor I've never wished death upon anyone. You're the first."
The controversy sparked greater public anger as it was seen as yet another blunder by the Thai government when it comes to mask distribution in the country.
Medical workers reportedly face a shortage of masks, and despite the government announcing that they would ration masks to pharmacies and convenience stores, the country's pharmaceutical association issued a statement on March 8 that said they never received any masks from the government.
กรมการค้าภายในบอกว่าจัดสรร #หน้ากากอนามัย ให้การบินไทย 1.8 หมื่นชิ้น และร้านขายยา 2.5 หมื่นชิ้น

ปรากฏว่าสมาคมร้านขายยาออกมาโต้ว่ายังไม่เคยได้หน้ากากอนามัย การบินไทยก็โต้ว่าไม่ได้จัดจำหน่าย

แล้วหน้ากากอนามัยมันหายไปไหนครับ ขอความชัดเจนจาก #รัฐบาลเฮ็งซวย #รัฐบาลห่วยแตก #COVID19 pic.twitter.com/WbPgdWvDiW

— บอล ธนวัฒน์ วงค์ไชย (@tanawatofficial) March 8, 2020
In response to the domestic increase in mask demand, the Thai government has banned face mask manufacturers from exporting without approval, Bangkok Post reported.
The Thai government has also been criticised for failing to enforce quarantine measures on people who recently returned from South Korea, and for asking for donations from the people to fight against the viral outbreak.
Related story:
Top image adapted via Queen of Spades/Facebook & VEGAS_MU/Twitter
If you like what you read, follow us on Facebook, Instagram, Twitter and Telegram to get the latest updates.