You might think Malaysia is the sole source of eggs rolling into Singapore.
While a portion comes from across the causeway, they are not our only source of eggs.
Multi-pronged strategy to safeguard food supply
Singapore's food sources have expanded from 140 countries and regions in 2004 to more than 170 in 2019.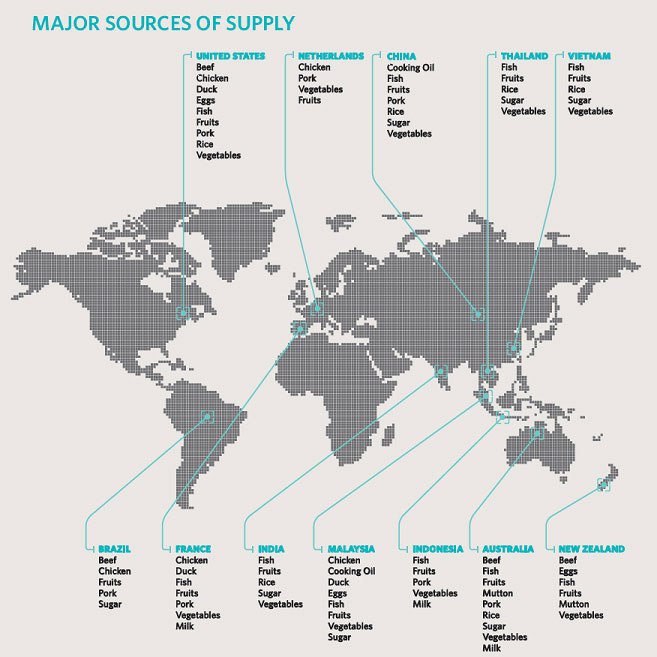 And this did not happen overnight, of course.
There is a multi-pronged strategy to safeguard Singapore's food supply and safety has come a long way and is still a work in progress.
It's a good thing we're not entirely dependent on one single country for food supply imports.
Both in terms of prices and diversification of sources.
Eggs come from 11 source countries
Take eggs, for example.
Currently, 11 source countries have been approved to export eggs to Singapore, they are Australia, Denmark, Japan, Malaysia, New Zealand, Spain, Sweden, South Korea, Thailand, the United States, and Ukraine.
As of October 2019, close to 30 million eggs have come from non-conventional sources (Malaysia or Singapore).
This is up from just four million back in 2015.
In fact, by 2017, the eggs imported from Thailand alone was already more than four million.
In support of efforts to diversify, FairPrice has also started stocking Korean eggs for the first time since South Korea was reinstated as an accredited egg import source in December 2018, after the resolution of the bird flu outbreak.
But these efforts would be for naught without other measures to drive diversification.
Earlier this year, SFA introduced new licensing requirements for egg importers to adopt business continuity plans (BCPs).
Importing eggs from a diversified range of sources is one of the strategies that importers can adopt as part of their BCPs, so as to improve the resilience of our egg supply. Importers will only be granted licences if their BCPs are satisfactory.
All this is to ensure that food disruptions from any one country, should they occur, will have minimal impact on our food supply.
Photo by Joshua Lee.
If you like what you read, follow us on Facebook, Instagram, Twitter and Telegram to get the latest updates.