Many countries have national stockpiles of "essential items" to help tide them over in the event of an emergency.
The United States, for instance, has a US$7 billion Strategic National Stockpile, as reported by Washington Post.
This stockpile entails "drugs and supplies" in case of a bioterrorism or nuclear attack, or against an infectious disease outbreak.
Singapore, of course, is no exception.
Why we stockpile: Food security
Since about 90 per cent of our food is imported from over 160 countries, it's particularly important for Singapore to have a stockpile to guard against the vulnerability of supply shocks, especially if they happen simultaneously.
One way that the government has mitigated such vulnerabilities would be to develop a "four-pronged stockpile strategy".
This has been reiterated by Minister for Trade and Industry Chan Chun Sing multiple times, who has reassured Singaporeans that our food supply remains stable even with disruptions.
In a Facebook post on Feb. 8, Chan also elaborated on this strategy, which comprises:
Ensuring that Singapore has sufficient stock (national stockpile), including food items that can last a long time

Diversifying our food sources

Developing local production capabilities

Working with trusted regional partners to secure supply lines
So yes, we have a stockpile. Of food and other things.
Stockpile of rice
While it is not entirely clear what our national stockpile consists of exactly, rice is most definitely included.
In a RSIS Policy Brief titled "Public stockpiling and food security", it was stated that Singapore stockpiles rice for food security purposes.
Stockpiling of rice is also a strategy to help stabilise prices in times of short-term shortages.
The food security stocks are used to ensure stability in the availability of and price of food.
Singapore has a Rice Stockpile Scheme where each rice importer of stock pile grade has to participate in this scheme.
The scheme first began in 1968, and was revised in 1986 to allow for greater private sector competition.
So, how much is stockpiled?
In 2013, Today reported that Singapore stockpiles a three-month supply of rice by requiring importers import a minimum of 50 tonnes every month. Two months' worth of imports have to be maintained in government warehouses for up to a year as well.
On Mar. 17, Chan also explained that Singapore also has over two months' worth of stockpile for proteins and vegetables.
But it isn't just food. Masks, drugs and more also stored.
What else is in the stockpile?
Other than food, we also know that this stockpile contains items like drugs and masks.
In 2014, the MOH said that it had built up a national stockpile of antiviral drugs forming part of our preparedness against influenza pandemics.
And most recently, the Ministry of Health reassured Singaporeans that we have 16 million N95 masks in our stockpile.
National stockpiles are national secrets
But how many of these warehouses exist in Singapore? And how large are the warehouses?
National stockpiles are often held in nondescript warehouses that look like any other commercial warehouse from the outside.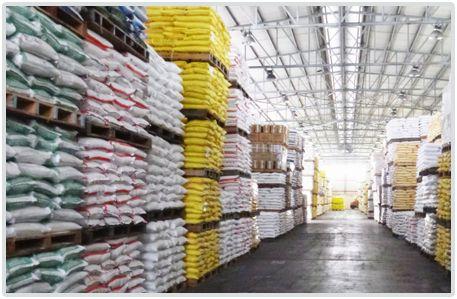 However, its size and location remains a national secret, and the same goes for other stockpiles all over the world.
In the U.S., officials do not say how many warehouses there are, and all their warehouse locations are secret.
In 2018, Washington Post reporters got to tour a secret stockpile warehouse in the U.S.
The reporter allowed to tour the facility had to agree not to disclose the location. No camera, video equipment or cellphone was permitted inside.
The warehouse, which looks like an ordinary commercial warehouse from the outside, is described to be "about the size of two super Walmarts". Inside, "hundreds of thousands of shrink-wrapped boxes of medicines emerge from the gloom, stacked on shelves nearly five stories high".
What the government warehouses in Singapore look like, however, is largely left up to our imagination.
H/T: Kopi
Top photo via Unsplash/Ruchindra, purzlbaum
If you like what you read, follow us on Facebook, Instagram, Twitter and Telegram to get the latest updates.