The Methodist Church in Singapore will be suspending all church services for two weeks till Apr. 5 in light of Covid-19.
Decision made after meeting with MCCY and various church leaders
On Mar. 20, Bishop Chong Chin Chung formally announced the suspension of all worship services in a letter to members of the church.
According to Chong, the decision was made after a meeting with the Ministry of Culture, Community and Youth (MCCY) and various church leaders on Mar. 19.
Chong wrote that Christians have to "seek the welfare of the city that God has placed (them) in," even if this means "foregoing the privilege of gathering together to worship... as one body for a season."
He also mentioned that the church is "fully committed to working with the authorities to promote the physical distancing measures advised by MCCY."
When church services resume on Apr. 5, precautionary measures will be put in place, Chong added.
The church will also continue to "provide pastoral care and prayer support through means that do not require large face-to-face gatherings."
Chong urged members not to attend another church during this period of suspension, "as that would defeat the purpose and sacrifice" the church is making to "break the chain of infection".
In the meantime, members should listen to their pastors' and leaders' advice and join any of the online podcasts or live-streams by the church.
Since its founding in 1885, there are now 51 Methodist churches in Singapore.
Catholic church not resuming masses, St Andrew's Cathedral to close till Apr. 3
On Mar. 12, the Catholic Church in Singapore announced that it would not resume masses as it initially planned, in light of the increasing number of Covid-19 cases in Singapore.
Archbishop William Goh said that he had to make the call for the common good, even while acknowledging that "it is a decision that will not please all".
Goh explained he decided to reverse his decision in view of the escalating outbreak globally and also in view of latest measures announced by the authorities to protect the seniors.
Catholic public masses have been suspended since February 15.
On Mar. 18, St Andrew's Cathedral also announced its closure for 16 days after a member of the church was confirmed to have Covid-19.
The church — which is Singapore's oldest Anglican house of worship — will be closed till Apr. 3, 11:59pm.
In Singapore, two other churches have already experienced outbreaks: The Life Church and Missions with 10 cases, and Grace Assemblies of God with 23 cases.
You can view Chong's full letter here: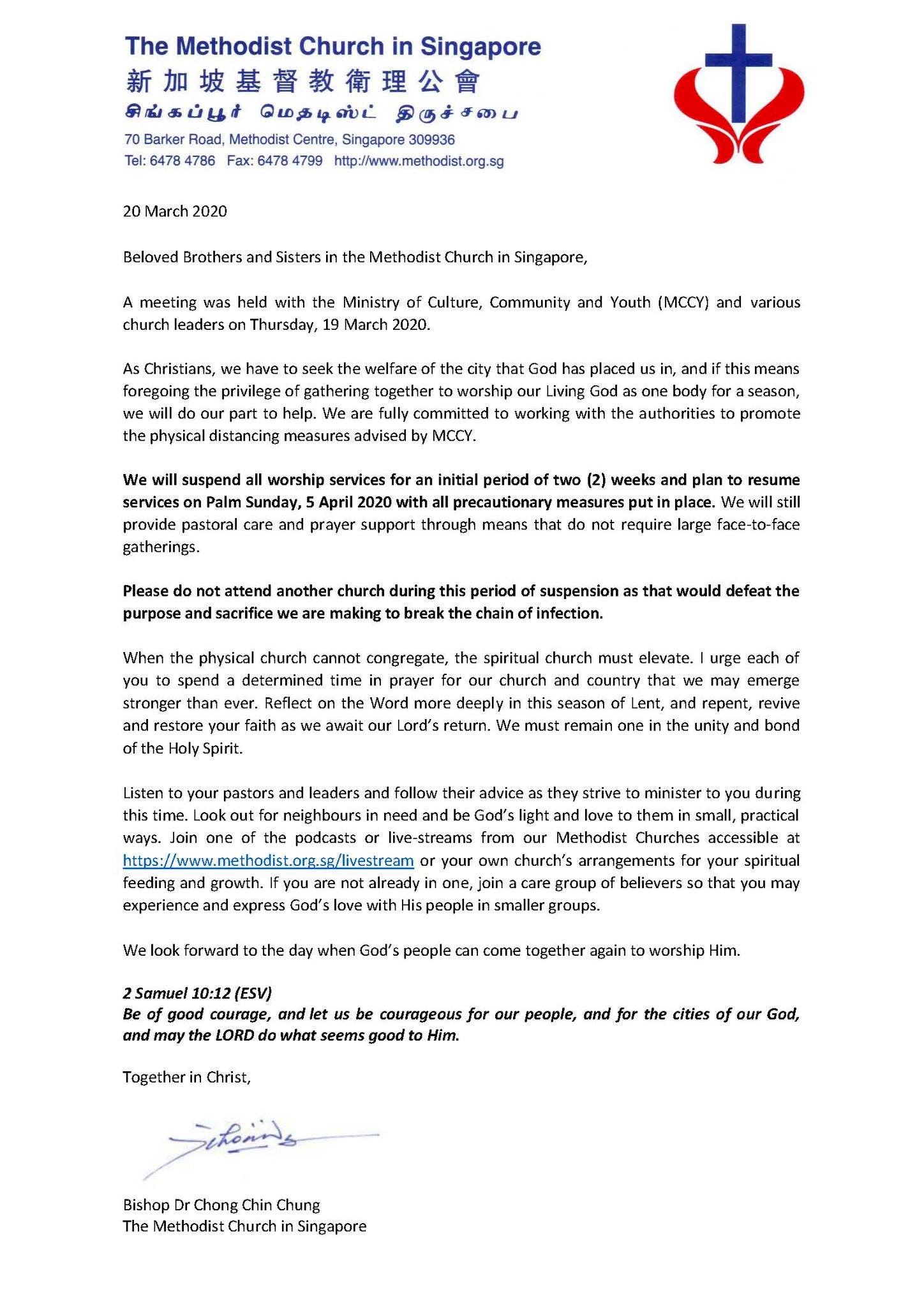 Top image via Methodist.sg
If you like what you read, follow us on Facebook, Instagram, Twitter and Telegram to get the latest updates.