The same panic-buying rush spurred by fears about Covid-19 that took over Singapore in early-February has hit many other countries, including the United States, Germany, and Malaysia.
In late-February, the panic-buying hit Japan as well, which left supermarkets emptied of toilet paper.
The apparent shortage of toilet paper led to some stores having their own stocks of toilet papers stolen from their public restrooms, and one store's management decided to do something about the situation.
Toilet paper disappearing at a faster rate
Twitter user @moemoekohu, who was identified by CNN as Mink Itachibe, shared in a tweet that the toilet paper at the convenience store in Niigata prefecture that she works for began disappearing noticeably faster than usual.
As a result, she decided to draw up a couple ominous-looking signs to try to prevent more thefts.
最近、仕事場のお客様用トイレのペーパーのストックがどんどんなくなっちゃうの😢

なので、気分転換に手作りインテリアでちょっと模様替えしてみたらトイペなくならなくなったよ〜👌😊 pic.twitter.com/JvNjZXDmce

— みんく🐶 (@moemoekohu) March 4, 2020
(Tweet translation, via SoraNews24: "Recently, the stock of toilet paper in the customer's restroom where I work has been disappearing quickly, so I handmade a few designs as a little mood-altering interior decoration and stopped losing paper.")
According to J-Town Net, she told them that prior to the toilet paper shortage, the store would only go through one roll of toilet paper per day.
Normally, they kept a stock of 10 to 20 rolls of toilet paper stored in a cabinet.
However, staff members noticed the toilet paper was being stolen when the stock would be missing three to five rolls at the end of each day.
Put a "curse" on toilet paper stock
SoraNews24 reported that the scrolls contain some ominous kanji characters, such as "hunger" and "evil", as well as three all-seeing eyes.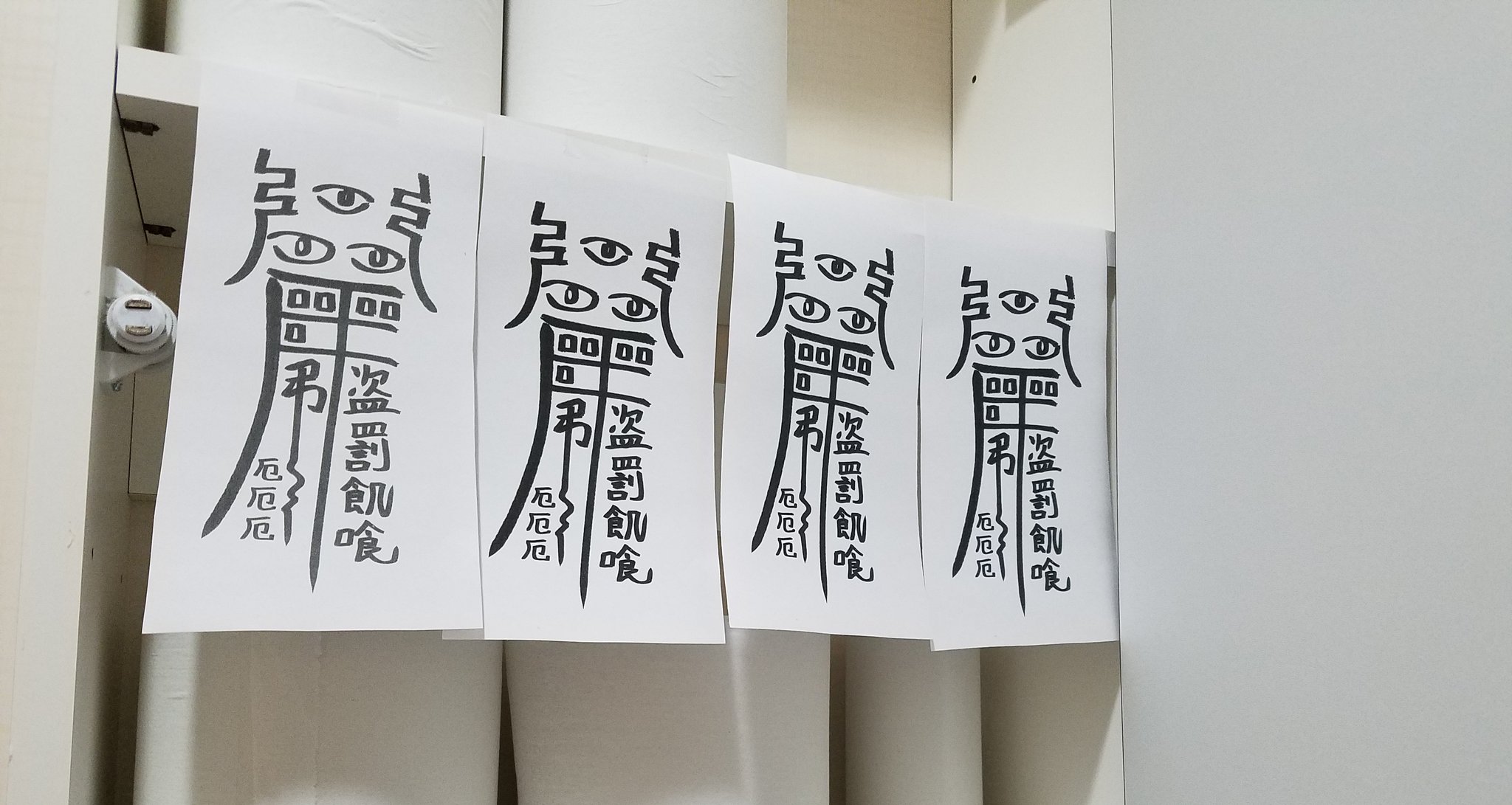 According to CNN, Itachibe said that some store owners use imagery of eyes to imply that they are watching for potential thieves.
In addition, the kanji characters suggest that if anyone were to steal toilet paper from the store, a hungry monster would hunt them down and eat them up.
Itachibe told CNN that the signs appear to have been effective, with no reported thefts of toilet paper since putting them up, despite it originally being a joke:
"I did it as a joke, but it seems to have worked. As people were stealing toilet paper, I wanted this to shock them and think they might get hexed. People can be quite superstitious in Japan."
This tactic of using signage connoting spiritual powers has been used elsewhere in Japan, such as to prevent littering and public urination.
Top images by Anna Franques on Unsplash and @moemoekohu on Twitter.
If you like what you read, follow us on Facebook, Instagram, Twitter and Telegram to get the latest updates.