Not everyone can say that they love what they do, but Singaporean actress Fann Wong can.
She describes acting — a career she has had for over 25 years — as something she truly loves and enjoys.
"It's something I really love and I think it's acting that chose me."
And Fann's acting career is why she is a household name that doesn't need any introduction.
Despite leading what we imagine would be a hectic life, Fann answered our lengthy list of questions on her life, family, and career.
Starstruck
Loyal fans would remember the 49-year-old's debut in 1994 on Mediacorp Channel 8 television series, "Dreams Come True".
She was one of the three lead actresses alongside Chen Li Ping and Cassandra See.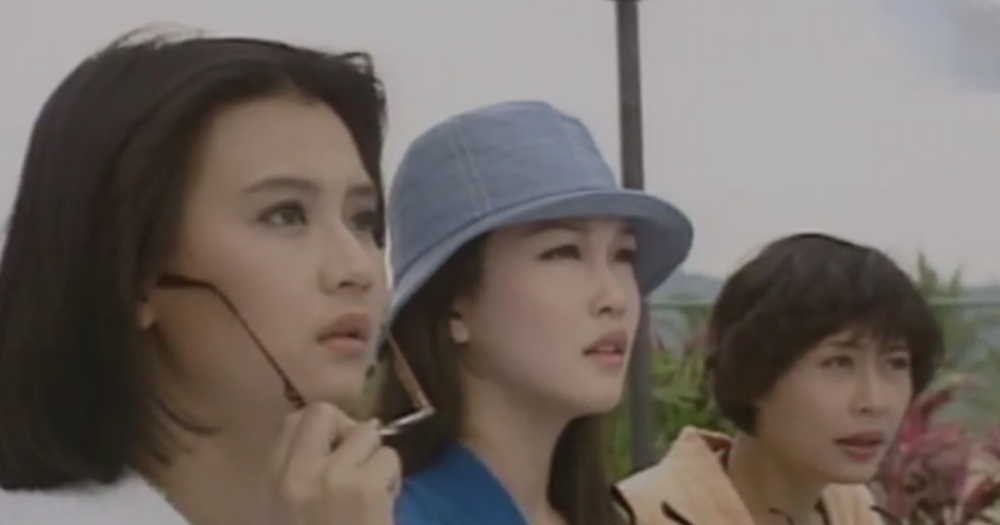 While Fann is as popular as Chen and See now, she still finds herself lucky to have shared screen time with the two actresses.
"I felt really lucky to have had the chance to act together with Chen Li Ping and Cassandra See then because I was just a newbie without any acting experience and they were already very established."
 Different working hours around the world
More than 25 years later, she has acted in over 40 television series and 20 movies.
This includes international productions like Chinese film "The Blue Cornflower" — and who could forget her Hollywood debut alongside Jackie Chan and Owen Wilson in "Shanghai Knights"?
But no matter where she acts, she said that work remains pretty much the same.
"Acting-wise, no matter whether I'm acting in Singapore, Taiwan, China or overseas, there's not much difference. When the director shouts 'Action!', no matter which country you're acting in, you have to be immersed in your character."
The only culture shock she has is the difference in working hours around the world.
She said: "In China, Taiwan and now (in Singapore), I am only allowed to work 12 hours a day. The most outrageous experience I had was when I was filming in Italy, I realised that they only work for eight hours a day!"
Used to work up to 24 hours a day
Working between eight to 12 hours a day may seem like a regular weekday for a lot of us.
However, Wong explained that things used to be different back in the day, where she used to spend between 20 to 24 hours on set at one stretch.
She also shared that productions in Singapore used to have up to four directors in a show.
"In those days, filming for 20 to 24 hours a day was a common situation. During those times, the actors would have it really hard. After a morning shoot with the first director, he would take his leave and the next director would take charge. Sometimes we may even have to film overnight. Then the third director comes and tells you to go home to wash up and come back later for the morning and afternoon shifts."
Thankfully for actors in Singapore, times have changed for the better.
Shifting priorities
Apart from having a decorated career as an actress, Wong is also a mother to five-year-old Zed, who she had with fellow actor Christopher Lee.
Fondly calling her only child ZedZed, she told us that her transition to become a mother was "really drastic".
The transformation was so extreme, she felt that she almost couldn't recognise herself.
"In the past I was very passionate about my work. I still do love my work, but now my priorities are not the same. I never thought that I would lose so much sleep, gain so much patience and sacrifice so much to be with my son."
As her son is the most important thing in her life right now, she has made some changes to her life and career.
Saying that her whole life revolves around her child, she now spends less time with her friends and also visits the aesthetician less.
"I feel that this is the only time I'll be able to see him grow up and I definitely can't miss that window. These collective moments spent with my son will definitely be a beautiful memory for me."
Dates are a "family affair"
Even dates with her husband, Lee, aren't spared.
In a 2019 interview with 8 Days, Wong said that bringing Zed everywhere to their dates an "unspoken rule".
To be fair, that rule is something that the couple have unanimously agreed on:
"Previously, Chris used to say that we should have our alone time, but once we go out, we miss Zed. Halfway through our date, I will be like, 'Ah, I miss my son!' and Chris would role his eyes and say, 'Yes, I miss him too. Let's go home!' From then on, it's an unspoken rule that we take Zed everywhere with us, be it our anniversary, or to some romantic dinner. It has to be a family affair."
For Valentine's Day this year, Lee wrote Fann a note that revealed a little of their family dynamics:
The message reads,
"Baby, Happy Valentine's Day! Although you love your son a little more than you love me, I'll still love you forever <3 Ha ha ha!"
Aww.
Complementary parenting styles
So who plays the good cop and bad cop to Zed?
Even though she does liken herself to be the "kind, loving mother" while Lee can be "quite stern at times", she said that he still dotes on their son a lot.
And their parenting styles complement one another, according to Fann.
"Sometimes I'll be at a loss on how to handle my son, but my husband would be able to deal with him. When he can't, I can handle it. When he's the good cop, I'm the bad cop. We don't fix the roles."
Doesn't like seeing mummy on TV
Growing up with actors as parents, many people would wonder if Zed would follow in their footsteps.
However, Zed hasn't expressed any interest in acting yet.
He also dislikes seeing his mother on screen for a really sweet reason, as Fann told us:
"I think that in his world, his mother should always be by his side. She shouldn't appear anywhere else. So when he sees me on the screen, he becomes really sad and unhappy."
On the other hand, he is apparently "very ok" with seeing his father on television. We don't know what this means. And we're not about to ask further.
Like a lot of children his age, he has only shown interest in lion dance, drums, insects and marine creatures.
And it seems like his mother would prefer for him to be a little boy a little longer.
When asked when he would be allowed to have his own Instagram or TikTok account, she said, "Oh heavens, that's really hard to control. Definitely the later, the better."
But Fann doesn't have to worry much about that for now, as screen time isn't his first choice of play thanks to the hands-on activities and playtime he has at home.
Take, for example, the time when he insisted on feeding the caterpillars at home:
In an interview with Young Parents, she shared that Zed even declined to watch cartoons or movies during a five-hour flight to Perth.
"For five hours, my son was reading and was bored. On the way back to Singapore, he still didn't want (screen time). I felt a bit sad for him and tried to show him how the inflight entertainment works. Luckily in the end, we found a video game he liked."
First English language drama
If you're wondering what Wong has been up to lately, her latest role is on Mediacorp Channel 5's "Titoudao: Inspired By A True Wayang Star".
On the drama series, she plays the role of Ah Bu, the mother of the titular character.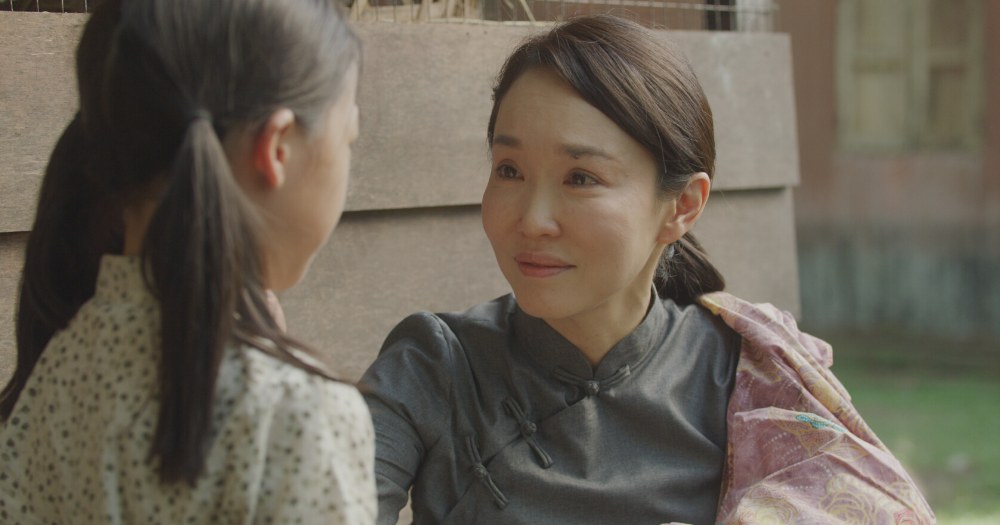 This series is her first English language drama after more than 25 years in the industry.
"Even though I only appear in the first episode, she's still an important character in the story. I think this role really attracts people, it attracted me. She gives you strength, confidence and recognises you. Her existence, no matter what she does, changes you as a person or supports you. So I really love this character.
Injured herself on set
Wong's dedication to her craft is what makes her the well-loved actress she is today.
As her character in the drama has bound feet, she observed the posture of women with bound feet through the internet.
Then, she would try to encapsulate the character from the way she would walk, down to her sitting posture.
She has even injured herself while trying to perfect her acting.
"Because Ah Bu's legs are technically disabled, sitting on grass patches wouldn't be easy. When I walk with a hobble, sometimes I really injure my legs in the process. But overall, the filming held within the kampung was quite smooth. I think Titoudao's mother is blessed!"
So what can you expect from Wong after her English drama debut?
She said that we can look forward to seeing her in a movie that she will begin shooting very soon.
"After that, I think I'll just be at home with my son."
---
Almost Famous is a series of feature interviews where we bring you in-depth conversations with people who are probably a bit too famous to be spending time with Mothership. In these, we uncover the authentic stories and opinions behind their remarkable lives and work.
---
Top image from @fannaiaiwong on Instagram and Mediacorp Channel 5
If you like what you read, follow us on Facebook, Instagram, Twitter and Telegram to get the latest updates.