[Update on Mar. 20, 10:44am: 
In response to the incident, the Ministry of Manpower (MOM) has released a statement on the working arrangements of Malaysians in Singapore. 
Employers have several options to consider, including work-from-home, no-pay leave, and finding accommodations for their workers. 
You can read the statement here: 
"Travel restrictions imposed as a result of the COVID-19 outbreak affects businesses. They will have to make adjustments, including how to best meet their manpower needs.

With Malaysia's Movement Control Order, the tripartite partners, Ministry of Manpower (MOM), the National Trades Union Congress, and Singapore National Employers Federation, have advised that businesses in Singapore may consider allowing their affected workers to work remotely in Malaysia until travel restrictions are lifted. If that is not feasible, they may consider requiring their staff to take no-pay leave instead.

If the affected workers remain in Singapore to continue working, employers should assist them in finding suitable accommodations given the short notice. By and large, employers have been able to do so. For a number who had difficulty and approached MOM, we have assisted to link them up with hotels and dormitories.

Employers may assess and decide to hire local replacement workers instead. They should then terminate the incumbent's services in accordance with contractual commitments."]
On Mar. 16, Malaysia announced a lockdown on its borders that would take place two days later.
The measure, meant to contain the Covid-19 outbreak, will last until Mar. 31, 2020. Malaysians are not allowed to leave the country during this period.
This means that workers who cross borders on a daily basis might find themselves stranded in terms of accommodation.
Ultimatum
In a letter issued on Mar. 16, Creative Eateries gave its Malaysia-based employees an ultimatum: Either secure accommodation in Singapore by Mar. 31, 2020, or face the possibility of losing their jobs.
Creative Eateries owns an extensive portfolio of restaurants in Singapore, including Bangkok Jam, Suki-Ya, and Hot Stones, as well as catering services.
The company required its Malaysia-based employees to secure accommodation in Singapore "at least till the end of the year" and cease their daily commute across the border.
These employees were also required to show proof of their newly-made living arrangements.
Creative Eateries said that should employees be unable to report for work due to border control, the company has the right to cease their employment immediately and cancel their work permit.
Any related absence at work will also be considered unpaid leave.
Furthermore, the employees in question should inform the human resource department of their decision by Mar. 20, or the company will "find [their] replacement immediately".
Here is the letter, sent by a Mothership reader: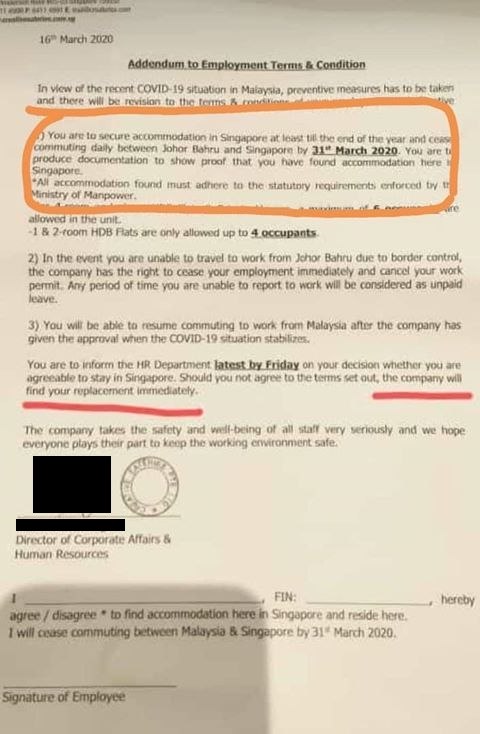 Not a reaction to the Malaysia lockdown: Creative Eateries
In response to queries from Mothership, Creative Eateries did not deny issuing the letter, but instead said that it was prepared before the announcement of the lockdown.
The company emphasised that it was "by no means" sent as a reaction to the lockdown.
Furthermore, the spokesperson added, the company has always "engaged and consulted" regularly with their employees prior to implementing any policies.
In this instance, Malaysian staff have been consulted since early February.
These staff have also "successfully transitioned" to Singapore and are unaffected by the sudden lockdown, the spokesperson revealed.
She also said that although Creative Eateries has been impacted by Covid-19, the company has not made the decision to retrench any employee since the outbreak.
You can read the full statement here:
"Like many other F&B businesses, Creative Eateries has been impacted by Covid-19.

Despite the viral outbreak, the company has and will continue to take measures to protect its workforce.

To be clear, we have always engaged and consulted regularly with our employees prior to implementing any policies and the company has not made any decision to exit any of its employees since the outbreak.  The letter you mentioned was prepared before the announcement of the Malaysia National Lockdown and it was by no means sent as a reaction to the Malaysia Lockdown which was announced late at night on the 16th of March.

Creative Eateries values all its staff and endeavours to exercise care and fairness in engaging its employees and to support them and their livelihood during these challenging economic times.

Lastly, our preemptive measures have always sought to protect the employment of our commuting Malaysian staff who as a result of being timely consulted by the company since early-February 2020, have since successfully transitioned to Singapore and are unaffected by Malaysia's sudden National lockdown. Creative Eateries has also assisted these commuting staff find alternative accommodation in Singapore."
Related stories
Top image via Creative Eateries, Mothership reader
If you like what you read, follow us on Facebook, Instagram, Twitter and Telegram to get the latest updates.