DISCLAIMER: All op-eds published on Mothership, including this one, are viewpoints expressed by the author(s) and do not necessarily reflect the official positions of Mothership.
"Young people capitalise on cheap coronavirus flights: 'If I die, I die'".
This was the headline of a viral NBC article, which detailed how young people were taking advantage of the cheap flights due to the global Covid-19 outbreak, and travelling seemingly irresponsibly around the globe.
In the article, a 20-year-old said that "if the coronavirus would get even more serious and like wipe out a large amount of people, I might as well be somewhere having fun".
So what is the moral of the story here? That there are many young people who don't know better, and we should not emulate their behaviour?
Well, not exactly.
While it is true that the Covid-19 is no laughing matter, it does not mean that travel should be completely off the table for everyone. After all, there is nothing wrong with wanting to travel, even amidst the Covid-19 outbreak.
Instead, it is important to be well-informed about all the different factors involved, and know what to expect, should you choose to travel.
With the rapidly evolving situation, that means expecting the unexpected.
Travelling to Covid-19 hotspots, or potential hotspots, is reckless
Let's get this out of the way. Travelling to any Covid-19 hotspot is a reckless decision.
China, Italy, Iran, South Korea, you name it. If your intended destination is a country with a lot of current Covid-19 cases, then maybe it's time to consider how much you value your life, and the lives of the people around you.
Just because you think you are young or healthy, and can otherwise survive the disease, does not mean it is alright to go to a country with many Covid-19 cases, and risk passing it on to someone else.
After all, you might just be exposing your loved ones to the disease, who may not be as well-equipped to deal with it as you are.
It's the same for countries with a recent surge in cases, or those that are near current Covid-19 hotspots.
For example, while some countries within Europe may not have many cases thus far, the unique openness of the countries within the European Union (EU) means that if the virus is out of control in one member country, controlling its spread across the border is going to be an uphill task.
Italy is currently in a state of lockdown, and the cases in other European nations such as Germany, Spain and France are rapidly increasing.
It is safe to say that considering a trip to Europe, even if the country itself may not have a large number of Covid-19 cases at the moment, is ill-advised.
There is nothing wrong with wanting to take advantage of cheap fares, but choose your destination wisely
The good news is that if you've chosen to travel to a destination (hopefully not any of the ones mentioned above), you are likely to get a pretty good deal.
It is not a stretch to say that the entire travel industry worldwide is devastated by the current situation.
The airline industry worldwide is projected to lose US$30 billion (S$41.98 billion), according to the International Air Transport Association (IATA).
While you can certainly get exceptional deals to such countries, such as S$96 round-trip to Seoul, there are great deals to be had too, with much safer destinations.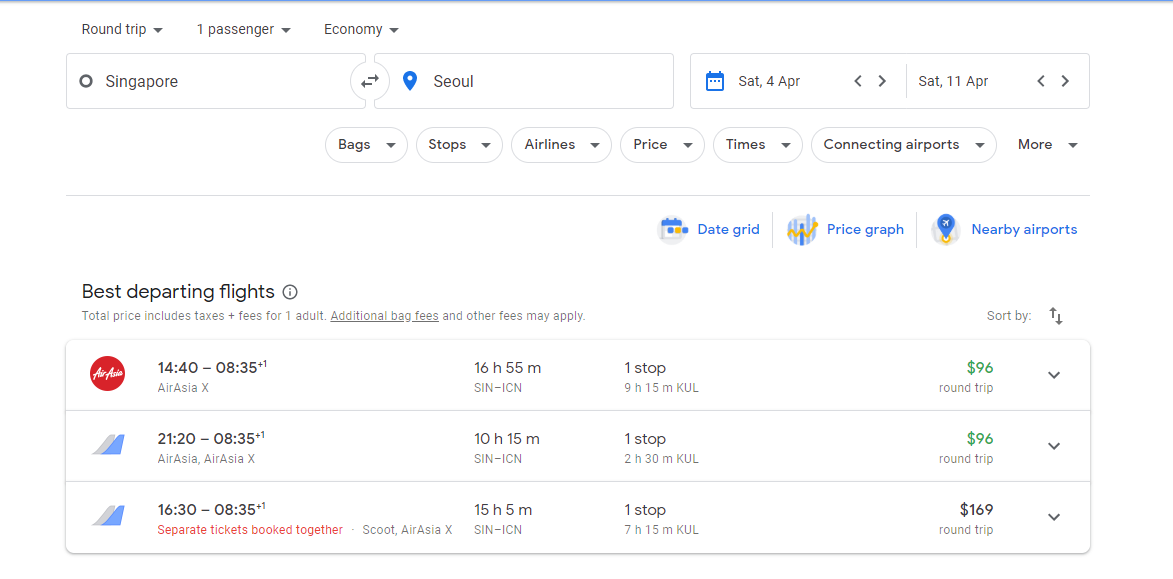 For example, Singapore Airlines (SIA) recently announced a very compelling fare sale to a variety of destinations, such as Australia, New Zealand and South Africa.
You can fly to Perth for S$458, Wellington for S$728 and Johannesburg for S$618. These are fantastic prices, especially for a full service carrier such as SIA.
In addition, as of March 13, Australia (199 cases), New Zealand (five cases) and South Africa (24 cases) are likely to be safer than travelling to countries such as South Korea (7,979 cases), Italy (15,113 cases) or the U.S. (1,832 cases), simply because they have fewer confirmed cases of Covid-19.
Although there is no way to tell whether these destinations will have more cases in the future, it certainly makes sense to travel to somewhere with fewer cases.
Airlines are cutting flights, and more cuts are expected in the coming months
However, there is one thing I should probably stress about the current situation: get insurance, and be ready for any new developments.
On Feb. 18, SIA announced a 7.1 per cent decrease in scheduled capacity from February to end-May 2020, in response to the weak demand due to the Covid-19 outbreak.
On March 3, SIA announced further flight cuts, amounting to a 10.3 per cent decrease in scheduled capacity, according to Business Traveller.
SilkAir also announced that it will indefinitely suspend flights between Singapore and Hiroshima, due to weak demand that was exacerbated by the Covid-19 outbreak.
The situation is the same worldwide.
According to Business Traveller, Cathay Pacific, along with its subsidiary Cathay Dragon, has cut passenger capacity by 40 per cent for February and March, and cuts to flight capacity were cited to be "likely" in April.
CNBC reported that U.S.-based United Airlines reported a 70 per cent drop in domestic demand over the last few days, and will be making deep cuts to flights in the coming months.
But what does all this mean? Well, if airlines globally are struggling, a prudent traveller needs to be ready for his or her flight getting cancelled at any time, due to weak demand.
No amount of scolding (the airline, and maybe even yourself) will help when your flight gets axed unexpectedly.
Be prepared, and get comprehensive travel insurance that will cover Covid-19 related cancellations.
So what if airlines cancel flights? Don't most airlines offer travel waivers now?
Yes, many airlines currently offer travel waivers, but it is important to understand the various terms and conditions associated with the waiver.
For example, SIA waived both cancellation and change fees for customers with tickets for travel to and from France, Germany, Italy and Spain, while the airline only waived change fees for customers with tickets for travel to and from India.
While the difference may seem unfair, the airline likely decides whether to waive cancellation fees based on specific circumstances, such as the travel ban announced on March 12 for visitors from select European cities.
If you choose to take advantage of the waiver of change fees, be reminded that you will be subjected to a difference in fare, should the fare for your new travel dates increase.
You will not be the only one requesting for a refund or a change of flights if things go south, and if you wish to contact the airline, it may prove difficult in these trying times.
Due to the high volume of calls, you will likely take a lot longer than usual to reach SIA's customer service agents, and it will take up to seven days to submit an online request, according to SIA.
Again, you might be angry and frustrated at the airline for the delay, but with the Covid-19 outbreak bringing new developments every day, it is likely that airlines will continue to get swamped with a myriad of different requests daily.
A tip would be to book directly with the airline, instead of booking through a travel agency, as doing the latter would mean that you need to refer to your travel agent for any cancellation or flight changes.
Which is fine.
But the travel agent could have a different refund policy from the airline, or may take even longer to process your request, being essentially the middleman between you and the airline.
If you choose to travel overseas, be prepared to potentially stay at home for 14 days upon your return
Even if your travel reservations do not go awry, you may find that the act of going overseas may have some unforeseen circumstances.
For example, on March 12, it was announced that travellers who have travel history in the last 14 days to Italy, France, Germany and Spain will not be allowed to enter or transit Singapore.
Although Singaporeans and PRs are exempt from this rule, they will be served with a 14-day Stay-Home-Notice.
This means that going on your trip may have unforeseen circumstances in your everyday life when you return to Singapore, especially if you have work or school commitments.
Predicting when such developments will occur is next to impossible, given how fluid the situation is.
Hence, unless you know you can afford potentially staying home for 14 days upon arrival in Singapore, don't travel.
It is also useful to consult the Ministry of Foreign Affairs (MFA), in order to check the latest travel advisory for your destination.
You can travel even during Covid-19. Just do so responsibly.
Travelling during such trying times is not easy.
There are many considerations, and unexpected events can easily uproot the most well-made plans.
For the unprepared, it is best to perhaps shelve your travel plans, and defer all non-essential travel.
However, for those who understand what they are getting into, and are willing to brave whatever unexpected scenarios that may pop up, the world remains your oyster.
Just be prepared to face potential consequences, and do so responsibly.
Top image from Unsplash.
If you like what you read, follow us on Facebook, Instagram, Twitter and Telegram to get the latest updates.