Update, March 18, 2020: The fosterer of the last pup, Gladys Lam, posted on her Instastory that the little one had passed on at around 1 AM. All four pups did not survive.
---
On the night of March 16, Channon Tan, a volunteer with the Hamster Society Singapore (HSS), found seven hamsters and four hamster pups left to die inside a tiny cage beside a rubbish bin at 84 Bedok North Street 4.
"Smell of the cage was pungent. It had a heavy "hamster" smell. All hamsters had matted/wet fur possibly from their own urine," said the 20-year-old student, who was mortified at the repulsive state of the hamsters.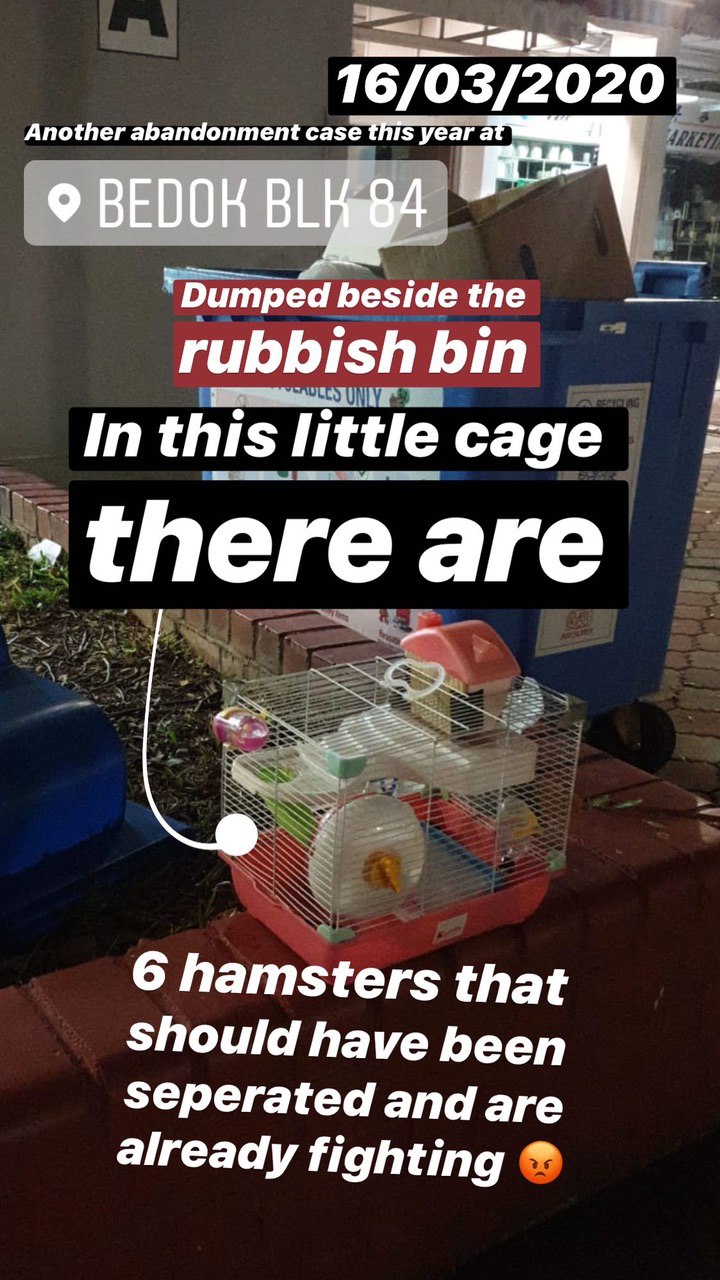 She found that the 11 hamsters were left without food and were squeaking as if they had been fighting.
As the 20cm by 20cm cage did not contain any bedding, the bottom of the cage was filled with droppings and "felt sticky", said Tan.
The underside of the hamsters had pee stains, their faeces were stuck to their wet fur, and some suffered suspected skin burns from rancid urine.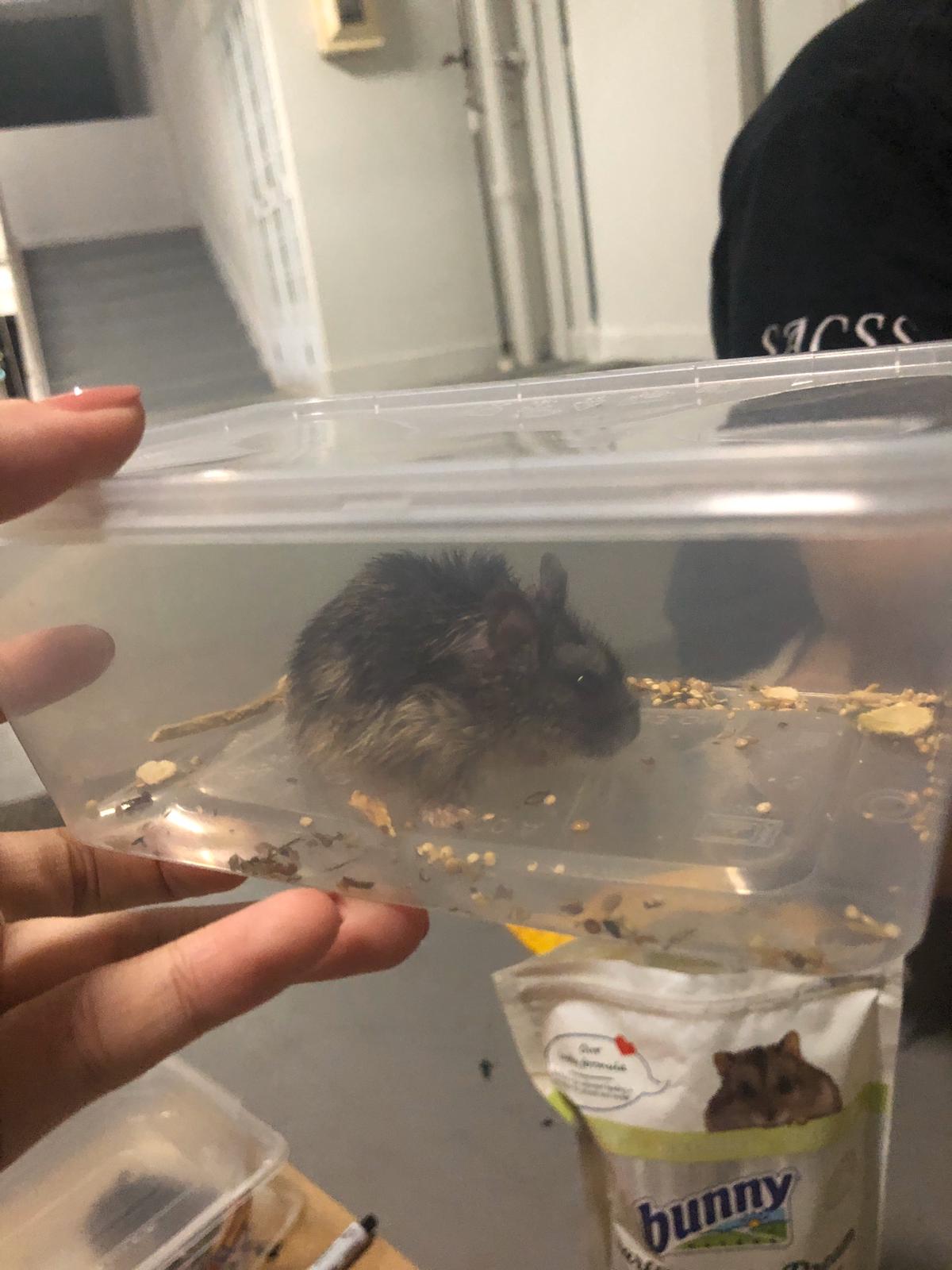 The rescued hamsters suffered breathing problems, possibly due to stress, but their condition has since stabilised after being in foster care.
Baby pups sealed shut, left to die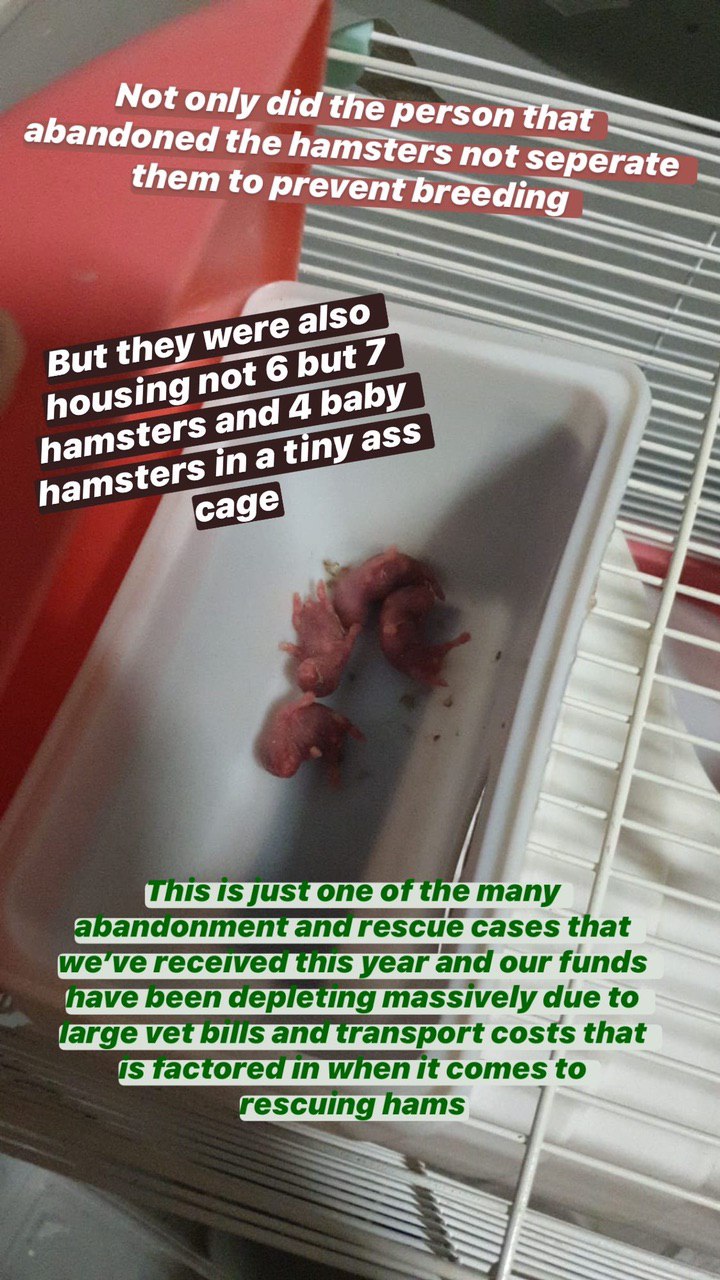 Due to the owner not separating the hamsters, they had started to breed, and the rescuer found four hamster pups inside a plastic hideout.
Upon further inspection, Tan was horrified to find that entrances to the hideout were purposely sealed shut. This prevented the mother from feeding and nurturing them.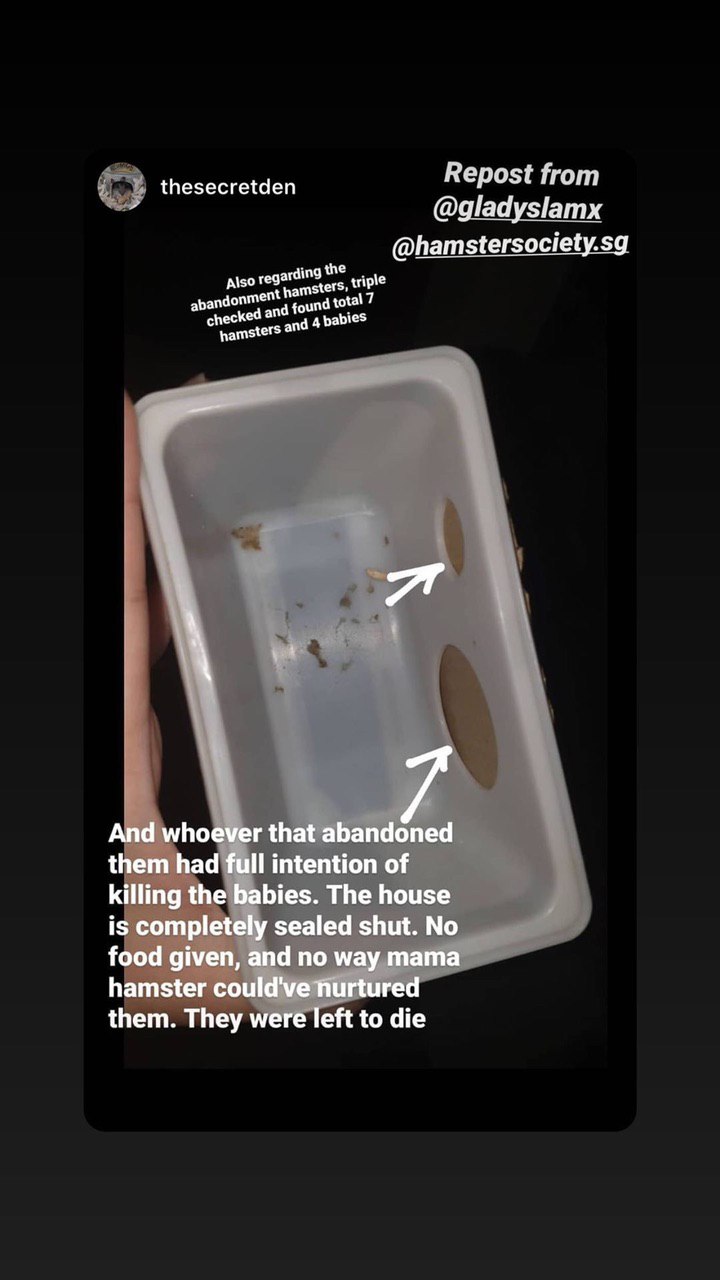 Tragically, an update on HSS's page stated that three of the babies died the next afternoon and a fosterer, Gladys Lam, is giving the last pup round-the-clock care in hopes that it would survive.
[caption id="" align="alignnone" width="264"]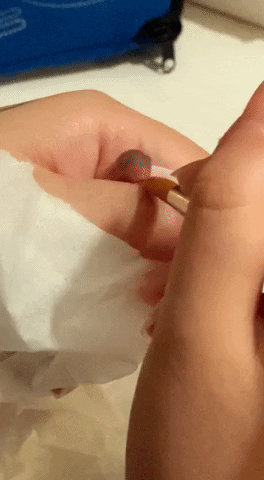 Video/gif courtesy of Gladys Lam.[/caption]
From their appearance, Lam said that the babies should be born on the same day the cage was abandoned.
Lam said that the rescuers had no idea who the mother was. All the rescued hamsters had been separated and are in foster care.
HSS called the abandonment a "super irresponsible act of pet ownership", and said that owners should not leave their hamsters out in the streets to die just because they were "done" with taking care of hamsters.
Anyone with information on the abandonment can message HSS on their Facebook page.
Donate to save this batch of hamsters
HSS said that they have insufficient funds to care for this batch of hamsters as their funds have been severely depleted from previous abandonment cases.
They found that this batch of hamsters had severe respiratory and skin conditions, and the cost to treat just one of these hamsters averages $100.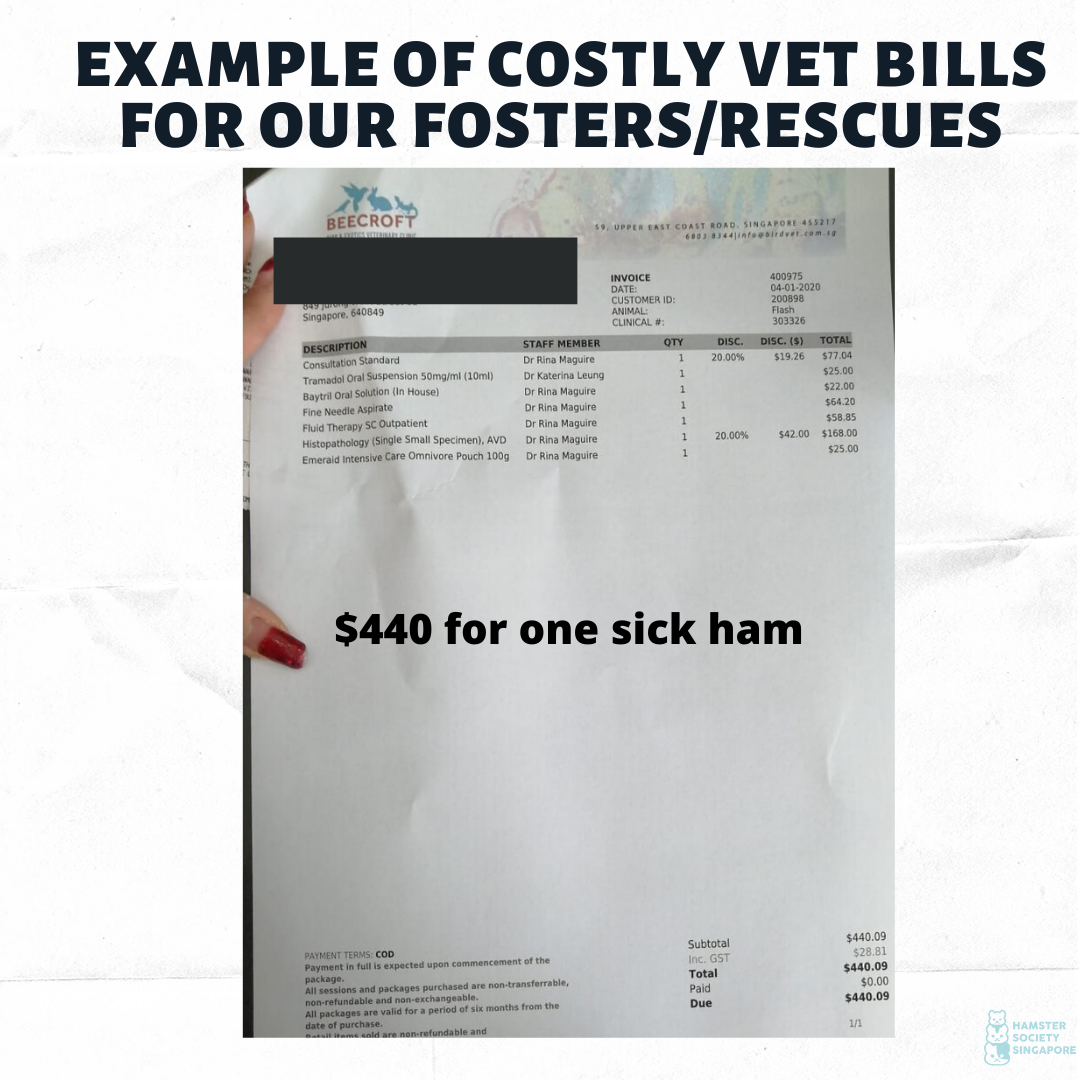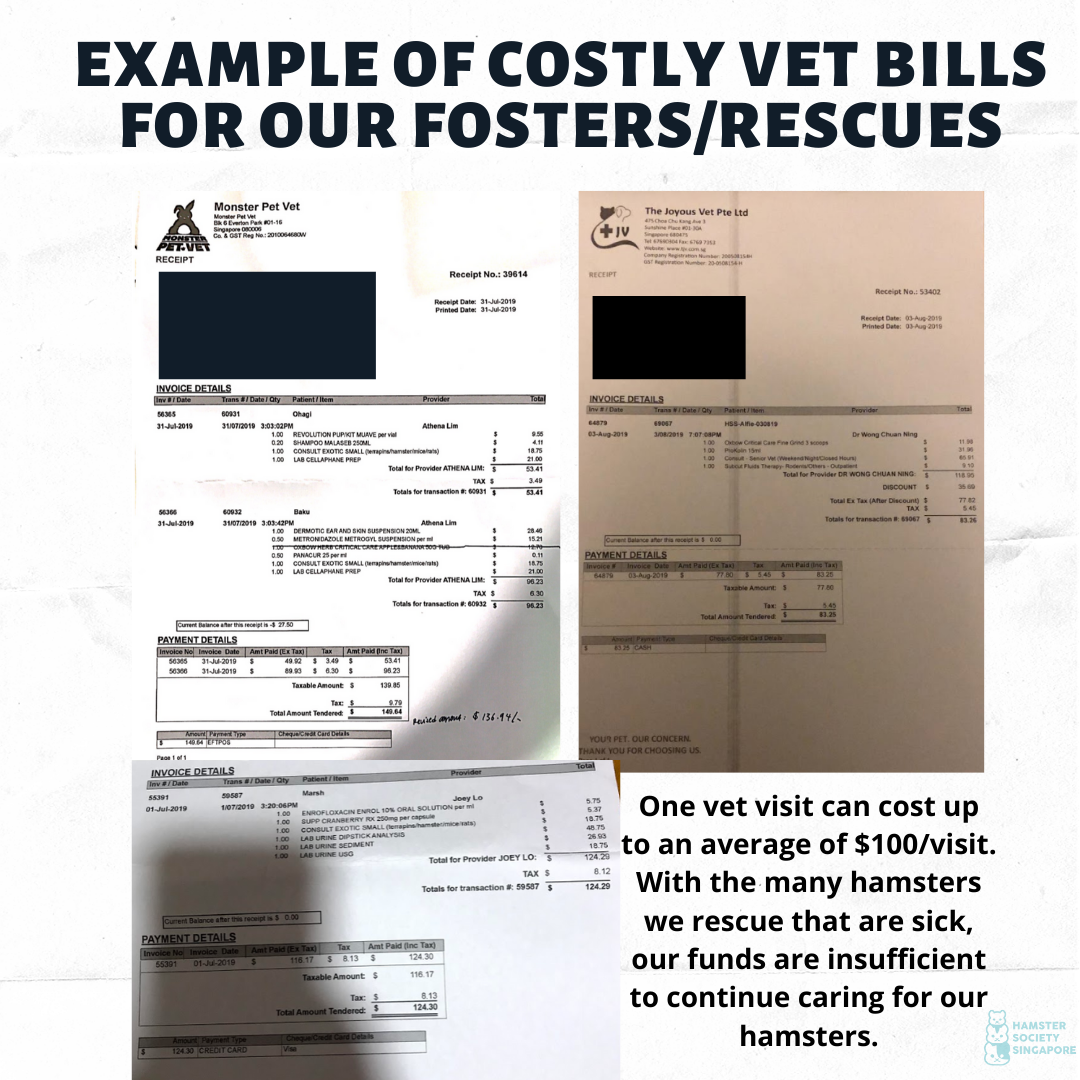 Click here if you wish to donate to fund the treatment and responsible adoption of these hamsters.
Responsible hamster ownership
In the past three years, HSS has documented more than 300 abandonment cases in Singapore.
Prospective owners are highly encouraged to adopt hamsters, and not to impulse buy hamsters from illegal breeders.
For owners who are unable to care for their hamsters, HSS allows them to surrender their hamsters at a cost, in order to pay for any treatment needed.
Under the Animals and Birds Act, anyone found guilty of abandonment can face a jail term of up to 12 months, fined $10,000, or both.
Top photo from Singapore Hamster Society.
If you like what you read, follow us on Facebook, Instagram, Twitter and Telegram to get the latest updates.