Editor's note, Feb. 17, 2020, 11:05pm: A Facebook post by an SUTD Professor on Feb. 14 said that the email containing the disparaging remarks targeted at the PhD student were made under the false name of Chia Yiling. The Professor stated that after extensive searching, it was confirmed there was no such person in SUTD and the account was likely made for trolling. You can read her post in full here.
SUTD replied Mothership's queries on Feb. 17 saying they had posted an official response on their Facebook page.
SUTD President, Professor Chong Tow Chong, stated that the third party email was sent by someone who is not a member of the SUTD community, and they would be taking "serious action" against him/her.
---
A rather controversial email was sent out by one Singapore University of Technology and Design (SUTD) student recently, making disparaging comments towards a PhD student.
Student referred to outbreak as "Wuhan"
The email thread, which was shared with Mothership by a reader, initially started out as a notice to the student body regarding SUTD's Open House.
The Open House 2020 has gone digital, and will be a "100 per cent online experience", according to the university's website.
This move was made in light of the coronavirus (Covid-19) outbreak.
SUTD stated they would be bringing this alternative Open House experience online in an attempt to safeguard the health and safety visitors and the SUTD community.
One student subsequently sent an email to the student body to promote a Minecraft recreation he and a team of students made of the SUTD campus, which prospective students could check out online.
In doing so, the student referred to the Covid-19 outbreak as "Wuhan".
"As you may have heard, Open House 2020 is cancelled going virtual because of Wuhan."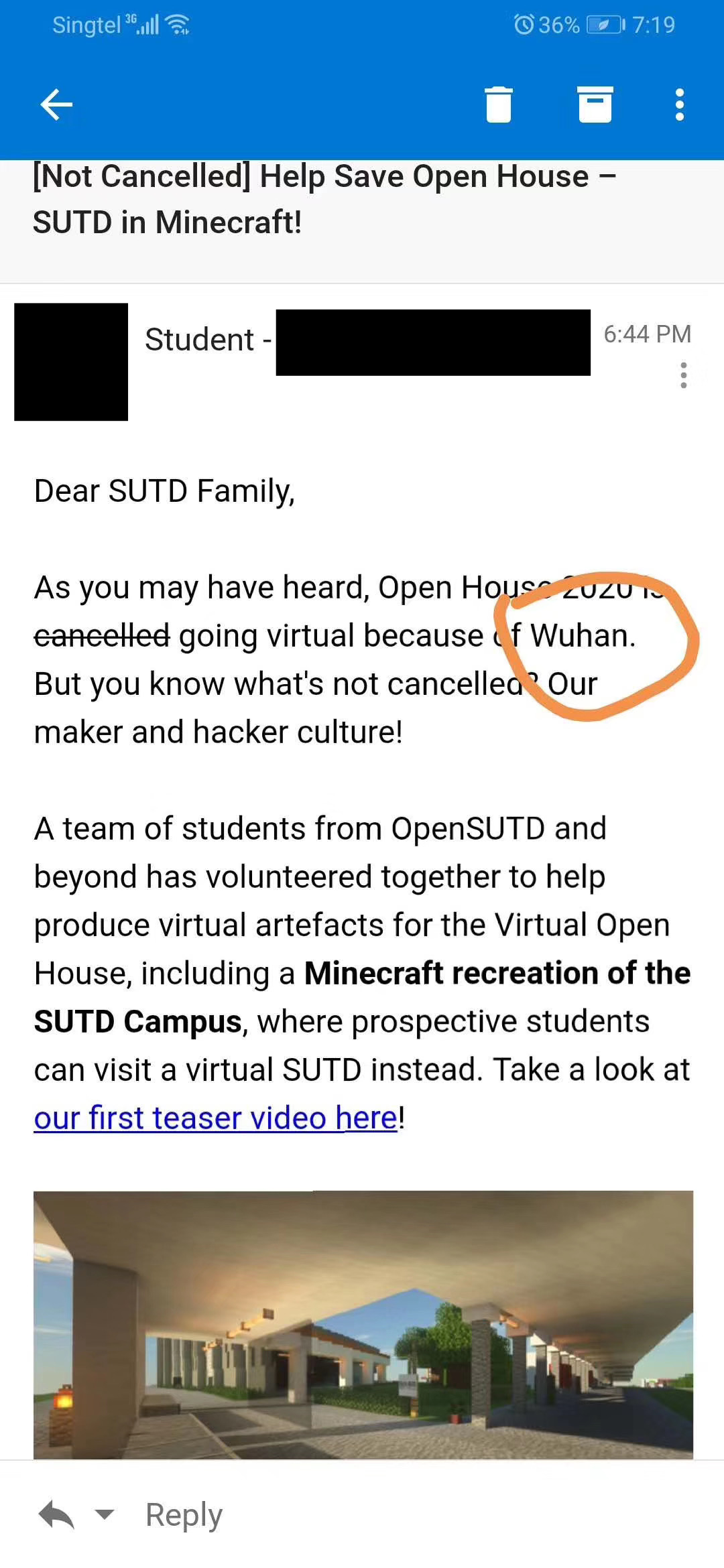 PhD student replies
In response to the email, one PhD student asked the first student to "mind his words" and "avoid racism".
He then corrected the student and stated that the proper term was Covid-19.
The student also added that "we are waiting for your apology".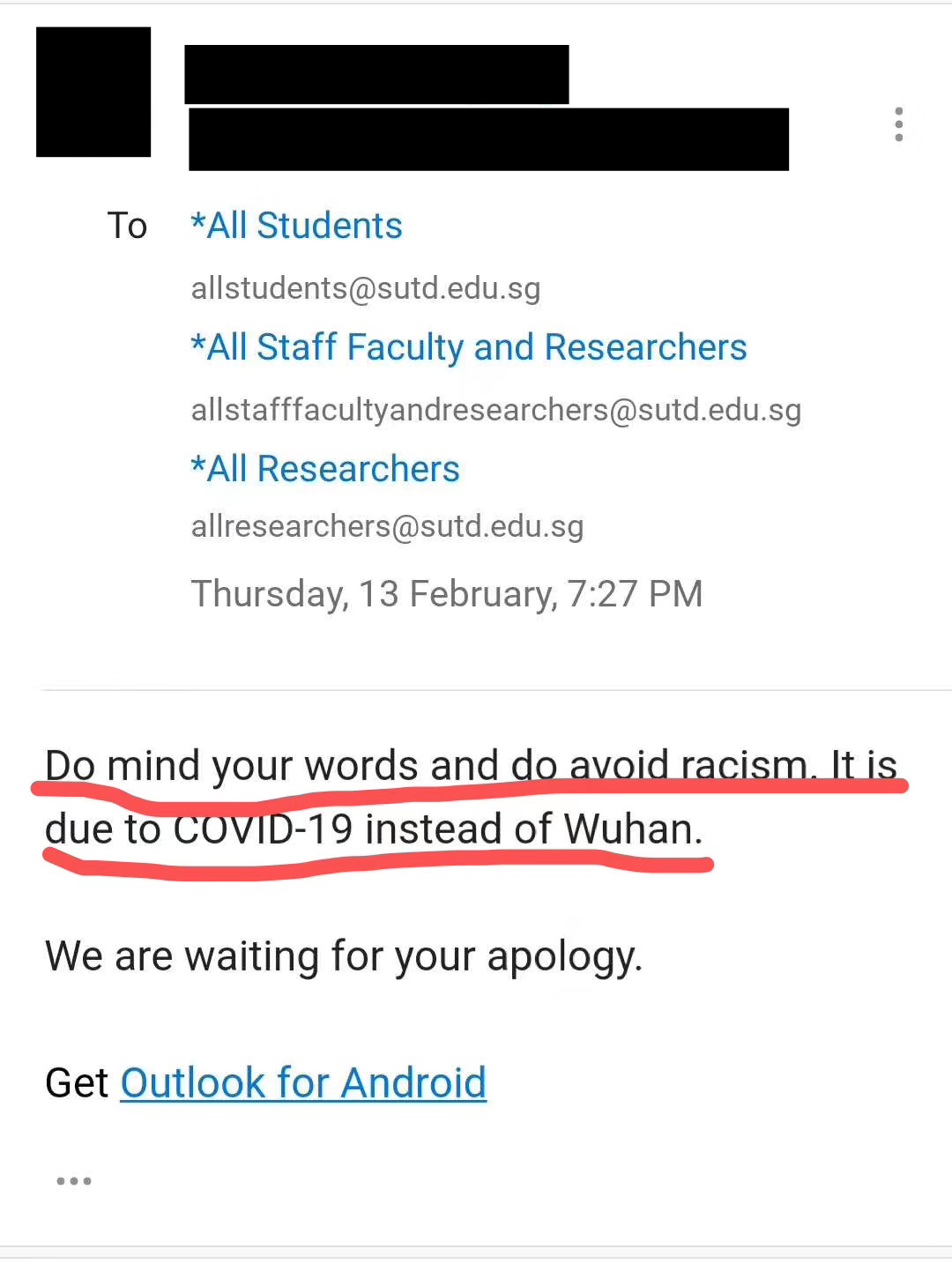 Disparaged PhD student
Another person, known as Chia, then added her voice into the mix.
Chia, however, replied with her personal email. It is not clear if she is part of SUTD.
Chia declared her support for the first student, stating that she "did not find anything wrong in the student's first email".
She commended the first student for his work on the Minecraft simulation, and proceeded to criticise the PhD student.
The student reminded the PhD student that he was on a scholarship, which she said came from "Singapore taxpayers' money, or in short, our money".
She added that PhD students were simply "leeching off" SUTD's and the country's prestigious name, without "effectively contributing" to Singapore's advancement of wealth and technology.
She then questioned whether PhD students would still take up a scholarship in Singapore if they did not receive the current S$3,000 stipend every month.
The student then ended off her email with a particularly acidic remark:
"If you are not happy, you can return to your virus country".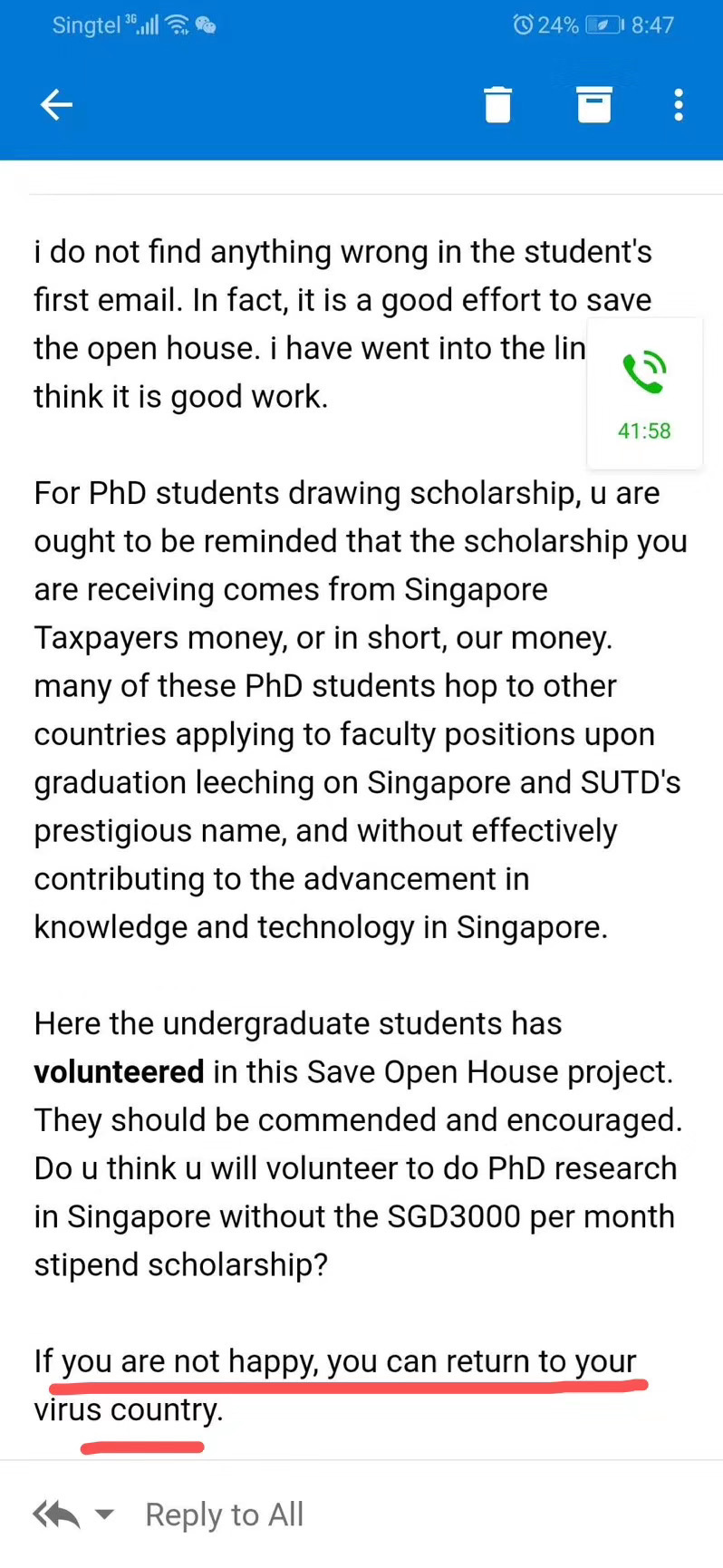 Screenshots of the email thread have since been shared to Facebook page
target="_blank" rel="noopener noreferrer">Tiagong, and has garnered close to 800 shares at time of writing.
Mothership has contacted SUTD for more information, and will update the article when they reply.
Top photo from SUTD Twitter