The novel coronavirus outbreak from Wuhan has infected over 14,000 and taken over 360 lives across the world, and has been declared a global health emergency by the World Health Organisation (WHO).
Several measures have been taken to prevent community spread in Singapore, and local artists have also contributed in sharing pointers and information to help the public understand more about the viral outbreak.
Local artist makes infocomic about coronavirus
Local artist Weiman Kow made an infocomic sharing about coronaviruses and measures to prevent community spread.
The infocomic has since been shared on various social media platforms over 14,000 times. Schools, clinics and hospitals have also apparently reached out to her about using the comic as educational material for the local community.
Mothership reached out to Kow, a full-time user experience designer, who pursues passion projects such as this infocomic in her free time.
Kow shared that she had been on sick leave for three weeks due to respiratory illnesses, and researched a lot about respiratory illnesses during the time she was ill.
"I thought I'd put together a summary of what I've learnt, because the Wuhan virus is a respiratory illness, and a lot of the precautions I've been researching for flu and cold applies to it too," Kow said.
How to prevent community spread of coronavirus
The infocomic, Kow said, was intended to be more easily understood for children, as she felt that most informative articles were rather difficult to read and understand.
She also provided an infographic version of the comic on her Facebook page after several requests by public members to print the comic out as posters.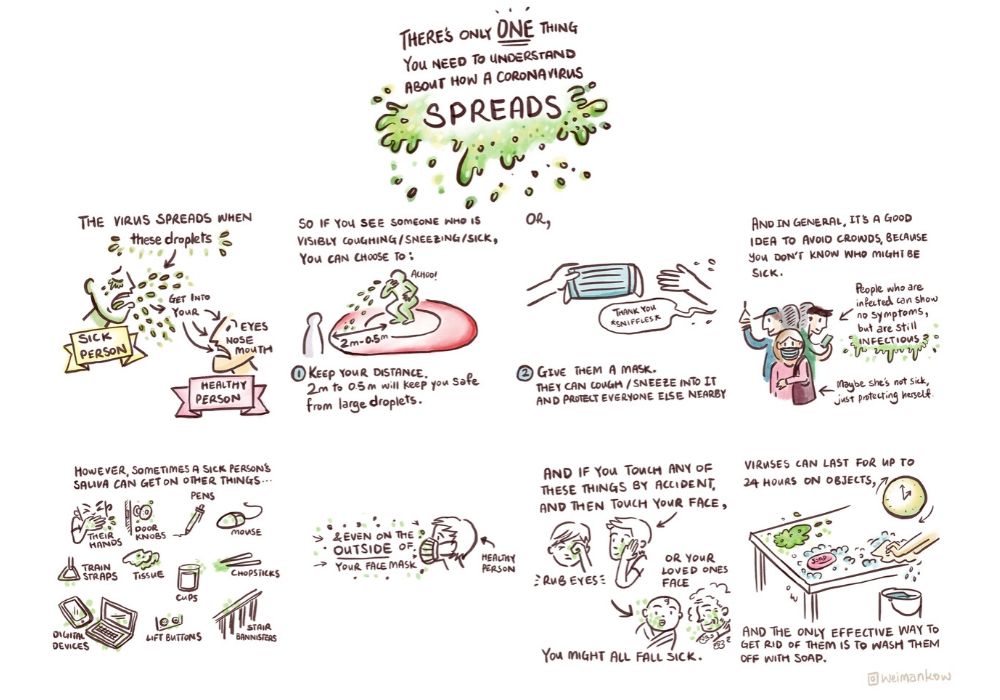 The comic explained how particles containing the virus could get onto objects such as stair railings, train straps, door knobs and lift buttons, and could survive on the object for up to 24 hours.
If one touches a contaminated object unknowingly and proceed to rub their eyes or touch their faces, they could get infected as well.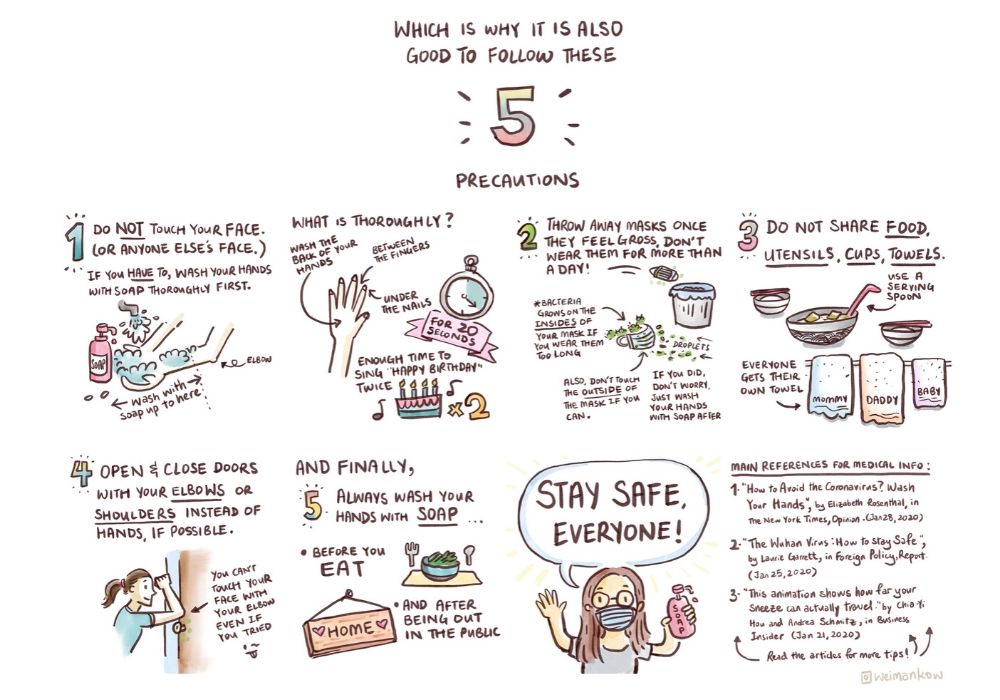 She shared five precautions the local community could take to keep themselves safe:
Do not touch your face, or anyone else's face. If you have to, wash your hands with soap thoroughly first.

Throw away masks once they feel gross, don't wear them for more than a day. Bacteria grows on the insides of masks if they're worn for too long. Avoid touching the outside of the mask as well.

Do not share food, utensils, cups, towels.

Open and close doors with your elbows or shoulders (or legs) instead of hands, if possible.

Always wash your hands with soap before eating and being out in the public.
"People should be less worried about wearing masks when they are not sick, but should be more concerned about washing their hands before touching their faces, or after being out in public places," Kow added.
Kow told Mothership that she will be working on a follow-up comic on how to wear surgical masks correctly, as she observed that several members of the public have been wearing them wrongly, reducing their effectiveness.
Other local artists have also came up with creative ways to help educate the public about limiting the spread of the coronavirus, such as Don Low, who used the WUHAN acronym in his comic.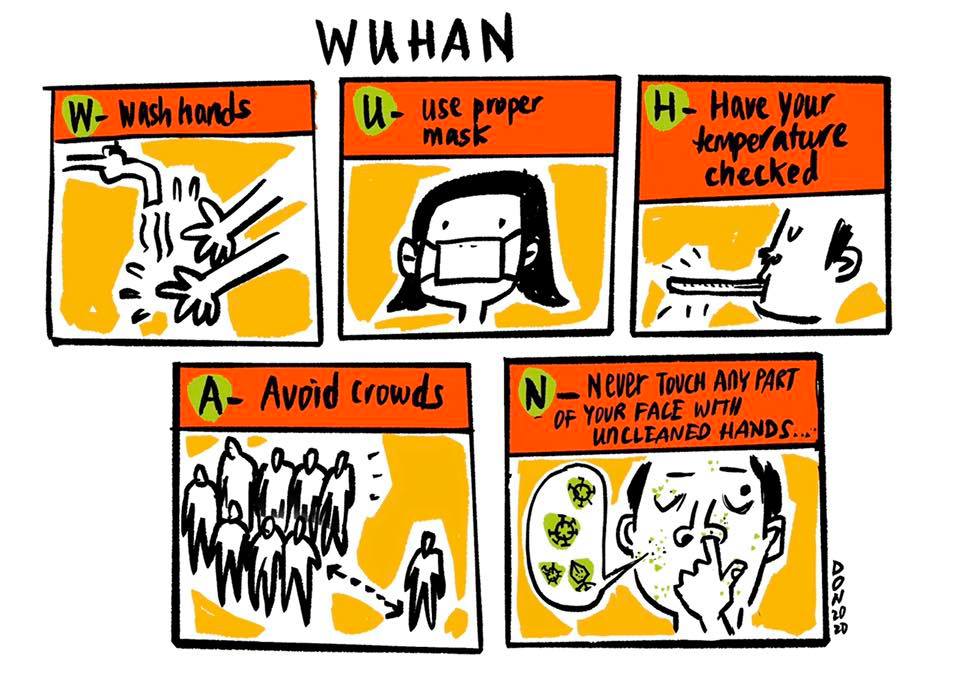 With more local artists' contributions gaining online traction, Kow said:
"I feel that comics as a medium is very useful for disseminating information, both to the young and old, and are very underrated by most people.

I hope this is one way people can start to see art, artists and comic artists as being a valuable and useful part of Singapore's society."
Top image via Weiman Kow/IG
If you like what you read, follow us on Facebook, Instagram, Twitter and Telegram to get the latest updates.