Before the novel coronavirus from Wuhan, there was another: the severe acute respiratory syndrome — better known as SARS.
The pandemic, which most of us will recall took place through the early part of 2003, infected 238 people and killed 33 patients in Singapore.
Seeing that SARS — like the Wuhan virus — is a strain of coronavirus, many are wondering if the recent outbreak will be as deadly or disruptive as the last one.
We are already starting to see strategies used to combat SARS rehashed in the nation's bid to fight the Wuhan virus.
These include measures such as:
Contact tracing,

Quarantining individuals who'd come into contact with a patient,

Discouraging travel to countries where outbreaks have occurred, and

Temperature checks at entry points into Singapore.
In fact, the measures put in place by the Singapore government during the SARS outbreak gave our nation a reputation for having the toughest strategies against the virus, according to The Straits Times.
So how did Singapore go about fighting SARS in 2003, and can we expect a similar course of action to develop?
To answer this, we first need to understand the circumstances by which SARS came to Singapore.
Nov. 16, 2002: World's first case of SARS
Like the Wuhan virus, SARS started in China.
On Nov. 16, 2002, a 45-year-old man in the Guangdong province of China fell ill with fever and respiratory symptoms.
He was later identified as the likely first case of SARS, but not before passing it on to four relatives, according to the World Health Organisation (WHO) in the book SARS : how a global epidemic was stopped.
The virus seemed to be transmitted quickly between patients and people they were in contact with; many healthcare workers found themselves infected.
As the weeks passed, China struggled to contain the virus resulting in what WHO on Jan. 30, 2003 labelled the "first known super-spreading event", which saw a 44-year-old seafood seller in Guangzhou passing the virus to at least 50 hospital staff and 19 relatives.
To make matters worse, it was not until Feb. 10 — nearly three months on from the first case — that the Chinese government finally informed WHO of the "strange contagious disease" that had "already left more than 100 people dead in Guangdong province in the space of a week".
The New York Times reported that China had in fact, suppressed reporting on the virus and did not publicly address the issue until Feb. 11, 2003.
It also took another six weeks after that for the Chinese government to begin sharing information with foreign doctors.
That makes for a whopping 86 days or roughly 12 weeks before the international community learned about what would soon be named SARS.
March 1, 2003: SARS comes to Singapore
Which explains the disarray Singapore found itself in when the virus reached our shores on Mar. 1, 2003.
Patient One in Singapore was 22-year-old Esther Mok, who had returned ill from a trip to Hong Kong.
She, along with two other Singaporeans, had stayed in the Metropole Hotel — a three-star hotel in Kowloon where a doctor from China was also staying.
According to WHO, the 64-year-old doctor had been treating patients who were suffering from SARS in Guangdong, before going to Hong Kong for a wedding on Feb. 21, 2003.
After spending one night in the hotel, he woke up with a fever and admitted himself into a nearby hospital.
Yet, one night was all it took to infect at least 16 other guests and one visitor — including Mok and the two other Singaporeans who were all staying on the same floor as the doctor.
The book A Defining Moment: How Singapore Beat SARS, published by the then-Ministry of Communications, Information, and the Arts (MICA), details how Mok, who was initially reluctant to visit the doctor, had a chest X-ray taken at Tan Tock Seng Hospital (TTSH) on Mar. 1.
Shocked at what he was seeing — Mok's X-ray showed white cloudy patches in her lungs — the doctor admitted her into a six-bed ward at TTSH.
March 6, 2003: Isolation
WHO describes how Mok and the other two Singaporeans — who had also developed symptoms and been admitted to hospital — were initially warded in open wards, with no barrier infection control.
It wasn't until Mar. 6 that TTSH informed the Ministry of Health (MOH) of a case of infection that was not responding to antibiotics. At this point, MOH immediately advised the isolation of the patient.
Unfortunately, Mok's time in the open ward — a mere five days — had already seeded the coming outbreak, with 22 individuals in contact with her developing SARS.
Six days later, on Mar. 12, WHO issued a global alert on an outbreak of "atypical pneumonia" along with recommendations to isolate any cases.
This is followed up on Mar. 15 with the virus officially termed SARS.
On the same day, TTSH started its operations room, which would become the "nerve centre on all decisions on SARS", according to MICA.
The next day (Mar. 16) MOH issued guidelines to hospitals to screen patients in its emergency department for fever and travel history to SARS-affected areas.
March 22 & 24, 2003: More SARS cases, quarantine measures enacted
By Mar. 22, a government press release indicated that a total of 44 SARS cases had been reported in Singapore — at this point, we're 22 days into the outbreak, with community transmission having happened already.
TTSH was also designated as the centralised location for all SARS cases, so it suspended its A&E services, stopped admitting new patients, and scaled down specialist clinics.
Two days later (Mar. 24), the number of confirmed cases rose to 65. MOH announced that it would invoke the Infectious Diseases Act to isolate all contacts who had been exposed to infected SARS patients.
This saw 740 people quarantined at home for 10 days to minimise contact with others.
"Those who do not heed the quarantine requirement are liable for prosecution under the Act," said MOH.
March 25, 2003: Death toll rises, schools close
The next day on Mar. 25, 2003, Singapore experienced its first SARS death.
Tragically, the virus' first victim in Singapore was the father of Patient One — Mok.
She would experience further anguish with her pastor and other members of her family, including her mother, succumbing to SARS.
From then on, Singapore's SARS death toll started rising with another four deaths reported by Mar. 31, 2003, according to MICA.
With deaths inducing panic among parents, and the virus spreading rapidly, the government announced the closure of schools on Mar. 27, 2003 — which happened to be during the March school holidays that year.
From preschools to junior colleges, schools would remained closed till Apr. 6, 2003, though the period of closure was subsequently extended.
Junior colleges were the first to reopen, on Apr. 9, 2003, with the other educational institutions following suit.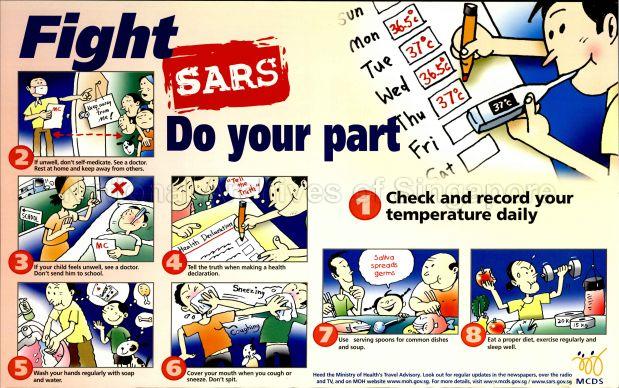 April 10, 2003: Jail for quarantine breakers
Following incidents of quarantined individuals breaking the requirement to stay at home, MOH announced on Apr. 10 that surveillance cameras would be placed in homes of those quarantined.
The next day, Apr. 11, mobile thermal scanners were installed at Changi Airport.
On Apr. 12, it was decided that those who flouted home quarantines would be required to wear electronic tags.
Later that month, on Apr. 24, the penalties for breaking quarantine were stiffened — this included possible jail sentences for quarantine breakers and higher fines.
On May 2, a 50-year-old was arrested and later jailed for breaking his quarantine order twice.
April 19, 2003: Pasir Panjang market closed
According to the WHO, dozens of police officers wearing surgical masks cleared the Pasir Panjang wholesale market of people on Apr. 19.
They also built barricades and prohibited people from entering.
It would later be announced that the vegetable market, Singapore's largest, would be closed for 10 days, though this was later extended to 15 days.
And all this was because in the month of April, a vegetable seller who worked at the market had fallen ill.
Eight days later on Apr. 27, reports indicated that a total of 2,836 people linked to the market had been put under home quarantine.
In total, 14 other infections were linked to the market, according to WHO.
The market first reopened on May 4, albeit only to trade buyers, all of whom had their temperatures checked.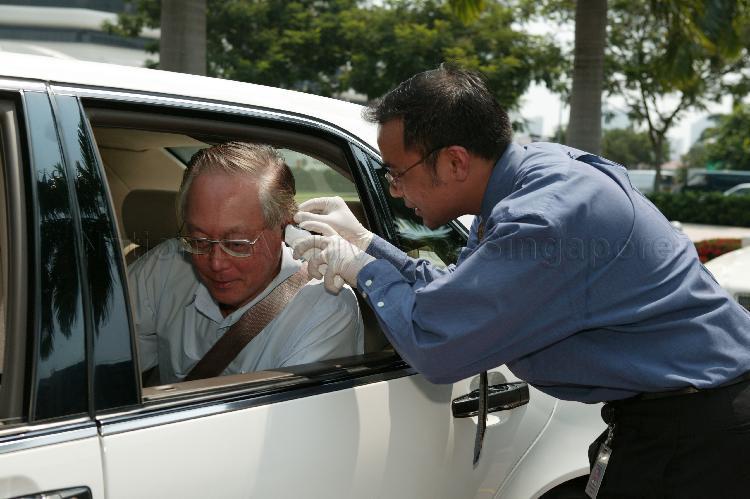 May 2003: Tensions ease, Singapore cleared
May seemed to finally mark the de-escalation of the SARS situation in Singapore, with the virus finally beginning to come under control.
More and more days passed without new cases appearing, and the U.S. lifted its travel warning to Singapore on May 7.
However, temperature checks were extended to people entering Singapore by car at land entry checkpoints.
By the end of the month, on May 30, WHO took Singapore off its SARS watchlist.
And so how does this all compare to the Wuhan virus?
A quick glance at how Singapore has handled the latest outbreak of a coronavirus shows a few differences from the nation's battle with SARS 17 years ago.
For example, the first confirmed patient with the Wuhan virus was immediately isolated as soon as he was diagnosed with pneumonia.
Key to Singapore's approach to the Wuhan virus this time around is the nation's relatively higher level of preparedness for an outbreak.
In the case of SARS, information on the virus was only beginning to trickle out of China by the time Mok was admitted into TTSH.
Lack of knowledge of the virus resulted in the improper handling of patients, which in turn led to SARS being transmitted rapidly to a host of others before MOH had a grasp of what was going on.
According to the WHO, five patients accounted for 103 of the cases of SARS in Singapore.
In contrast, China alerted WHO about the Wuhan virus significantly earlier.
According to CNN, WHO was informed of the virus on Dec. 31, 2019 — about three weeks after the first case.
The pathogen behind the new strain of the coronavirus was also identified shortly after, on Jan. 7, 2020, which meant that a lot more was known about the Wuhan virus before it had even reached Singapore on Jan. 20.
This permitted quicker diagnosis of the illness, and therefore faster treatment and isolation.
The outbreak of the Wuhan virus has also seen new and unprecedented strategies employed by the government, like the significant move to bar China passport holders (apart from PRs and long-term pass holders) from entering or transiting through Singapore.
Yet, 2020 has brought different challenges to the Singapore government, one being the spread of panic-inducing fake news enabled by social media.
The matter was addressed by multiple ministers, including Prime Minister Lee Hsien Loong, who decried "malicious and deliberate" falsehoods.
Lee added that he was glad to have the Protection from Online Falsehoods and Manipulation Act so that steps can be quickly taken to correct any fake news.
So far, Singapore has managed to avoid community spread of the virus; all the confirmed Wuhan virus patients here so far contracted the illness in China, or spread it among their travel companions. As of Sunday (Feb. 2), we have yet to find evidence that it has been transmitted to others in Singapore.
Whether or not this continues to be the case, we can perhaps be glad to know that aside from taking careful steps to look after our personal hygiene, our healthcare system is additionally far better prepared to contain the virus this time round.
---
Mothership Explains is a series where we dig deep into the important, interesting, and confusing going-ons in our world and try to, well, explain them.
This series aims to provide in-depth, easy-to-understand explanations to keep our readers up to date on not just what is going on in the world, but also the "why's".
Top image composite from Google Maps, Unsplash, Phua Chu Kang Sdn Bhd Facebook page, Amazon, and the Ministry of Information, Communications and the Arts Collection, courtesy of National Archives of Singapore.
If you like what you read, follow us on Facebook, Instagram, Twitter and Telegram to get the latest updates.