An Instagram Story making the rounds online is claiming that a nurse in Singapore was kicked off a public transport bus after a fellow passenger saw her holding a plastic bag with her work uniform inside.
This anecdote comes in the midst of heightened public paranoia that nurses' uniforms are contaminated with the novel coronavirus currently spreading worldwide.
The original post written in English and Malay about what happened was by the nurse's sister, who took to social media to vent her frustration.
A screen shot of the original post was then re-shared on Instagram Story with added commentary by others, who were feeling equally indignant about how something like this can happen in Singapore.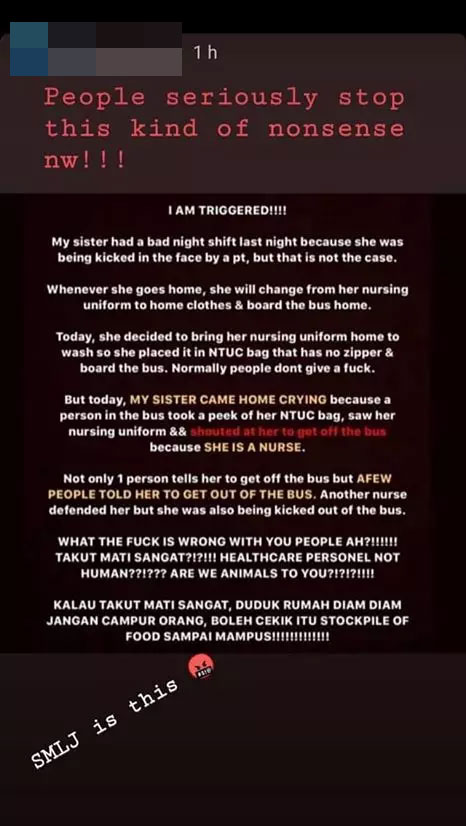 The exact source of the post is not known but it is believed to have been put up as recent as Feb. 11.
What post said
The post claimed that the nurse would usually bring a set of clothing to change out of her uniform after work, and she did the same on this particular day.
However, a fellow bus passenger, in this instance, noticed the nurse carrying her uniform and shouted at her to get off the bus.
Not only did other passengers not jump in to defend the nurse, a few of them also insisted she get off.
The post said:
But today, MY SISTER CAME HOME CRYING because a person in the bus took a peek of her NTUC bag, saw her nursing uniform & & shouted at her to get off the bus because SHE IS A NURSE.

Not only 1 person tells her to get off the bus but AFEW PEOPLE TOLD HER TO GET OUT OF THE BUS. Another nurse defended her but she was also being kicked out of the bus.
The nurse went home crying, the post said.
The final two paragraphs written in Malay, read:
"What the f*** is wrong with you people ah?!!!!!! Why are you so scared of dying?!?!!! Healthcare personnel not human??!??? Are we animals to you?!?!?!?!!!!

If you're so scared of dying, just sit at home and don't mix around with others, you can choke on your stockpile food till you die!!!!!!!!!!!!!!"
Background
Whether this anecdote is true or just another post to stir up more publicity for the current discussion during this novel coronavirus outbreak season, is beside the point.
Healthcare workers in Singapore have spoken up in the past week relating their own unpleasant experiences with members of the public who ostracise those in uniform, at a time when encouragement and support should be given.
If you like what you read, follow us on Facebook, Instagram, Twitter and Telegram to get the latest updates.