In light of the Covid-19 outbreak in Singapore, hygiene and other precautionary measures have been stepped up in numerous places.
More people are also becoming less willing to step foot outside their homes and in crowded areas, and secluding themselves at home.
Which naturally means an uptick in food deliveries.
Considering the time food delivery riders spend outdoors, and the numerous places they visit every day, McDonald's Singapore has taken steps to ensure the safety of its riders and customers in the midst of the outbreak.
Contactless McDeliveries
In an advisory on its website, McDonald's introduced a new form of delivery for its food — contactless delivery — which customers can opt for when ordering on the McDonald's platform.
Instead of directly handing food to customers, McDelivery riders will hang the orders on the buyer's door or gate.
Riders will inform the customers that their food is here before stepping away.
The latter will simply have to open their door to retrieve their orders, while riders will stand a distance away to avoid direct contact.
To pick this option, one need only comment in the "Remarks" section upon checking out the order.
To further facilitate a smooth contactless delivery, McDonald's encourages its customers to make cashless payments as well.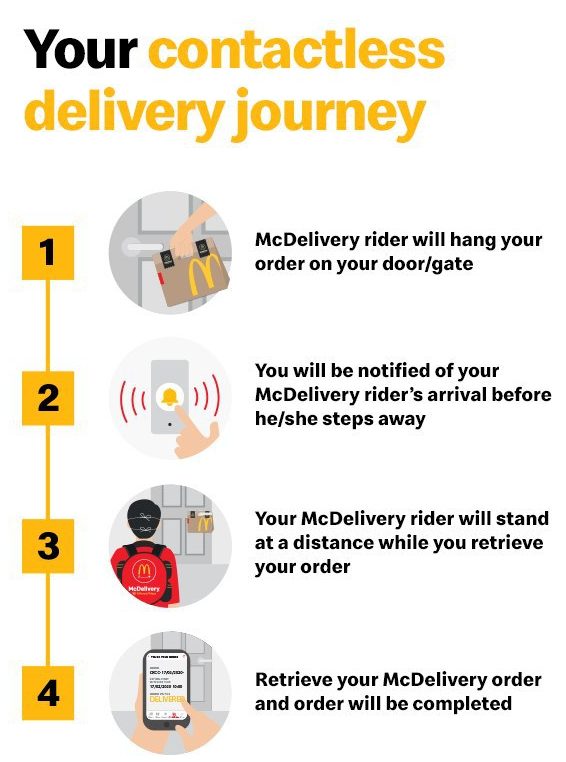 Other measures in place
The fast food chain will also implementing a range of other measures to ensure deliveries and their riders are clean and hygienic.

These include:
Increased frequency of temperature checks for all McDelivery riders. Riders who are well and fit for work will have "I'm cool" stickers.

All riders will wash their hands before every delivery.

All riders will wear masks.

All McDelivery bags will be thoroughly sanitised every two hours.

All takeaway paper bags will be taped.
McDonald's will also be ensuring its restaurants are clean and safe.
All staff and suppliers are required to undergo temperature checks, and staff will don "I'm cool" stickers to show they are fit for work.
Customer touch points like the self-ordering kiosks, door handles, tables, chairs, serving trays, table tents, condiment area, play areas and others will be sanitised more frequently.
Great.
Top photos via McDonald's 
If you like what you read, follow us on Facebook, Instagram, Twitter and Telegram to get the latest updates.