On Sunday (Feb. 24), The Straits Times and Lianhe Zaobao provided extensive coverage on a 206-page report detailing a disciplinary tribunal's findings on Lee Suet Fern (LSF) and how she handled the late Lee Kuan Yew (LKY)'s last will.
The tribunal found LSF guilty of improper conduct, also casting doubt on her professionalism as a lawyer in how she got her late father-in-law (refresher: she's married to LKY's second son Lee Hsien Yang (LHY), and also sister-in-law to Prime Minister Lee Hsien Loong) to sign off on changes to his will.
The 206-page report, which Mothership.sg has seen, has understandably generated a whole bunch of new questions in the long-running Oxley Road saga, that first started back in 2017.

But first, here's some background:
In Jan. 2019, the Attorney-General's Chambers (AGC) made a complaint to the Law Society of Singapore (LawSoc) about possible professional misconduct by LSF.
On Feb. 13 2019, Chief Justice Sundaresh Menon appointed a two-man disciplinary tribunal to investigate the matter.
Senior Counsel Tan Chee Meng, Koh Swee Yen and Eugene Oh of WongPartnership represented LawSoc in bringing charges against LSF on grounds of "grossly improper conduct" under the Legal Profession Act.
The lawyers defending LSF were Kenneth Michael Tan, former Attorney-General Walter Woon, as well as Abraham Vergis, Asiyah Arif, and Soh Wei Chi of Providence Law.
The two men on the tribunal are Senior Counsel Sarjit Singh Gill and Leon Yee Kee Shian.
And now, on to your questions:
1. Are these new developments going to affect the fate of 38 Oxley Road?
Nope. 
In April, 2. 2018, the Ministerial Committee (MC) set up to determine the fate of the house at Oxley Road released its report and offered three options for the house.
Option 1 - Retain the property

Option 2 - Retain the dining room, demolish the rest of the property

Option 3 - Allow the property to be fully demolished, and let re-development take place
Prime Minister Lee Hsien Loong accepted the committee's options, while LHY said the report does not accurately represent LKY's wishes.
As his sister Lee Wei Ling (LWL) still lives in the house, the Committee said that there was "no need to make a decision" straight away.
Meanwhile, LHY currently owns the house (you will read more about this later).
2. Was LSF acting as LKY's representative lawyer in relation to the last Will?
Yes, according to the report.
LawSoc said she was LKY's lawyer. LSF said she was not.
The tribunal ruled in favour of the LawSoc.
LawSoc's take
LawSoc said that LSF acted as LKY's lawyer as she prepared the draft Last Will and advised LKY on it.
LawSoc noted that LKY had at the time asked LSF's law firm partner who it was who drafted the Will on two separate occasions. The first time he asked, the partner told LKY that the lawyer who worked on it was LSF. On the second occasion, the partner said it was primarily LSF and Kwa Kim Li from Lee and Lee who made the changes.
LawSoc argued that LSF did not take issue with being perceived as LKY's lawyer when the partner recounted details of the meeting that she was present at, where LKY signed the final version of the Will.
Lee Suet Fern's take
LSF argued that her involvement was "peripheral" — she was helping as a family member, and as LKY's daughter-in-law.
She said her act of sending the draft Last Will was administrative.
When asked why she had given the instruction for her colleagues to be involved, LSF said, "Because I'm an obedient wife and Yang told me to do so."
Tribunal's conclusions
The tribunal noted that between the evening of Dec. 16 2013, when LKY received the draft from LSF, and the morning when LKY signed the last Will, no other lawyer except LSF was involved in advising LKY on its contents.
The tribunal also pointed out that LKY appeared to regard LSF as his lawyer for the last Will, instead of Kwa, who worked with him on its six previous versions.
Also, instead of asking Kwa to keep the original hard copy of the will, as he had done for the six previous versions of the Wills she worked on with him, LKY had asked his personal assistant to send Kwa only a secondary copy of the will instead.
LSF kept the original copy of the final Will in her office safe.
3. How about Kwa Kim Li? Didn't she draft the last Will?
No.
Kwa, a partner at Lee & Lee, was the lawyer who drafted the first six Wills.
But Kwa was excluded in the emails when the last Will was drafted. Kwa was overseas when the last Will was drafted.
In June 2017, Kwa issued a public statement that she did not prepare the Last Will.
This was in response to LHY's public statements that Kwa was the lawyer who drafted the Last Will.
LHY asserted that Kwa was LKY's lawyer.
But the tribunal noted that the LSF and LHY "gave no coherent explanation as to why they excluded Kwa, if they had genuinely regarded her as Mr Lee's lawyer".
The tribunal considered why LHY did not send the draft to Kwa on his own if it was an administrative act of forwarding it on to LKY.
The tribunal noted that "it would have been much faster, easier" to do that instead of asking LSF to do it.
During his cross examination, LHY admitted that he wanted to "pass the buck" to LSF to help him with the chore.
LHY also indicated that he had not wanted to contact Kwa because he thought very poorly of and disliked her.
However, the tribunal observed that LHY had no issues dealing with Kwa on LKY's previous Wills, and it was unclear why a forward of an email "would have been any more unpleasant".
4. What are the differences between the First Will, the Sixth Will, and the Last Will?
LSF and LHY had mentioned the need to revert to the First Will on numerous occasions.
We examine the differences between the Wills.
The first six Wills were executed on the following dates:
(a) First Will - Aug. 20, 2011;
(b) Second Will - Dec. 21, 2011;
(c) Third Will - Sep. 6, 2012;
(d) Fourth Will - Sep. 20, 2012;
(e) Fifth Will - Oct. 4, 2012; and
(f) Sixth Will - Nov. 2, 2012
And the seventh and Last Will was signed by LKY on Dec. 17, 2013.
The Last Will omitted the Gift-over Clause, which made provision for the scenarios where any of LKY's children predeceased him, which had been present in the First Will.
The Last Will, crucially, also included the Demolition Clause, which, while present in the First Will, was previously removed by LKY in later drafts of the Wills, including the sixth.
The Last Will allowed LWL to live in 38 Oxley "for as long as she desires", while the Sixth Will noted that LWL may continue to reside at Oxley Road, but always subject to Prime Minister Lee Hsien Loong's consent.
5. Did LHY benefit from the changes in the Will?
It depends on how you look at it. LawSoc noted that LHY was a beneficiary under the Last Will, especially in terms of the shares of the estate.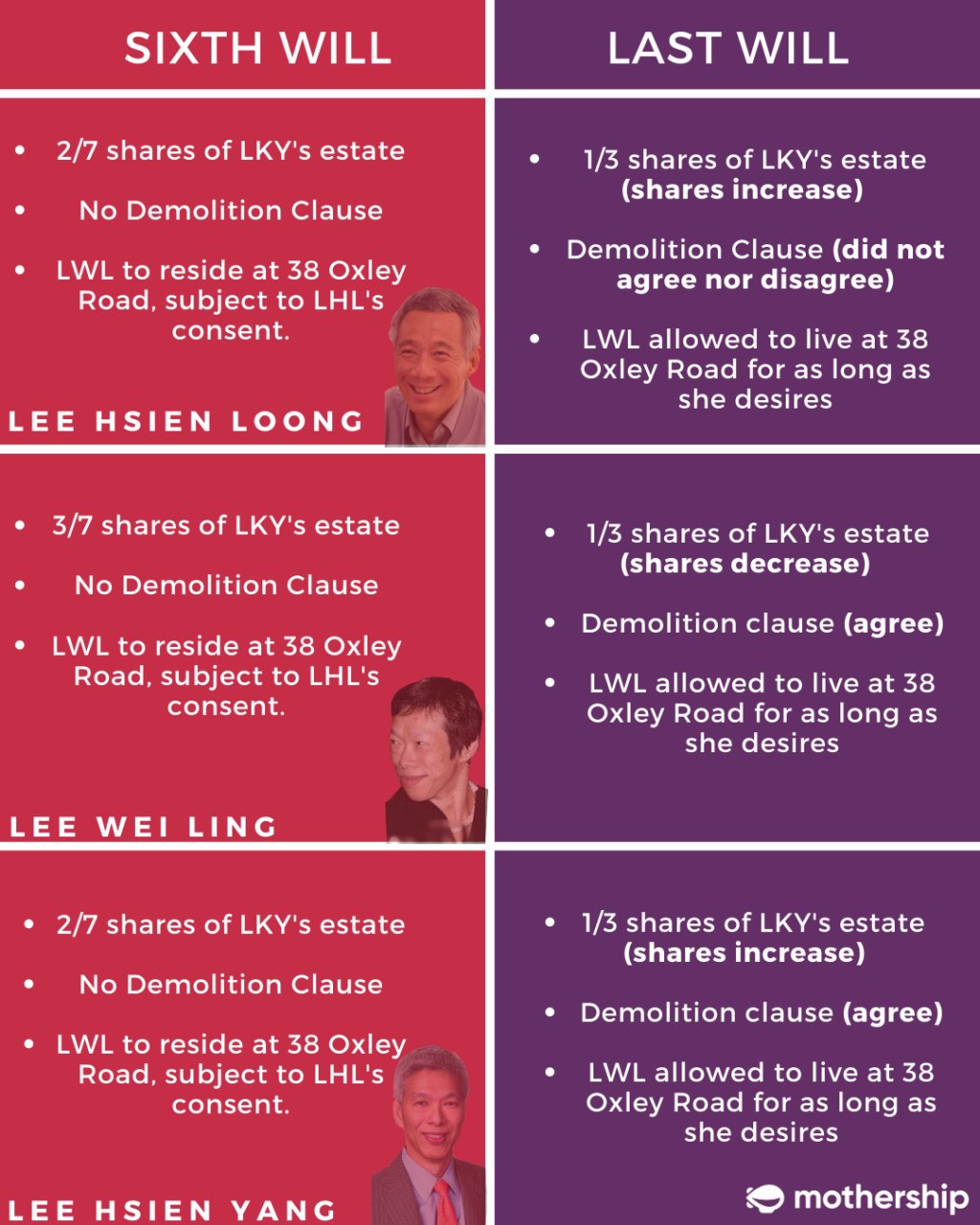 LHY's shares went from 2/7 (28.6 per cent) to 1/3 (33.3 per cent). The same also applies to PM Lee's shares.
The party who benefited the least was Lee Wei Ling. Her shares of the house decreased from 3/7 (42.9 per cent) to 1/3 (33.3 per cent).
However, LWL benefited from one change in the will.
The sixth will stipulates that her stay in 38 Oxley Road is subject to PM Lee's consent at all times. In the Last Will, however, LWL is allowed to live there "for as long as she desires".
Financially, LHY did not gain from the changes to the Will on 38 Oxley Road.
In Dec. 2015, PM Lee sold his shares of the house to LHY at market value, and as a gesture to show neither of them benefited financially from the transaction, PM Lee separately donated the full sum value of 38 Oxley Road to charity, while LHY also separately donated monies for half the sum value of the house to charity.
6. How did the Tribunal judgment look for Lee Suet Fern and Lee Hsien Yang?
Obviously, very bad.
The remarks from the Tribunal would look harsh to any layman observer.
On LSF:
"This is not a case of sheer incompetence, inadvertent negligence, or even reckless indifference. The Respondent, as Mr Lee's lawyer, deliberately failed to discharge the duties that she was supposed to perform. Her breaches are egregious."
And in another part:
"Considered in totality, the Respondent's conduct was quite dishonest. Mr LHY's and her conduct demonstrated a calculated attempt to:

(a) Ensure that Mr Lee executed the Last Will as quickly as possible, without due regard for Mr Lee's wishes, and

(b) Hide their wrongdoing in having done so.

The Respondent's conduct clearly lacked the integrity, probity and trustworthiness required of an advocate and solicitor".
On LHY:
"Mr LHY may make untrue statements, in public and in private, whenever there is no legal penalty for telling untruths; his public and private statements cannot be relied upon to be accurate. This is a surprising statement".
And also:
"Mr LHY's conduct was equally deceitful. He lied to the public, he lied to the MC (Ministerial Committee), and he lied to us. He tried to hide how he and his wife had misled his own father, Mr Lee, on the Last Will. He had no qualms about making up evidence as he went along. We found him to be cynical about telling the truth".
LSF's case will be referred to the highest disciplinary body that deals with misconduct by lawyers, the Court of Three Judges.
7. How did LHY and LSF respond?
LSF disagreed with the findings. LHY shared LWL's criticisms of the findings on his Facebook page yesterday.
LSF's response to the tribunal ruling was posted on LHY's Facebook page:
"I disagree with the Disciplinary Tribunal's report and will fight this strongly when it is heard in open court.

Any member of the public can obtain the entire record of the closed-door proceedings of the Tribunal from the Law Society. I urge the public to look at these and come to their own independent conclusions.

My lawyers, Kenneth Tan, SC and Walter Woon, SC and Providence Law, delivered an outstanding and impressive defence. I am deeply grateful to them."
8. Will this result in any jail term for those involved?
Nope.
LSF's case will be referred to the Court of Three Judges.
But LSF's three-decade long legal career could end.
If found guilty, she could face a fine, suspension or even be disbarred as a lawyer.
9. Was Lee Kuan Yew healthy when he signed the Last Will?
LKY was 90 when he signed the Last Will in 2013. He died less than two years later.
The tribunal appears to have pointed to LKY's poor health in its judgement.
"The facts expose an unsavoury tale. The Respondent (LSF) and Mr LHY, on 16 December 2013, persuaded their aged father-in-law/father, Mr Lee (then a 90-year-old man in poor health, who had recently been hospitalised for several weeks, with serious medical conditions), to sign a new Will without his usual lawyer (Ms KKL), to advise him.

The respondent took over as the lawyer to prepare the Last Will and advise Mr Lee, and misled Mr Lee on the terms of the Last Will that he was going to sign. Mr Lee was persuaded into signing the Last Will within 16 hours — the Respondent sent a draft of the Last Will at 7:08pm on 16 December 2013 and it was signed at 11:10am on 17 December 2013. (emphasis ours)"
On the other hand, the defence for LSF argued that there had been no suggestion by the LawSoc that LKY was not in full command of his faculties at the time he executed his will in December 2013.
The defence noted that the LawSoc is putting forward an argument that LKY, a very brilliant lawyer and world statesman, did not understand his own Will despite reading it several times.
The defence added that Kwa also did not object to any of the changes made in the last will, and had 15 months to alert LKY to any issue with it before he died.
But objectively, for a layman eager to look beyond legal arguments, one way to get a sense of LKY's health is to observe his public appearances from late 2013 to 2014.
Founder of socio-political site The Online Citizen Andrew Loh did just that.
It is noticeable that LKY's public appearances have become less frequent from mid-2013 to late-2014, and he did not make many public speeches during this period.
2014 was the second consecutive year LKY did not attend his annual Tanjong Pagar constituency Chinese New Year dinner, as he was in hospital recovering from an infection.
He had up till 2013 been very consistent in his practice of attending the dinner every year through the years.
In August 2014, he attended the 2014 National Day Parade, his last appearance at the event.
And in September 2014, he celebrated his 91st birthday with close friends and staff at Kuriya Dining at Great World City.
LKY did not write any new books during this period. His last book, One Man's View of the World, was published in June 2013, six months before he signed his Last Will.
So was LKY healthy? Was he astute enough to scrutinise his Final Will without the advice of his lawyer?
Only the members of his family will know the true answer.
Related stories:
Top Photo from Morgan Lewis's website and Zairon/Wikimedia Commons.
If you like what you read, follow us on Facebook, Instagram, Twitter and Telegram to get the latest updates.