Japan is in the midst of a Covid-19 outbreak. There are currently over 200 cases in Japan, with four deaths reported.
Streets have been emptier since a few weeks back, and the latest round of infections has not done anything to ease tensions over the virus.
6,000 masks were stolen from a hospital, and a fight broke out recently over alleged queue cutting for masks.
The next thing on panic buyer's lists? Toilet rolls.
Here are some pictures of empty shelves as toilet rolls in Japan were snapped up.
Supermarts in places like Shinjuku, Saitama, and more have seen their toilet roll stocks absolutely decimated.
何も知らないでトイレットペーパーを買いに行って唖然とした😅デマで買いだめに走る人の行動力の凄さ‼️情報操作でどうにでも出来る国民だな😆 #トイレットペーパー買い占め pic.twitter.com/1lPBgKr216

— u_suke (@usk1957) February 28, 2020
https://twitter.com/EbisuHapa/status/1233285887653318656

class='fb-post' data-href='https://www.facebook.com/GaijinPot/posts/10159832001774466'>
Images of toilet paper shortage in #Japan due to panic buying trend on social media. Nihon Kateishi Kogyokai, a Japanese paper association said it's a false rumor that the novel #coronavirus will cause shortage of paper products in the country. #トイレットペーパー #COVID19 pic.twitter.com/mjlQLvzSVK

— China Daily (@ChinaDaily) February 28, 2020
最初の以外は拾い画だけど、鼻セレブ的な潤いティッシュが辛ラーメンみたいな扱いなの可哀想www
花粉症のワイにはありがたいけどな( ̄▽ ̄)#トイレットペーパー#トイレットペーパー買い占め pic.twitter.com/cJ5uv0LYyM

— まーちゅん (@boyakky3) February 28, 2020
トイレットペーパー買い占め
デマだと分かってるけどなんじゃコレは
血相変えて走ってきたお姉さん方よ
ねえ落ち着こう?? pic.twitter.com/Rf2e93S5M0

—

[email protected]

広報部🍀✨ (@nemulab) February 28, 2020
全然知らないで買いにいってビックリ。あほか。#トイレットペーパー買い占め#デマ pic.twitter.com/YXaW4VGb82

— せい (@GSLewNRpShIlu4k) February 28, 2020
It's panic time in Japan, after the alcohol (any types for cleaning) and the masks, we now can't buy toilet paper 🧻... well we can but not everywhere 😂
⚠️ PLEASE DEAR CITIZENS, STOP PANICKING ⚠️ #coronavirus #corona #COVID19 pic.twitter.com/z4yayv97b6

— Lionel Piguet 🇨🇭🇫🇷 X 🇹🇼🇵🇭 (@lionelpiguet) February 28, 2020
コレもデマ情報に乗せられた1人?#トイレットペーパー買い占め #デマ情報 pic.twitter.com/EG9mjpyy57

— 流音 (@LUNE_RUNE) February 28, 2020
And like all panic buying anywhere in the world, the goods eventually end up online.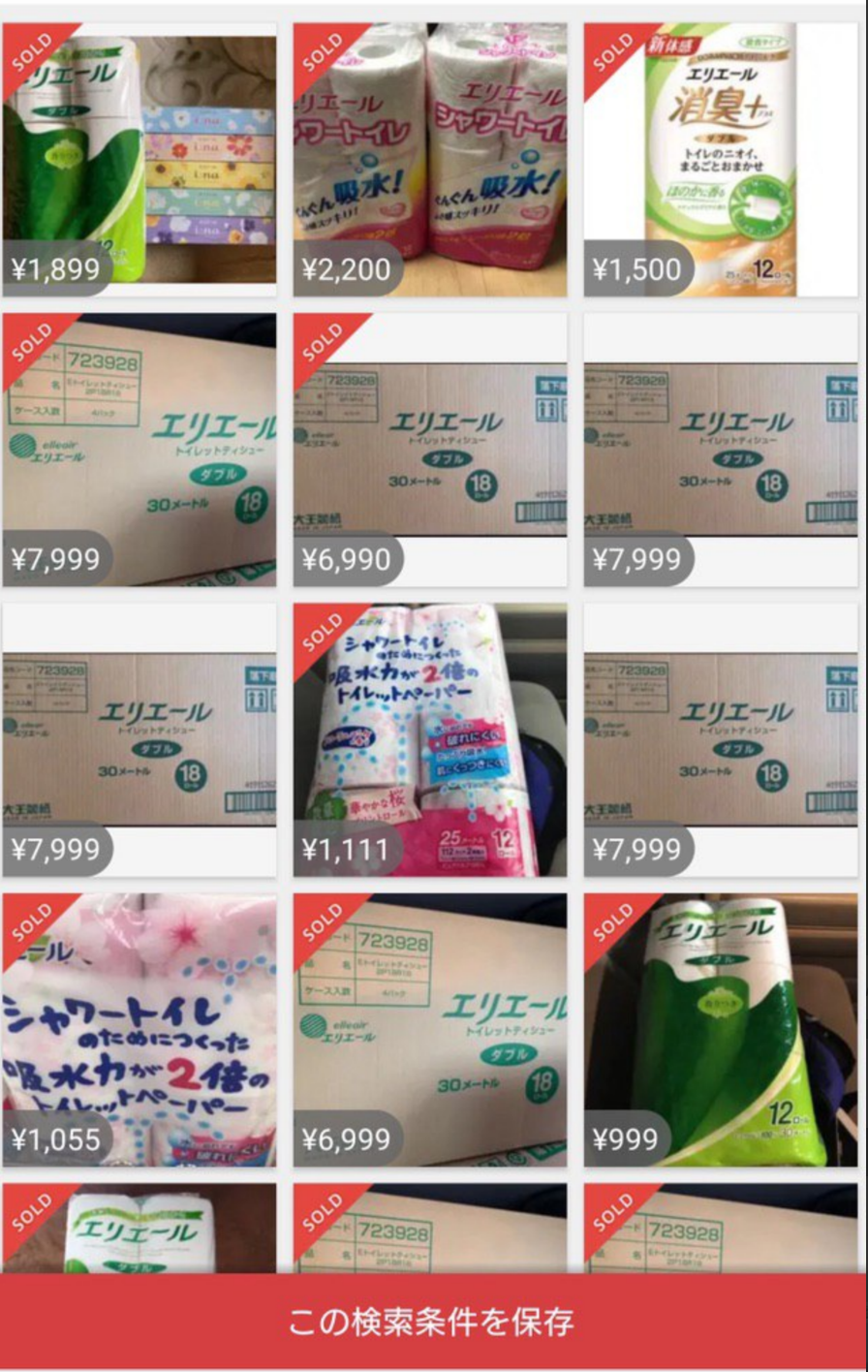 In many ways, this is the situation that Hong Kong faced a few weeks back:
That panic was stirred by online rumours that toilet paper supply will be cut off due to the worsening Covid-19 situation in China.
This appears to also be the case in Japan.
According to Mainichi, these false rumours consisted of a variety of unsubstantiated claims.
A Japanese paper association representative had this to say: "None of the member companies have run out of such (paper) products. Even if they temporarily disappear from store shelves, they can be replenished quickly."
Image from Lionel Piquet and LuneRune
If you like what you read, follow us on Facebook, Instagram, Twitter and Telegram to get the latest updates.