Punggol restaurant House of Seafood, which found itself in a bit of a situation last year for allowing their customers to catch live crabs using a claw machine, has returned to the public eye again, this time, for another unusual marketing tactic.
Seafood restaurant sells surgical masks
On Feb. 9, 2020, the restaurant shared on its Facebook page that it was selling surgical masks exclusively to their diners.
If you can't see the post, here is a screenshot: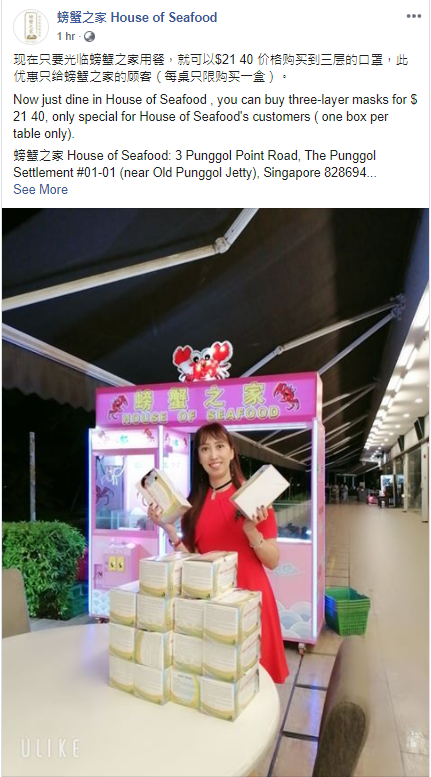 They have deleted the Facebook post since Monday morning.
Each box, containing 50 pieces of three-layer surgical masks, costs S$21.40.
The offer is limited to one box per table.
The usual price pre-virus outbreak season was about S$7 per box of 50 masks.
Last month, the Ministry of Trade and Industry (MTI) issued a news release urging the public to report errant sellers, who hike up prices during this coronavirus season, to the Consumers Association of Singapore (CASE).
Nee Soon GRC MP Louis Ng also reported a retailer in Yishun for profiteering from the sale of N95 masks on Feb. 8, 2020.
It is unclear if this current marketing tactic by the restaurant falls foul of existing regulations.
Previously condemned by SPCA for unsavoury marketing tactics
In October 2019, the restaurant in Punggol installed the "first live crab claw machine" in Singapore.
While it brought the restaurant significant business and publicity, many criticised the restaurant for animal cruelty.
The Singapore Society for the Prevention of Cruelty to Animals (SPCA) also responded to videos of the live crab claw machine, condemning it.
Eventually, House of Seafood CEO Francis Ng and three of his staff members made a public apology, bowing for 30 seconds in front of their media and expressing their utmost remorse.
Top image via House of Seafood/FB
If you like what you read, follow us on Facebook, Instagram, Twitter and Telegram to get the latest updates.