*Update: Chinese state television has reported that Liu Zhiming passed away on Feb. 18, at 10:30am.
A hospital director from Wuhan, the epicentre of the Covid-19 outbreak is reportedly being resuscitated after falling critically ill to the virus.
Initially reported dead
Earlier reports by Red Star News suggested that the hospital director, Liu Zhiming, from Wuchang Hospital that he had died, but was deleted later, according to Daily Mail.
Red Star News, a news outlet based in Chongqing, said it had confirmed the news with multiple sources.
Daily Mail reported that one of the sources came from the director of the propaganda and education centre of the Hubei Provincial Health Commission, who later retracted his statement on Weibo, updating that the hospital was doing its best to resuscitate Liu.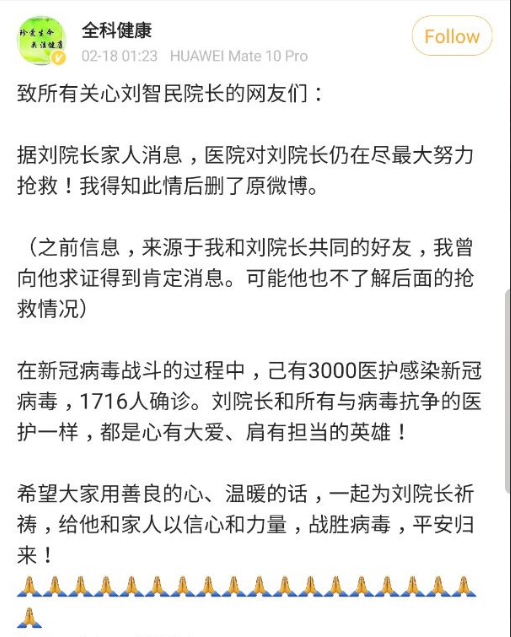 Translation:
"To those who care about Director Liu and online netizens:

According to Liu's family, the hospital is putting in its best effort to save him! After I learnt of this, I deleted my original Weibo post.

(Previously, I heard the news from Liu's good friends, and I also asked him to confirm his news. Maybe he doesn't understand the situation fully as well.)

In this battle against the virus, there have already been 3000 healthcare workers infected and 1716 with confirmed diagnosis. Director Liu and the rest of the frontline healthcare workers are all noble and courageous heroes!

I hope everyone can pray for Director Liu, and give him and his family the confidence and strength to pull through and conquer the disease, and return to us!"
Mixed reports on Liu's situation compared to death of Li Wenliang
The backtrack in reporting on the director's death has been compared to media coverage of the death of Li Wenliang, a doctor and whistleblower who attempted to warn about the virus before it was reported publicly.
Li was an ophthalmologist who worked in the Wuhan Central Hospital during the outbreak of Covid-19, who attempted to warn his colleagues of the burgeoning threat on social media.
He was disciplined by the authorities for spreading "fake news" online, but later contracted the virus himself while working at the hospital, passing away on Feb. 7, 2020.
State media initially reported that Li had died, then Wuhan Central Hospital said he was still on life support — only to eventually confirm that he had passed away.
His death sparked a widespread outpouring of grief among Chinese social media users, and the mixed reports by the Chinese state media were called out by several Chinese netizens online.
Related stories:
Top image via Red Star News, People's Daily China/Twitter
If you like what you read, follow us on Facebook, Instagram, Twitter and Telegram to get the latest updates.