CEO of Temasek Holdings Ho Ching has remarked on Chinese Foreign Minister Wang Yi's call for Asean member countries to lift their travel restrictions on China.
"Counterproductive"
Referring to Wang as a "young man" in a Friday, Feb. 21 Facebook post, where she shared an article from Nikkei Asian Review, Ho said it is "counterproductive" for the Chinese foreign minister to urge other countries to lift the travel ban.
This is because China is still imposing restrictions on its countrymen within its own borders, the 66-year-old wrote.
She further said: "There is a time and place, and this is not the time and place."
In total, 16 cities in China's Hubei Province remain under lockdown.
Call for other countries to lift travel restrictions against China
Wang, who is also 66-years-old, had urged Asean countries to lift their bans on arrivals from China that were imposed to curb the spread of the Covid-19, according to press statements released by the Chinese foreign ministry, Reuters reported.
He was speaking at a meeting in Vientiane, Laos, with foreign ministers from the Asean bloc on Thursday, Feb. 20, where they agreed that China and Asean should work together to deal with the virus outbreak.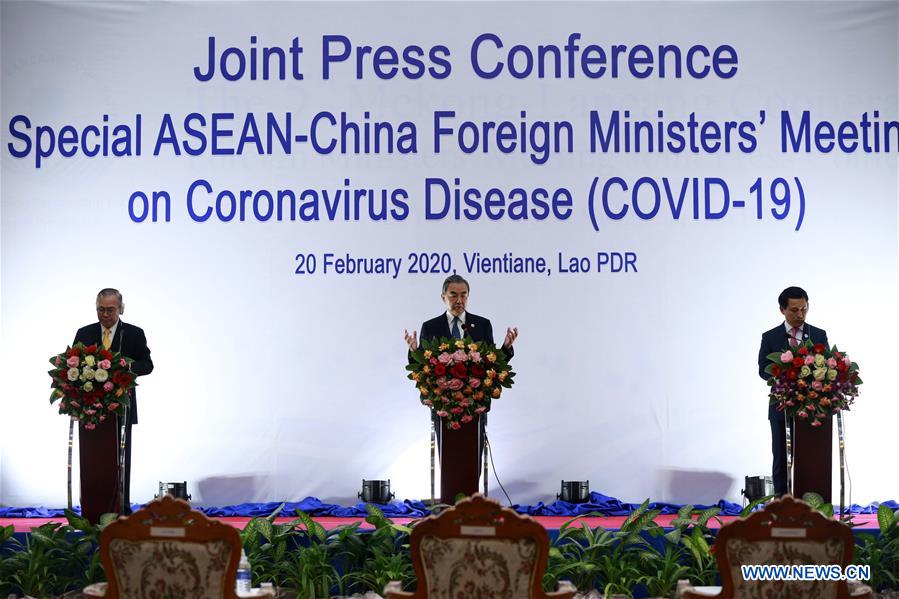 Wang had also voiced his concerns about Singapore's "restrictive measures" to Singapore's foreign minister Vivian Balakrishnan on Wednesday evening, Feb, 19, saying he hoped "normal exchanges" between Singapore and China can resume as soon as possible now that "the epidemic has eased and the situation is under control".
He had previously slammed countries that placed bans on travellers from China, and singled out the U.S., which was the first country to evacuate its citizens from Wuhan.
Travel restrictions impacting Chinese travellers
More than 50 countries and territories have placed travel restrictions on China, including Singapore, Indonesia, the United States, and the Philippines, which have banned foreign travellers from mainland China or who have visited the country lately.
Travel restrictions on Chinese nationals have affected Chinese Communist Party officials as well as business executives who travel to the region, according to Nikkei Asian Review.
In addition, the travel bans have caused some projects under China's Belt and Road Initiative to be stalled, South China Morning Post reported.
Nevertheless, Wang emphasised the measures taken by the Chinese government to contain the outbreak, pointing out that progress has been made so far due to the decline in newly detected cases in mainland China.
The number of new confirmed cases in mainland China by the end of Thursday, Feb. 20, however, was higher than the previous day: 1,109, as compared to 394 on Wednesday, Feb. 19.
This brings the total number to 75,685, while 118 new deaths bring the total death toll to 2,236.
Top image via Kaikeo Saiyasane/Xinhua
If you like what you read, follow us on Facebook, Instagram, Twitter and Telegram to get the latest updates.