As hordes scrambled to stockpile whatever food and necessities they could from supermarkets once DORSCON Orange was announced, there's a portion of society that might be left behind in the mad rush.
The underprivileged and elderly might not have the wherewithal or energy to compete and queue for long hours, especially since cheaper items in supermarkets have been snapped up.
Donation drive for the needy
One kind Singaporean has started an initiative to help "those really in need of supplies".
Jason Cai, the founder of charity initiative Park $2 Project (P2P), collaborated with Steven Goh, the owner of social enterprise Kindness Mart to deliver essential items to the needy.
Through a Facebook post on Feb. 8, Cai and Goh called on Singaporeans to raise funds for goodie bags that will be distributed to needy families.
These goodie bags contain a mixture of food and other necessities, including cooking oil, rice, crackers, toilet paper, soap, and shampoo.
The full list of proposed items are:
1. Knife Brand Premium Cooking Oil - 1L: S$4.75

2. Golden Pineapple Rice Vermicelli - 400g: S$1.45

3. Golden Pineapple Fragrant Rice - 5kg: S$12.30

4. Everfresh Bathroom Toilet Roll - 10 roll/per pack (2 ply): S$3.00

5. Sunsilk Shampoo (Mixed Fragrance) - 650ml: S$9.50

6. Lifebuoy Handwash (Mixed Fragrance) - 200ml: S$3.00

7. Lifebuoy Bodywash Refill - 900ml (Mixed Fragrance): S$6.50

8. Hup Seng Cream Crackers - 428g (15.1oz): S$2.50

9. Mama Lemon Dishwashing Liquid (Anti-Bacterial) 1L with 1L refill: S$7.00
Cai added that he hoped that by "giving kindness" through the donation drive, it could "calm people down" and "help slow down the panic buying".
Goodie bags for 205 families
The initiative was a success with 88 people donating a total of S$10,250 in a single day.
This amount could provide one goodie bag each to 205 families.
Cai revealed that each goodie bag costs around S$50, and is estimated to last each family around one month.
Here are some of the items delivered in a separate donation drive by Kindness Mart.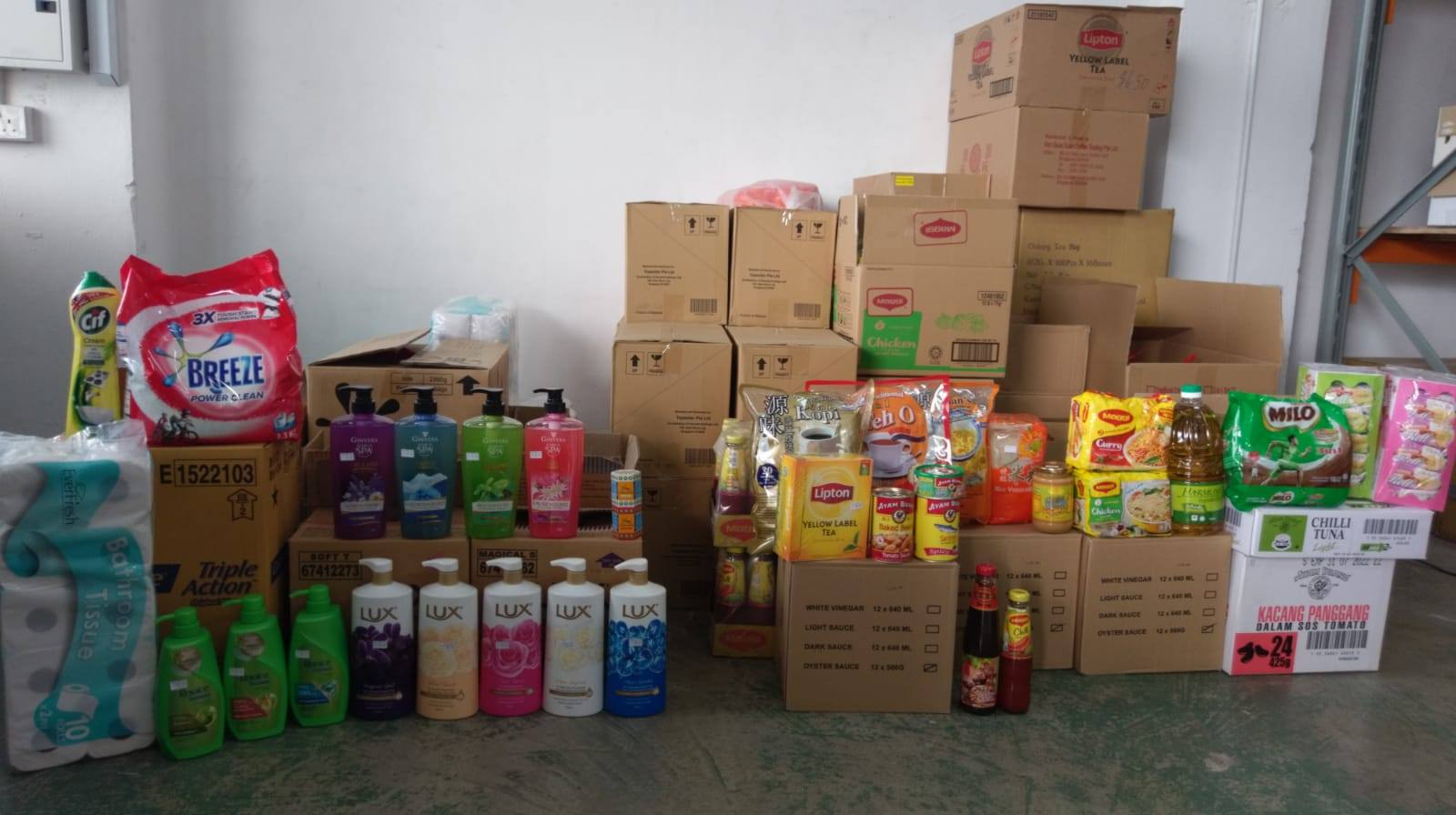 Cai thanked all the donors in another Facebook post for the "outpour of love and blessings".
He also elaborated on how Singaporeans have come together in a show of unity to bring some good news and hope to the needy, especially in the midst of the doom and gloom from the coronavirus outbreak.
"In times like this where the sick couldn't buy a mask, the diabetic couldn't find alcohol swabs, the poor couldn't afford to hoard food, the elderly couldn't queue for long, and everyone is laughing at Singapore, you (yes you!) have stepped out and shown us what the true Singapore Spirit is all about. You have brought hope not just to the needy families who are worst hit, but also to all of us who are feeling down. Your kindness is the perfect example of how we should unite and help one another in a crisis like this."
You can read Cai's full post here.
Top photo from Kindness Mart / FB
If you like what you read, follow us on Facebook, Instagram, Twitter and Telegram to get the latest updates.