Another coffeeshop fight has gone viral.
Uploaded to Facebook page SG Kay Poh on Feb. 27, the 35-second video is relatively short, but eventful.
From the surroundings, it looks like the incident took place in a local coffeeshop.
In 18 hours, the post has gotten more than 2,6000 shares and 120,000 views.
The video's virality can probably be attributed to what most people would call "instant karma".
Poured bucket of water
The clips starts with two men, one middle-aged and one elderly, in an argument.
It is unclear what the argument was about, as the person filming was situated too far away to properly capture the dialogue.
When both men started gesturing at each other, the middle-aged man suddenly poured a bucket of water over the elderly man.
The perpetrator appeared to have been holding on to the bucket all along, only that it was concealed by the camera angle.
The cameraman comments, "This guy too much ah."
The elderly man knocked the bucket away, but did not physically retaliate.
After another short exchange, the middle-aged man tries to hit the elderly man, with the imperative on "tries".
Instead, he loses his balance and falls forward, while the elderly man steps aside, partly to evade the attack.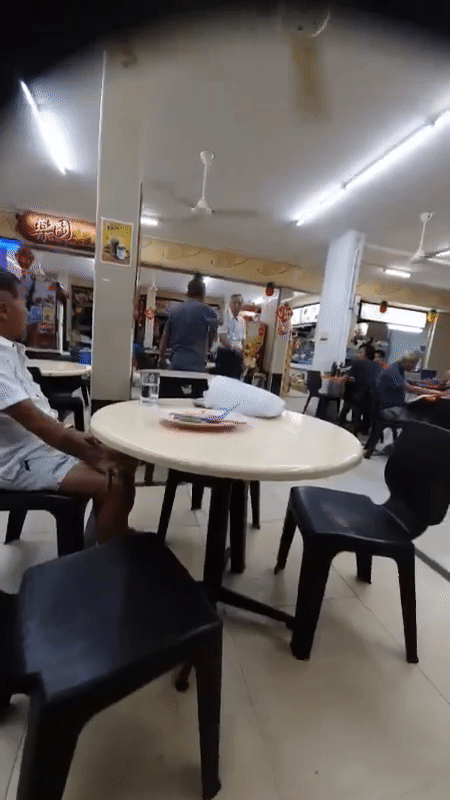 "Ah ah, bagus, ah. Ha!" the cameraman continues.
"Bagus" means "good" in Malay.
The video ends with the middle-aged man picking himself up and leaning against a pillar, while the elderly man walks away.
Throughout the incident, another middle-aged customer in frame functions as a silent spectator.
Speculation
In the post's comments section, a few people speculated that the middle-aged man had slipped on the water that he poured over his opponent.


And this was the general sentiment of viewers:

Top image via SG Kay Poh on Facebook. 
If you like what you read, follow us on Facebook, Instagram, Twitter and Telegram to get the latest updates.