An audio recording of Trade and Industry Minister Chan Chun Sing's candid views in Singlish peppered with colloquialism has been leaked since at least Feb. 17, 2020, and is still making the rounds online. (Full transcript of the audio recording available here.)
Some background
The original session involving Chan was organised as a closed-door dialogue with business people from the Singapore Chinese Chamber of Commerce and Industry (SCCCI).
The meeting occurred on Monday, Feb. 10 a few days after Friday's Dorscon orange announcement.
The SCCCI has since said in a message to its members on Feb. 18 that the leak was "unacceptable and deeply disappointing".
The SCCCI added that it was unauthorised as attendees were told repeatedly it was a closed-door, off-the-record dialogue.
What was the session really about?
In the leaked audio, Chan talked about the recent panic-buying of groceries, Singapore's approach to the current Covid-19 outbreak crisis, and why Singaporeans embarrassed themselves on the world stage with their actions that resulted in runs on supermarkets island-wide.
Chan's views were met with raucous laughter from the crowd at times, based on the background noises and reactions he elicited as heard on the audio recording.
The dialogue appeared to be one of the many and regular engagement sessions undertaken by the country's leading politicians from time to time with captains of industries, and other leaders who control the means of production.
If there is one insight you can take away, it is this: When politicians go to the ground, this is one aspect of it, besides karaoke-singing at the Residents' Committee lounge.
This particular dialogue was about two hours long.
How many versions of the leaked audio are there?
Socio-political website The Online Citizen edited a seven-minute clip and put it on Facebook on Feb. 17 evening, which then made its rounds online.
There is also another 12-minute clip that is believed to have been circulated overseas, which was referenced in a South China Morning Post article.
This slightly longer clip is believed to have focused on Chan's discussion which touched on Hong Kong and China.
However, there also exists a 25-minute clip that has been circulated and uploaded on an audio recording playback site, which has seen be re-uploaded on many Facebook pages.
The exact source of the leak has not been established.
After a few days, it was clear not everyone heard the same version and many skipped the 25-minute version for the shorter clips.
Did Chan know about the leak?
Evidently so.
Even before the leaked audio became widespread public knowledge, Chan preemptively put up a Facebook post before noon on Feb. 17 alluding to the issue:
His post came at least seven hours before TOC released its edited clip.
Chan, in his post, characterised the session he had with the business leaders as a "frank discussion".
Based on the tone of the post, which was written in grammatically-correct and officious-sounding English, it could be surmised that Chan was prepared for some backlash for expressing his candid views at the dialogue session.
But there exist some room for interpretation.
One regular political commentator, Bertha Henson, was of the view that Chan "was clearly unapologetic about the tone and the words he had used".
Did anyone confirm the leak officially?
SCCCI's letter, as seen by Mothership, confirmed the authenticity of the clip.
Its president, Roland Ng, said that the clip was an "edited audio recording".
It is unclear whether Ng meant that the clip was edited unfairly or whether the clip was an extract of a more than two-hour-long dialogue, but he did say it was "clearly edited out of context".
Ng also said that he is "deeply disappointed" that one of the members have acted in such an irresponsible and damaging manner.
He added that SCCCI is currently investigating the matter.
What is SCCCI's take on the leak?
The chamber of commerce has gone so far as to say that the leak is a "betrayal of trust", having told members the session was "off-the-record".
"Such actions dilute the trust and confidence that others have in us and will discourage active and open participation from our speakers, guests and even our own members in future private settings. Trust has to be mutual, earned and built over time," Ng said in his letter.
But in an era of pinhole cameras, revenge porn, and mobile phones equipped with crystal clear sound-recording capabilities, leaks should be assumed to be the norm and not the exception.
This, however, changes the complexion of any future discussions that are described as closed-door or off-the-record.
Because the notion that a leak is valuable can be gamed by political opportunists by purposely saying things to ensure it does get leaked.
What are the reactions overseas to Chan's statements?
Chan's views on Hong Kong and China have been picked up by the Hong Kong press (here, here and here).
Chan had, after all, commented on Hong Kong Chief Executive Carrie Lam's decision to wear a surgical mask to a press conference on the coronavirus outbreak.
What are the reactions in Singapore?
Very broadly, there are two camps: One camp has organically come out in support of Chan's candidness, while another camp has derided Chan for speaking in Singlish and belittling Singaporeans in the process.
This was in response to Chan calling Singaporeans "idiots" for being part of the runs on supermarkets and causing undue panic.
He also used the colloquial phrase for embarrassment, "sia suay", to describe how he felt about regular Singaporeans and their actions that were seen throughout the rest of the world.
Is there a generational gap in responses?
Initial reactions indicate there are mainly two kinds of reactions to Chan's candid views.
The younger generation, meaning those 40 years old and younger, are mainly neutral, amused and even supportive of Chan's frank assessment of events.
The older generation who have been referred to derogatorily as the "boomer generation", appear more uncomfortable with the manner in which the views were expressed.
Some of the older generation people, especially those from the intelligentsia, also felt that Chan was belittling Singaporeans, talking down to people, and it was not how they expected a minister of his stature to behave.
One explanation could be due to the younger Singaporeans' experiences with social media and personality-driven discussions, posturing and virtue-signalling in this age of authenticity.
To paraphrase: To be virtue-signalling is almost a bad thing. To speak one's mind without a second thought is keeping it real.
But that doesn't mean all older people in Singapore had an adverse reaction.
Some, who normally wouldn't even speak up for the ruling party, were also candid enough to say they did not see anything remotely wrong with Chan's views.
And let's be very clear on this: The younger Singaporeans were not saying they like this side of Chan because they were sympathetic of him being some kind of victim of non-consensual recording that was subsequently leaked.
What are the difficulties in assessing Chan's views outside of Singapore?
The larger implications beyond Singapore are harder to deduce.
Politicians and governments can be assumed to size one another up all the time behind closed doors.
How much of what Chan said is not already part of other country's calculations when they look to Singapore?
Singaporeans have cultivated a reputation on the world stage as friendly, firm, but fair -- in other words, other people know us as pragmatic and practical.
Chan's views on Singapore's strategic positions and interests are perhaps not new.
However, hearing them articulated in such a context is jarring -- but then again, not inconceivable.
This is where the generation gap shows.
Younger Singaporeans who approve of such no-nonsense talk have been raised on a steady diet of social media, personality-driven talk.
It is actually mild compared to other kinds of discussions that are taking place now, contributing to some kind of culture war.
What are some of the defensive comments made about Chan's frank expression of views?
Plenty of chatter online tried to massage the message to add a rationalising layer and/ or stand behind Chan's Ah Beng persona and plain-speaking ways, likely inherited from his military days.
https://www.facebook.com/TheReservistSg/photos/a.488182641286927/2416618645109974/https://www.facebook.com/mediacock/photos/a.1694196500851800/2574939186110856/These all appeared like clockwork.
But there certainly were other organic ones that came out in support of Chan -- even those from very unlikely quarters: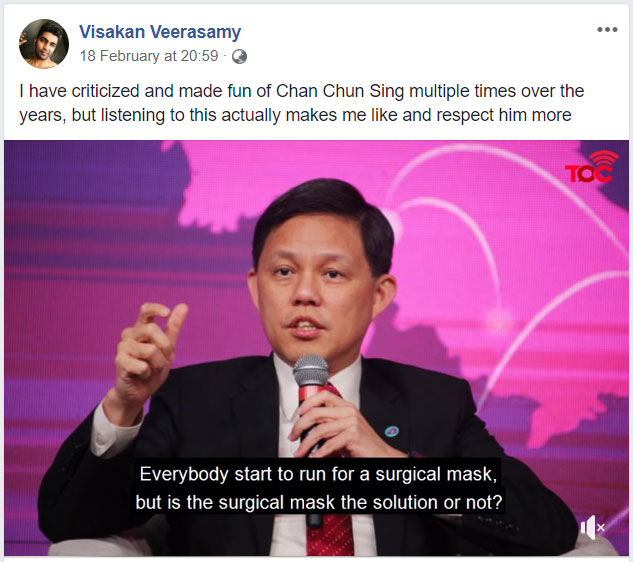 The fact also remains that there is probably a significant number of Singaporeans who are against those who made runs on supermarkets and hoard stuff, and would generally downvote such kinds of behaviour.
They genuinely are okay with a straight-talking person.
What did Chan say that was illuminating?
Plenty of his topics of discussion were already raised in various media, such as here and here.
But one aspect of the leaked audio that has not been talked about is the normalising of such engagement in this age of authenticity.
Most specifically, can we assume that the use of Singlish as a means of engagement moving forward ought to be considered normal and not opportunistic, or to be frowned upon because it is a creole language?
There was widespread acknowledgement of the efficacy of the Workers' Party's Low Thia Khiang meme-able, brain-hacking Parliament moment when he said "sue until your pants drop".
Who is the real Chan?
So there is a funny part to this leak that has not been retold.
Very early on, when the audio recording first made its rounds, there was a general sense of disbelief among Singapore's highly credulous audience that it was actually Chan speaking.
In other words, there was some initial scepticism about the clip's veracity because Chan does not often communicate in Singlish in public.
The public Chan is the clean-cut man in suits that Singaporeans watched in Davos' World Economic Forum in 2018.
He spoke in fluent English during a panel presentation that included the Asian Infrastructure Investment Bank (AIIB) president Jin Liqun and Pakistan's Prime Minister Shahid Khaqan Abbasi.
Another public-facing Chan we witnessed personally was during his question-and-answer session at this year's Singapore Perspectives, where he gave an overview in eight minutes on how Singapore was tackling the issue of climate change.
The remarks were delivered in a folksy and informative manner to the intelligentsia.
Regardless of whether it was perfect English or not, the insights must have suitably impressed the editors of The Straits Times to publish it the day after out of a slew of other discussions.
Another public-facing Chan we can recently recall is the Chan in Parliament, sparring with Workers' Party Secretary-General Pritam Singh over government employment statistics.
They were not sparring in Queen's English, but no Singlish was used.
But the private Chan at the SCCCI sounded like Chan, thought like Chan, but wasn't quite the public Chan many were used to.
It, therefore, took a while for people to realise that Chan was indeed code-switching, depending on his target audience, and whether the dialogue is a public or a private one.
Will his spectrum of communication approaches and styles to different target audience work for Singaporeans?
A few political observers (here and here) have taken issue with "the way Chan speaks" -- but it wasn't the language they were referring to.
One questioned Chan's real attitude towards Singaporeans and asked whether he operates from a position that he thinks that "the public is dumb or irrational, and he's the clever one with the answers".
Another wished he had demonstrated some humility in his straight talk.
What is going to happen now?
No laws were broken, except trust.
Based on the photo that Chan shared on his Facebook post, it probably isn't that difficult to work out who could have been the source of the leak.
The public should be naturally curious as to who these SCCCI audience who attended the dialogue were.
The other impact will be the change in Chan's image as a politician.
This episode will define Chan's image in the eyes of many Singaporeans.
Will Chan be seen by some as Singapore's modern-day Donald Trump who shoots from the hip and criticises his fellow citizens?
Or will Chan be perceived by many as post-LKY Singapore's LKY, who spoke "hard truths" to his countrymen?
Or will many Singaporeans assume that the Chan in private, when his words are taken out of context, is the real and authentic Chan Chun Sing?
In fact, Chan's pre-emptive post alluded to how the recording should be interpreted: "Many of them have attended my closed-door dialogues and they know that I do not mince my words when presenting hard truths and trade-offs."
And there are two components in such dialogues: The messenger and the receiver.
If Chan's way of engagement is shocking to you, would it also be shocking to hear that this is how business leaders talk smack in private?
This is perhaps not the last we will hear of this issue.
If you like what you read, follow us on Facebook, Instagram, Twitter and Telegram to get the latest updates.