Umbrella-sharing project Sharella doesn't look like it's doing well.
Lianhe Zaobao reported on Dec. 16 that when it visited Sembawang, it found that many of the shared umbrellas were missing.
Out of eight shared umbrella racks, two had no umbrellas.
The other six had only one to two umbrellas and was littered with empty bottles and cardboard.
One rack had a broken umbrella.
One 52-year-old woman told Zaobao that she had never used the shared umbrellas ever since the project was launched.
"Every time they put in new umbrellas, it would be gone the next day," she told the Chinese daily.
The paper added that this problem of disappearing umbrellas is also common in other areas such as Fusionopolis and Bukit Batok.
One such place is Queenstown outside the Queens condominium where the umbrella rack is empty.
The Sharella poster which was pasted on a pole outside the condominium, has been pasted over by a property ad, reported Zaobao.
The paper added that the new umbrellas added were lost just after two days.
A quick check on Sharella's Facebook page shows that its last Facebook post was dated Feb. 8, 2019.
What is Sharella?
Started in 2017, Sharella was an umbrella-sharing project which allowed users to borrow umbrellas for free on rainy days whenever they needed to cross the roads near MRT stations.
This was especially useful at locations where there are un-sheltered paths, and where it is unfeasible to construct sheltered linkways.
It was a final-year graduation project by four Republic Polytechnic students from the Design for User Experience course, and conducted in collaboration with the Land Transport Authority's Community Partnership Division.
In fact, when the team conducted a 10-day trial in January 2017, they reported that 100 per cent of umbrellas were returned; none were stolen, reported Vulcan Post.
It was also reported that the umbrellas that are shared come with stickers to make them easily identifiable so that people will know if they are stolen property.
However, on the day of its official launch, all 20 of the umbrellas went missing.
Grassroots leaders had to spend a few hundred dollar to replace the umbrellas.
While the team considered using a mechanical prototype that unlocks umbrellas for a fee, the Land Transport Authority (LTA) reportedly rejected the idea because it felt that a community project should not involve money, a team member told VP.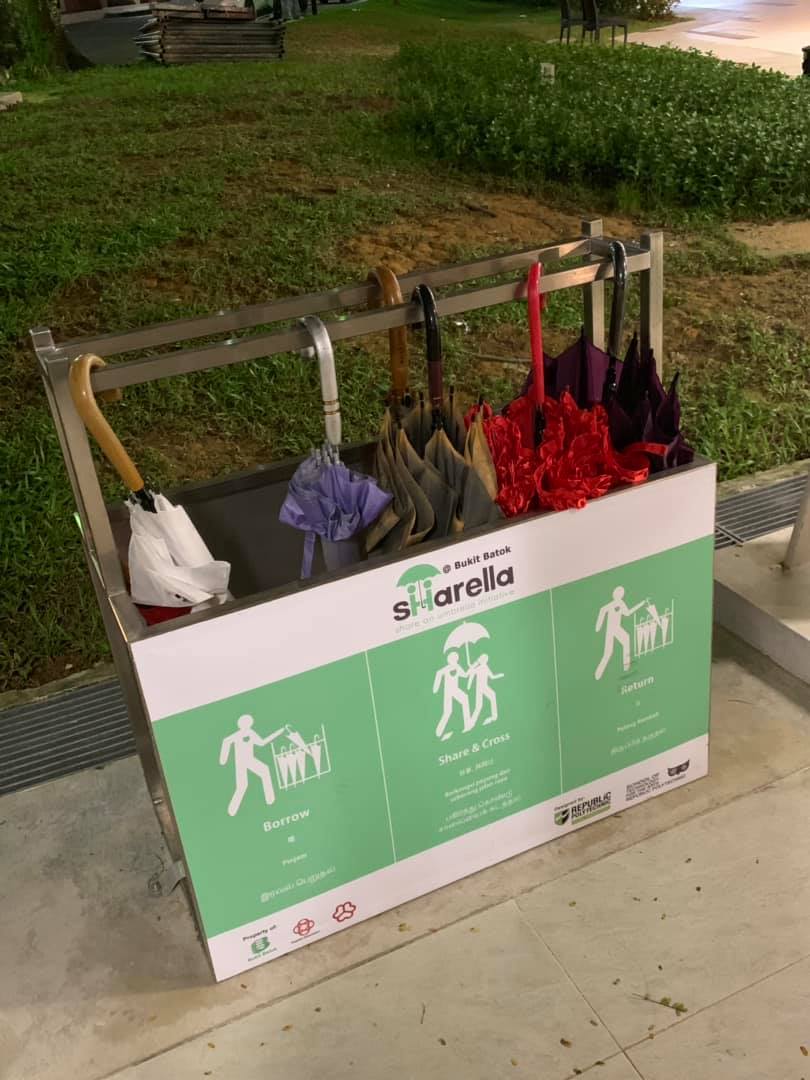 Then-Minister for Education (Higher Education and Skills) and Second Minister for Defence Ong Ye Kung told Today that the scheme would be unsustainable "if the rate of loss is more than (the) rate of contribution".
Still, it was such a great initiative that Coordinating Minister for Infrastructure and Transport, Khaw Boon Wan, shared it on Facebook when the project launched in his own Sembawang GRC.
By 2018, the project had expanded to one-north, reported The Straits Times.
Even then, users of Sharella told the paper that the number of umbrellas had been diminishing.
In response to Mothership queries, Sharella said that it will continue to create more campaigns to encourage graciousness because it is more cost-efficient to replace umbrellas:
"After much calculation, replacing the umbrella is more cost efficient and safer than building a sheltered walkway across the road! therefore we will create more campaign to improve the graciousness of the community."
Top images via Sharella.
If you like what you read, follow us on Facebook, Instagram, Twitter and Telegram to get the latest updates.