In July 2018, three Russian sisters killed their 57-year-old father, Mikhail Khachaturyan, as he slept in his armchair at their flat in northern Moscow, BBC reports.
The girls stabbed his head, neck, and chest with a knife, hammer, and pepper spray. His body was found with more than 30 knife wounds.
According to The Independent, the girls' father had locked them in a room and pepper sprayed their faces on the day of the attack.
Investigations also revealed that the girls had been enduring years of physical, psychological, and sexual abuse at the hands of their father.
The girls' mother, who also suffered beatings and abuse from Khachaturyan in the past, had approached the police years before. The family's neighbours also went to the police.
However, there is no evidence that the police acted on any of the appeals for help.
The three sisters - Maria, Krestina and Angelina Khachaturyan - were aged 17, 18 and 19 at the time of the murder.
They lived in isolation and were forbidden to contact their mother.
According to psychiatric assessments, the girls had been suffering from post-traumatic stress disorder (PTSD).
Since their father was found dead in his apartment, the sisters have been kept under limited house arrest and are forbidden from communicating with each other, RadioFreeEurope and NDTV reports.
Two older sisters to face murder charges
On Dec. 3, 2019, investigators said that two of the older sisters - Krestina and Angelina, should face murder charges, NDTV reports.
If convicted, both sisters face up to 20 years imprisonment.
They also recommended that the youngest sister, Maria, should enter mandatory psychiatric care.
Russia's Investigative Committee had completed a probe into the killing and established that the sisters had stabbed their father with a knife and beat him with a hammer, causing fatal injuries.
It is alleged that Angelina wielded the hammer, Maria the hunting knife and Krestina the pepper spray, BBC reports.
Although they pointed to "mitigating circumstances", the Committee still stated that the two older sisters "were of sound mind and aware of their actions at the point of attack."
Lawyers speak out, sisters likely to be convicted
Lawyers and activists have claimed that the sisters were forced to act to save their lives, highlighting poor legal protection for abuse victims, CNA reports.
According to BBC, there are no laws protecting victims of domestic violence in Russia.
In 2017, Russia had also decriminalised all but the gravest types of domestic violence.
In particular, Angelina's lawyer, Mari Davtyan, has said that the case should not go to trial because the sisters had "used reasonable force in self-defence".
However, Krestina's lawyer, Alexei Liptser, has stated that the sisters are likely to be convicted, pointing to Russia's extremely low acquittal rates.
After all, more than 99 per cent of all cases to reach court in Russia end in guilty verdicts, The Independent reports.
Liptser also added that the two sisters were asking for a jury trial, as "a trial by jury can not only soften the punishment but also acquit."
Case divides public opinion, debates on domestic violence
After the case went public, there were heated debates on domestic violence all across the country, RadioFreeEurope reports.
According to The Independent, more than 350,000 people have signed a petition calling for the sisters to be released.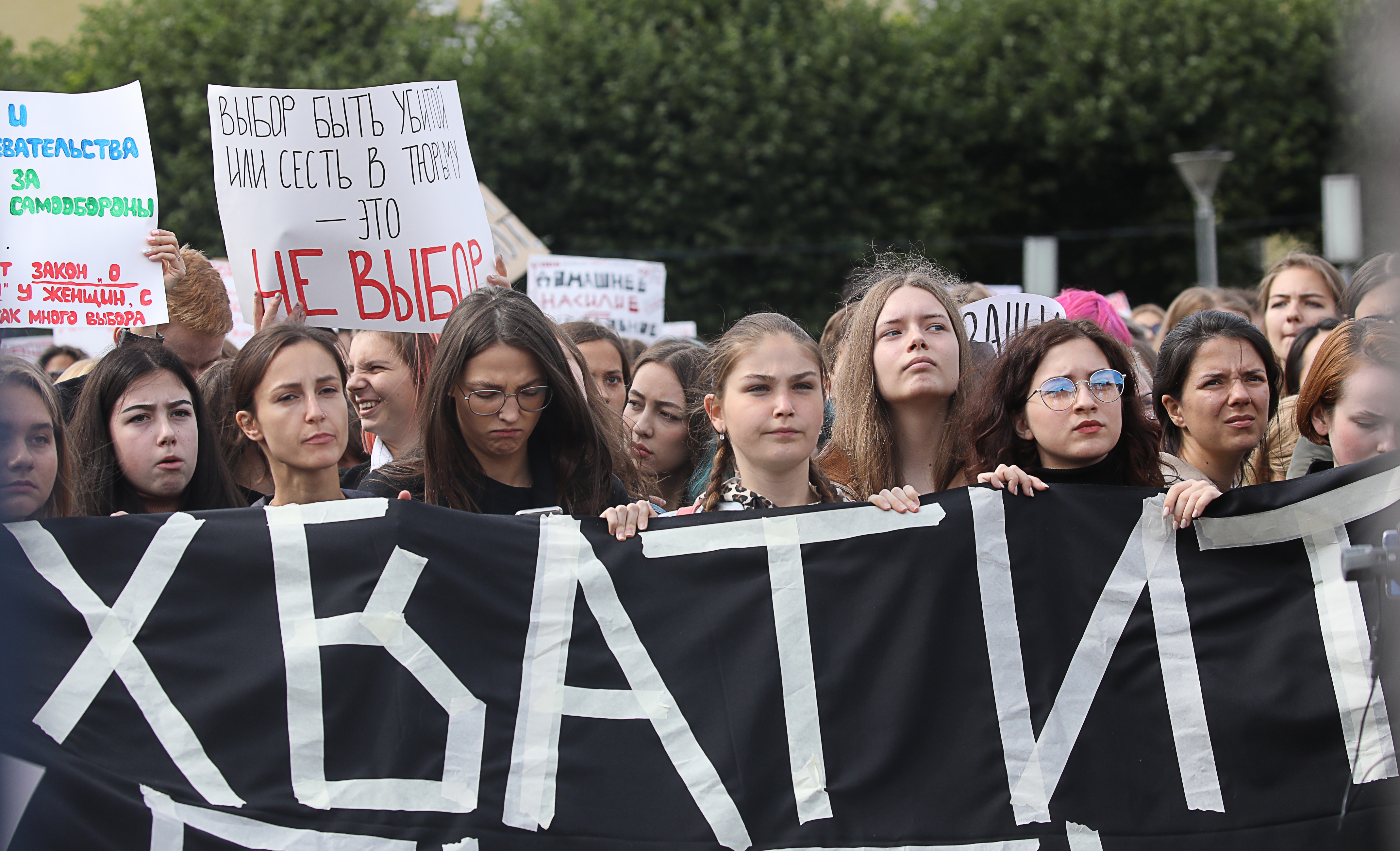 There have also been campaigns for the sisters to receive psychological help instead of being sent to prison.
An association called Men's State, which cites "patriarchy" and "nationalism" as its two main values, and boasts almost 150,000 members on social media, organised a campaign called "Murderers behind Bars", insisting that the sisters should not be released, BBC reports.
Women's rights activist and researcher speak up against authorities
Women's rights activist Anna Rivina has also spoken up, telling reporters that the state does not recognise the problem of domestic violence and is not prepared to protect the lives and health of its citizens.
She also added that "the Investigative Committee wields the law against those who have found themselves in a monstrous situation and had to fight for their lives."
At the same time, Yulia Gorbunova, a researcher at Human Rights Watch, has stated that the Russian authorities' "inadequate response puts victims at an even greater risk," adding that reducing sanctions for abusers are akin to giving abuse the green light.
New bill on domestic violence unveiled
According to the Russian Interior Ministry's own estimates, 40 women die at the hands of their husbands every day, with 600,000 facing domestic violence every year, The Independent reports.
Just last week, a group of Russian lawmakers unveiled a new bill on domestic violence.
However, the bill has been heavily criticised by campaigners for not introducing any safeguards for victims.
Ultra-conservative groups have campaigned against the bill, saying it will destroy families. The powerful Russian Orthodox Church has also opposed it.
Top photo by Sergei Karpukhin\TASS via Getty Images
If you like what you read, follow us on Facebook, Instagram, Twitter and Telegram to get the latest updates.