An elderly man on a personal mobility aid was caught on video charging at a Bugis MRT station personnel.
The video was uploaded onto Facebook on Sunday, Dec. 15.
The bizarre eight-second footage was filmed at Bugis MRT station linkway to the Downtown Line.
The elderly man's PMA had a yellow sign attached to it with Chinese and English words written on it.
It said: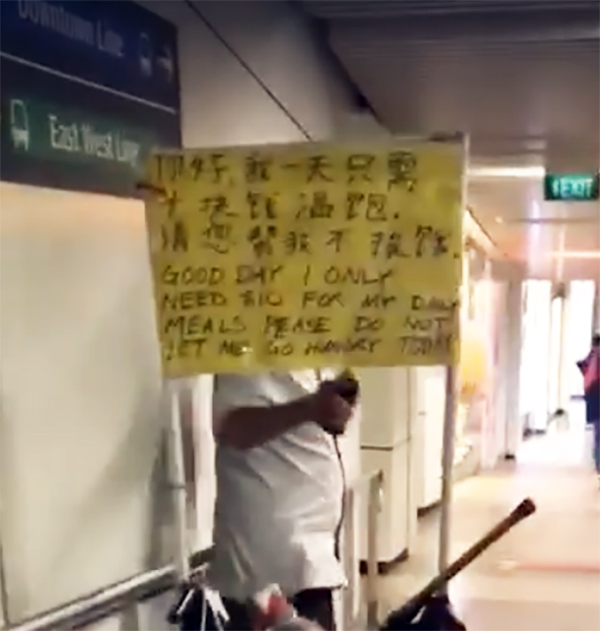 Good day I only need $10 for my daily meals please do not let me go hungry today
What happened
The footage showed the elderly man moving down the ramp in the linkway directly towards the MRT station personnel, who was forced to back up for at least five to six metres.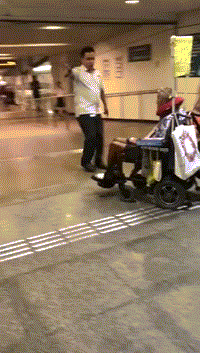 The staff and the elderly man then came to an abrupt stop when both of them hit the wall.
The elderly man was dislodged from his PMA and landed on the ground in a seating position.
We have approached SMRT for comment to find out about the circumstances of the incident, as well as the condition of the elderly man.
The incident has already spawned a meme online:
You can watch the video here alternatively:
[video width="480" height="848" mp4="https://static.mothership.sg/1/2019/12/old-man-fall-down.mp4"][/video]
If you like what you read, follow us on Facebook, Instagram, Twitter and Telegram to get the latest updates.