Residents in Ang Mo Kio town can look forward to more cycling paths by 2022.
The town, which was designated as Singapore's first Walking and Cycling Town in 2014, already has 4km of cycling paths constructed as part of Phase 1.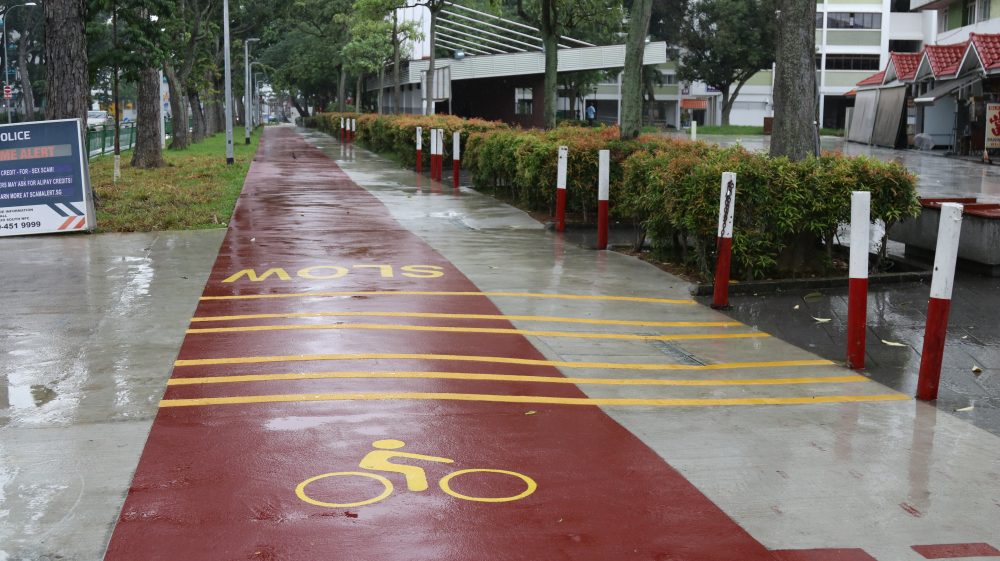 Phase 2A, to be completed by 2019, will add another 2.3km of cycling paths to the network.
Phase 2B, which will be completed between 2020 and 2021, will add another 7.2km.
The last phase, 2C, will add anther 5.8km to the Ang Mo Kio cycling network. It will be completed in 2022.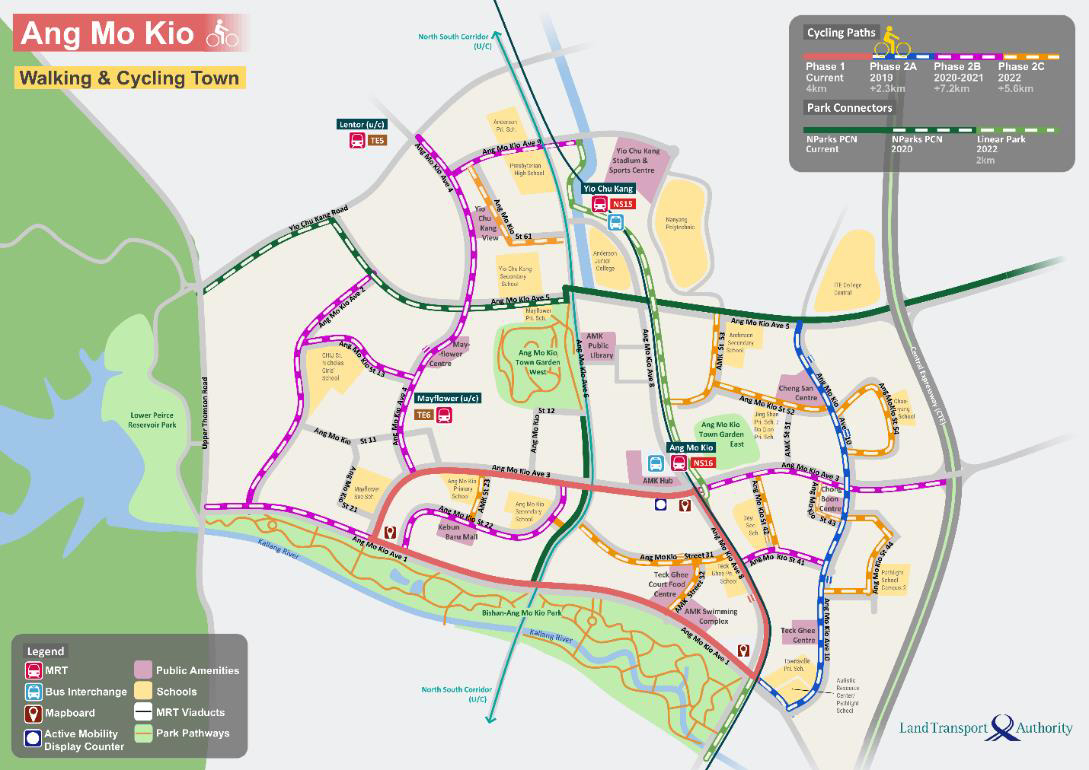 One of the longest cycling path networks in any residential town
According to LTA, the Ang Mo Kio cycling network, spanning 20km, will be one of the longest in any residential town.
When the entire cycling network is completed, every home in Ang Mo Kio will be within a 5-minute walk to the nearest cycling path.
LTA says:
"This will allow cyclists and PMD riders to travel conveniently between schools, housing estates and key amenities, including the upcoming Mayflower and Lentor MRT stations on the Thomson-East Coast Line."
Reclaimed roads, more cycling infrastructure
To create this cycling network, road space at four stretches will be reclaimed.
These stretches are along the following roads:
Ang Mo Kio Street 22

Ang Mo Kio Street 41

Ang Mo Kio Street 43

Ang Mo Kio Street 61
Roads will either be narrowed, or have entire road lanes reclaimed to create cycling paths.
In instances where the sidewalks are not wide enough, LTA will convert open drains to covered drains.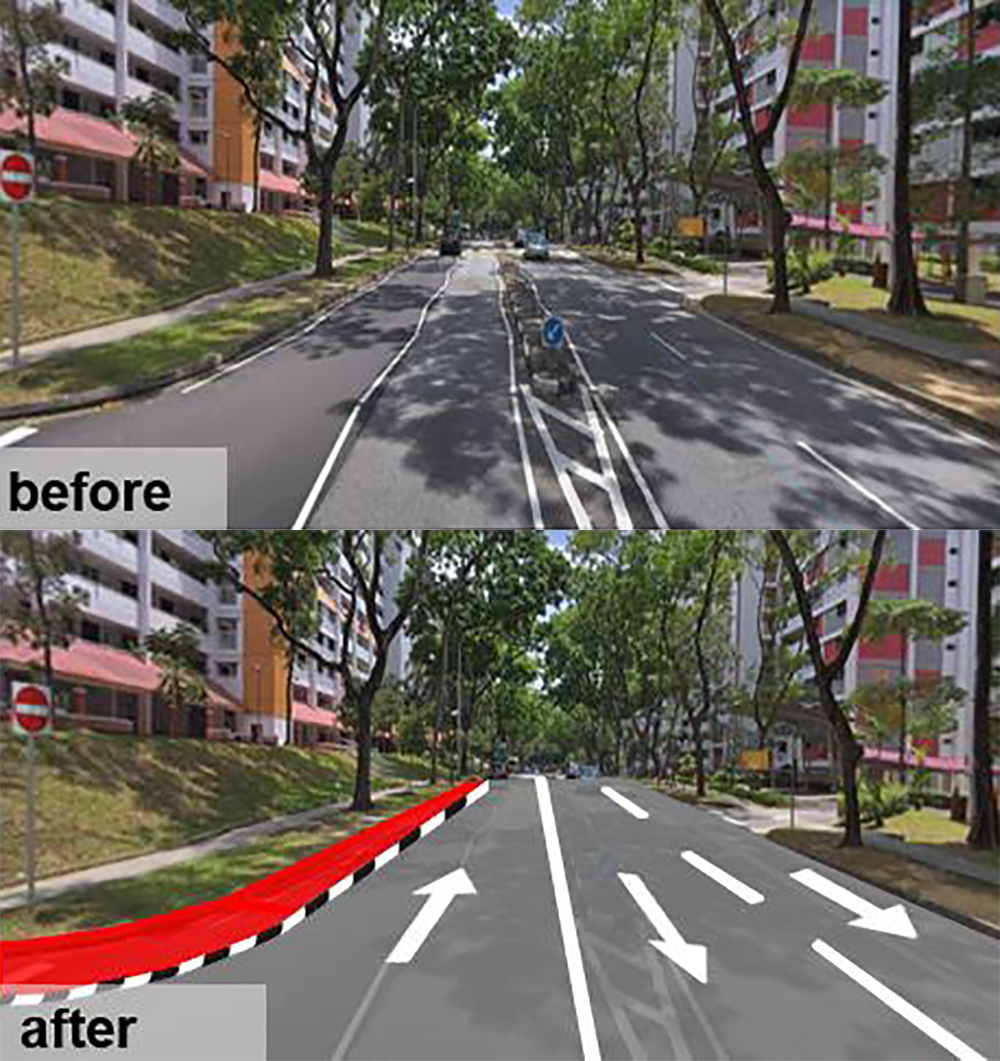 Other features to look forward to include bus stops with Pedestrian Priority Zones, which feature bigger spaces to accommodate cycling paths.
As these are areas with high pedestrian traffic, markings and signage are installed to alert cyclists to slow down.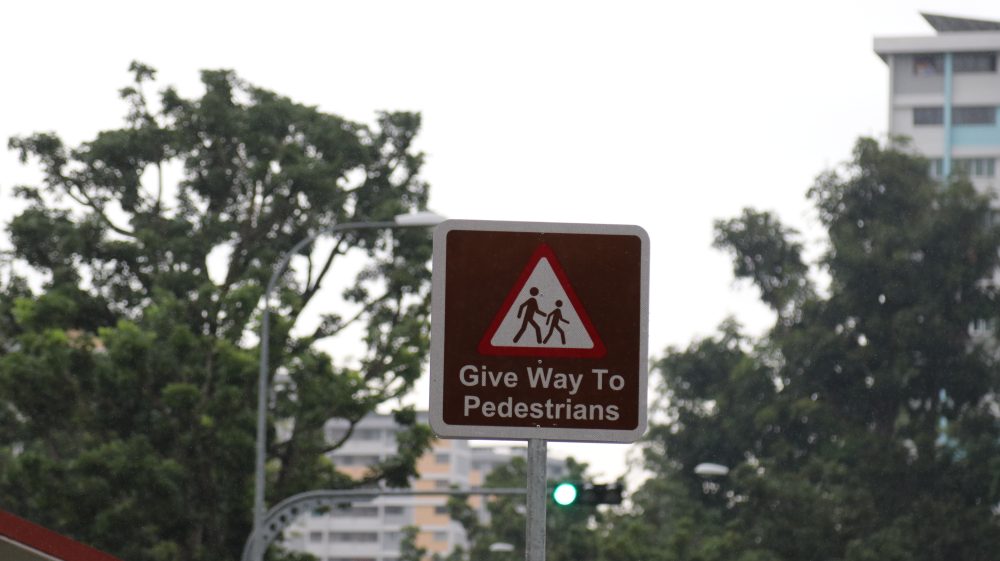 These bicycle wheel ramps have also been installed along staircases for cyclists to push their bicycles up flights of stairs.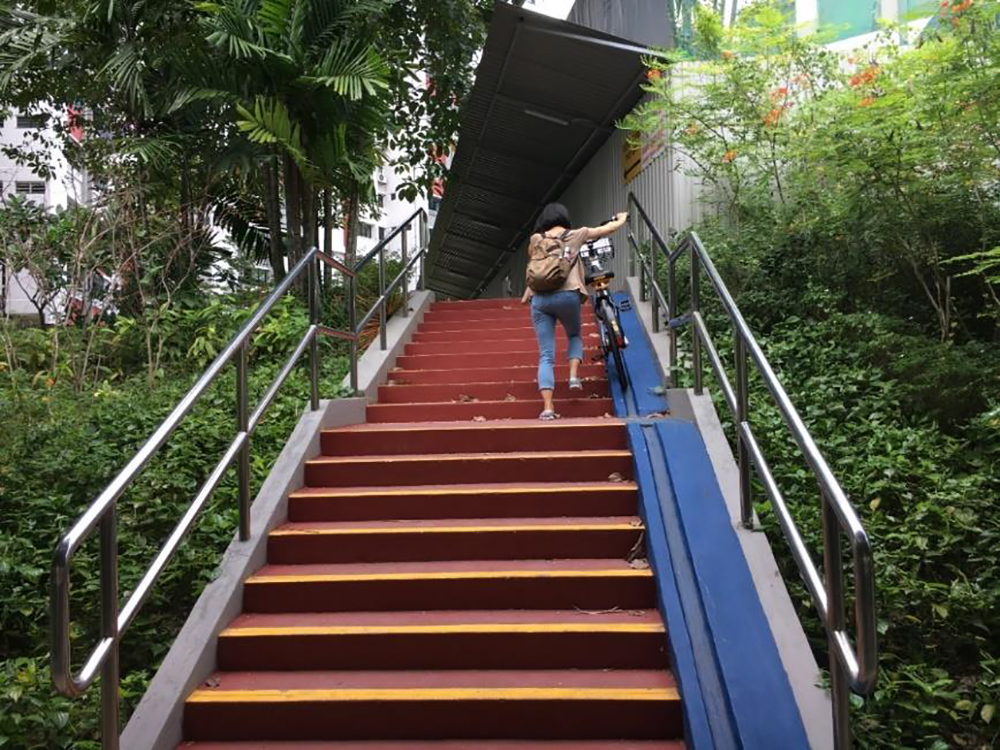 Wider zebra crossings and bicycle crossings can accommodate more active mobility users and pedestrians.
Bicycle crossings, in particular, have markings to indicate separate waiting areas for pedestrians and cyclists.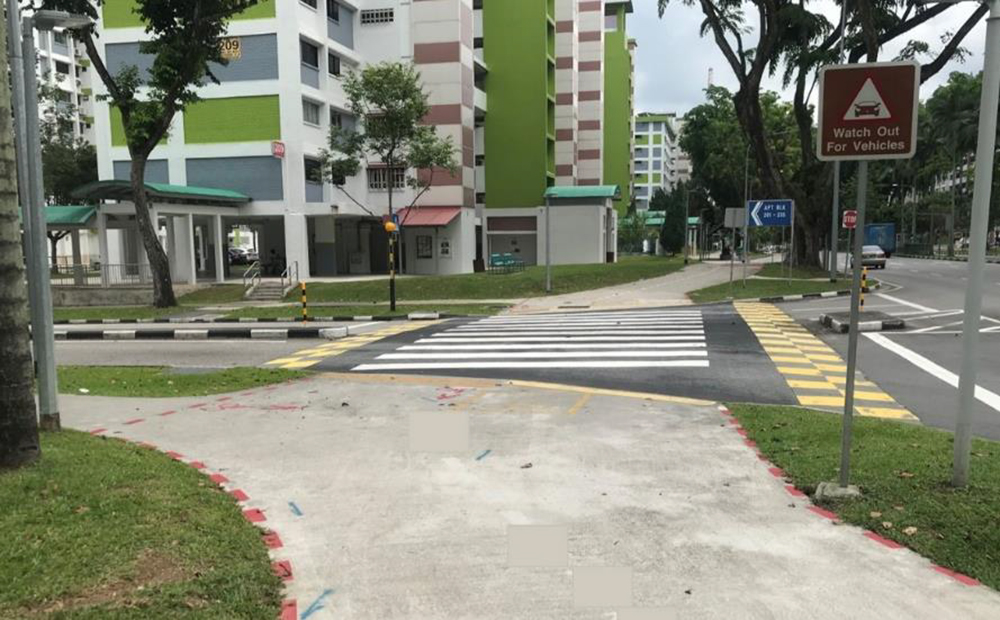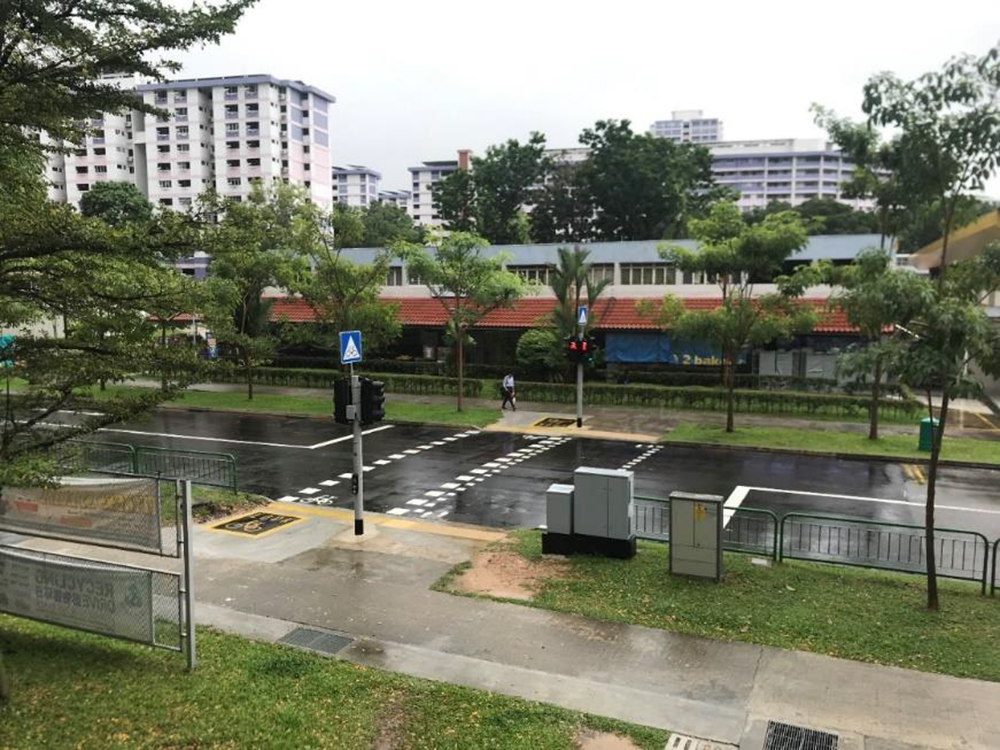 Cycling path construction might be brought forward
"Ang Mo Kio town will be the role model for the different towns in Singapore because of the infrastructure that we are currently building to promote active mobility," said Senior Minister of State for Transport Lam Pin Min.
Lam, together with Transport Minister Khaw Boon Wan, Senior Minister of State for Transport, Janil Puthucheary, and Senior Parliamentary Secretary for the Ministry of Social and Family Development & Ministry of Education, Faishal Ibrahim, tried out the cycling paths this morning (Dec. 17).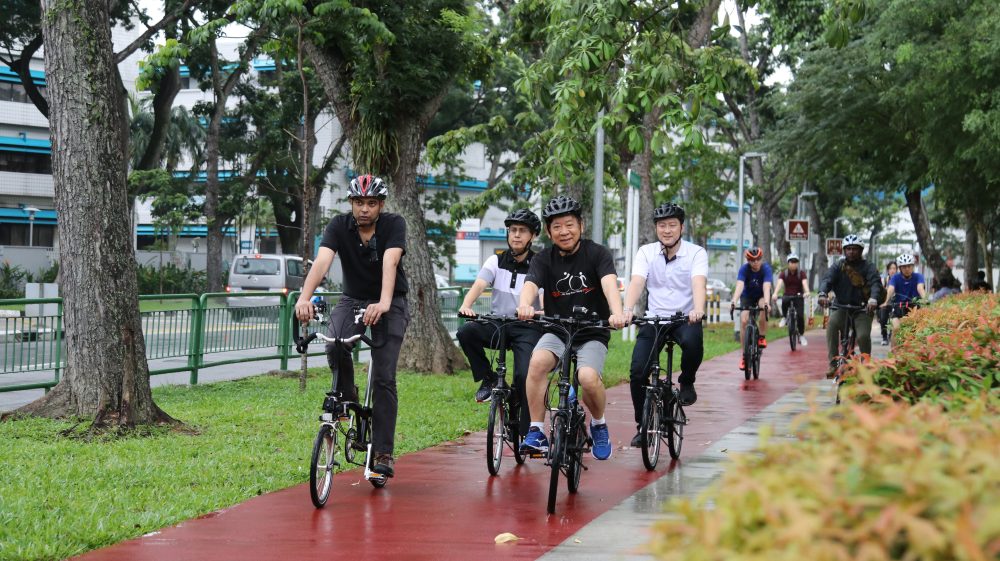 While the government has said previously that it intends to build 750km of cycling paths by 2025, Lam said that LTA and MOT are currently looking at the possibility of bringing forward the construction of cycling paths in various towns in Singapore.
"Hopefully we will be able to bring it forward by a couple of years," said Lam, adding that the government has to study the infrastructure and possibility of reclaiming roads.
Top images by LTA.
If you like what you read, follow us on Facebook, Instagram, Twitter and Telegram to get the latest updates.