Yiruma fans, rejoice.
The famous pianist and composer will be performing in Singapore again.
Holding fifth concert in Singapore
The 41-year-old musician from South Korea will be holding his fifth concert at The Star in Singapore in 2020.
He will be performing for one night only on Feb. 29, and will captivate audiences with some of his best hits, such as River Flows In You, Kiss The Rain, Love Me and May Be.
Yiruma previously visited Singapore for four consecutive years from 2015 to 2018.
Here's a compilation of his greatest hits.
The internationally acclaimed musician, whose real name is Lee Ru-Ma, started playing the piano at five years old.
He then moved to the United Kingdom at the age of 10 to study at the Purcell School of Music, and went on to study music at King's College in the United Kingdom.
He then rose to recognition as the first Korean artist to receive an invitation to perform at leading music festival Midem 2002 at Cannes, France.
River Flows In You was first released in 2001, but was popularised after fans mistook the song for appearing in the movie Twilight.
Ticket details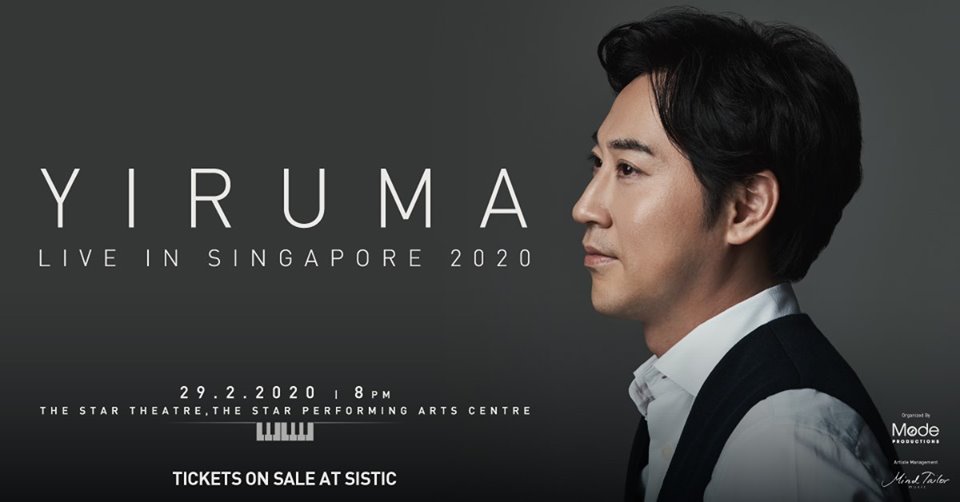 Tickets are available on Sistic from S$98 to S$168, excluding ticket booking fees.
Meanwhile, limited VIP tickets, which entitle ticket holders to a premium seat and a solo photo with Yiruma at a meet-and-greet session, are going for S$288.
You can purchase tickets here.
When: Feb. 29, 2020, from 8pm to 10pm
Where: The Star Performing Arts Centre
Top photo from Yiruma Live in Singapore 2020 / FB and mythvnx / YouTube
If you like what you read, follow us on Facebook, Instagram, Twitter and Telegram to get the latest updates.