A Thai couple's relationship has been on a rollercoaster ride since they won the lottery.
Husband flees with ticket
23-year-old Pornthida Chamnanwet and 34-year-old husband Wijak Wannaprasit had purchased a lottery ticket that won the six million baht (S$270,450) first prize on Saturday (Nov. 16).
According to Bangkok Post, they recorded their win at Phra Pradaeng police station and agreed to divide the prize equally between them.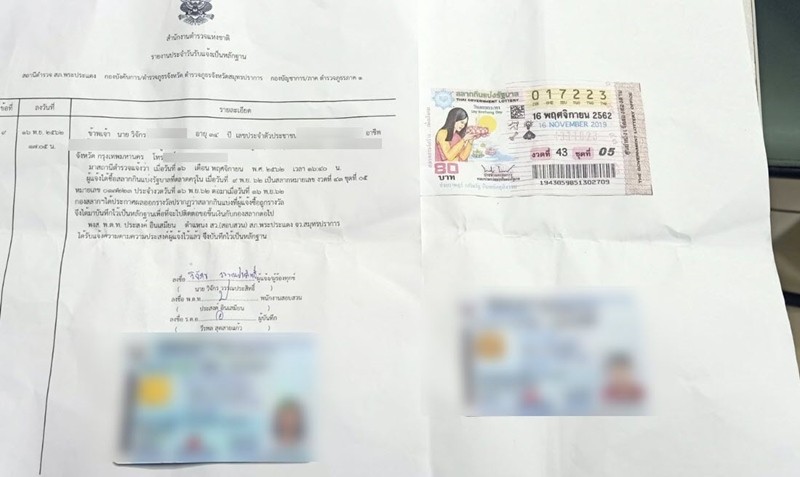 A day later on Nov. 17, however, the husband reportedly told her that she was only going to get 2 million baht.
The wife said that her husband subsequently left with the ticket after they got into an argument.
Wife files report, husband returns
According to Thaiger, Pornthida subsequently filed a police report explaining that they had an argument over the winnings.
She also asked the police to prevent her husband from cashing in on the winnings, Chiang Rai Times reported.
Under Article 352, misappropriation of property is an offence. This means that it is illegal for a co-owner of a property to dishonestly convert such property to himself or herself.
The husband reportedly returned the next day, saying that he had left out of anger but did not intend to run away with the money.
It was reported that he had not cashed in the winnings at that time.
Top photo via Chiang Rai Times.
Content that keeps Mothership.sg going
---
??
This event teaches you how to be your own farmer in the comfort of your own home.
???
Jio all your friends to see the northern lights in this city in Norway!
?⚓
Every hipster's dream itinerary.
??
Did you know these are the most happening places in Singapore?
?
Do lower-calorie versions of hawker food taste as good?
If you like what you read, follow us on Facebook, Instagram, Twitter and Telegram to get the latest updates.