Another incident involving stray cats has surfaced, this time in Tampines.
A stray cat was allegedly trapped and dumped in the rubbish chute area on the instruction of Tampines Town Council officers.
This allegedly went against proper protocol set up by the non-profit organisation Cat Welfare Society (CWS).
Cat trapped and placed in locked room near rubbish chute
One Rachel YukiMizu shared the entire incident to the cat-loving Facebook group Sayang Our Singapore Community Cats.
She wrote that an eyewitness spotted two cleaners apparently working under the town council, carrying a cat in a cat trap on Nov. 14, 2019.
When asked where they were bringing the cat, they apparently replied that "someone" would collect the cat soon.
In her post, Rachel speculated that this "someone" was the Animal Veterinary Services.
The cat and its cage were then placed inside the rubbish chute area at Blk 864B Tampines Street 83, out of sight in a separate room.
From a video Rachel posted, the cat can be heard meowing loudly in distress behind a locked door.
[video width="1080" height="1920" mp4="https://static.mothership.sg/1/2019/11/getfvid_10000000_1166478813545735_338121044904260029_n.mp4"][/video]
Video from Rachel YukiMizu / FB
Denied entry to check on cat
According to her post, Rachel stated that she was denied entry as the town council officer had allegedly told the cleaners not to let her in.
Rachel then called Tampines Town Council, but she said that her line was cut four times while they redirected her to the relevant department.
At the advice of CWS, Rachel called the police.
Police allegedly instructed town council officers to open the locked room, and eyewitnesses found the cat, trapped in a rusty cage, inside.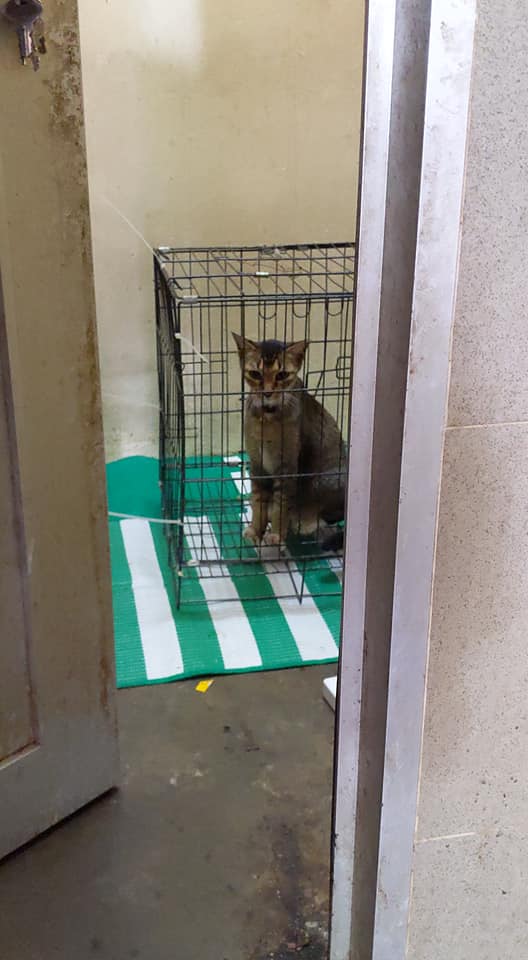 A mediator from CWS arrived after but was denied from entering the small room to check on the cat's wellbeing.
When police arrived, the town council allegedly told officers that a resident had requested for them to "remove" the cat.
Town council broke standard protocol
The police then questioned the town council for "not following standard protocols regarding cat complaints".
According to CWS, when complaints about stray cats are lodged by residents, the town council is supposed to contact CWS mediators.
CWS mediators will then be able to step in and help resolve the issue.
Such collaboration is stated on CWS's website, under "mediation advisories".
Rachel stated that because the town council did not follow the protocol or pick up her calls, it "led to [the] saga".
She urged the town councils to "be more consistent" in handling cat complaints and "working with the correct organisations whenever such issues arise".
In a statement shared with Mothership on Nov. 16, Tampines Town Council acknowledged that there was a lapse in protocol, and were "very sorry that the unfortunate incident had happened".
The town council explained that they had received feedback from a resident about the cat urinating and defecating outside their unit.
As the town council staff were "relatively new", they were given instructions to safely relocate the cat, and the bin centre was used as a temporary transit point.
The town council stated it was "never [their] intention to cause any harm to the cat" and " would like to reassure the public that this is an isolated case".
They stated that they would continue to work closely with CWS to educate their staff on proper management of cat-related issues.
Cat was breathing hard after release
The cat was eventually freed of the cage, and was believed to have suffered from "great traumatic stress".
A video shared in the Facebook group showed it breathing quite hard:
[video width="720" height="1280" mp4="https://static.mothership.sg/1/2019/11/getfvid_77821195_966325743702376_5278945433727169518_n.mp4"][/video]
Video from Rachel YukiMizu / FB
The cat was also apparently injured from pawing on the rusty metal cage.
Currently, Rachel is appealing for the cat's owner or feeder to come forward and for any other information on the cat.
Anybody willing to adopt the cat can also contact Rachel via Facebook.
You can read the full story here.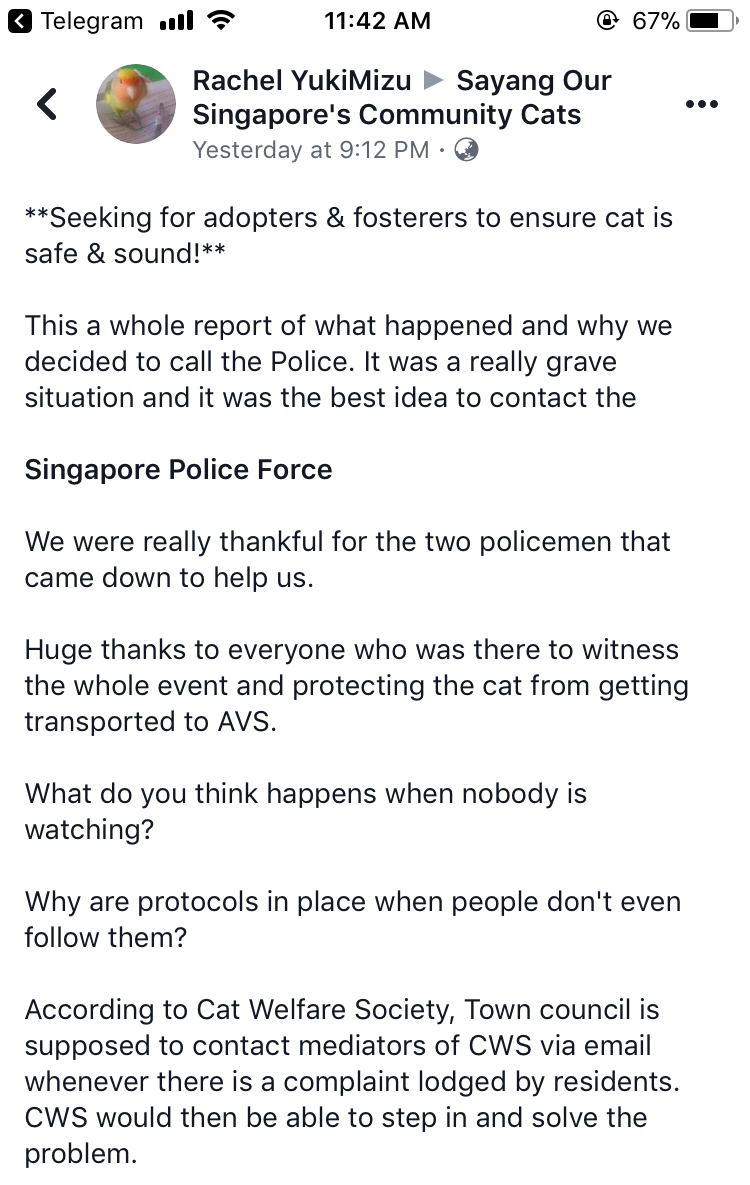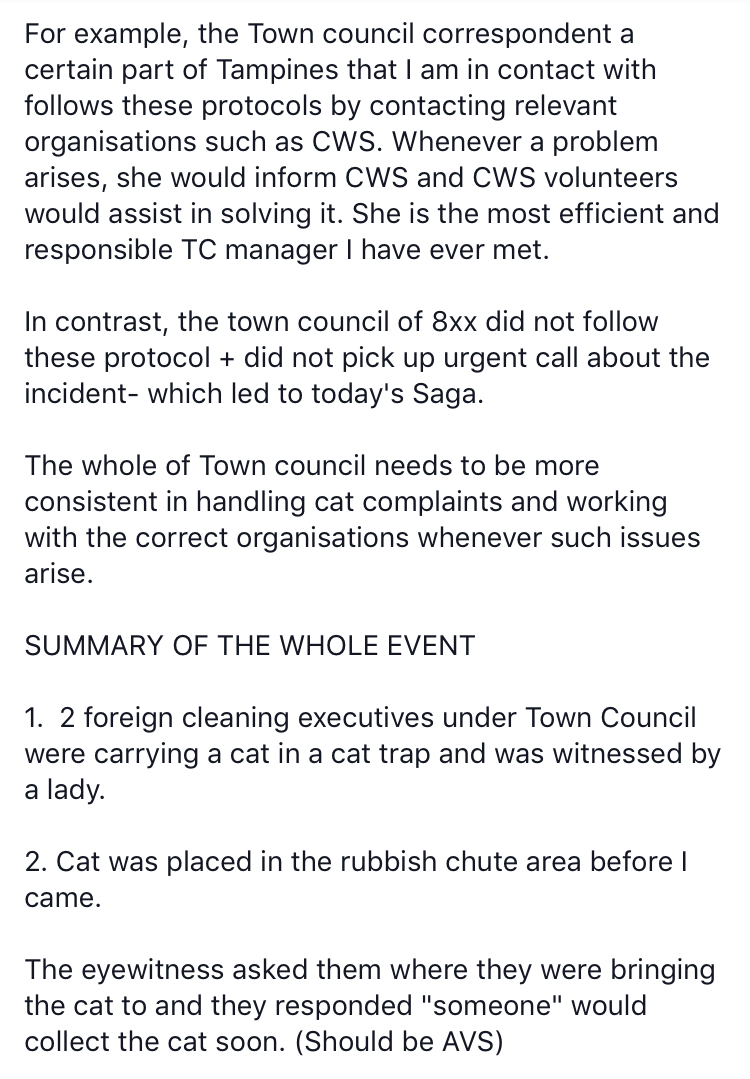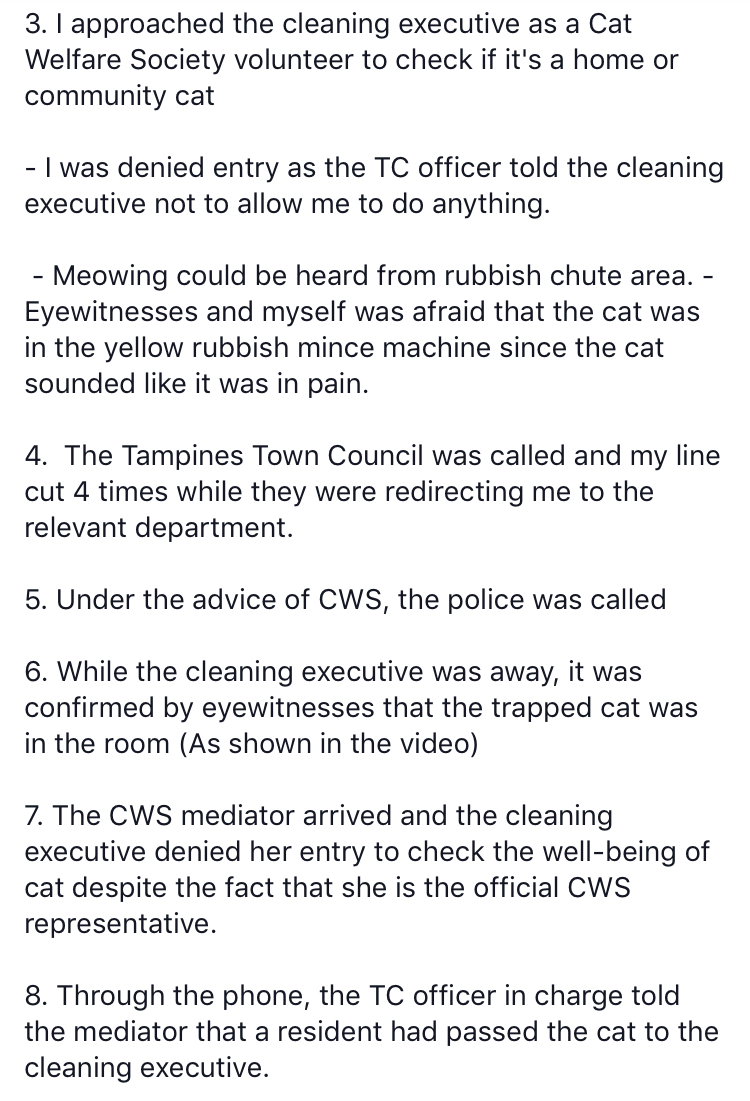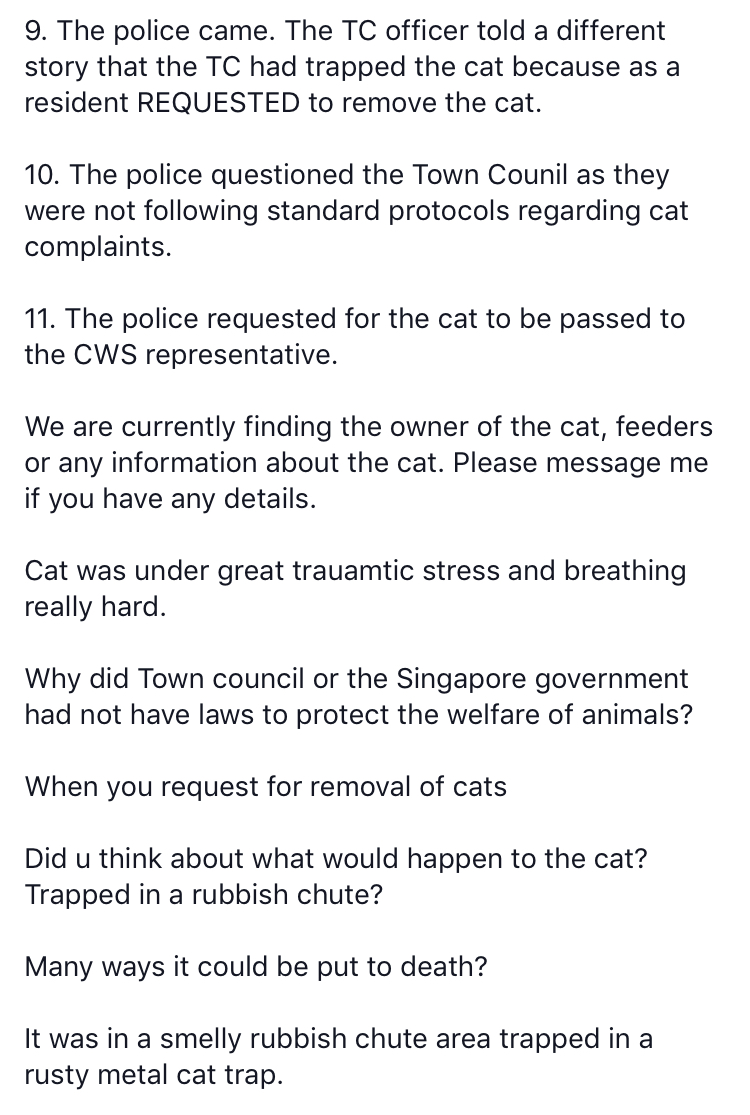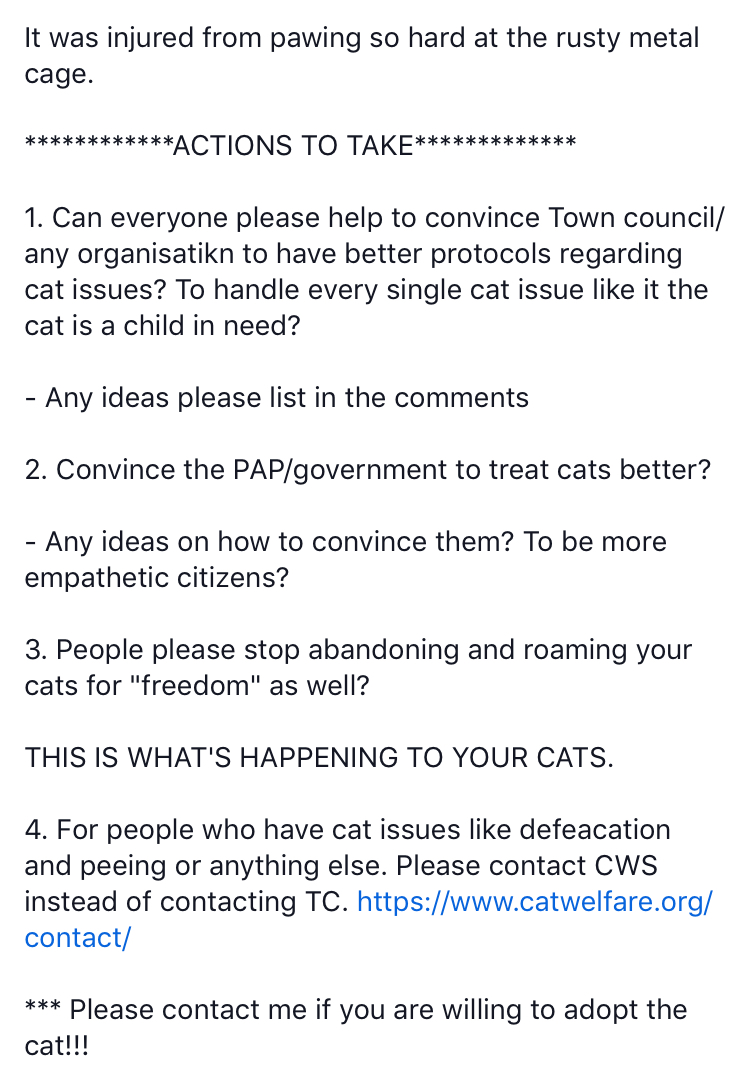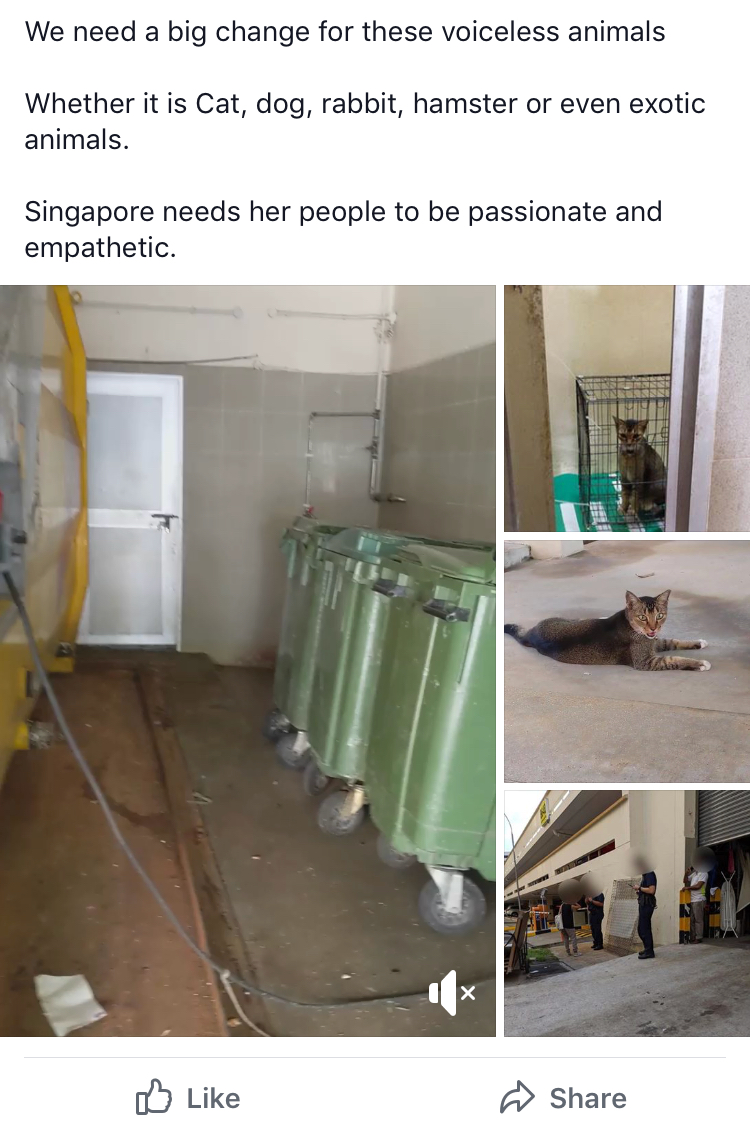 Top photo from Rachel YukiMizu / FB
If you like what you read, follow us on Facebook, Instagram, Twitter and Telegram to get the latest updates.