In Singapore, grades are important -- if not, one of the most important things conceivable.
In-built into this meritocratic system is the belief that anyone, regardless of background, is able to move up the socio-economic ladder as long as he or she does well in school. 
While parents do raise their children to chase grades in Singapore, you are now more likely to hear from those who are beyond doing just that. 
Grades aren't everything
One Singaporean dad is bucking the trend.
He has a daughter who has been getting less-than-stellar results in school, especially when it comes to the subject she struggles with the most -- Math. 
Alfee Mohamed, a 45-year-old father of three, told Mothership:
"My daughter is not academically inclined. And we found out that she has dyscalculia (difficulty in learning or comprehending arithmetic). My wife is a Math teacher, and we were wondering why can't she do Math."
But as someone who is currently working as a Senior Career Coach for Workforce Singapore (WSG) at Careers Connect — WSG is a statutory board under the Ministry of Manpower — Alfee has developed an understanding that allowed him to learn to embrace his 15-year-old daughter's strengths and capabilities. 
"By supporting our children in their strengths, that's when they can excel even further," he told us while we were seated inside Careers Connect, WSG's career centre. 
And he puts his money where his mouth is.
Alfee supports his teenage daughter's non-academic interests, in addition to allowing her to take part in modern dance as a co-curricular activity, even though he "doesn't really understand it".
He and his wife camped by their laptop to help their daughter buy tickets to K-pop boy group BTS's concert here in Singapore back in January this year.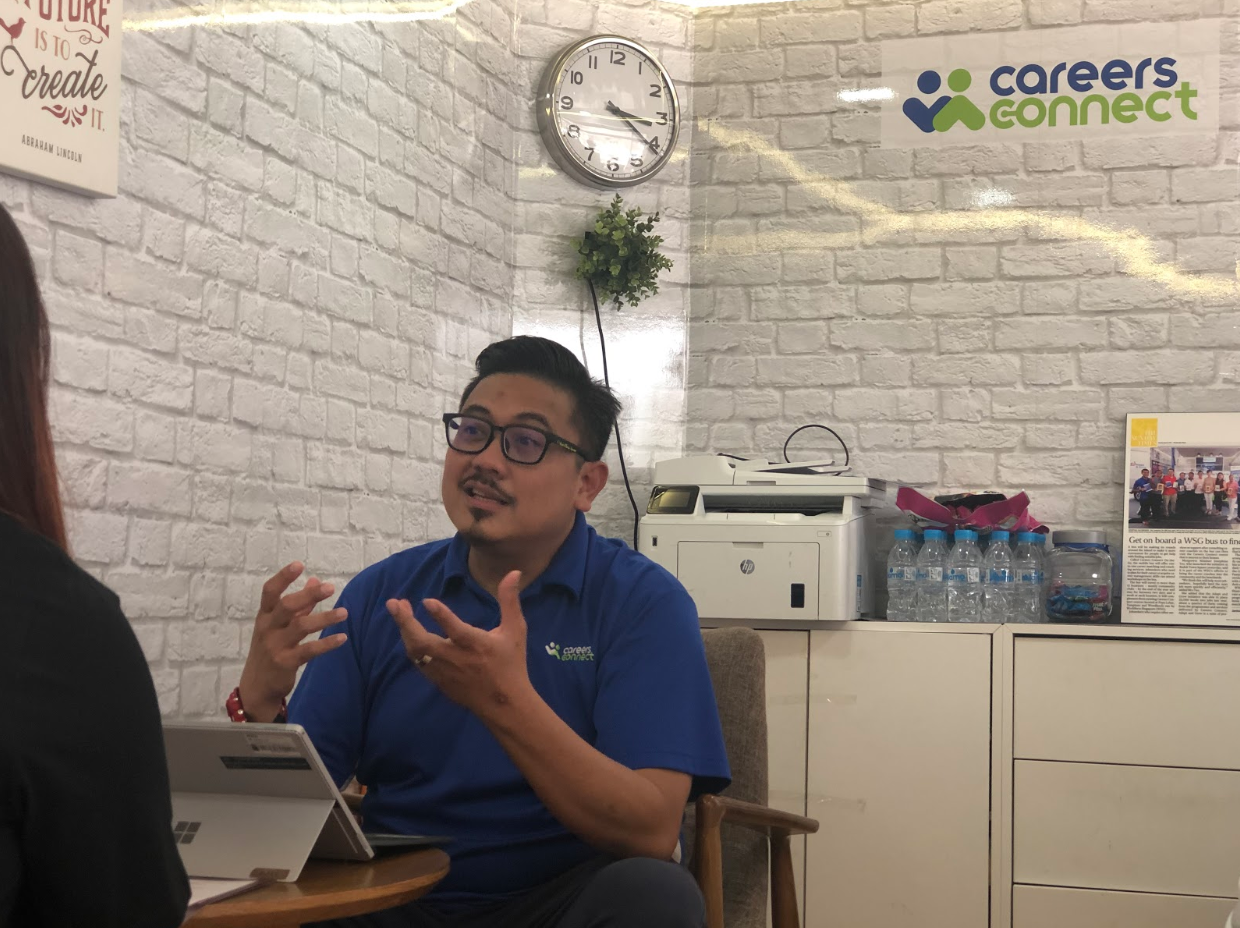 The reason for doing so?
As parents, Alfee said he and his wife would like to be truly invested in their children's overall wellbeing, instead of just obsessing over performance in school.
"Everyone has their own calling" 
Letting their child's academic results take a back seat is probably something not a lot of Singaporean parents are willing to do, but it is a belief that Alfee subscribes to when it comes to his work as well. 
In a world where it is sometimes seen as important to keep up appearances for the sake of it, it is encouraging to know that Alfee practices what he preaches as a career coach.
In his line of work, he advises his clients to find what they are good at instead of what society deems to be good.
He said: "I think Singaporeans have this tendency to think this is how they should become successful, but everybody is different." 
"You can't force a cube into a cylinder. Everyone has their own strengths, and their own deadline." 
Saying that he loves using analogies, Alfee added, "It's like being in a dark room, and you're fumbling to find the switch. You may trip and fall in the process, but you know the switch is there."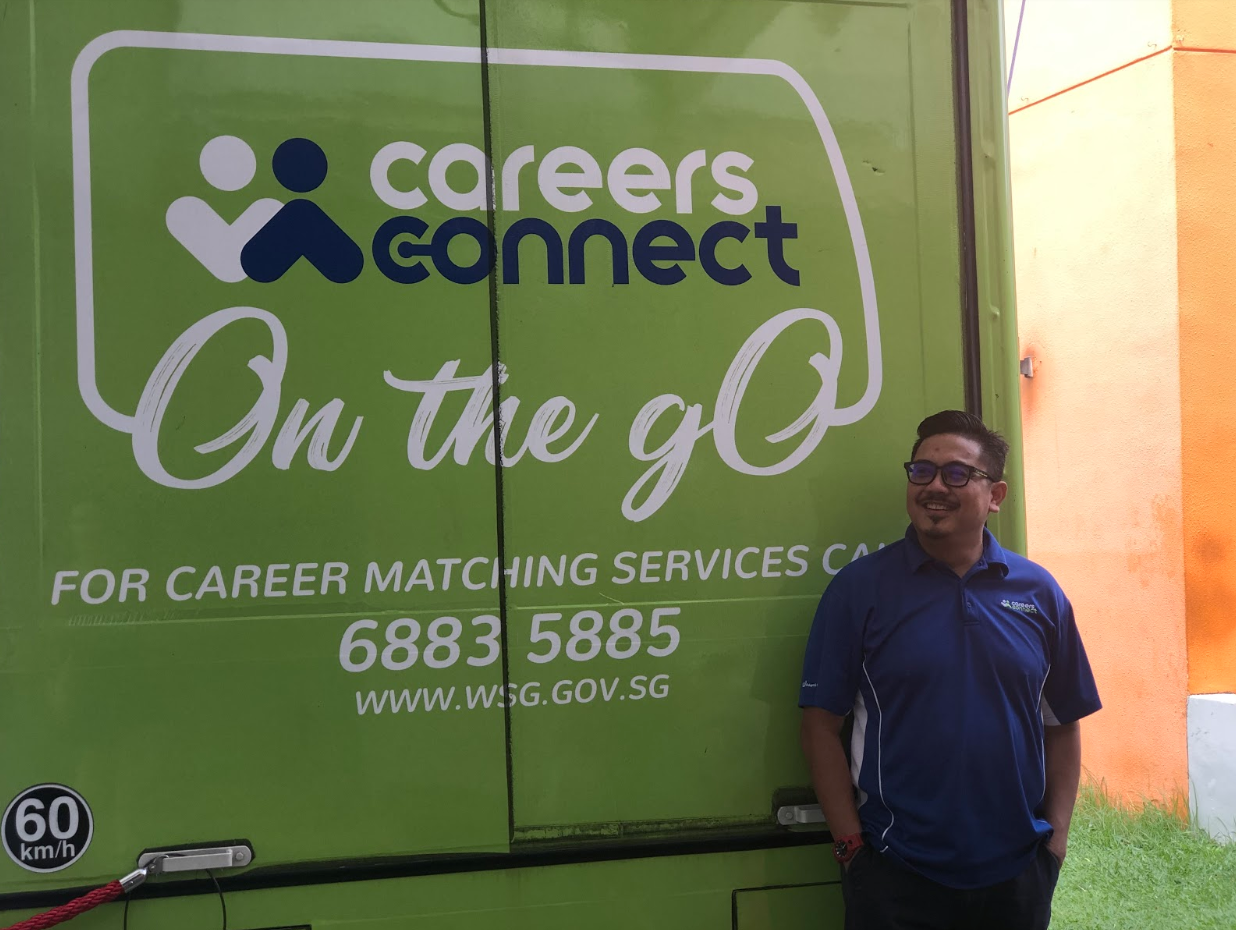 Finding a job is not a simple game of match and win
But Alfee sometimes finds himself having to take a while to impress this way of thinking upon his clients. 
This is because it is not unusual to see his clients -- who range from fresh grads, to middle-aged PMETs, and even to stay-at-home parents who want to get back into the workforce -- walk into a session thinking they can simply get a job there like they were shopping for groceries. 
One of those who walked through the door to seek Alfee's help had even asked, "What's your success rate?" right off the bat, Alfee said with a small laugh. 
He then replied: "No, I don't have (a success rate)", explaining that while it takes as quick as 24 hours to as long as two years to work with a client in finding the right job, it really depends on what the client is looking for and how motivated he/she is in achieving it.
For instance, it can be easier for him to help someone find a PMET position paying a five-figure salary, as compared to someone looking for a lower-paying position, but is extremely specific about certain criteria, like the location. 
Depending on the client's individual requirements and preferences, and availability of jobs that match those requests, there is no such thing as a specific job or industry that is easy or difficult to place clients in, Alfee said. 
"This is where we probe, and ask them what they want, even to the extent of asking them what their family wants," he explained, adding that he often tells his team that whenever a human factor comes into play, the outcome is unpredictable, and can often be complex. 
For the sake of his clients, he sometimes has to act like a "sports coach" as well, and be like, "Come on, push on!", encouraging his clients to persevere in their job search.
Using another analogy, he said: "It's like some people who are trying to park their cars, but they keep reversing and going forward, reversing and going forward." 
"Sometimes you just have to take the leap of faith and take action instead of procrastinating." 
Your heart might be in it but it's not what you're suited to do
Also, it is not always the case that a client is suited for a certain job, even if they are very much into it. 
For instance, one of Alfee's clients had wanted to switch careers from engineering to healthcare  in order to "give back to the community". 
However, after some probing from Alfee, he revealed that he was not able to stand the sight of blood, nor do shift work, nor help to clean up after people. 
That was when he realised that a career in healthcare is not necessarily the best path for him. 
As such, career coaching is useful for those who need a bit of extra help to realise what exactly they are cut out, or not cut out for. 
Alfee said: "We want people to have a career, not a job." 
"Anybody can have a job to pay the bills, but a career in which you find fulfilment? That's different."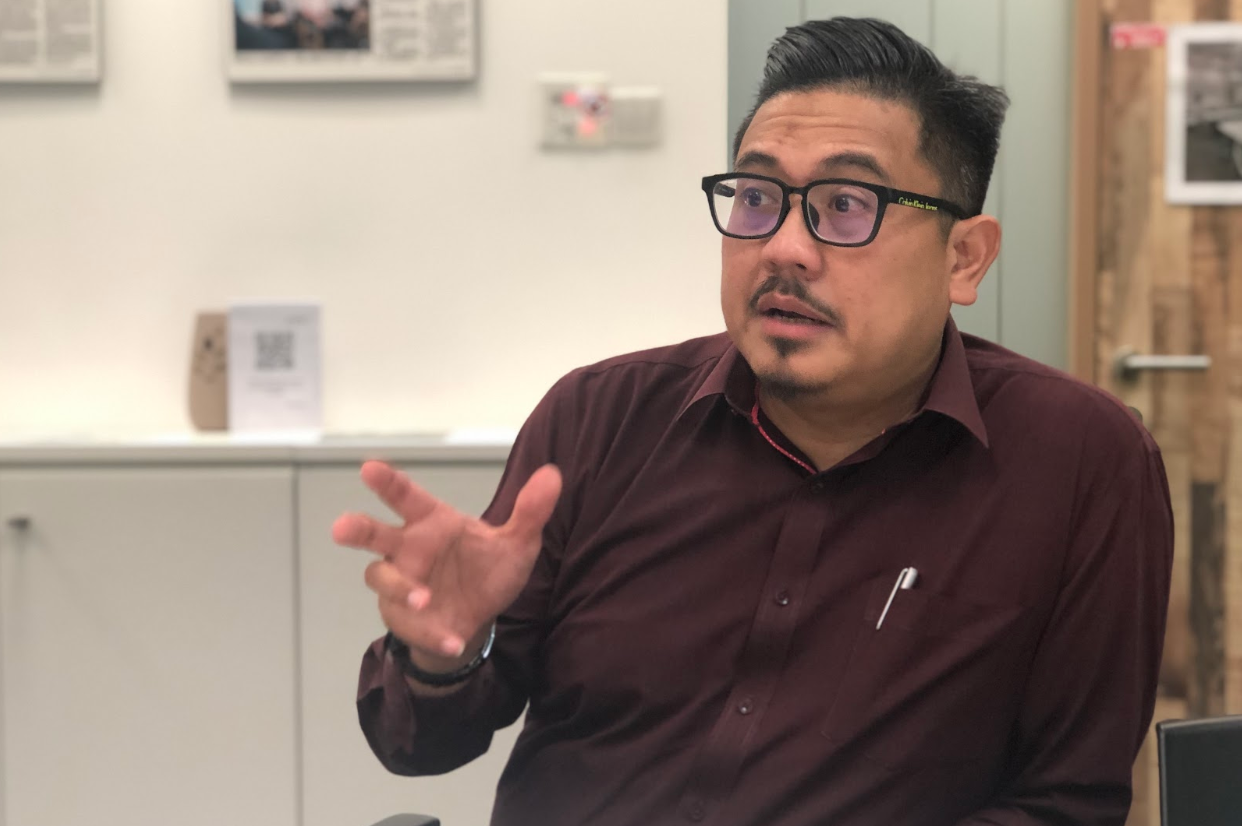 Takes skill to get clients to open up to him 
Alfee added that the human aspect is essential for career coaches like him to do their job well, saying it takes skill to get clients to open up to them so they can better narrow down the criteria for the job search. 
This is why it is necessary for him at times to code switch, depending on the type of profile he speaks to. 
"I'm Malay, but sometimes I say, 'Auntie, wo shi ma lai ren, wo bu hui jiang hua yu' ('I'm Malay, I don't know how to speak Mandarin')," Alfee said. 
And if the client is kind of atas, he has to speak in a more "professional manner" with less informal language being used, he explained. 
This is so that they can trust him with their job-seeking journey, he added. 
In addition, Alfee and his team go on regular "learning journeys" of their own to update their knowledge on the respective industries, as knowing certain industry-specific jargon is useful when it comes to helping them connect with their clients.
They have visited places such as the Nanyang Technological University's research centre and the Google office as part of knowing how industries are like out there.
As I spoke with Alfee in his office at Our Tampines Hub, his people skills were apparent. 
Affable and articulate, he provided answers without prompting, and his easy demeanour made the hour-long conversation feel shorter. 
In his previous career, Alfee was a counsellor for five years before joining his current station, where he has been for the last 12 years.
He was his own first client 
But it took Alfee a bit of time before he found his true calling.
He was actually trained first as an engineer, and went on to work with a Statutory Board Agency for about a year before he left the field as his "interest wasn't there". 
He said: 
"Back then, there wasn't any career coaching or counselling, you just ask your friend, 'Hey what course are you taking? Is it cool, fun?' Okay, I'll go there. 
So you just end up doing something. I got a degree in the end as it could get me some advanced standing (in society), but my interest wasn't there at all."  
That was when Alfee thought about it, and told himself he had to do something that he really wanted to do. 
But the process of knowing what he truly wanted to do was not easy, Alfee revealed.
Finds job satisfaction in helping people
Thankfully, he landed the right job eventually. 
While Alfee and his team could go on to headhunting firms and earn a larger paycheck, they have chosen not to, preferring to stay in public service rather than chasing after monetary gains -- not that there's anything wrong with that, as everyone's motivation is different, Alfee said.
But at the end of the day, a simple "thank you" from his clients is enough to make him feel shiok, he said, and for him to know that he made the right career choice.
It is also what he hopes he can guide his children towards.
If you need some career guidance, you can pop by and say hello to Alfee and his team of career coaches at the upcoming CCOTG roadshows:
22 – 24 Nov, Tampines West: Between Blk 826 and 828, Tampines Street 81

30 Nov – 2 Dec, Jurong West: Open Space in front of Blk 503, Jurong West Ave 1
This sponsored article by the Public Service Division makes the writer feel comforted knowing that Singaporeans will always have a place where they can sort out their life career goals.
If you like what you read, follow us on Facebook, Instagram, Twitter and Telegram to get the latest updates.