On Nov. 4, Senior Minister of State for Transport Lam Pin Min announced an e-scooter ban on footpaths that would take place overnight.
While a number of citizens supported the move, the ban has been met with protests from certain PMD riders.
And a video that has been circulating online only serves to demonstrate the gulf between between the two camps.
Uploaded by Facebook page Kaki's Club, the two-minute video shows a confrontation between a PMD rider and two pedestrians.
The altercation apparently started as the PMD rider felt that the pedestrians were staring at him.
While the post was uploaded on Nov. 13, 2019, it is unclear if the incident is recent.
You can watch it here:
In case you can't see:
[video width="352" height="640" mp4="https://static.mothership.sg/1/2019/11/PMD-ban-create-so-much-tension_-SG-kakis-start-to-ownself-pwn-ownself-already....mp4"][/video]
What happened
The video starts with the PMD rider, who is also the camera man, approaching the couple and asking if he "did anything wrong".
In response, the couple said, "No ah."
The rider then claims that the couple was staring at him, and mentions a "regulation about this pavement", which indicates that this incident may have taken place after the ban on Nov. 5.
At this point, the lady backs away out of frame, but also starts filming.
The male pedestrian replies, "I never say anything what, brother."
The rider then says that it's a matter between LTA and himself, and tells the pedestrian that it's "none of his business" if he is unhappy.
To which the pedestrian insists again, "I never say anything what, brother."
The rider brings up the alleged staring once more, and the pedestrian repeats himself.
This goes on for the rest of the video.
There was palpable tension between both parties.
The video ends with the couple waiting to board the bus.
Reactions
Unfortunately, a number of commenters found the rider's actions disagreeable.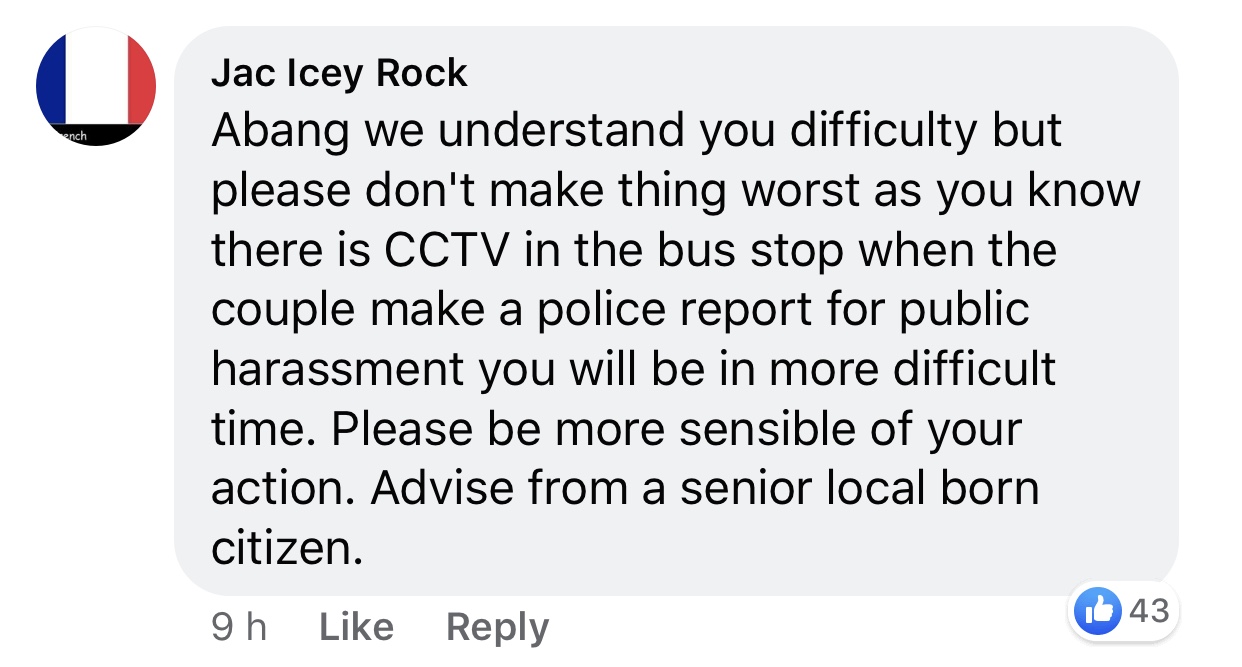 Including at least one other PMD rider:

But as usual, somebody has a conspiracy theory.

Good for diffusing the tension though.
Top image via Kaki's Club on Facebook
If you like what you read, follow us on Facebook, Instagram, Twitter and Telegram to get the latest updates.