On Nov. 13, videos of two veterinary assistants behaving inappropriately went viral, eliciting much backlash from Singaporeans.
The staff members of Ohana VetCare had uploaded videos of them mocking a deaf cat and bouncing an unidentified pet's castrated testicles on the ground onto their Instagram Stories.
In response, the clinic said in a Facebook post that they were suspending the two women immediately while they investigate the situation.
Second chances
In response to further queries from Mothership, the clinic said that they are truly sorry for the actions of their staff and apologise for any distress that has been caused.
They also clarified that they will not to immediately terminate the employment of the two staff, as "we are a company that believes in giving people second chances."
However, if the two assistants were to return to work, they will not be working with the animals.
Instead, they will handle "administrative duties".
The clinic also emphasised that this was an isolated incident.
You can read their full statement here:
"We were alerted to a video on Facebook showing two of our clinic nurses displaying inappropriate and unprofessional behaviour involving animals in the clinic. We immediately contacted the employees involved to remove the offensive video from their personal social media accounts.

We have suspended the two nurses and will review their conduct in the meantime as well as investigate the incident fully before deciding on our next course of action.

We have decided not to immediately terminate their employment as we are a company that believes in giving people second chances. In this case, the nurses are contrite over what they did and are truly remorseful. We will counsel them further before deciding how to move forward.

However, we would like to assure all our clients that we will implement measures to ensure such an incident never happens again. If these two nurses do stay on with us, they will not be allowed to handle any animals and will instead be performing only administrative duties. We will also conduct weekly meetings and training sessions with all employees to drill home the level of professionalism we expect of all workers in veterinary care, where our primary aim is to ensure the welfare and wellbeing of all animals.

We are truly sorry for the actions of our staff and any distress it has caused. We are contacting the clients whose pets were in the video to apologise and provide them with a full explanation.

We want to emphasise that this is an isolated incident which does not reflect the work ethics at our clinic in any way. We are heartened by the support given to us by many of our clients. We hope this means they know we are always committed to do the best for them and their pets. We will work hard to ensure that clients' trust in us are restored.

We will learn a lot from this incident and it will only make us strive to do better for our clients and for their pets."
Angry reviews from non-customers
Unfortunately, the clinic's Facebook ratings have taken a hit since the saga broke.
According to a screen capture posted by a Facebook user, a number of people have left negative reviews in the last couple of days.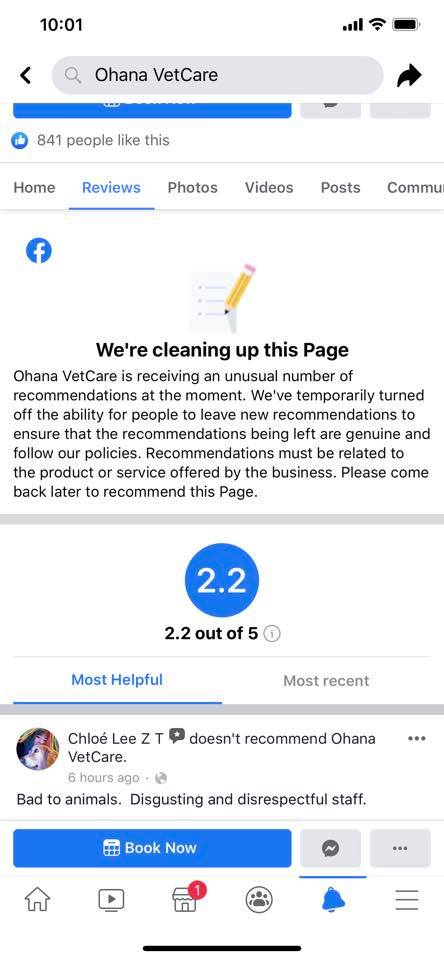 This caused the clinic's rating to drop to 2.2 stars out of five.
In the screen capture, Facebook indicated that they were "cleaning up the page" in order to "ensure that the recommendations being left are genuine and follow our policies."
According to Facebook's help centre, page administrators have the ability to report recommendations that do not follow Facebook's community guidelines, or that do not pertain to the business' services or products.
Upon review, Facebook may remove recommendations that do not follow their standards.
At time of writing, however, Ohana VetCare's rating has bounced back to 4.9 stars out of five.
Top image courtesy of a Mothership reader
Content that keeps Mothership.sg going
---
??
This event teaches you how to be your own farmer in the comfort of your own home.
???
Jio all your friends to see the northern lights in this city in Norway!
?⚓
A hipster's dream Europe itinerary that excludes the mainstream cities.
??
Did you know these are the most happening places in Singapore?
If you like what you read, follow us on Facebook, Instagram, Twitter and Telegram to get the latest updates.