"Singapore Social" is a Netflix reality show that will launch on Nov. 22, 2019.
Here's what the series is supposed to be about:
"Peer into the lives of young Singaporeans as they defy expectations and traverse the tricky terrain of career, romance and family."
And here we have the trailer, which was released on Nov. 8, 2019.
Framed by glitz, glamour, and expensive backdrops, the clip shows several young people struggling to deal with the drama in their lives.
This involves parents' expectations, relationship entanglements, sacrificing their happiness to stay competitive, and such.
Rebellion is also a big theme in the trailer.
But despite the pressure these people claim to undergo, they remain sassy.
For instance, when asked "Do you think other women are intimidated by you?", one of the girls replies, "They'd better be."
Singaporeans confused
In response to the trailer, commenters were mostly confused, as they felt that the show was barely representative of Singapore and Singaporeans.




In fact, more than one person likened it to "Crazy Rich Asians".



Unfortunately for the reality TV series, it seems that people are not too keen on the participants.


Others voiced their concerns over the quality of Netflix content.



One distinctly Singaporean commenter certainly made his protest heard.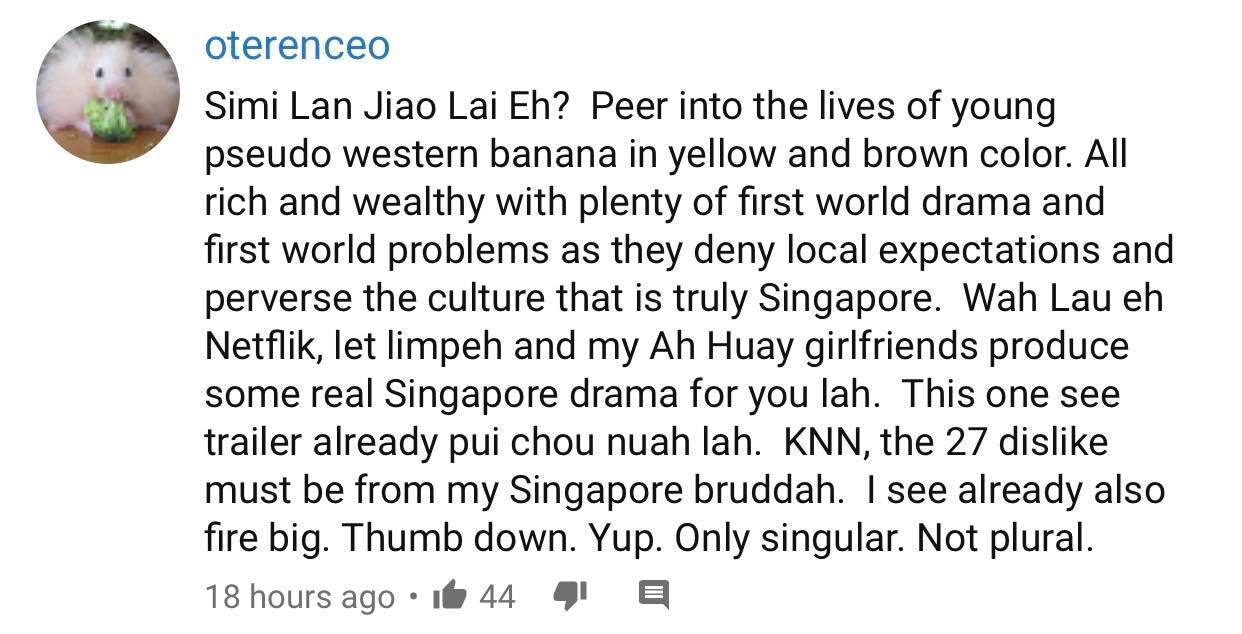 Ah well.
Top image via Netflix
If you like what you read, follow us on Facebook, Instagram, Twitter and Telegram to get the latest updates.