We've all had our own travel horror stories to tell, but getting deported from your holiday destination is probably one of the top few on the list.
Stopped by immigration officers and deported
On Nov. 14, two Malaysian men, Muhammad Shaifuddin Muhammad Ab Haqqi Eng, 24, and Hasyemi Abdullah, 26, had a short-lived vacation to South Korea when they were stopped by immigration officers and ended up getting deported.
The incident went viral on social media after Shaifuddin posted his experience on his Facebook page on Nov. 17.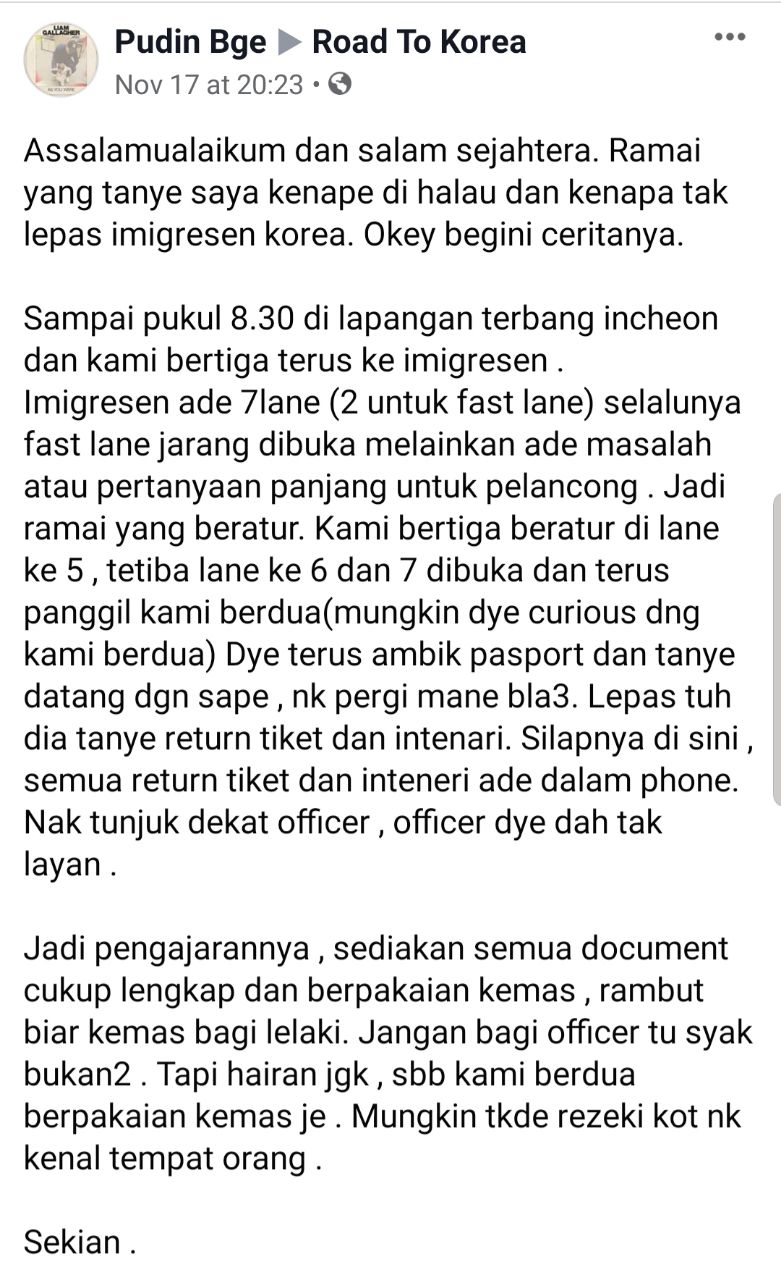 According to the post, the two friends queued at the immigration counters as soon as they landed for security checks and to get their passports chopped.
Only five out of the seven counters were open as the other two counters were fast lanes.
Shaifuddin and Hasyemi queued at the fifth lane.
However, when it was almost their turn, the sixth and seventh lanes suddenly opened.
Immigration officers told them to move to the fast lanes and they obliged.
That was when an officer took their passports and started questioning them.
Did not print return tickets and itinerary
In the post, Shaifuddin stated that the officer asked who they were with and where they were going.
They were also asked to show their return tickets and itinerary.
But both Shaifuddin and Hasyemi had not printed their return tickets and itineraries.
They only had the documents in their phones and tried explaining their situation to the officer, but the officer refused to listen to them.
Shaifuddin ended his post by reminding other travellers to prepare all the necessary documents and dress neatly, as well as to not act suspicious when going overseas.
Detained for seven hours, not allowed to use the toilet
The incident, however, did not stop there.
In an interview with Harian Metro, Shaifuddin stated that he and Hasyemi were brought to a quarantine room and interrogated for seven hours.
They could not leave the room the entire time and were not even allowed to use the toilet.
Eventually, they were deported back to Malaysia on the same day.
South Korea was his dream destination
Although the flight back to Malaysia was paid for, Shaifuddin admitted that his dream of finally being able to travel to South Korea was crushed.
He has wanted to visit the country since 2010, as he is a big fan of South Korea's reality TV shows, particularly 'Running Man'.
He also admires the culture there.
In a separate Facebook post, Shaifuddin expressed his disappointment and pain for not being able to visit his dream country.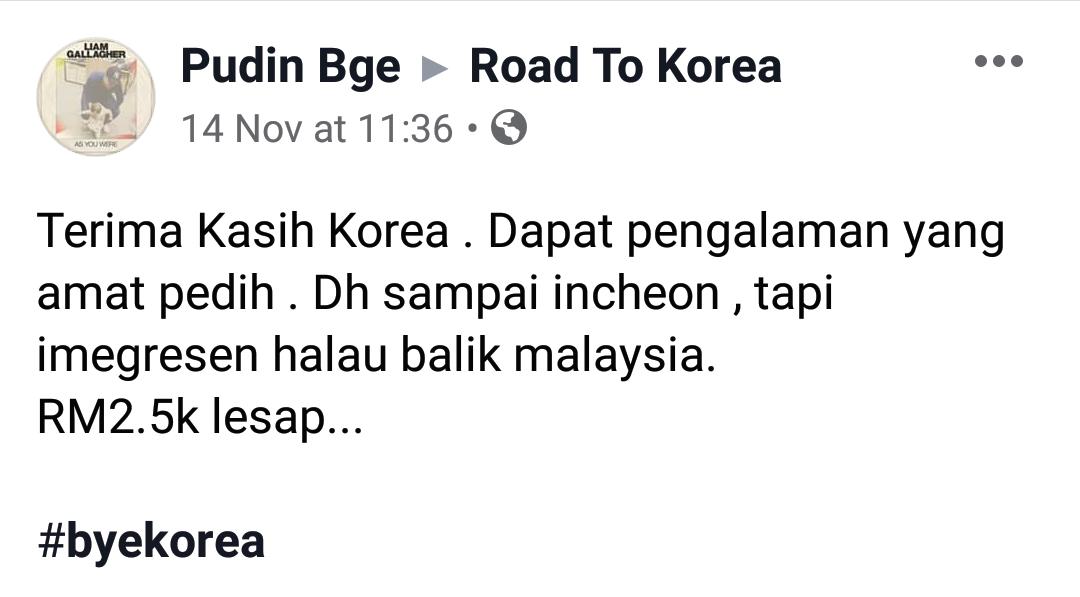 He added that he had wasted RM2,500 (S$817) for the unsuccessful trip.
Travelled with another friend
Shaifuddin revealed that they actually travelled to South Korea with another friend, Fadhli Maimun, 25.
However, Fadhli had travelled to South Korea before and had no problems at the immigration counter.
Shaifuddin told Harian Metro:
"We had no experience dealing with immigration officers in South Korea and did not expect them to act that way."
Top image via Visit Korea.
Content that keeps Mothership.sg going
---
??
This event teaches you how to be your own farmer in the comfort of your own home.
???
Jio all your friends to see the northern lights in this city in Norway!
?⚓
Every hipster's dream itinerary.
??
Did you know these are the most happening places in Singapore?
?
Do lower-calorie versions of hawker food taste as good?
If you like what you read, follow us on Facebook, Instagram, Twitter and Telegram to get the latest updates.