Ever been to Singapore's central business district (CBD) in the day?
If you have, then you've seen the bustle; a blur of business shirts, pencil skirts, and stressed faces.
The place feels like it's bursting with energy — the kind of energy derived from nervous newly grads who've already been shouted at twice before lunch.
Yet, visit the CBD at night and it almost seems like an entirely different place, calmer, serene, and relaxed.
Believe it or not, while most people can't wait to escape the CBD after work, it might just be the perfect place to unwind after a long day at work.
Drinks to take the edge off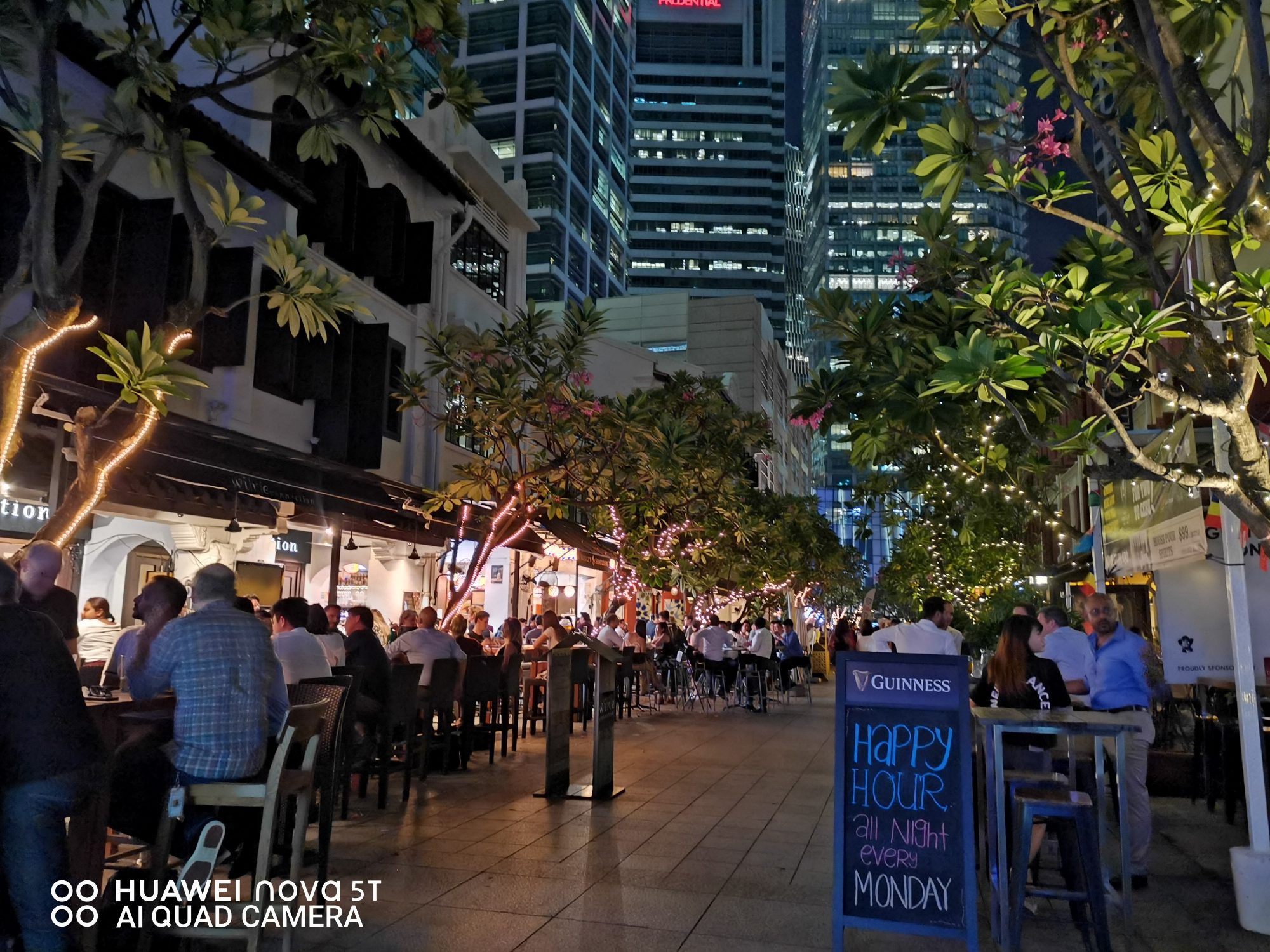 Take a walk to Pekin Street once night falls and you'll find yourself amongst merrymakers enjoying a drink or three after work.
The myriad of bars that line both sides of the walkway means that you're unlikely to find it hard getting a seat or a table even on the busiest of days.
Here there are bars and watering holes to suit all kinds of preferences, from the cheapskate to those that need something a bit fancier.
If you like variety, it's never a bad idea to hop from place to place either.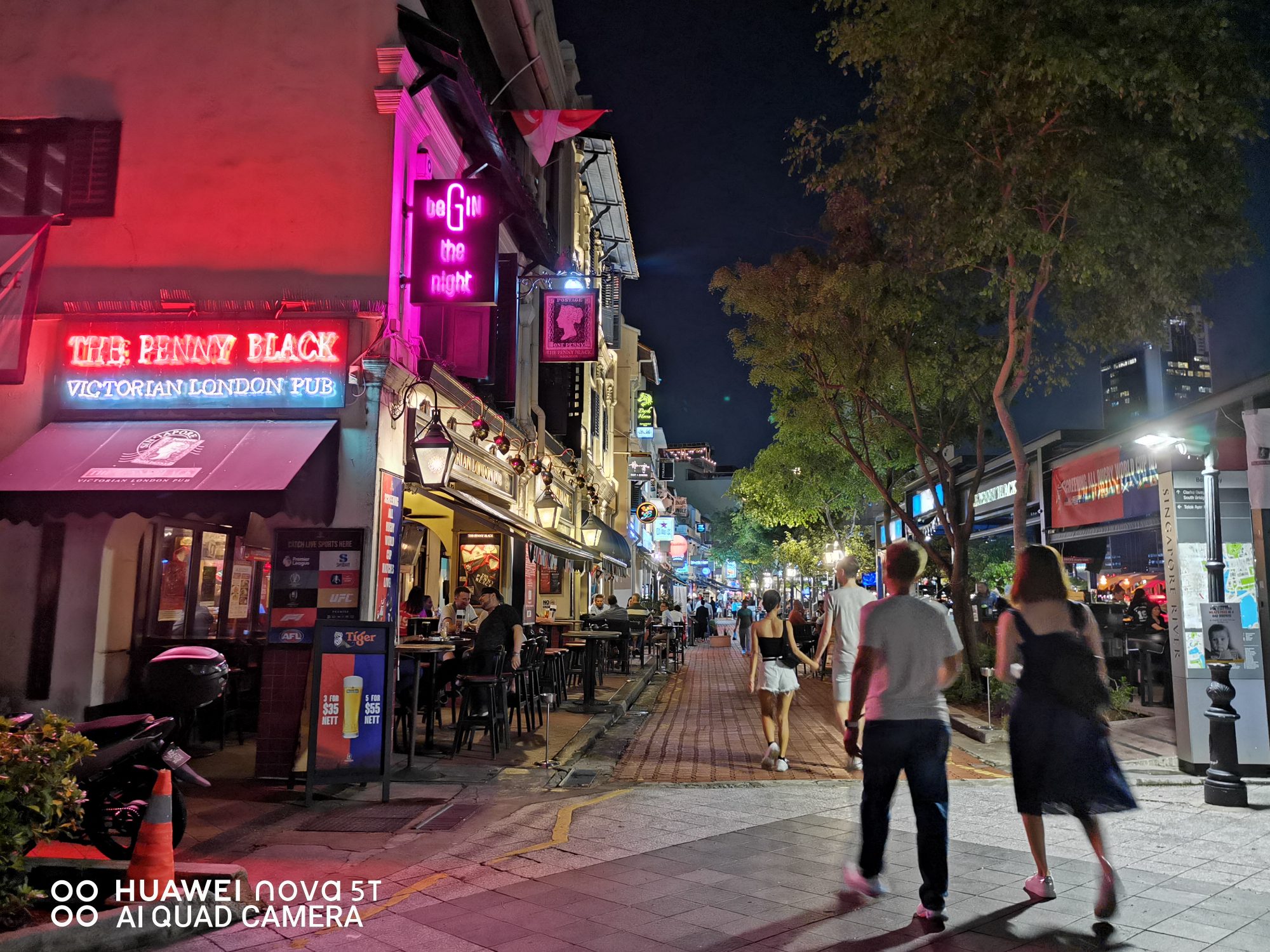 Or how about a visit to the pubs and restaurants that follow the river along Boat Quay?
Here you can find fresh seafood and cold beers sure to satiate the hungriest and thirstiest of office workers.
Another highlight is the live music available at several places along this stretch.
Nothing helps you forget about a stressful day at work like singing along to your favourite tunes while you gaze pensively out at the river.
Working out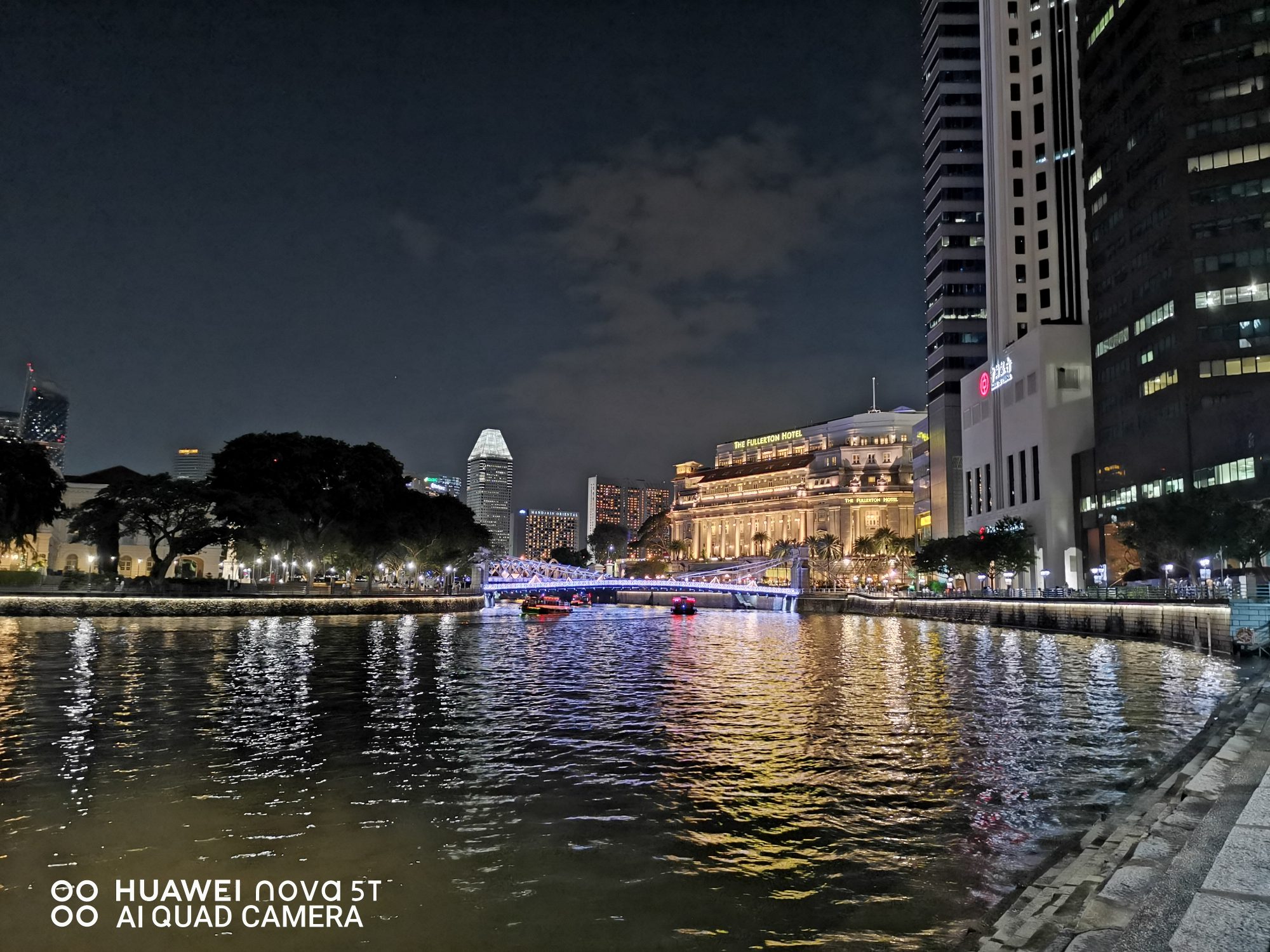 Maybe you're not quite into indulging and adding to your waistline is only going to compound the stress you're already feeling.
In that case, why not hit the streets for a night-time run? After all, the link between physical exercise and reduced stress is well documented.
Once again Boat Quay proves to be a great route for those looking for a sweat.
You won't look out of place with all the other runners enjoying the view of the river at night while pounding the pavement.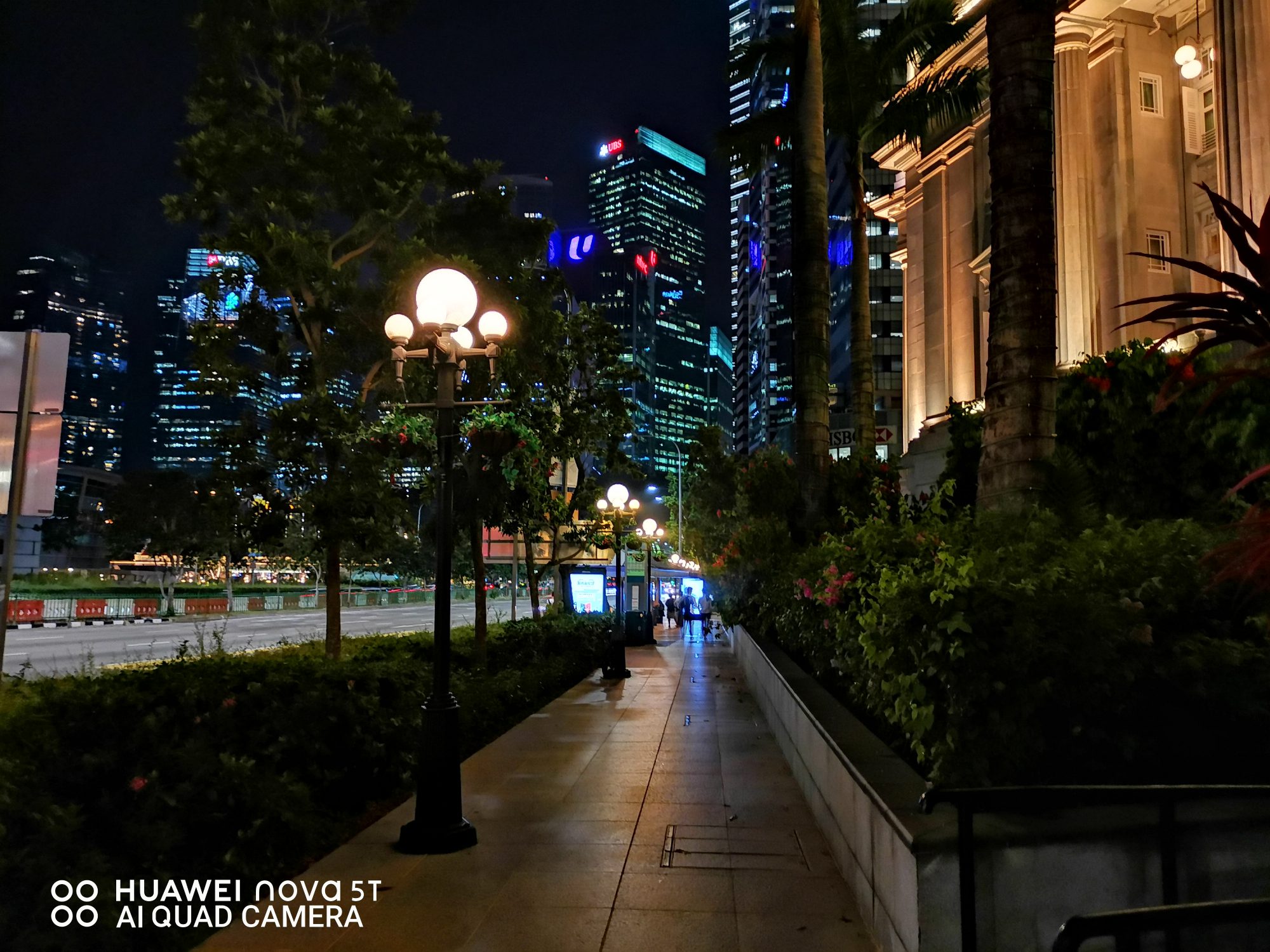 Turn the corner from Boat Quay and you'll find yourself jogging down Collyer Quay at the base of towering skyscrapers.
But before you get there, it's worth taking note of the street lamps by the Fullerton Hotel.
It's easy to miss during the day, but when they're lit up at night, the elegant five orbed lights really command your attention.
Taking in the sights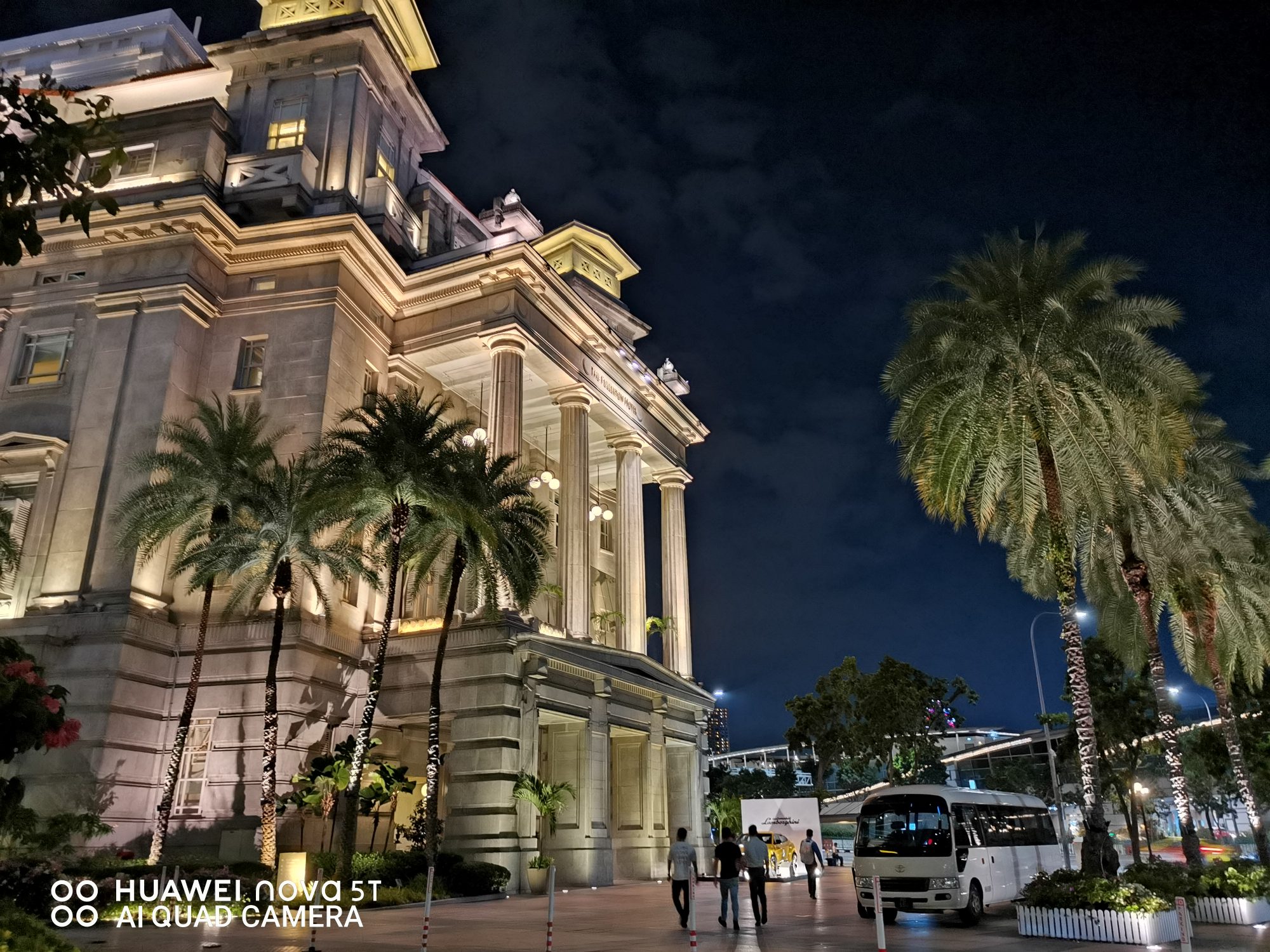 The Fullerton Hotel is a nice starting point for our next tip to de-stress in the CBD.
While running might not be for everyone, cool evenings are the perfect setting for a leisurely stroll.
But why stroll through the CBD at night?
Well, I'm of the opinion that some things look better lit up and contrasted against the darker backdrop.
Just take the aforementioned Fullerton Hotel.
During the night its majesty really pops out at you.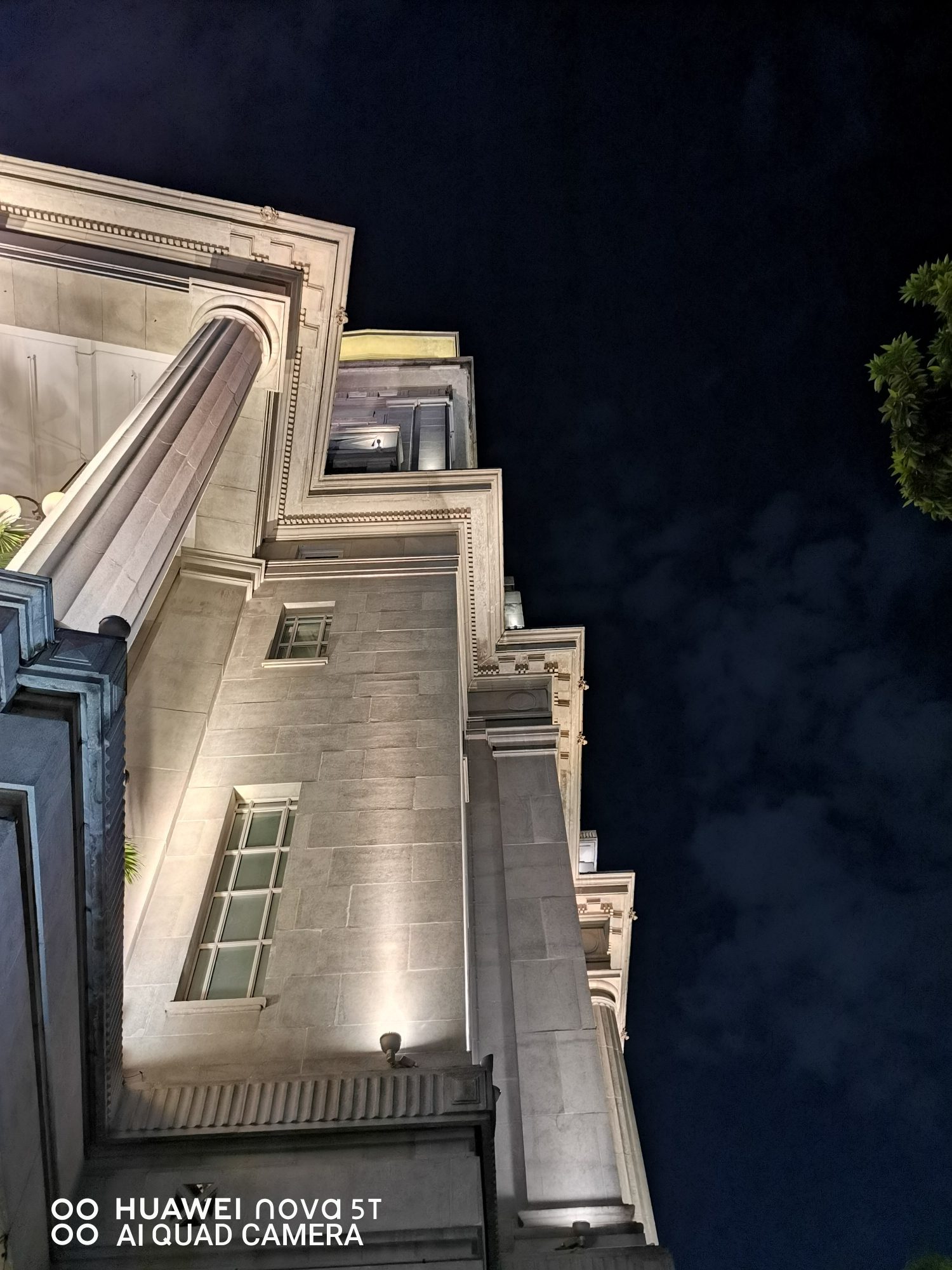 And then there's the art installations scattered throughout the CBD.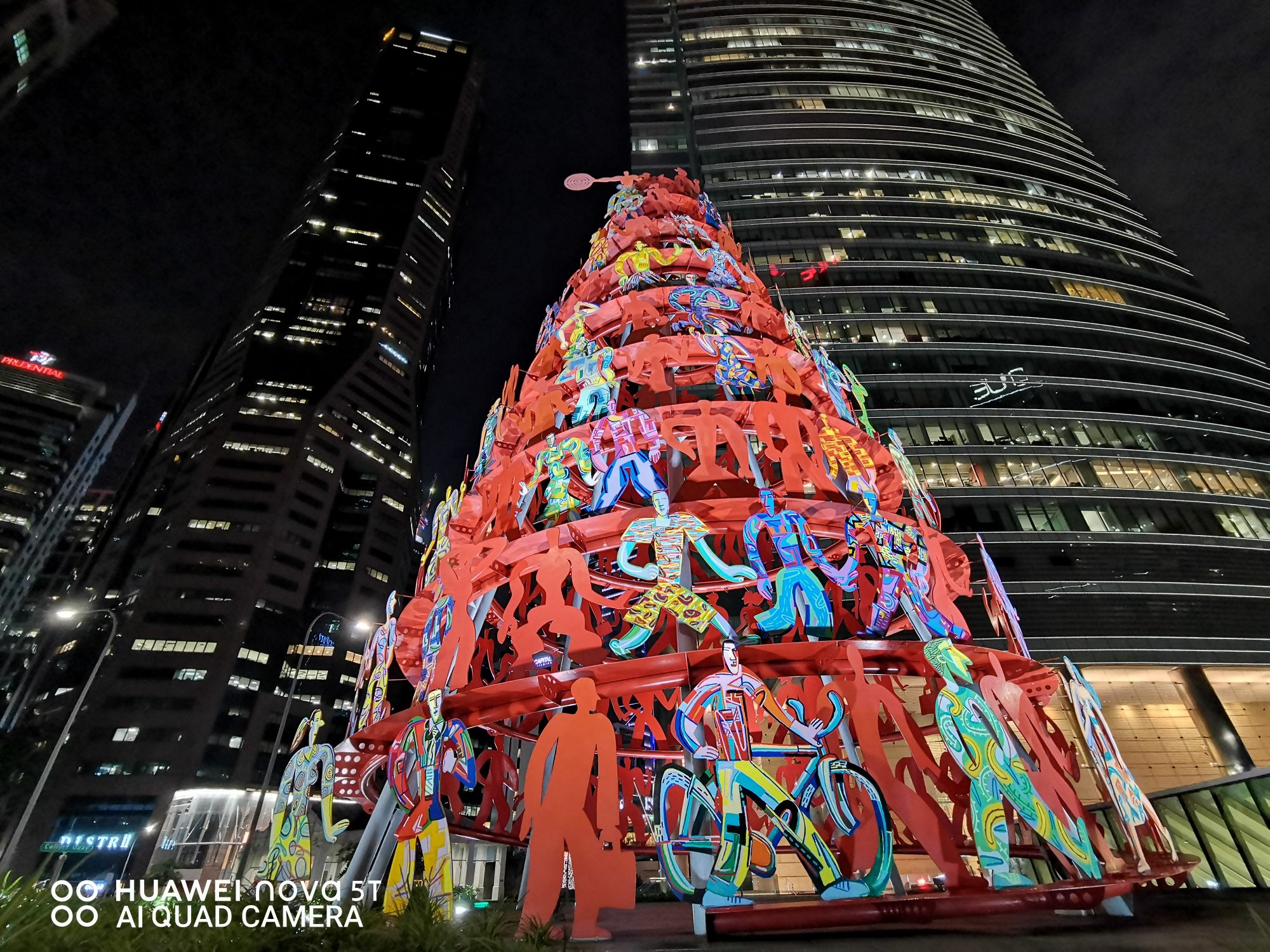 Distracted by the tasks at hand, many people walk past David Gerstein's big red sculpture, Momentum, during the day without batting an eyelid.
But the night really brings out one of its core themes: the upward cycle of progress. It might just prove to be the inspiration you need to come into work with renewed energy.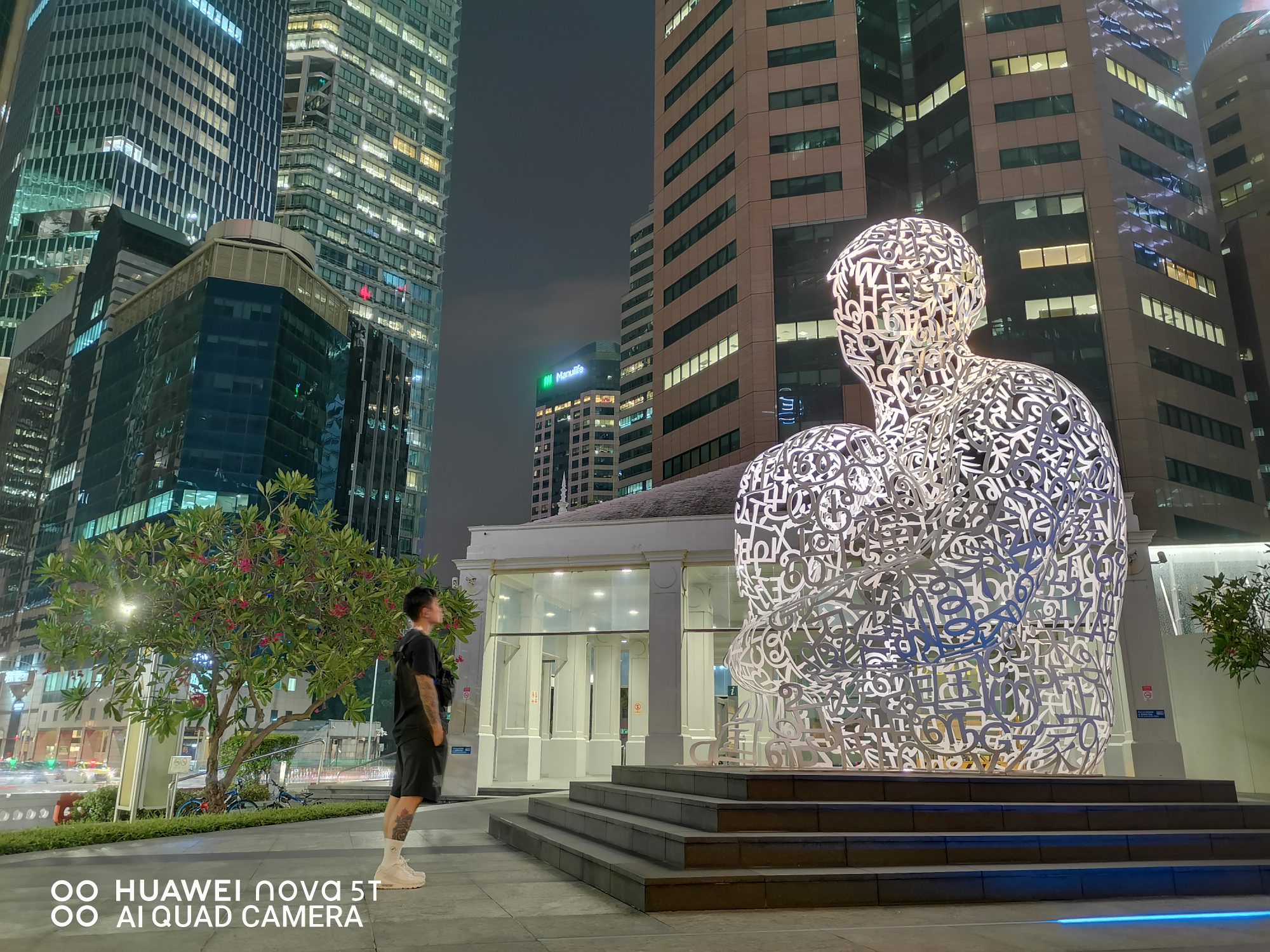 Sitting right across Momentum is Soul, by Spanish artist Jaume Plensa.
The sculpture is made out of English, Chinese, Malay, and Tamil characters and is said to represent the harmony between ethnicities found in Singapore.
Perhaps pausing a bit to take it all in could help create harmony within one's mind.
Photo Walk
If running, walking, nor food and drinks appeal to you, there's always expressing yourself artistically.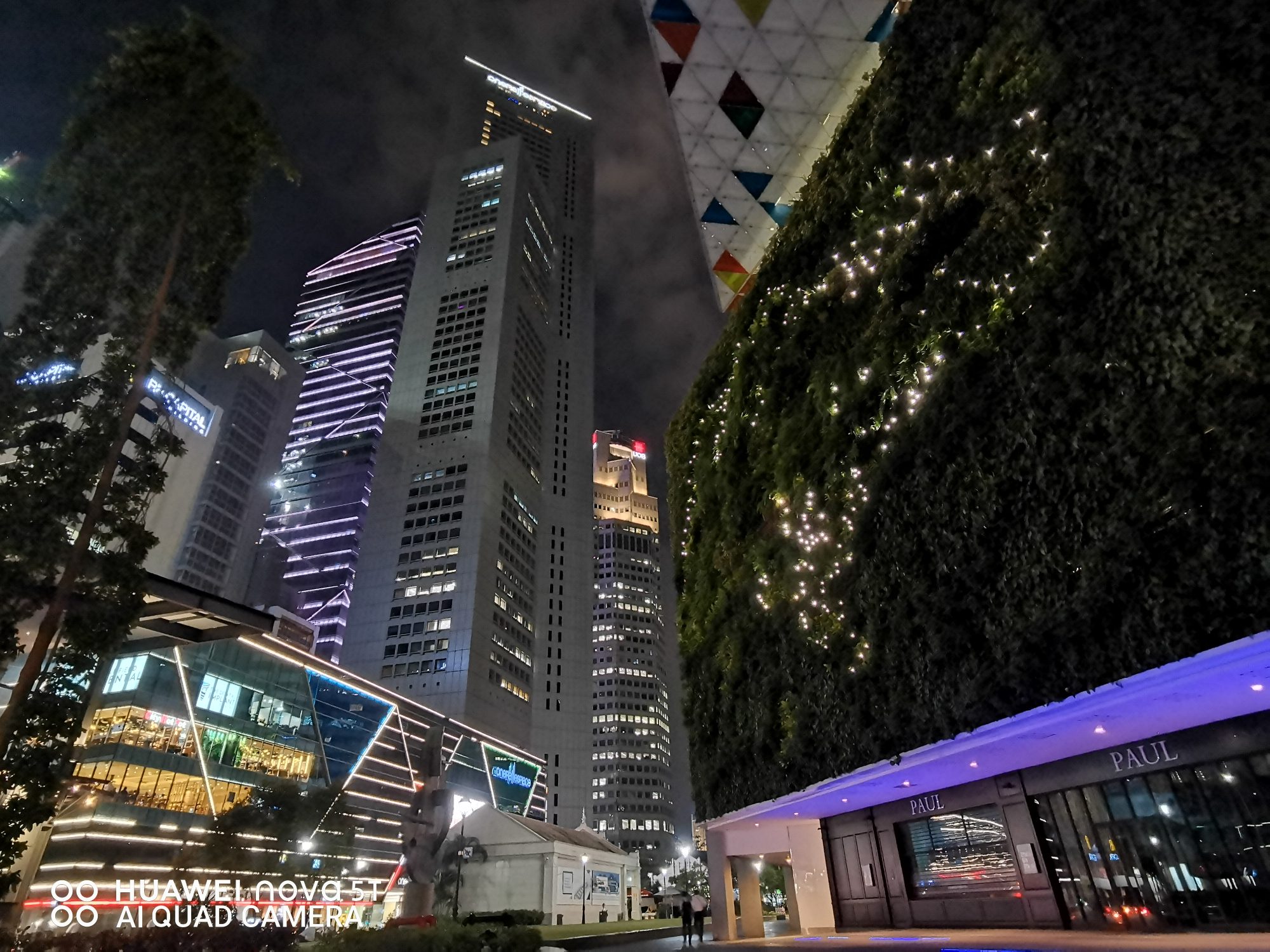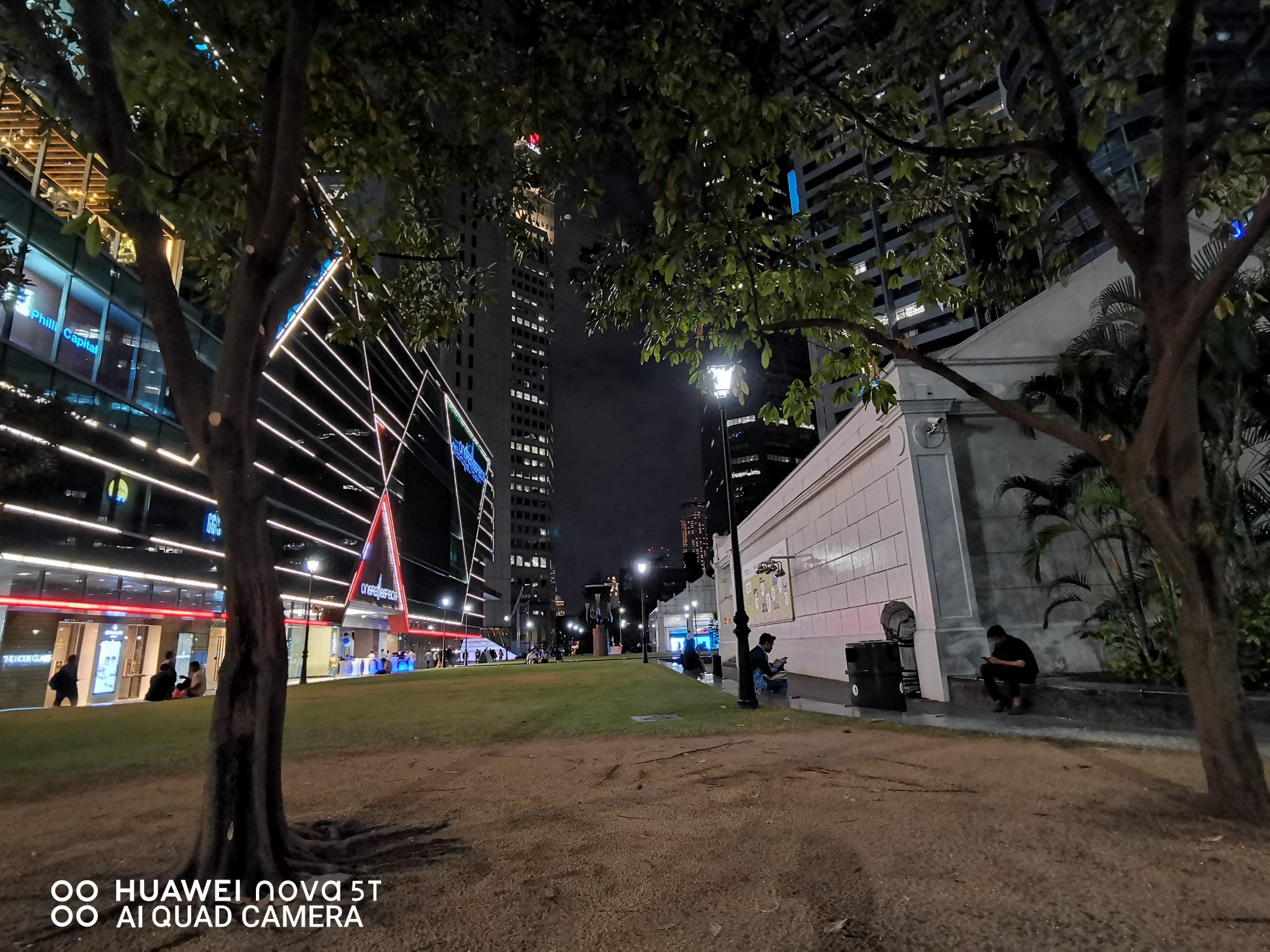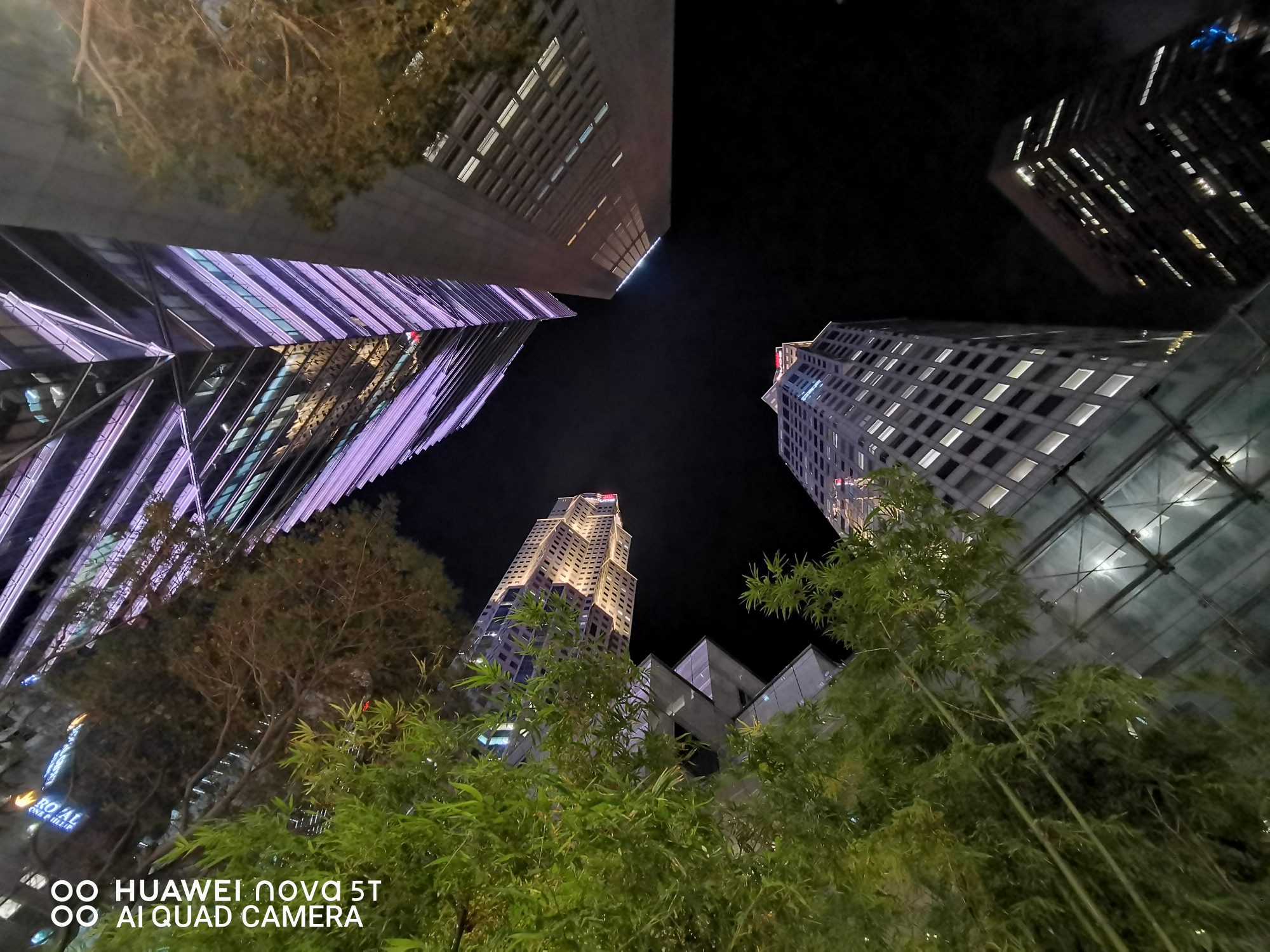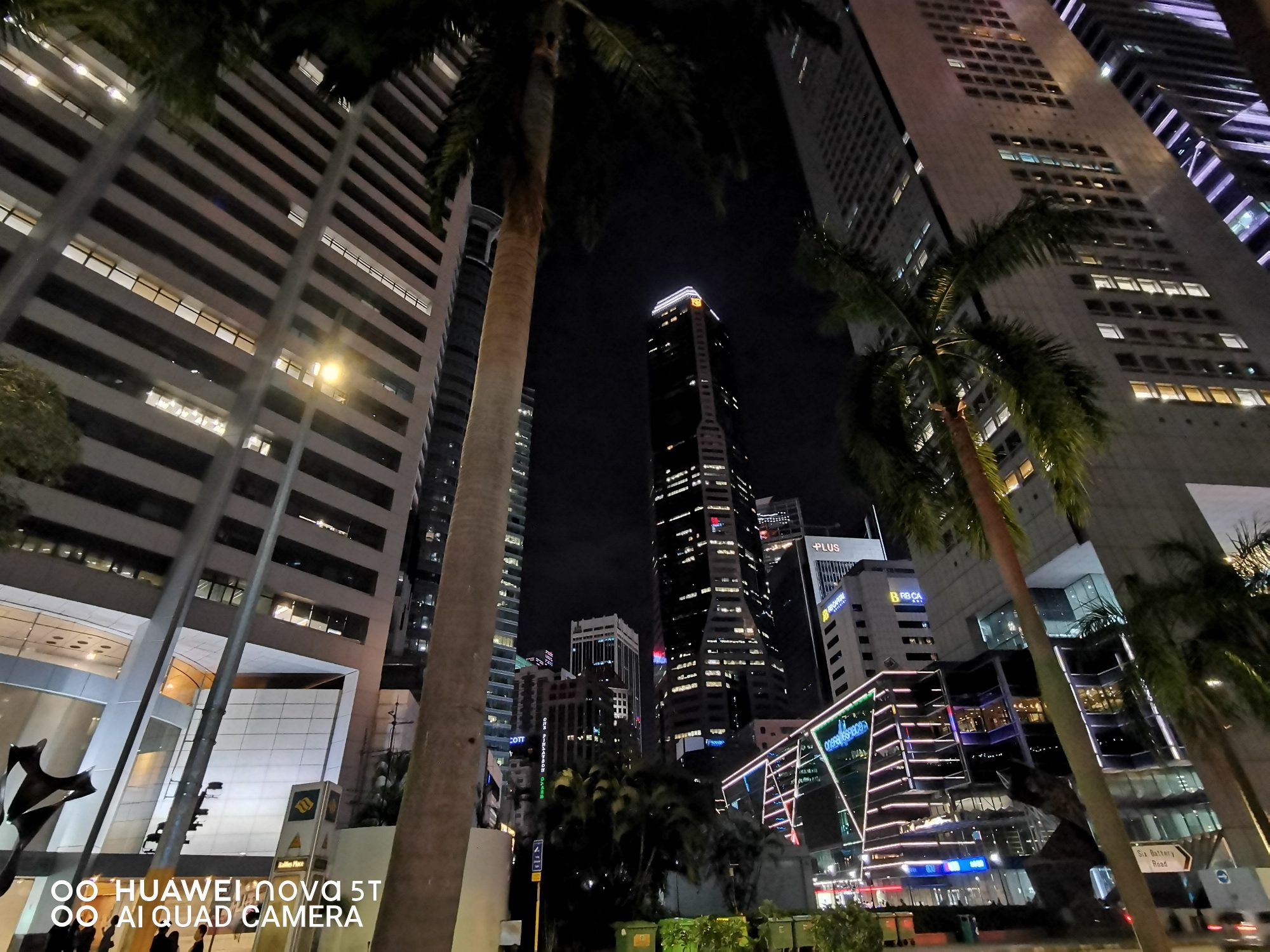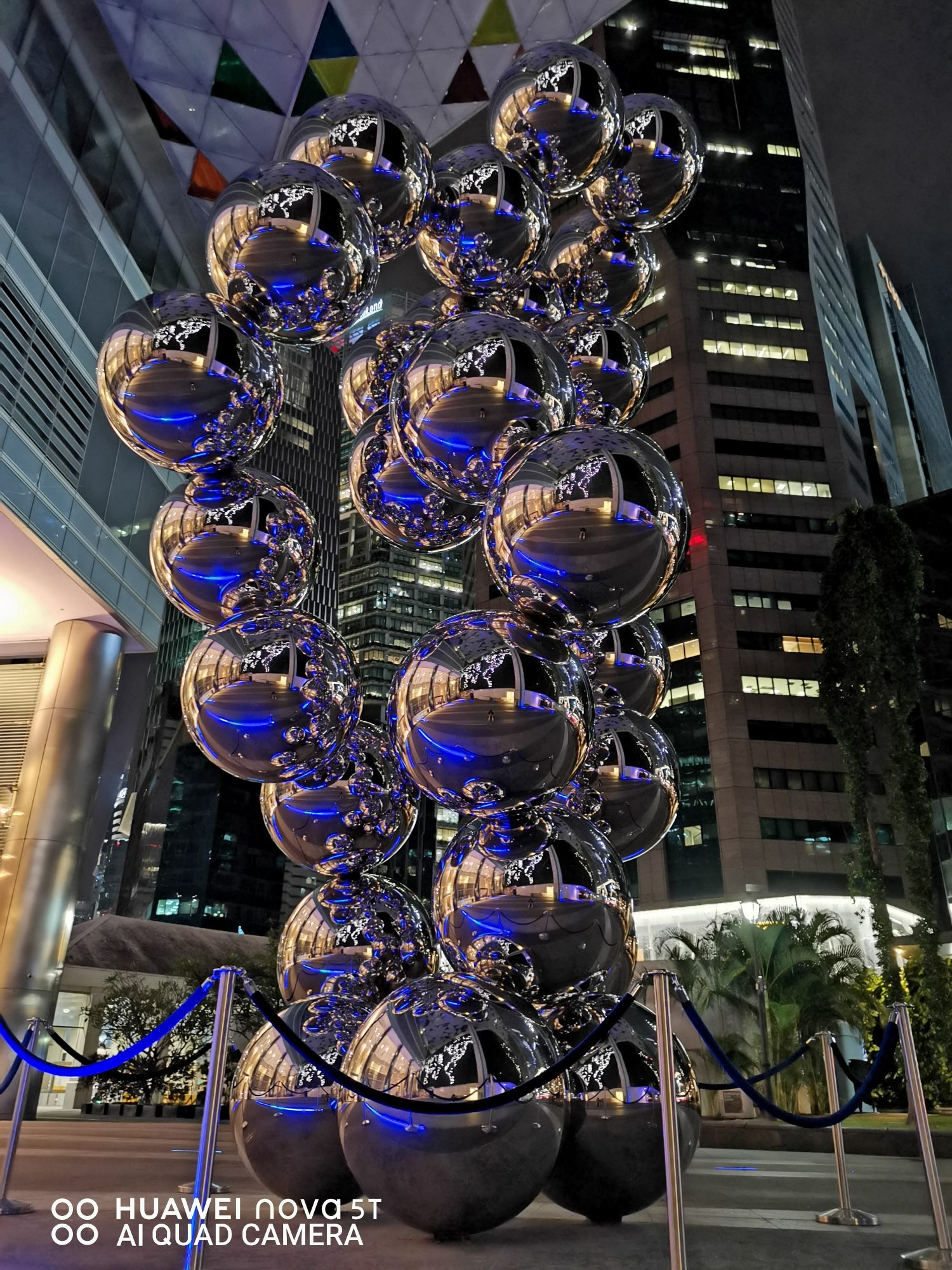 Awesome.
Huawei Nova 5T: Incredible night mode
The CBD at night is undoubtedly beautiful, and with the night mode camera on Huawei's Nova 5T, taking aesthetically pleasing photos in dark conditions is a piece of cake.
The four rear cameras (48MP high definition lens, 16MP wide-angle lens, 2MP macro lens and 2MP bokeh lens) help provide the versatility to get a great shot at any time, and any place.
But what really gives that night time oomph comes from the Nova 5T's AI.
The AI HDR+ shooting mode takes a number of images in one shot, and then combines the best of the pictures to ensure a picture with the highest quality and sharpness.
That clarity is enhanced even further by the AI Image Stabilisation and intelligent light sensing, which as the name suggests, helps take the best photos regardless of time of day.
With all that camera magic in the palm of your hand, you won't even need to lug along a heavy DSLR or tripod.
Instead, all your energy can be put into finding the perfect angle for your shot.
And as you line up your shot, hopefully, you'll no longer be burdened by the stresses of work.
Find out more about the Huawei Nova 5T here.
All photos in the article were taken on the Huawei Nova 5T using the camera's night mode function and without any edits.
This sponsored article by Huawei made the writer feel a lot less stressed about life
If you like what you read, follow us on Facebook, Instagram, Twitter and Telegram to get the latest updates.