About 1,000 homeless people are living on the streets of Singapore, a landmark study found.
The study, led by Ng Kok Hoe, an assistant professor at the Lee Kuan Yew School of Public Policy (LKYSPP), is the first to be done in the city-state to determine the scale of homelessness.
Findings from the study were presented on Nov. 8, 2019.
How was the study done?
The study mobilised trained fieldworkers, who were 480 volunteers that included representatives from more than 20 non-governmental organisations and members of the public.
They covered all 12,000 blocks of residential flats, and other public and commercial spaces over a duration of three months this year.
A nationwide count of the number of homeless people in a single night involved deploying all fieldworkers at the same time to observe, as well as to conduct interviews.
They started their count at 11:30pm or later.
Here are some of its findings.
Homelessness is almost everywhere in Singapore
While there is significant variation in numbers across districts, homelessness exists in most parts of Singapore.
There were also more homeless people in larger and older housing estates as well as estates with more rental flats.
Most homeless persons reported in the City district
The largest numbers reported in the single night count were in the City (251), Bedok (60), Jurong West (53), and Kallang (51) districts.
On the other hand, fewer than 10 people were found in districts such as Choa Chu Kang (6), Sembawang (6), Queenstown (5), and Punggol (1).
Here's a table that shows the breakdown in each district: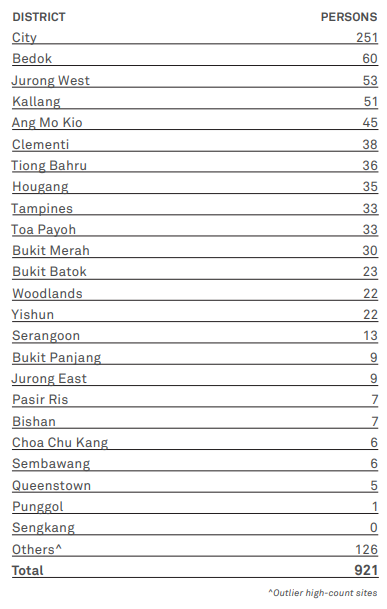 And here's a map showing the distribution of homeless people across the island: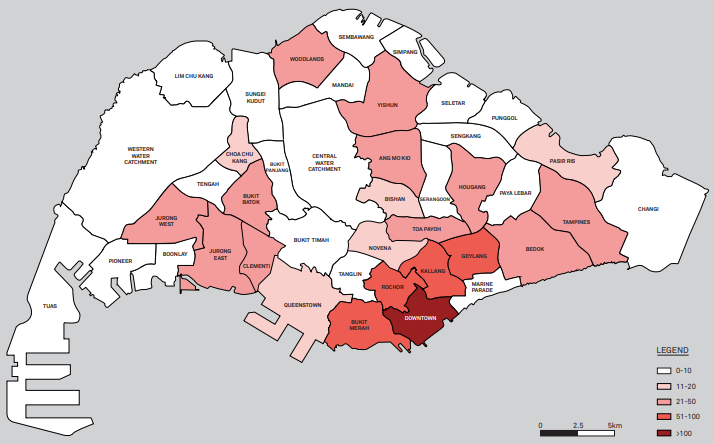 Tiong Bahru, Clementi, Jurong East: Highest densities of homeless people observed
However, when the numbers are taken against the resident population in each district, the locations with the highest densities of homeless people were recorded in the Tiong Bahru, Clementi and Jurong East districts -- there were 14 or more homeless persons per 10,000 flats.
In contrast, Bukit Panjang, Sembawang, Punggol and Sengkang had the lowest densities, with fewer than two observations per 10,000 flats.
More homeless men than women
The study also found that most of the homeless people in Singapore were older ethnic Chinese men.
But while most of the homeless persons were men (87 percent), there were almost 100 women sleeping in public areas.
Half of the homeless persons were judged to be aged 50 and older, while a third were in their 20s to 40s.
Six people (1 percent) were observed to be below 20.
As for their ethnicity, fieldworkers observed that 46 percent of them were Chinese, 16 percent were Malay, and 11 percent Indian.
Fieldworkers were not able to tell the ethnicity of the others.
Common locations
The most common location where the homeless sleep at was void decks (31.9 percent), followed by commercial buildings (28.6 percent).
Almost 50 percent of the homeless persons were found in public housing estates.
Beside void decks, these spaces include pavilions and playground (10.1 percent), parks (6.3 percent), and coffee-shops and hawker centres (6.1 percent).
About 2.4 percent of the homeless persons were found at fast-food restaurants.
In addition, the study found that only 10 percent of them had soft bedding like blankets and pillows.
Most of the homeless are Singaporeans
About half of the homeless persons who were awake took part in an interview.
Of these 88 interviewees, most were Singapore citizens.
They were either single, separated, divorced or widowed.
In addition, they were reported to have had low education.
Some 76 percent had secondary school education and below.
Why are they homeless?
As to why they were homeless, the most commonly cited reasons are related to unemployment, irregular work, and low wages (47 percent), followed by family conflict and break-up (37 percent).
Housing problems such as the inability to pay rent and mortgage or having sold their housing make up 27 percent.
Irregular work and low pay
Six in 10 of the interviewees have jobs, while 40 percent of those not in work were looking for work.
The most common occupations were cleaning (27 percent), odd jobs (15 percent), security (10 percent) and retail (8 percent).
These are among the lowest-paying occupations in Singapore, the study noted.
Of the interviewees who were in work, fewer than half were paid monthly -- their salary ranged from S$560 to S$3,000.
Poor health and nutrition
Also, one in four interviewees had eaten just one meal that day or none at all, suggesting the prevalence of poor health and nutrition.
The study also found that homelessness posed hardships and was often chronic, lasting six years or more for one in three persons.
Many homeless looked presentable and well-groomed
The study also managed to paint a varied picture of homelessness that "does not accord with simple stereotypes".
For instance, many of the homeless persons were described as "presentable" (28 percent), while fewer were described as untidy (10 percent) or without a shirt (5 percent).
A fieldworker noted in his notes: "He looks well-groomed and wears short sleeve t-shirt with long pants, belt and shoes."
Most had no possessions with them
The study also found that around three in four of the homeless persons had no possessions with them or carried only one bag or a few plastic bags.
Only 5 percent had a trolley or luggage with them, it noted.
Some of the possessions they had were described as cardboards, a pushcart, a luggage, a canvas trolley bag, a black sling bag, and even porcelain vases, and tarp.
Own an HDB flat but chose not to live there
When it comes to home ownership, just below 40 percent of the interviewees had housing in their name.
These were mostly HDB rental flats (15 percent) and purchased HDB flats (11 percent)
Similarly, 39 percent said they could have stayed in a safer place, but chose not to.
Many of them cited reasons such as family conflict, not wanting to inconvenience friends, problems getting along with co-tenants, and preferring to be near their workplace.
Therefore, Ng opined that practical and social barriers often hinder actual access to better housing options.
Joint-tenancy requirement should be rid of
The HDB's public rental housing scheme is a more stable and permanent option as compared to overnight shelters, Ng said.
But problems associated with it are rife.
For instance, the eligibility criteria are strict, space is inadequate, and it is not uncommon to see conflict between co-tenants due to the requirement for single occupants to share a "one-room flat" with no bedrooms.
As a recommendation, Ng suggested that the joint-tenancy requirement in HDB's public rental scheme should be removed.
Doing so as an immediate step will not only improve this "exit path from homelessness", but will also help the poorest residents in the public housing sector fulfill basic standards of privacy, Ng added.
You can read all the findings in the 53-page report here.
Top image by ROSLAN RAHMAN/AFP via Getty Images
If you like what you read, follow us on Facebook, Instagram, Twitter and Telegram to get the latest updates.