On the evening of Nov. 5, I waited for a call from former Mediacorp actress and host, Evelyn Tan.
And when I finally did hear her say a friendly "hello", she sounded just like how I remembered her from when she acted and hosted shows on television — chirpy and bubbly.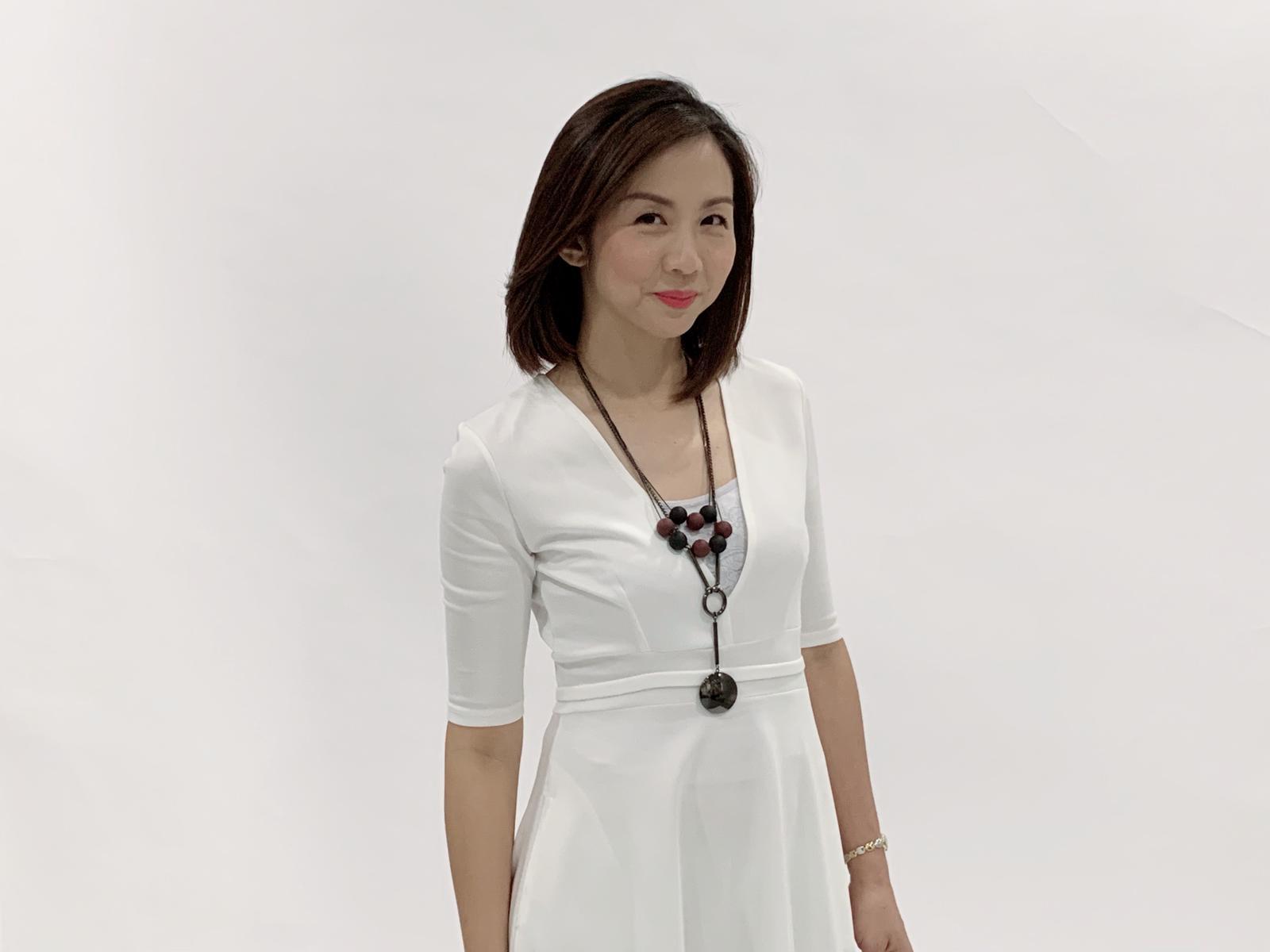 Even then, I couldn't tell that the mother of four was actually at a clinic with her family because she had been having a pesky cough and (much to her surprise) a fever.
And the 43-year-old is looking forward to recovering as fast as she can because she will be performing on TV this weekend.
But more on that later.
Inspired by Zoe Tay
Upon graduating from the National University of Singapore with a degree in mathematics, Tan joined the fifth edition of Mediacorp's Star Search in 1997.
Joining the talent competition was a no-brainer for her since she has been actively involved in Chinese speech and drama — something she truly enjoyed since she was in secondary school.
"It was something I've always wanted to do since I saw Zoe Tay walk away with the trophy at the very first Star Search!"
Unfortunately for her, she didn't get to experience holding the trophy herself as she only made it to the top 20.
Almost became a teacher
Tan was ready to pursue her other childhood ambition of becoming a teacher after her short-lived stint at the talent competition.
But Lady Luck was on her side, and Tan was offered a contract by Mediacorp (then called TCS, or Television Corporation of Singapore).
As she thought that other colleagues would get the contract, the news came as a pleasant surprise: "When they approached me, I was very surprised but of course, delighted. So I thought, 'Ok, here goes nothing.'"
Once again, fate had a funny way of making both her ambitions come true.
"The surprising thing is that my first role as a drama artiste was a teacher!"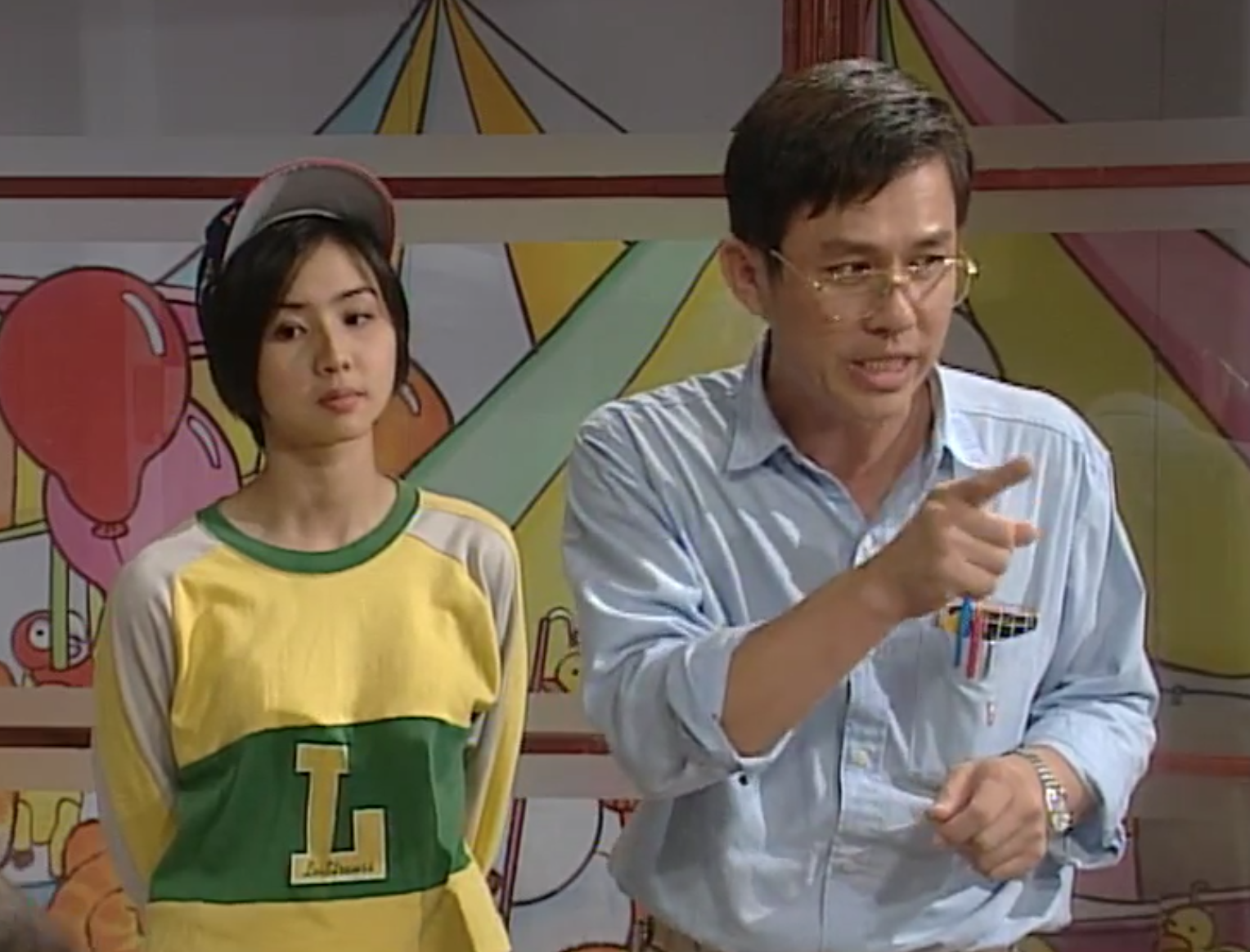 Becoming a MediaWorks artiste
After several years as an actor, Tan felt that she needed to diversify her skills and wanted to try her hand on hosting variety shows.
And the opportunity couldn't have come at a better time when the now-defunct television broadcaster MediaWorks offered her a contract in 2000.
"Someone (from MediaWorks) approached me and he is known to have a way of grooming artistes to become variety hosts. I thought I needed that break and needed to do something new."
While Tan managed to hone her skills, her time at MediaWorks didn't last very long.
In Sep. 2004, MediaWorks and Mediacorp merged their operations to "stem losses and enhance shareholder value".
The merger also meant that some people lost their jobs and this included Tan, as she wasn't offered a contract following the merger.
New full-time "job"
But as the saying goes, every cloud has a silver lining: She and her husband, fellow actor Darren Lim, found out that they were expecting their first child.
"It was timely because I was pregnant with my first child. We were married in March 2004 and the following year when the company merged, my baby arrived."
Nowadays, she takes up small scale gigs from time to time, but family still remains her top priority.
Before breaking out in a burst of laughter, she joked: "I didn't have a job then, so I thought this (raising her firstborn) was going to be my new job. Now we have four children, so this is my full-time career now!"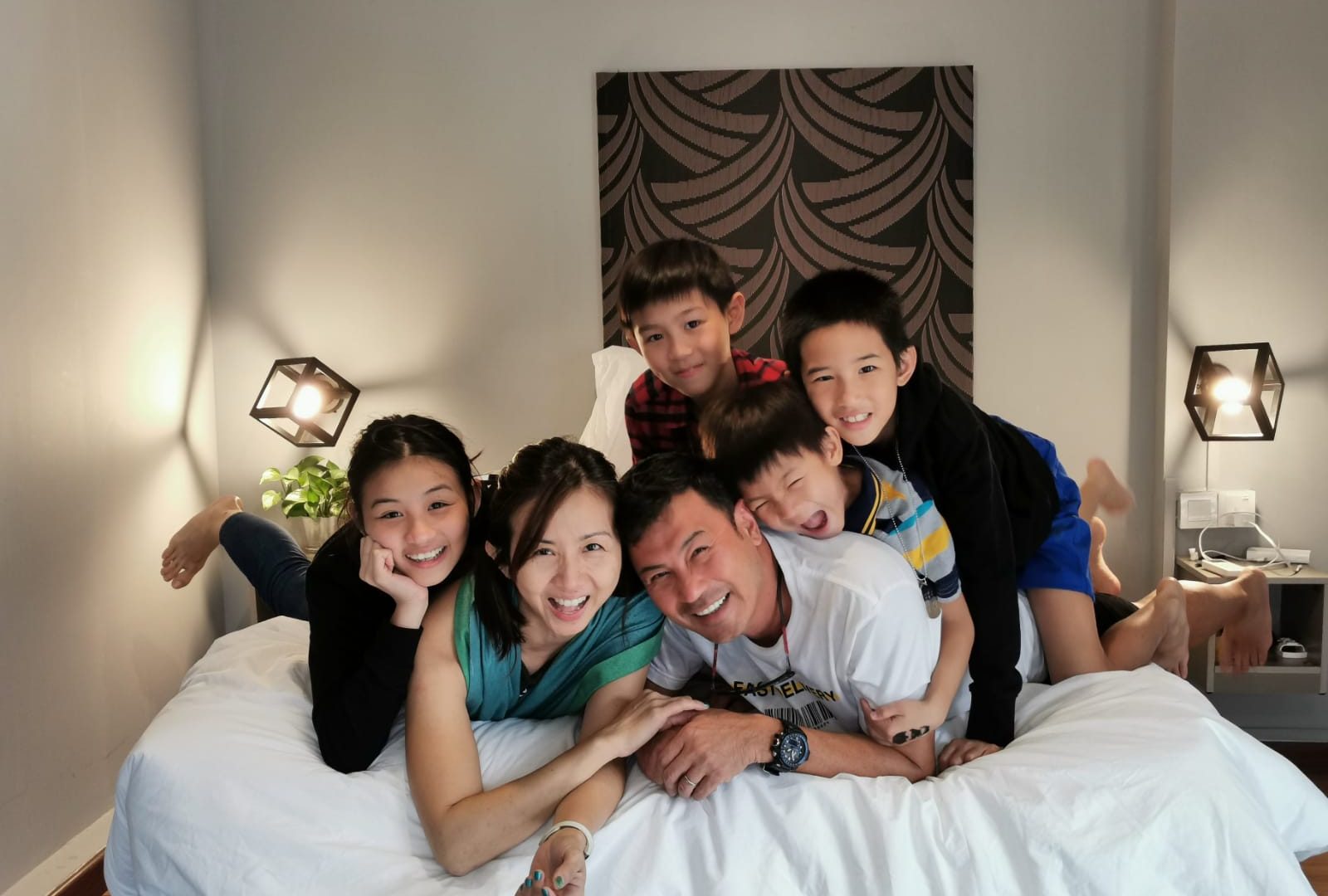 Living in a yacht
Tan and her husband are not your typical Singaporean parents.
While most Singaporeans live in flats (or on land, generally), the family of six lived on the waters for four years. from 2013.
To fulfil Lim's childhood dream of sailing and Tan's desire to travel the world, the family lived in a three-room yacht that was usually docked at the ONE°15 Marina Club at Sentosa Cove Marina.
The yacht wasn't just their home, it was their mode of transportation too.
In 2016, the family went on a six-month-long sailing expedition to Phuket and Koh Samui.
Living and travelling in a yacht has also taught the kids some valuable lessons that cannot be taught in a classroom or on land, for that matter.
"It was a lifestyle that was very different than what we were used to. Previously, we had helpers but within the small confines of a boat, we really couldn't afford an extra person on deck. So the kids were learning how to cook and do the laundry. It was a good experience for them."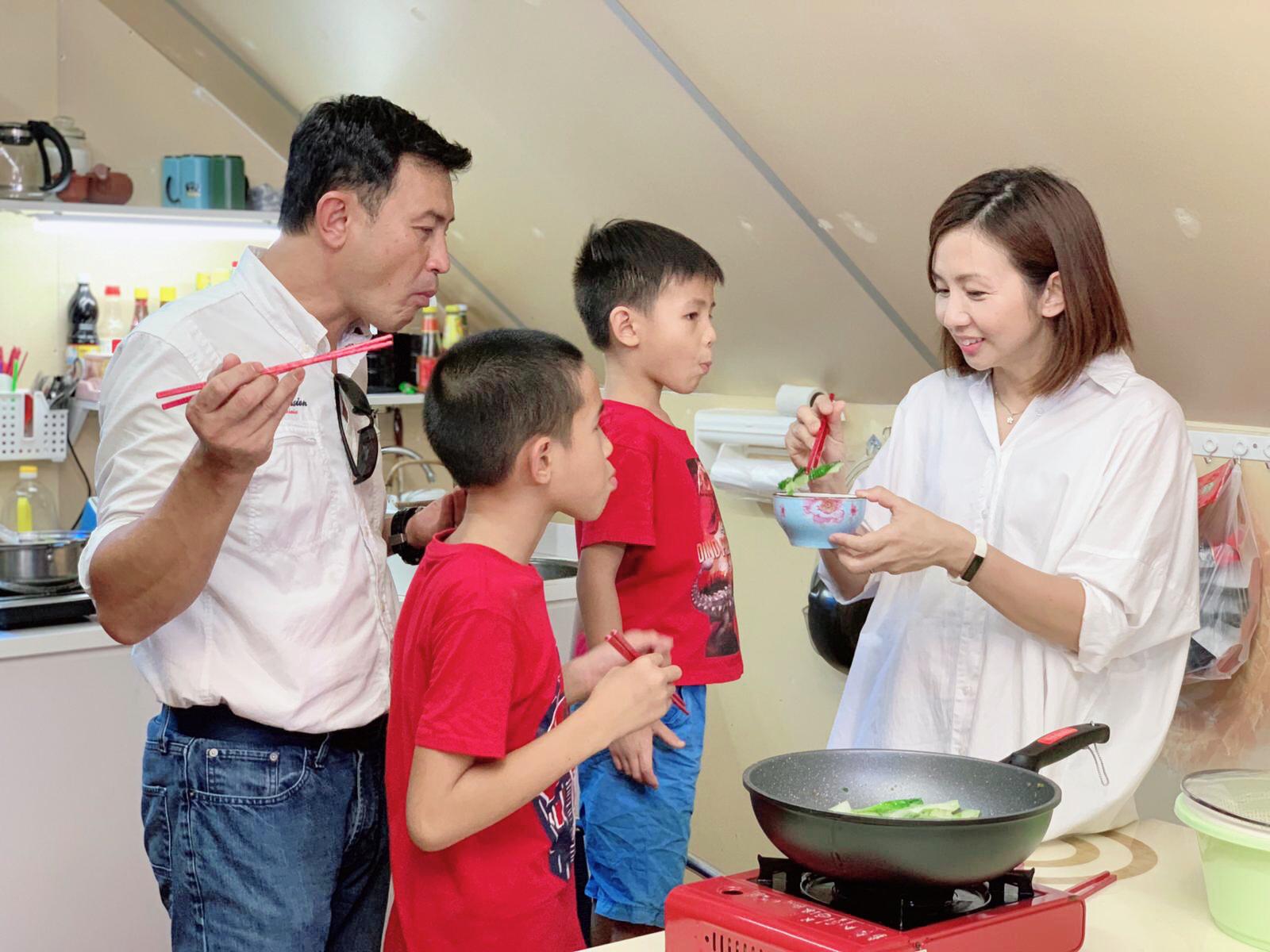 Their stint at sea has also impressively resulted in the youngest child to build his survival instincts when he was just three years old.
"My youngest one was dumped into the water when he was just a couple of months old (under close guidance). And I guess because he grew up surrounded by the sea, he taught himself to swim when he was three years old. The other kids, we had to send them to swimming lessons!"
Not everything was smooth sailing, though.
Facing a storm
Tan recounted a time where they had to face several storms at sea for an entire 24 hours.
In an article she wrote in 2017, the family boat apparently rocked to and fro, up and down on five metre-high waves.
The waters were so choppy, they couldn't cook their meals and everyone had to make do with cereal for breakfast, lunch and dinner.
Even after going through a terrifying and life-threatening experience, she still manages to see the (metaphorical) rainbow after the storm.
"We were totally humbled because no matter how small you are, you will face a situation where it's beyond your control and all you can do is to hang in there and pray for the best. It was a good experience, now we can say that we've faced a storm in life and we survived!"
Nonetheless, it was still an unforgettable and scary experience that might just have been the reason for her to pull the brakes on their world expedition for a while.
"I told Darren, it's ok lah, Primary School Leaving Examination (PSLE) is coming for Kristen. Time to go back to shore," said Tan before breaking out into another burst of laughter.
From reel life teacher to real life teacher
Now, she gets to live her other ambition by putting her teaching chops to use, because she currently homeschools three of her children.
The couple decided to homeschool their children as they believe that education should be taught at a pace that is built for the child in order to inculcate the love of learning in them.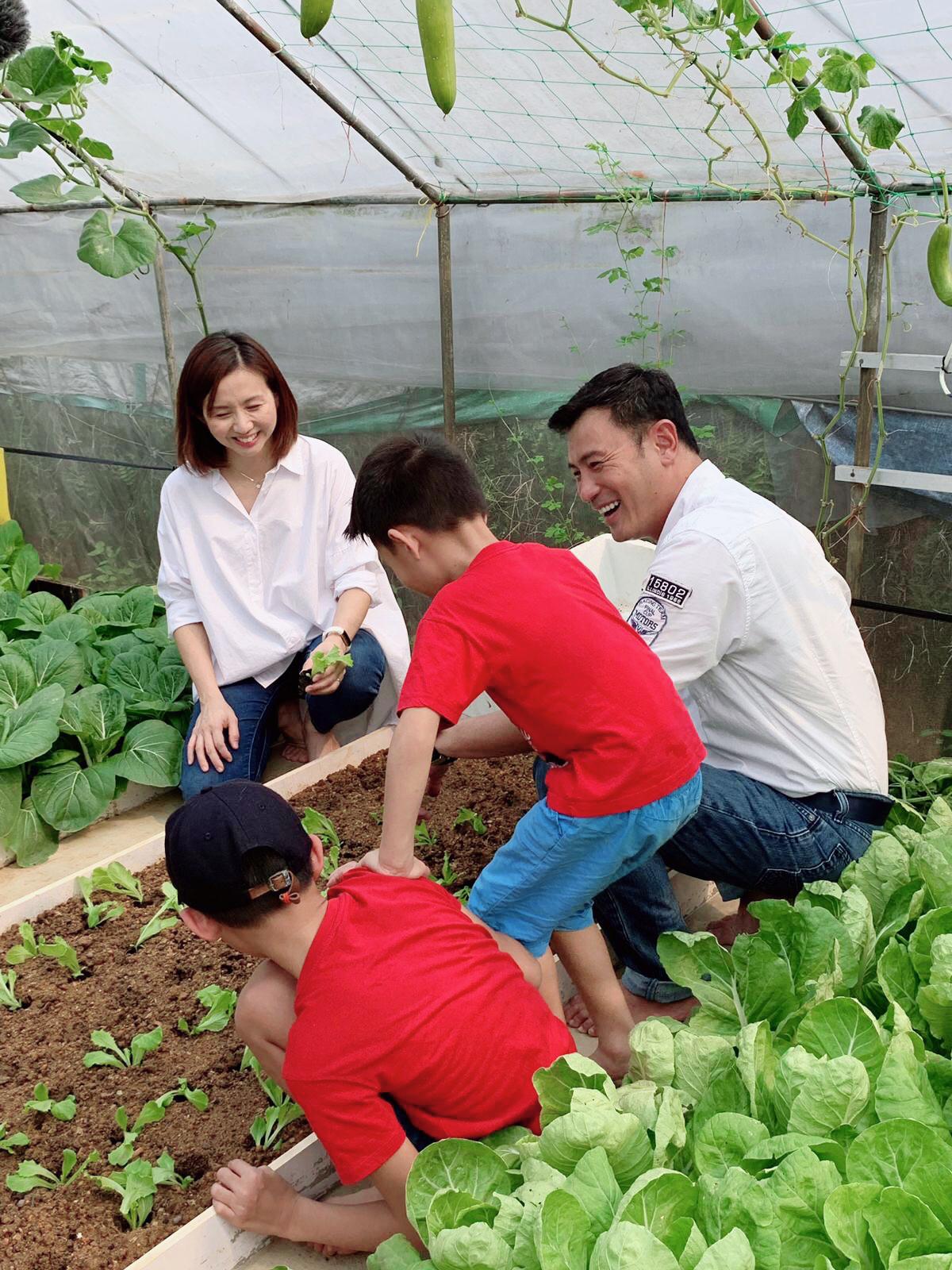 However, one thing they couldn't avoid was PSLE, a mandatory national exam for Primary 6 students in Singapore.
Tan compared preparing her eldest daughter Kristen for the national exam to "walking in the dark":
"Apart from test papers, we won't have any measurements to gauge how well my daughter is doing. It was only at the final year did we give her the test papers to try and that's when we realise that there are a lot of things that's not taught in the textbook."
In the end, she shared that they had to go through a "mad rush" to make sure Kristen was sufficiently prepared for the exam.
After going through the PSLE hurdle once, Tan is glad to say that she has worked smarter with her second child, Jairus, who just sat for his PSLE earlier this year.
"A lot of Singaporean mothers will tell you to take more test papers and drill your child for PSLE, that will give you a good start. After going through it the first time (with Kristen), I have a better perspective of things and a better grip of my emotions and expectations."
Performed with the "people's president"
Apart from being a loving mother and wife to her family, Tan has also been busy with some work of her own.
The most recent one, for example, would be her upcoming performance for this year's President's Star Charity (PSC).
She will be singing Teresa Teng's "The Moon Represents My Heart" with Mediacorp artiste Kym Ng —  the same song that they performed 20 years ago with the late president Ong Teng Cheong.
Gushing as she reminisced her experience at rehearsals and performing with Ong, she described the man who was affectionately known as the "people's president" as someone who was quiet and humble.
"When I looked at the reruns recently, I was reminded of how blessed I have been to do something so meaningful with the late president. He was a very unassuming man. In fact, when we had a few rehearsals together, he would smile and greet everybody on the set. He was very quiet and would nod gently to acknowledge your presence."
On top of battling a fever and cough just days away from the live performance, Tan has another problem to overcome:
"I have been trying to hit some high notes which I feel was a bit easier when I was younger. But hopefully I'll be able to do it since I got a vocal coach to help me with that!"
Top image courtesy of Evelyn Tan
Content that keeps Mothership.sg going
---
??
This event teaches you how to be your own farmer in the comfort of your own home.
???
Jio all your friends to see the northern lights in this city in Norway!
?⚓
A hipster's dream Europe itinerary that excludes the big major cities.
??
Did you know these are the most happening places in Singapore?
If you like what you read, follow us on Facebook, Instagram, Twitter and Telegram to get the latest updates.