Politics in the U.S. are often rife with tension, especially with the current impeachment inquiry against President Donald Trump.
And one Congressman apparently let out this tension in an unexpected way.
The (alleged) fart heard around the world
On the morning of Tuesday, Nov. 19 (Singapore time), Twitter user Andrew Lawrence (@ndrew_lawrence) posted a five second video clip of Eric Swalwell, a Democratic Congressman for California, speaking on MSNBC show Hardball with the caption "OMFG SOUND ON."
OMFG SOUND ON pic.twitter.com/StziH3Yh49

— Andrew Lawrence (@ndrew_lawrence) November 19, 2019
The clip posted on Twitter by Lawrence was a segment of Swalwell's commentary on the impeachment inquiry:
"So far, the evidence is uncontradicted that the President used taxpayer dollars to ask the Ukrainians to help him cheat an election."
There is a slight pause between the words "cheat" and "an election," during which there is a noticeably distinct noise that sounds similar to flatulence.
Swalwell denies being the culprit
Addy Baird, a reporter for Buzzfeed News, tweeted a series of three screenshots of messages between herself and Swalwell immediately after the interview that shed some light on the situation.
A text I never thought I'd send pic.twitter.com/t0Y4rCA14x

— Addy Baird (@addysbaird) November 19, 2019
The messages are below: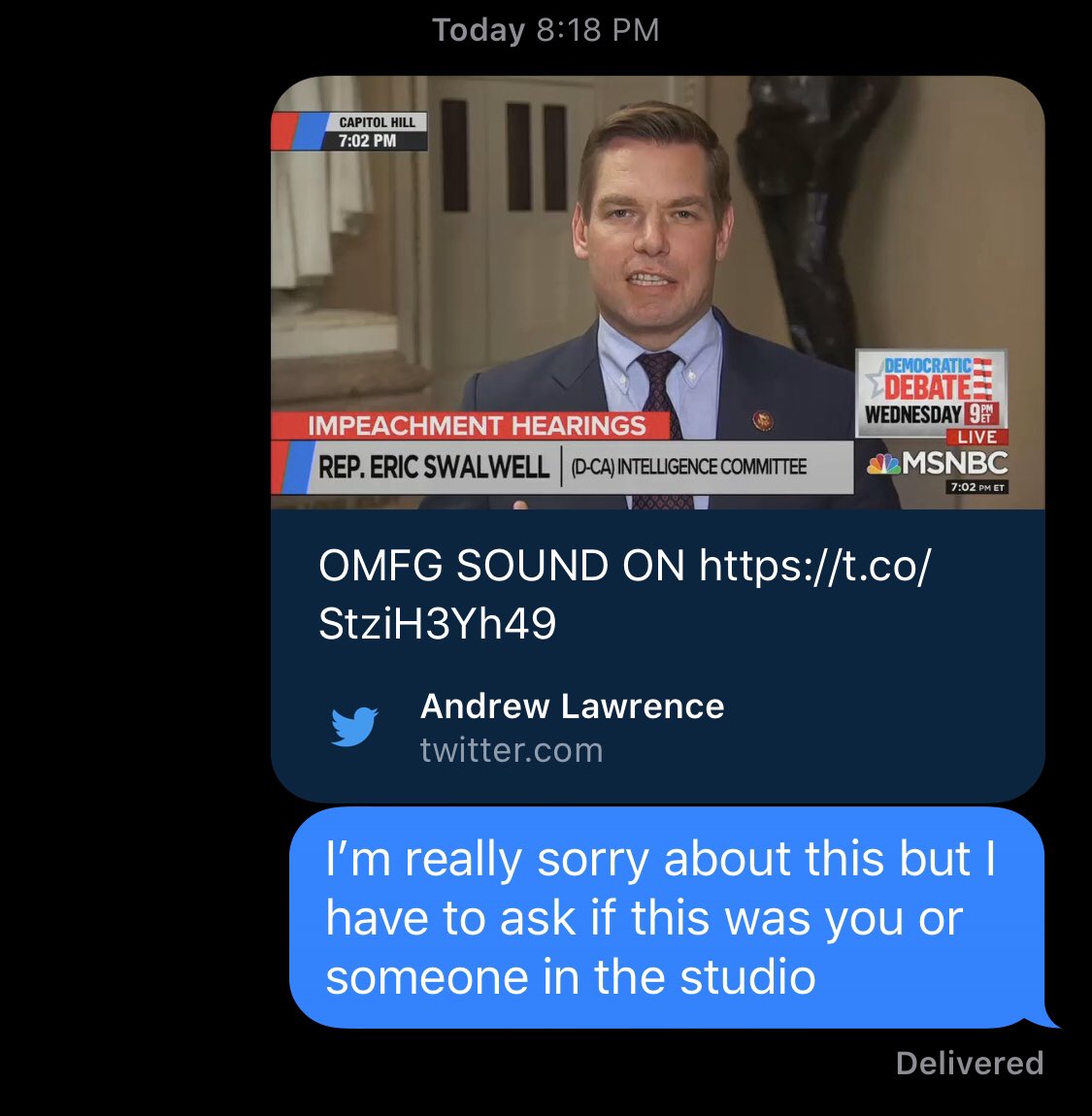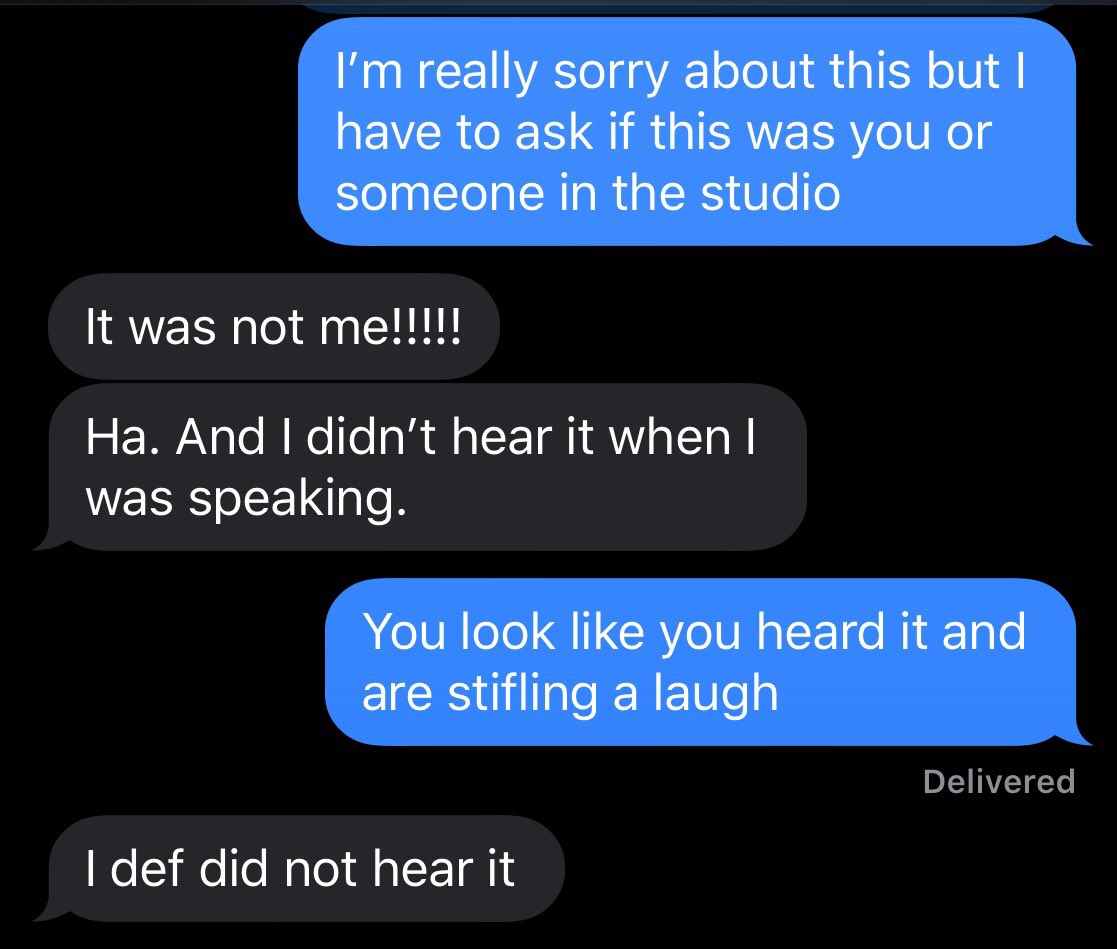 In his replies to Baird's messages, Swalwell wrote:
"It was not me!!!!!"
He also claimed that he did not hear the sound while he was speaking.
He seemed to be amused by it, though, saying:
"It's funny tho."
The Hardball Twitter account chimed in with its explanation of the sound: a mug being dragged across the table.
Sorry to disappoint the conspiracy theorists - it was the #hardball mug scraping across the desk. Get yours today and let's get back to the news! https://t.co/SG8Owm2IBw

— Hardball (@hardball) November 19, 2019
Their explanation was also a convenient opportunity to plug their merchandise.
Public response
In the hours following the interview, Twitter users have become overwhelmed with curiosity around the alleged on-air fart, even going so far as to dub it "fartgate."
"#fartgate" was the number two trending topic on Twitter worldwide for several hours on Tuesday, and was still the number one trending topic in the U.S. at the time of writing, with more than 123,000 tweets about it.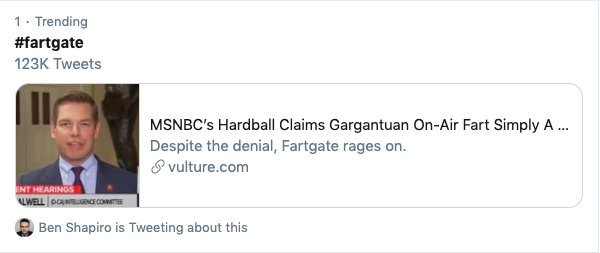 If someone tries to tell you that America isn't the best country in the world, remind them that on Nov 18, 2019, #FartGate was the number 1 trending topic in the country ✊🏼 pic.twitter.com/M1iFLonX3g

— Nate Wyss (@NWyss79) November 19, 2019
Twitter users rallied around the topic, eager to offer their own clever commentary on the situation:
Eric Swalwell is not a candidate that you can stand behind! #fartgate pic.twitter.com/x9MPdSfdk4

— Jared Christopher (@JaredLChris) November 19, 2019
Eric Swalwell

BE PROUD

BE BOLD

FART LOUD#Fartgate

(If Trump tweets about #Fartgate, I swear I'm not going to work tomorrow folks) pic.twitter.com/Qjkd9NFdW5

— We The People Are Pissed Off (@LiddleSavages) November 19, 2019
BREAKING: @RepSwalwell drops the Democrats most explosive bomb yet on live television#fartgate https://t.co/UazsUJUK2I

— Brandon Straka (@BrandonStraka) November 19, 2019
Fart skeptics
Not all were convinced by the popular opinion that Swalwell was behind the alleged fart, however.
American music critic Anthony Fantano, whose Twitter name is currently #1 Fartgate Investigator, shared his expert opinion on the issue:
https://twitter.com/theneedledrop/status/1196672017862463488
Political commentator and television host Sarah Elizabeth Cupp also tweeted her skepticism, throwing in her theory that the fart belonged to someone else:
Unless you're telling me that thing bounced through the echoey Capitol building, into Swalwell's lav mic, through control to the main audio, then that is one magic fart. There is also, of course, the possibility that there was a second farter. #fartgate #fin

— S.E. Cupp (@secupp) November 19, 2019
Response by Swalwell
At the time of writing, Swalwell has only made one statement in reference to the "fartgate" scandal, with a short two-word tweet:
TOTAL EXONERATION! https://t.co/JAuTsnCjAC

— Rep. Eric Swalwell (@RepSwalwell) November 19, 2019
He also retweeted a tweet by 2020 Presidential candidate Andrew Yang, in which Yang chimed in his support for Swalwell:
I believe in Eric Swalwell.

— Andrew Yang🧢🇺🇸 (@AndrewYang) November 19, 2019
As political tensions in the U.S. continue to run high, fartgate has been perhaps the momentary mental respite that people needed before diving back into the tug-of-war between Democrats and Republicans in the process of the impeachment hearings.
Read more about the impeachment inquiry, which was launched in September:
Top image via Twitter and MSNBC website
If you like what you read, follow us on Facebook, Instagram, Twitter and Telegram to get the latest updates.