Dating can be fun, but also awkward… especially when things end.
And when they do, then comes the uncomfortable question of what to do with the digital evidence that has accumulated from a no-longer-relevant relationship.
While some Instagram users may opt to delete or archive photos of them with their exes, one girl decided to do something different.
On Nov. 8, Rosie (@jasminericegirl) shared what she had done with her old photos with "sh*tty guys":
decided to unarchive all the pictures I had with shitty guys because I look cute but updated the captions to be more accurate 😌 pic.twitter.com/JWy3Q3sVnT

— rose (@laurenpham) November 7, 2019
According to her Instagram bio (@im.hongry), Rosie is a student at University of Pennsylvania who is currently based in Singapore.
In the tweet, she included three photos with edited captions:
Decent guys didn't get edited
She clarified, though, that for the people in the photos on her Instagram that she did not edit, she wished them well and was thankful for them.
if our pic has no edit though it means you were a decent person and I truly truly wish you the best, thank you for being good to me when we were together

— rose (@laurenpham) November 7, 2019
She has at least two posts with male companions which do not appear to have been edited.
Inspired others to do the same
The sentiment behind her tweet seems to have resonated with many.
At the time of writing, her original tweet had 14,500 retweets and close to 60,000 likes.
Some other Twitter users were so inspired that they decided to do the same. 
Cass (@grtrthn_) shared four screenshots of her edited "accurate" captions for posts that featured her ex-partner.
https://twitter.com/grtrthn_/status/1192540783880093697
Here's an example of one of them, in which she detailed that her boyfriend at the time had been cheating on her and "things weren't ok."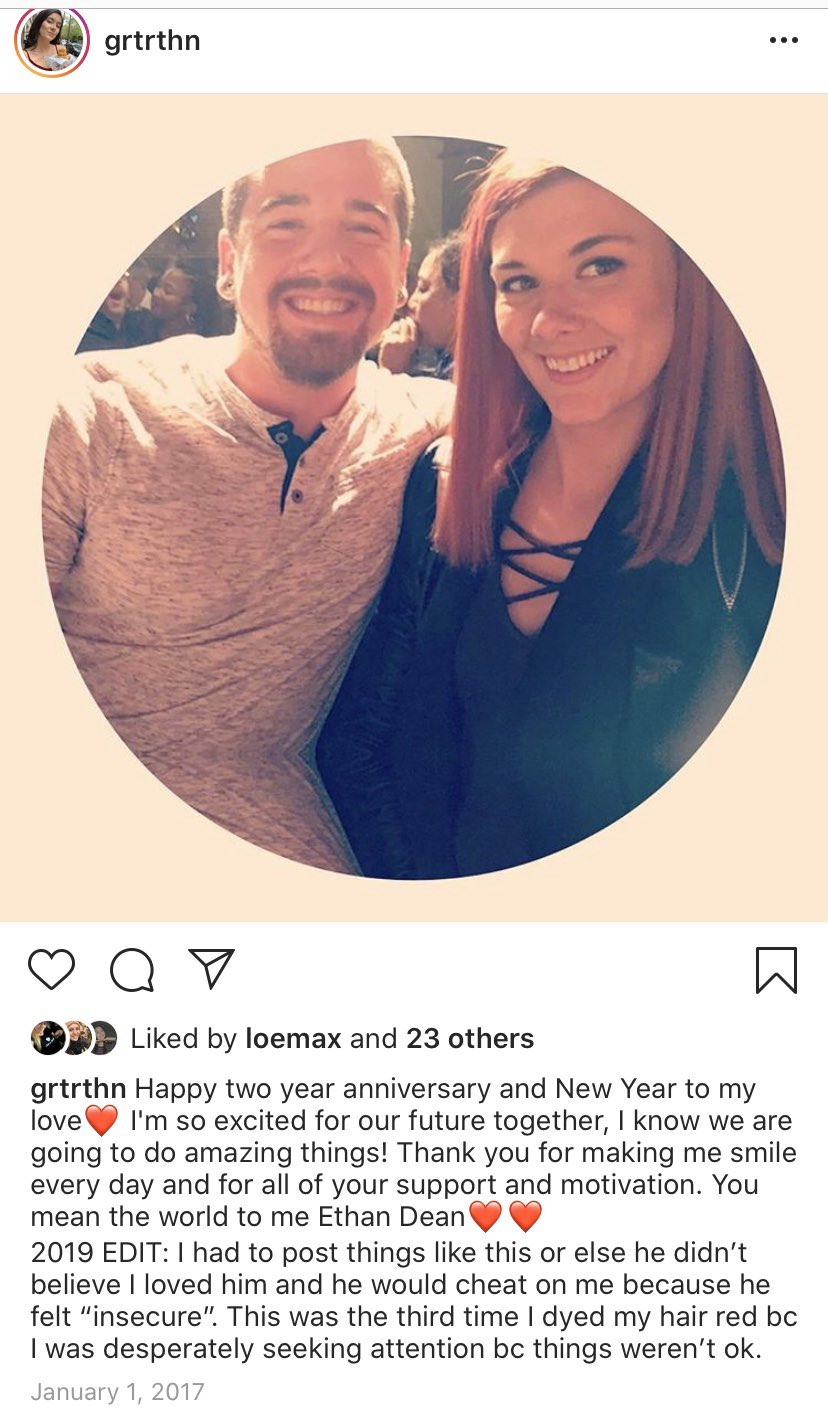 Cass clarified in a follow-up tweet that she was able to move forward from this relationship and grew in the process.
In case y'all are wondering, I took a year after this relationship to find self love & self respect, the universe then gifted me an amazing man that treats me like a QUEEN and I've grown more than I could ever imagine bc of this experience 🥰🥰

— Cass (@grtrthn_) November 8, 2019
Rosie and Cass both agreed that rather than pretending that the bad relationships didn't happen, they could recognise that these experiences helped them to grow and to learn what they know today.
yes ma'am dating is all about growth and development, I have no regrets and learned so much 😌

— rose (@laurenpham) November 8, 2019
Other women's terrible exes
Other Twitter users chimed in with similar experiences:
My ex broke up with me because he said our relationship was toxic and he didn't have have feelings for anyone else but he end up dating someone else after a week he broke up with me. He was cheating on me for a year and he had 3 Instagram accounts.

— Carolinaaa 🦋 (@CarolinaJaxn) November 8, 2019
Girl you're not alone. Mine broke up with me though text while i was in labor with our child

— Black Khaleesi 🐉🥀👑 (@rachelxantana) November 7, 2019
Rosie clarifies
Since this article was published, Rosie has chimed in on her Twitter to clarify her intentions with posting the initial tweet:
since an article has been written about this I just wanted to clarify this tweet isn't about shaming any of the men pictured. This post is about me, how I moved on by acknowledging my experiences and pain, and knowing that I deserve better. & also that I look good in these pics

— rose (@laurenpham) November 11, 2019
For her, it was not about throwing shade at the men involved. Instead, it was about recognising her individual growth through the experiences, as well as not wanting to miss out on the opportunity to share photos that she felt she looked good in.
Taking away the perception of perfection
Another Twitter user pointed out that Rosie's tweet helped bring Instagram back to reality:
i love this also because it shows the real side of life. i never like ig much bc of how picture perfect everything looks, it makes so many feel inadequate simply bc they assume life looks like the most flattering filters they put on.

— rio (@IivedtooIong) November 9, 2019
Sometimes what you see is not what you get.
And when that's the case, what better to do than to edit the previously-perfect captions so that the whole world can know what you now know, and reclaim your experience along the way?
Top image via @jasminericegirl on Twitter
Content that keeps Mothership.sg going
---
??
This event teaches you how to be your own farmer in the comfort of your own home.
???
Jio all your friends to see the northern lights in this city in Norway!
?⚓
A hipster's dream Europe itinerary that excludes the big major cities.
??
Did you know these are the most happening places in Singapore?
If you like what you read, follow us on Facebook, Instagram, Twitter and Telegram to get the latest updates.