It's not everyday that you get to meet one of the biggest names in football.
Probably even rarer is it to see one mega star eating mee goreng at a hawker centre in Singapore.
David Beckham eating Mee Goreng with chopsticks
Singaporeans were pretty excited to find British football legend David Beckham sitting casually at Tekka Market and Food Centre in Little India, eating a plate of mee goreng.
out of all the days I visit little india. this happens...? pic.twitter.com/q5Sp6gwLV7

— shiniiii🌻 (@yakshiniiii_) November 16, 2019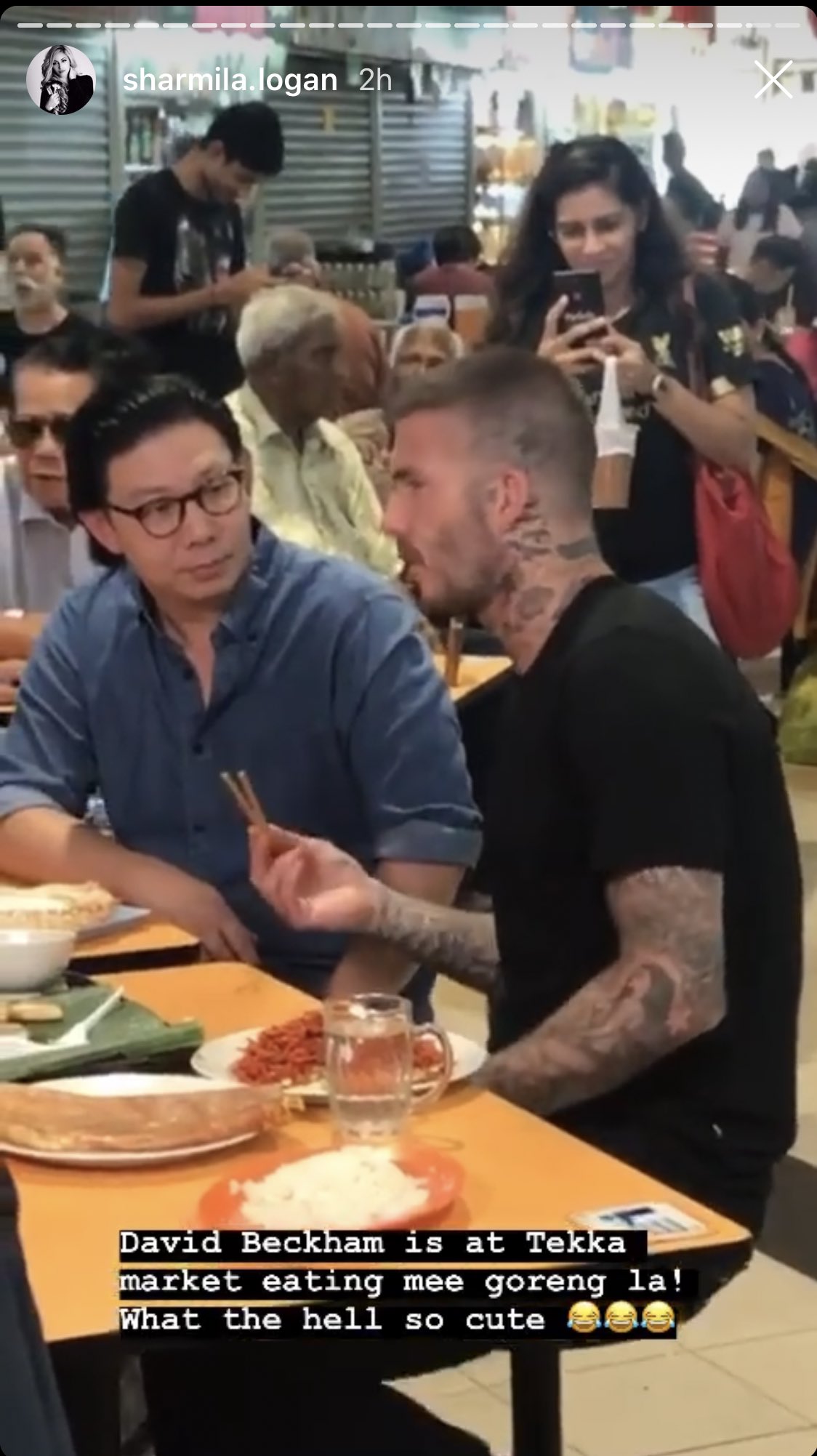 He was holding onto a pair of chopsticks while chatting with Tommy Koh's son, Aun Koh, or better known as Chubby Hubby, a local food blogger.
Sends fans into frenzy on social media
Beckham was also spotted casually strolling through the market, sniffing spices and checking out the stalls.
My mom just saw David Beckham at Tekka. WTF pic.twitter.com/CgZNs2EFo5

— Prem (@paradoxception) November 16, 2019
Live update: David Beckham otw to paambu kaadai now 🍺 pic.twitter.com/mZba4vskMw

— Abraham De Laure (@abrahamdelaure) November 16, 2019
https://twitter.com/k5yb0ardwarri0r/status/1195634316241338368
One of Beckham's fans was pretty surprised at how people in Tekka market were so calm about it.
I don't get how people are chill af in Tekka w Beckham amongst them. I'd have started a Beckham chant, a fan riot and prolly gotten arrested for extreme hooliganism.

— 🤷🏾‍♂️ (@a1eaiactaest) November 16, 2019
Beckham here for business
According to his Instagram, Beckham was at the Marina Bay Sands for a business partnership with Avenue Singapore and Marquee Singapore.
Hope he'll get to try other things around in Singapore, too.
Top image via @sharmila.logan and David Beckham/Instagram.
Content that keeps Mothership.sg going
---
??
This event teaches you how to be your own farmer in the comfort of your own home.
???
Jio all your friends to see the northern lights in this city in Norway!
?⚓
A hipster's dream Europe itinerary that excludes the mainstream cities.
??
Did you know these are the most happening places in Singapore?
If you like what you read, follow us on Facebook, Instagram, Twitter and Telegram to get the latest updates.